Nintendo is famous for its incredible customer service. Over the years, many fans have learned firsthand by wiring to the company. People send in gameplay questions, ideas for new content, or pitch concepts for new games. No matter what your inquiry, you're all but guaranteed to get a response from the world's most well-known video game company. For a Nintendo fan, there's nothing like seeing the branded envelope containing a reply on company letterhead!
Read about the kinds of great replies some fans get, or jump straight to the address section to start writing your own letter.
Four Ways to Contact Nintendo
Primary Address: P.O. Box
Nintendo of America
P.O. Box 957
Redmond, WA 98073-0957
Secondary Address: Nintendo HQ
Nintendo of America
4600 150th Ave NE
Redmond, WA 98052
425-882-2040 / 1 (800) 255-3700
Japanese HQ Address
Nintendo
11-1 Kamitoba-hokotate-cho
Minami-ku Kyoto 601-8501
Japan
Send an Email to Nintendo
For a little fun, you can email Mario "directly" at mario@noa.nintendo.com. Otherwise, Nintendo's customer service email is nintendo@noa.nintendo.com.
Nintendo Responds to Fan Mail: 7 Awesome Ways
Nintendo Sends Japanese Grandma Replacement Game Boy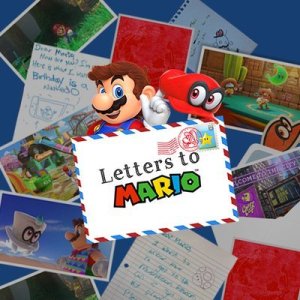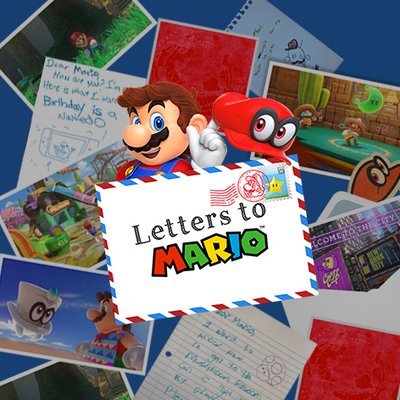 In 2020, Nintendo helped a Japanese grandma keep on gaming after her Game Boy had died. The ninety-five-year-old gamer loved playing Tetris and was never far from her Game Boy. Over the years, she had gone through two consoles, but when her second one broke she couldn't find anywhere to repair it. After her grandson suggested contacting Nintendo about it, the Game Boy was sent to Nintendo for repairs.
Of course, they didn't have the parts to repair the outdated game console. However, by some miracle, they did find a new old stock Game Boy somewhere in a warehouse. It's hard to imagine that it was just sitting on a shelf for all these years, but there it was. They sent the Game Boy to the elderly gamer and she was back to playing Tetris in short order. Talk about going above and beyond!
Gamer Claims SNES in 22-Year-Old Contest
While this isn't strictly a fan mail response, it's too similar not to mention. Like what happened in Japan, another fan got a new old stock system from Nintendo. Back in 2014, Imgur user MaverickAdam's cousin found a Mountain Dew Bottle with a "winning" cap for a SNES. As it turned out, you needed to complete a 3 part picture of a Game Boy to claim the prize.
That setback didn't stop this fan though! After posting his discovery on social media, the video game company reached out to him and sent him a new old stock SNES and Wii U. Mountain Dew even chipped in with some swag. What a lucky find!
Nintendo's Light-Hearted Response to a Splatoon Fan
Reddit user u/SurfsUpRaichu sent a lighthearted letter to Nintendo. He wrote from the point of view of a Grizzco Industries employee from the game Splatoon. Of course, the gaming giant played along and even provided the fan with a little bit of swag to go along with their response.
Nintendo Supports Fan's Pokémon Gender Inclusivity Request
Nintendo gets all sorts of requests. One young fan asked that the compnay "please make [a] non-binary Pokémon." A company spokesman replied to the young writer. They gave assurances that the mail would be forwarded to the proper departments and that the request would be taken under consideration.
Of course, that's exactly what we would expect. However, it rings true as it lines up with the company's diversity policy. Sounds like it's not just great to be a Nintendo fan, but an employee as well.
all you doubters saying a kid didn't write nintendo asking for non-binary pokémon, here's the letter (obviously we helped them look up the address) pic.twitter.com/3oiqCKw41O

— slate (@PleaseBeGneiss) June 16, 2021
A Lesson on Killer Instinct
In the early 90's fighting games were all the rage. Street Fighter and Mortal Kombat were what everyone wanted to play. Although, there was another popular one, and Nintendo was happy to talk about it. Of course, we're talking about Killer Instinct. The video game company promoted the title to one fan who commented on how faithfully they were able to port the popular arcade game to home consoles.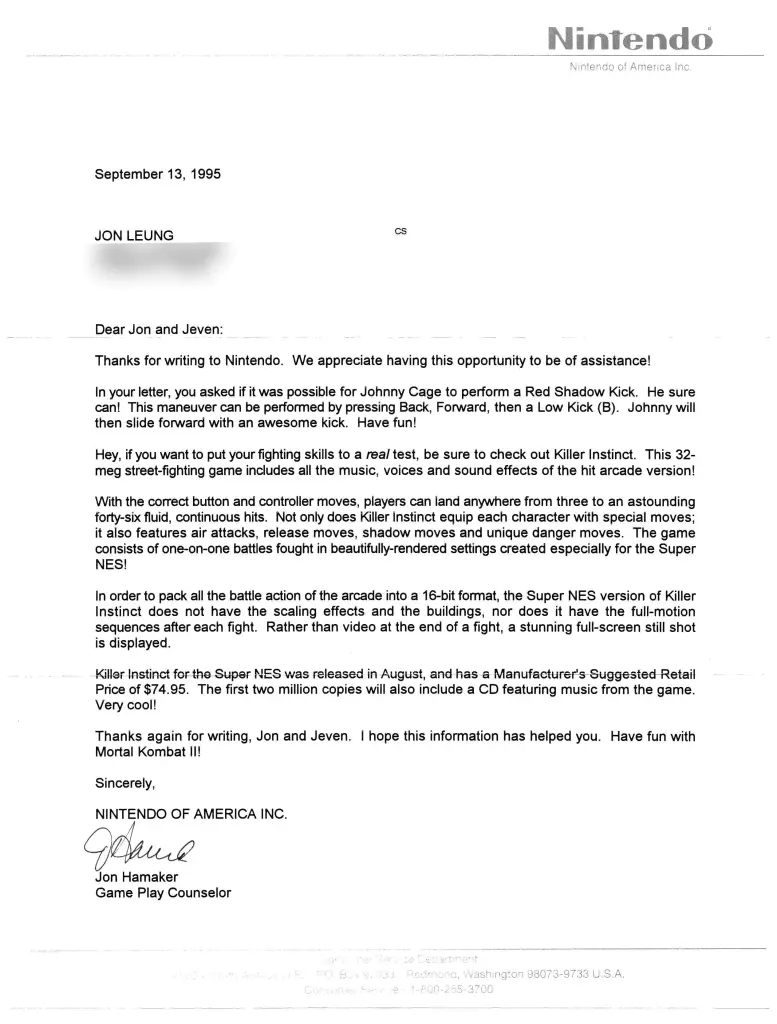 A Fan's Vision For Super Mario Bros. 4
Asides from fan mail, Nintendo gets a lot of pitches for new game ideas. Back in 1990, they received one fan's proposal for the what he hoped would be Super Mario Bros. 4. Jason Venter took his time mapping out the world, creating a plot, and describing how the controls would work.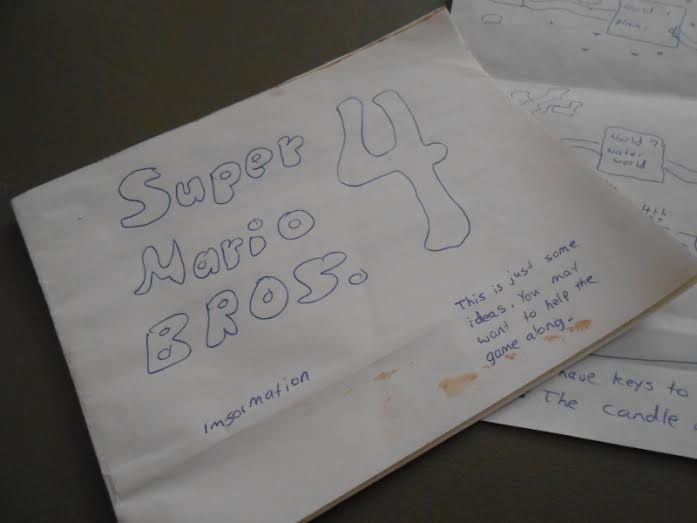 Of course, Nintendo had to decline the proposal, but I'm sure Jason was thrilled with the reply nonetheless.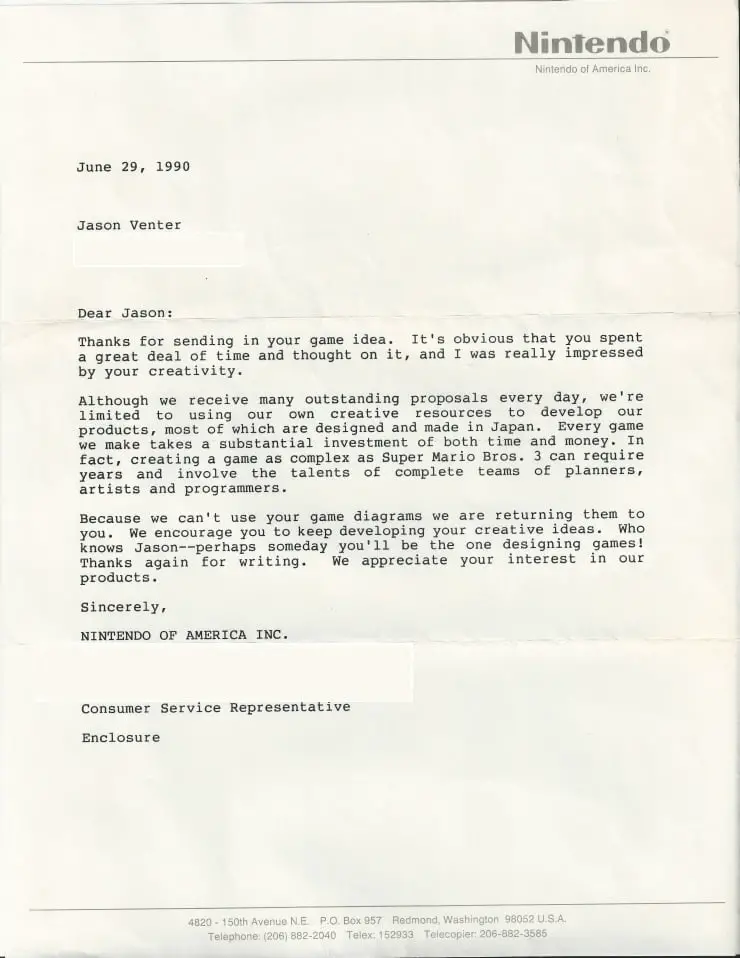 Nintendo Always Replies
One fan got a nice reply from the company after writing them. He wanted to get in touch with Nintendo Power's Japanese-to-English translator Kazuyo Brandjord. Unfortunately, the video game giant wasn't able to forward the request. However, true to their reputation for always replying to mail, they did send a nice response.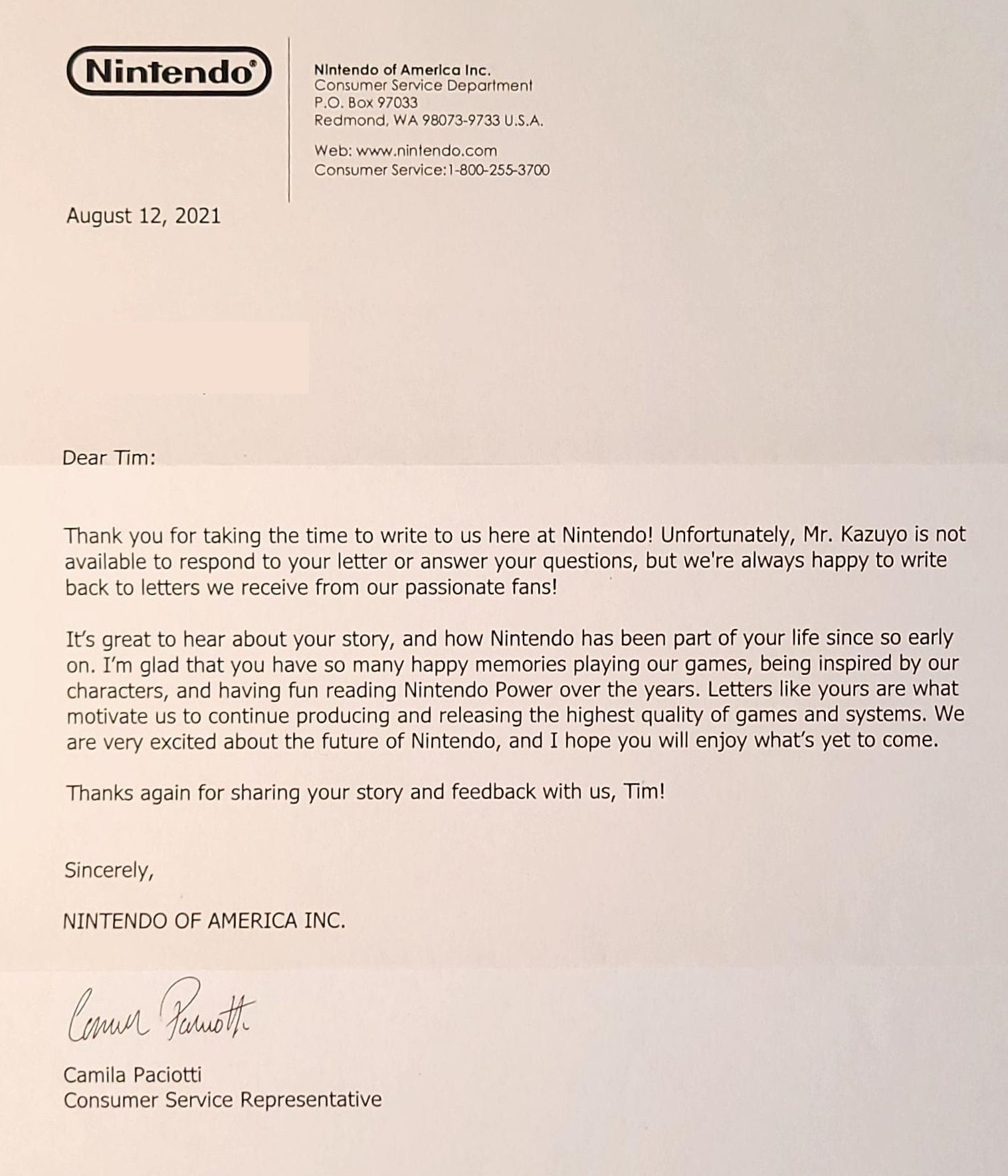 More Stories You'll Love