Are you a sports fan who loves to collect signed memorabilia? Need a football with your favorite player's autograph to display in your man cave? Look no further than 757 Sports Collectibles. This autograph shop is the perfect place to find authentic signed sports memorabilia. Based in Hampton Roads, Virginia, 757 Sports Collectibles is the brainchild of local sports fan and collector Anthony Checchio.
All About 757 Sports Collectibles
Anthony started 757 Sports Collectibles because he was disappointed with the lack of selection and high prices at other sports memorabilia stores. His goal was to create a one-stop shop for sports collectors where they could find everything they were looking for at a fair price. And that's exactly what he's done.
757 Sports Collectibles offers a wide range of signed memorabilia from all major sports leagues, including baseball, football, basketball, hockey, and more. They also carry a variety of items such as balls, jerseys, photos, and cards. If you're looking for something specific, chances are Anthony can help you track it down. He's even been known to help customers find items that are not currently in stock.
In addition to offering an impressive selection of merchandise, 757 Sports Collectibles also provides customers with peace of mind by guaranteeing the authenticity of every item they sell. That's because Anthony personally ensures that each and every item is properly authenticated by an expert before it ever goes on sale. So whether you're looking for the perfect gift for the sports fan in your life or you're a collector yourself, 757 Sports Collectibles should be your go-to source.
Conclusion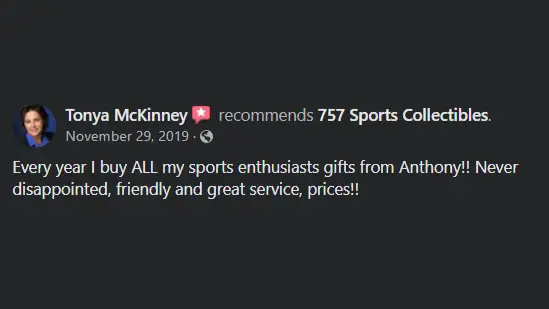 757 Sports Collectibles is the premier choice for sports collectors because they offer an impressive selection of merchandise at fair prices. All of their autographed memorabilia is guaranteed to be authentic, so you can buy with confidence knowing that you're getting a quality product. So if you're in the market for some new sports collectibles, make sure to check them out today!
Contact 757 Sports Collectibles
Email
Address
info@757sc.com
2686 Virginia Beach Blvd
Virginia Beach, VA 23452
USA