Like popular YouTubers Rebecca Zamolo and Leah Ashe, Moriah Elizabeth is a content creator who has amassed a huge following. Moriah's videos focus on the arts and crafts niche with videos that feature thrift store makeovers and coloring book videos. In fact, she has published several books of her own.

Best of all, Moriah Elizabeth is highly engaged with her fanbase and is one of the easiest YouTubers to contact. Therefore, it should be no surprise that not only her fans want to contact her, but charities and companies in search of business opportunities want to get in touch with her as well.

To help make that possible, the following addresses, emails, and phone numbers have been compiled to give Moriah Elizabeth's fans the best and most up-to-date resources for contacting her directly or through his representatives.
How to Send Fan Mail to Moriah Elizabeth
Regardless of how you've come to know her, it's likely that Moriah Elizabeth's work has had an impact on you in some way or another. If you would like to send fan mail to one of the most beloved influencers on social media, whether it's to simply send a message of thanks or perhaps request an autograph through the mail, then the process is pretty simple. Like many of the top celebrities known for responding to fan mail Moriah is actually quite good at responding to fan mail.

If you would like to reach out to her, and maybe have your letter or package opened on her YouTube channel, then you can use this simple fan mail template to get started. Then just try reaching out via the addresses below.
Official Fan Mail Address
Moriah is happy to get your fan mail! However, due to the incredibly high volume of packages that she receives, she is unable to give out her address to everyone. She therefore asks that fans reach out to her via email in order to request her PO Box. Here's what she had to say about it.
FOR SERIOUS INQUIRIES ONLY PLEASE. Do not use this email unless you actually need to. I respond to a small amount of people each week (10-20). I apologize in advance if you do not hear back.

Remember that I am receiving thousands of requests and I am just one person! Please don't take it personally if you do not hear back. I know I spent most of the time talking about squishy donations in particular, but the P.O. box address can be used for letters, or anything else your little heart desires 🙂

Moriah Elizabeth via YouTube
Before sending mail, please read over this friendly disclaimer from Moriah:
***You must be 13 years or older to send a package. Packages from anyone under the age of 13 will not be shown on camera.
 
 
IF SENDING SQUISHY(S) FOR SQUISHY MAKEOVERS….
 
1. Please remember to only send unwanted squishies. Squishy donations are not returned after makeovers.
 
2. We do our best to get as many packages on camera as possible, but there is no guarantee of being featured in a video. Whether it appears in a video or not, she opens every box, reads every letter and appreciates everything received. Just because it doesn't get opened on camera, doesn't mean it won't be used for a video at some point! Look out for squishy donation videos, posted every few months.
 
3. There are NO rules about what kind of squishies to send, how many to send, or what kind of condition they should be in etc. It's completely up to you and what you are willing to give! Feel free to include letters, artwork or anything else you want in the package. But please no trash or broken items (except broken squishies of course, she loves those!).
 
4. Please write "Squishy Makeovers" somewhere on the outside of the package. This helps us sort the mail without opening it, so makeover donations are ready to be opened in unboxing videos. Otherwise, the package will be set aside as a "gift" package (see section below).
 
5. Please do not expect to see or hear back about your package quickly. It will likely be a long wait if your package does get featured in a video. We appreciate your patience!
 
 
IF SENDING A LETTER…
Please remember that letters will not be featured in videos. Moriah does not read letters on camera because it gets a little tedious for the viewers. That being said, feel free to send letters if you want to. She LOVES reading letters in her own time. She reads every single letter received.
 
 
IF SENDING A GIFT…
Regular fan mail/gift packages not related to squishy makeovers are not currently being opened on my YouTube channel. Those packages are opened privately.
 
We want to make sure that you know exactly what to expect. I understand that putting together and mailing packages is giving your time and effort, Moriah really appreciates that.
 
There is no obligation whatsoever to send anything if you change your mind. No pressure!
Email Addresses
If email is more your thing then you're in luck! Moriah Elizabeth has a number of email addresses set up for her fans to contact her. The following is a list of her current email addresses along with their intended use.
Talent Agency [Address, Phone Number, & Contact Info]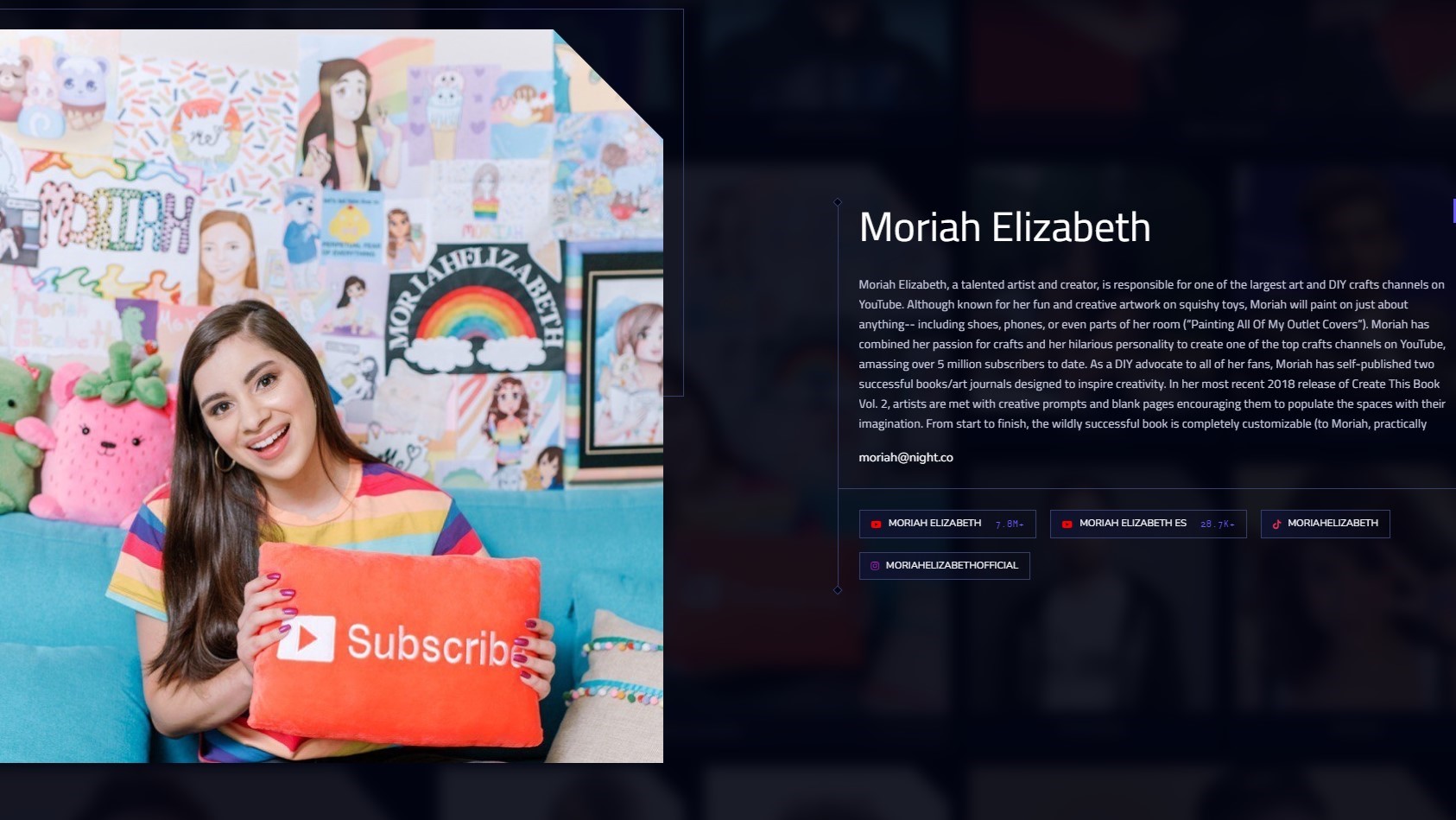 Just like popular YouTuber Unspeakable, Moriah is represented by Night Media, a multimedia talent management company and creative outpost for one of the most popular creators on the internet.

Reaching out to Night Media is probably your best bet for getting a response from the world-renowned YouTuber. If you're lucky, you might be one of the few fans to receive a signed photo from the popular content creator.
Send Moriah Elizabeth a DM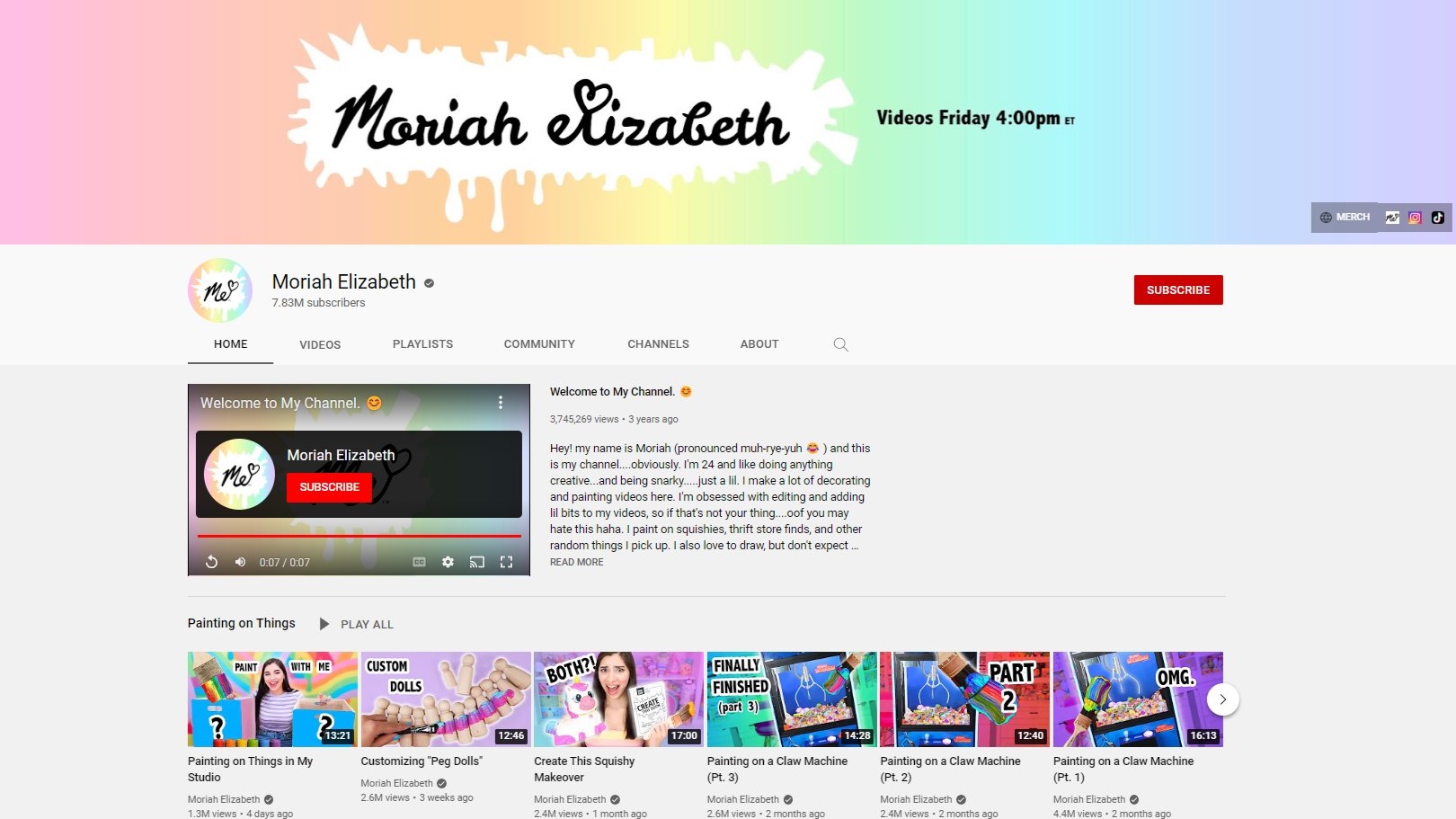 Some celebrities do in fact respond to DMs from fans. Since Moriah Elizabeth is so well known for her online presence, it's natural that many fans would want to contact her by sending a message. Give it a shot by DM'ing her through one of her social media accounts. The following are listed as Moriah's official Social Media profiles on her YouTube channel.
About Moriah Elizabeth
Moriah Elizabeth is a YouTube star with a passion for crafting. She started her YouTube channel in 2015, and her unique style and engaging personality quickly won her a devoted following. Her videos cover a wide range of topics, from DIY projects and home décor to makeup tutorials and fashion tips.

In addition to her YouTube channel, Moriah also has a successful line of crafting products, which are sold in stores across the country. Thanks to her creative vision and entrepreneurial spirit, Moriah has built an impressive career for herself at a young age. There's no doubt that she's one of the most inspiring young women in the world today.
FAQs