Blueprint Pictures is currently developing a new feature film, "Girl From The North Country," inspired by the songs of the legendary singer/songwriter Bob Dylan.
With Graham Broadbent and Pete Czernin as producers, Conor McPherson as writer and director, and a talented cast including Chlöe Bailey, Tosin Cole, Olivia Colman, and Woody Harrelson, the film promises to be a stunning and emotional journey through the Great Depression.
A Love Story Set in a Time of Adversity
The film takes place in Duluth, Minnesota in 1934, during the Great Depression, and follows the intersecting lives of a group of travelers as they find shelter in a guest house. The guest house is owned by Nick Laine (Harrelson), whose wife Elizabeth (Colman) is suffering from dementia, and the bank is about to foreclose on their home. Their adopted daughter, Marianne (Bailey), has a secret that no one can explain, but everything changes when an escaped convict Joe Scott (Cole) seeks shelter at the guesthouse and a relationship develops between Marianne and Joe.
Reimagining Bob Dylan's Songs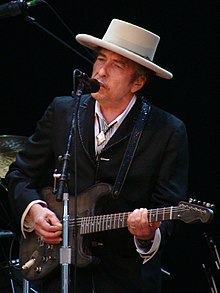 The film reimagines 20 of Bob Dylan's legendary songs, including "Forever Young," "All Along the Watchtower," "Hurricane," "Slow Train Coming," "Make You Feel My Love," and "Like a Rolling Stone." The film is said to be a "love story set in a time of adversity," and its narrative style is inspired by Dylan's song lyrics, which are known for their emotional depth and storytelling. This film promises to bring the music of Bob Dylan to life on the big screen in a way that has never been seen before.
Collaboration between Writer and Producers
Conor McPherson, the writer and director of "Girl From The North Country," has previously worked with producers Graham Broadbent and Pete Czernin on other projects, including the critically acclaimed "The Imitation Game." McPherson is also known for his work in the theater, where he has written and directed numerous plays that have received critical acclaim. This collaboration between McPherson, Broadbent, and Czernin promises to bring a fresh perspective to the film and bring Bob Dylan's songs to life in a new and exciting way.
Talented Cast and Production Studios
The film stars a talented cast of actors, including Chlöe Bailey, Tosin Cole, Olivia Colman, and Woody Harrelson. Bailey is known for her work in the music industry, having recently been nominated for a Grammy award, while Cole is best known for his role in the popular BBC series "Doctor Who." Colman is a seasoned actor, having won numerous awards for her work in film, television, and theater, including an Oscar for her role in "The Favourite." Harrelson, who has been nominated for several Academy Awards, is known for his work in films such as "The People vs. Larry Flynt," "True Detective," and "Zombieland."
Girl From The North Country is being produced by Blueprint Pictures, in collaboration with CAA Media Finance and Rocket Science. Blueprint Pictures is known for producing critically acclaimed films such as "Three Billboards Outside Ebbing, Missouri," "The Best Exotic Marigold Hotel," and "In Bruges." Rocket Science is a global production and sales company that has been involved in the production of numerous award-winning films and television series.
Production Studios
BLUEPRINT PICTURES
32-36 Great Portland Street
London W1W 8QX
UK
info@blueprintpictures.com
PHONE: +44 0207 580 6915
CAA MEDIA FINANCE
2000 Avenue of the Stars
Los Angeles, CA 90067
PHONE: 424-288-2000
filmsales@caa.com

ROCKET SCIENCE
5th Floor, 140 Wardour Street
London, W1F 8Z
UK
PHONE: +44 203 196 0048
info@rocket-science.net