Does MrBeast Respond to Fan Mail?
Regardless of how you've come to know him, it's likely that MrBeast's work has had an impact on you in some way or another. If you would like to send fan mail to one of the most beloved influencers on social media, whether it's to simply send a message of thanks or perhaps request an autograph through the mail, then the process is pretty simple. Since MrBeast is not one of the top celebrities known for responding to fan mail he may be a bit difficult to get in contact with.
With hundreds of millions of fans, it's no surprise that MrBeast can't keep up with his fan mail. However, if you would like to reach out to him anyway, you can use this simple fan mail template to get started or generate one with AI! Then simply try reaching out via the addresses below
Talent Agency [Address, Phone Number, & Contact Info]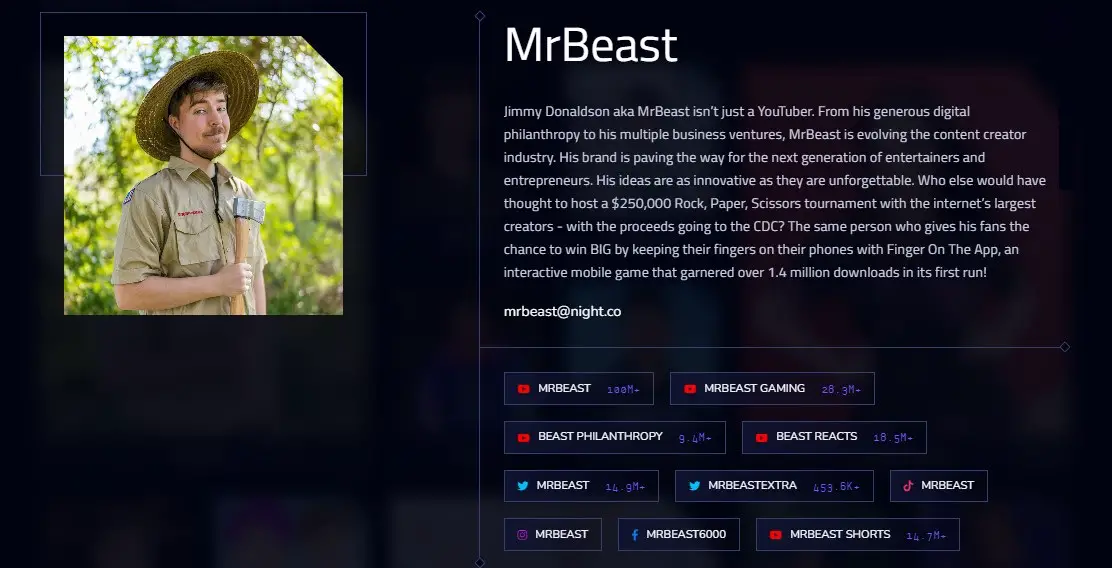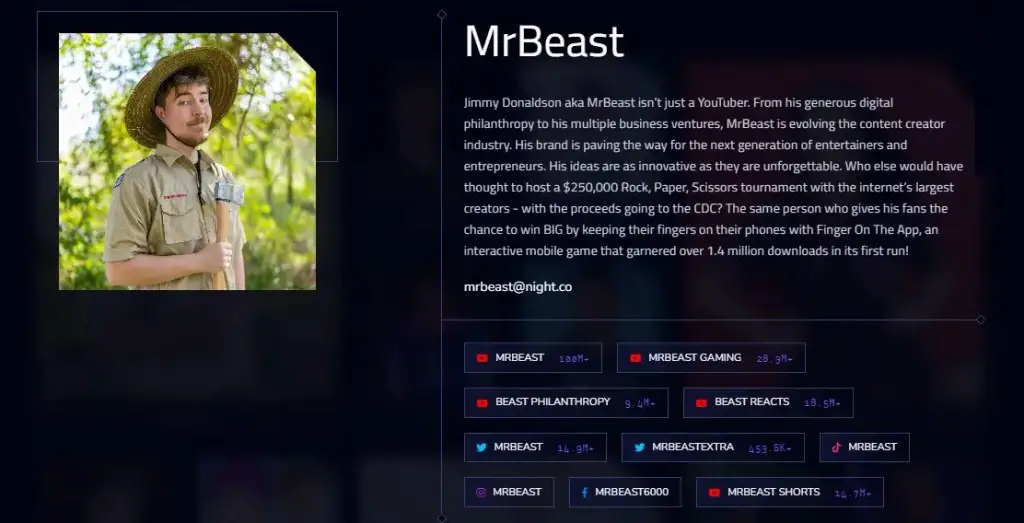 Just like popular YouTubers Unspeakable and Moriah Elizabeth, MrBeast is represented by Night Media, a multimedia talent management company and creative outpost for the most popular creators on the internet. Night Media's main office is in Greenville, NC where MrBeast is based. Therefore, reaching out to Night Media is probably your best bet for getting a response from the world-renowned YouTuber. If you're lucky, you might be one of the few fans to receive a signed photo from the popular content creator.
MrBeast's Fan mail P.O. Box
Mrbeast shared on his Twitter that he does read fan mail! He maintains a P.O. Box specifically for receiving letters from his fans. At the moment, they only maintain one PO Box (listed below). According to MrBeast's team, all other PO Box addresses are outdated and should not be used.
Fan mail Address
c/o Jimmy Donaldson
1822-6 S. Glenburnie Rd.
#275
New Bern, NC 28562
DM or Email MrBeast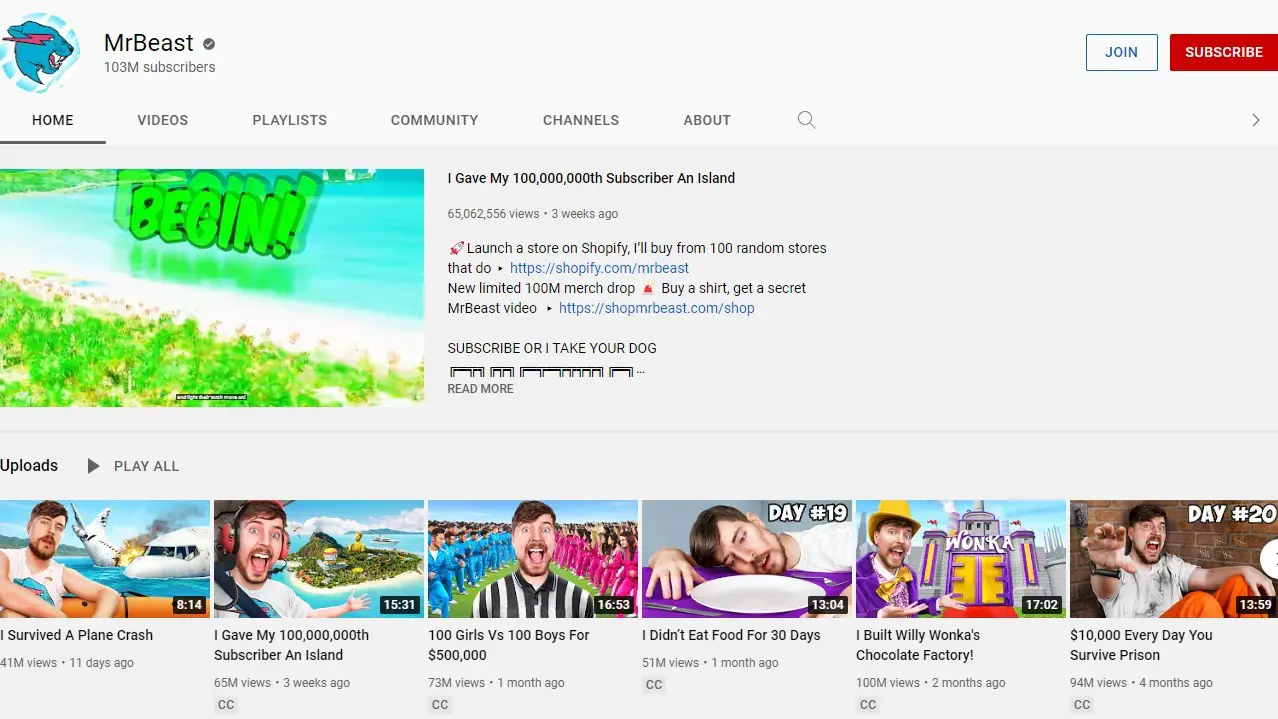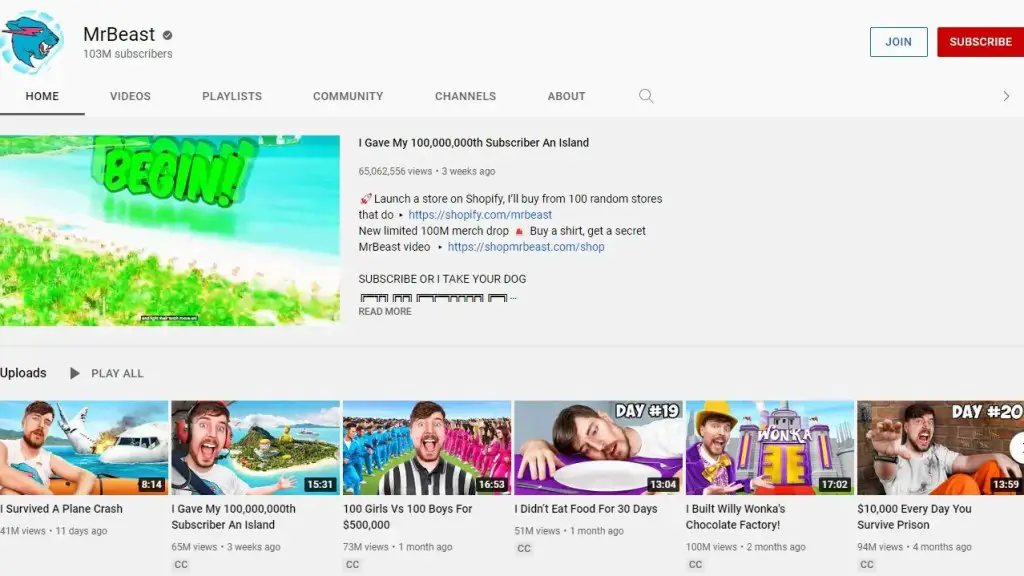 For those who want to contact MrBeast directly, sending him an email via his official address might be the best way to contact him. You can also DM him on one of his social media accounts which are listed below.

If you explore deep enough on his YouTube profile, then you'll eventually find his personal email address. If you would like to send him well wishes, express your appreciation for his content, or just say hi, send an email to MrBeast at mrbeast@nightmedia.co. He just asks fans to "not email [him] asking for money, [he] gives away money because it makes [him] happy".
Publicist [Address, Phone Number, & Contact Info]
MrBeast is a world-renowned influencer with one of the biggest followings on YouTube. As such, he has a lot of agents and representatives that help him handle his business. These include his managers at his publicist Kovert Creative. It's perfectly acceptable to contact MrBeast via his publicist as they have the ability to forward messages they receive directly to their clients.
MrBeast's Phone Number
Want to send a text to MrBeast? You may not have thought it possible, but it is. His Community phone number is +1 (917) 259-6364. Community is an innovative text messaging platform that connects people, businesses, and brands to the conversations they want to be a part of. The company launched in July 2019 with investments from Ashton Kutcher who is one of the Hollywood actors that you'll find on the service.

The company purports to "empower Leaders — global pop culture icons, local community organizers, creators, small businesses, enterprise companies, media outlets, and more — to deliver experiences that increase loyalty and create value". Celebrities and other users of the service receive a unique 10-digit phone number to share with their audience, giving the authentic experience of texting with a friend.
Additional Ways to Contact MrBeast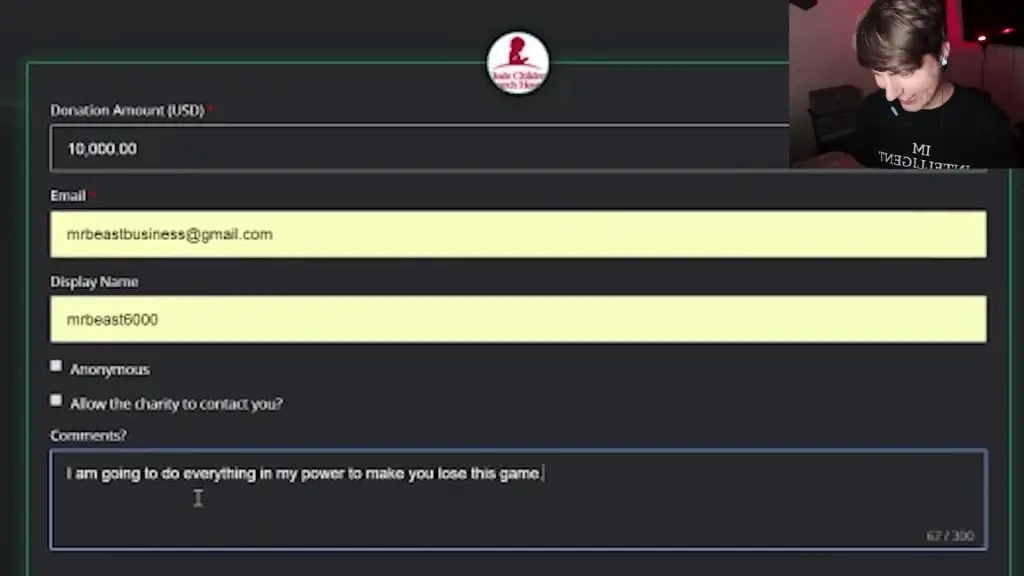 It's not uncommon for influencers and celebrities to expand beyond the career that made them famous. Each new business started or charity founded presents new avenues to reach out and connect with the people involved with them. In the case of MrBeast, he started a burger joint called MrBeast Burger in 2022.
Request Donation From MrBeast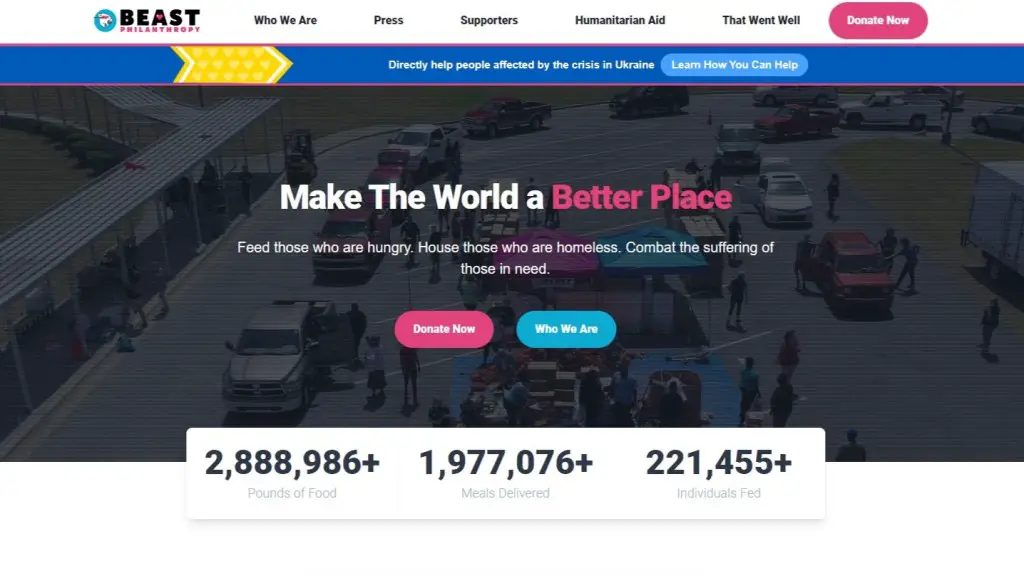 MrBeast became famous for his generosity. Despite all the success he has achieved, that's one thing that has never changed. Over the years he has provided donations and started charities, all under the umbrella of Beast Philanthropy.

Their primary focus is on food insecurity, relief for individuals' needs, and ensuring human dignity. If you would like to request help from MrBeast and think you have a worthy cause that you would to see MrBeast support, then you can request a donation be made by emailing contact@beastphilanthropy.org and sponsorships@beastphilanthropy.org. If you specifically want to contact MrBeast's food pantry then you can reach the pantry's manager Darren Margolias at darren@beastphilanthropy.org.
Work For MrBeast
Perhaps there's no better way to contact MrBeast than to actually work for him! Yes, it is actually possible to join the MrBeast team. He is looking for talented individuals like writers, graphic designers, and video editors to help create his content and run his business and charitable enterprises. Head over to MrBeast Jobs to find out what they are hiring for right now.
How to Meet MrBeast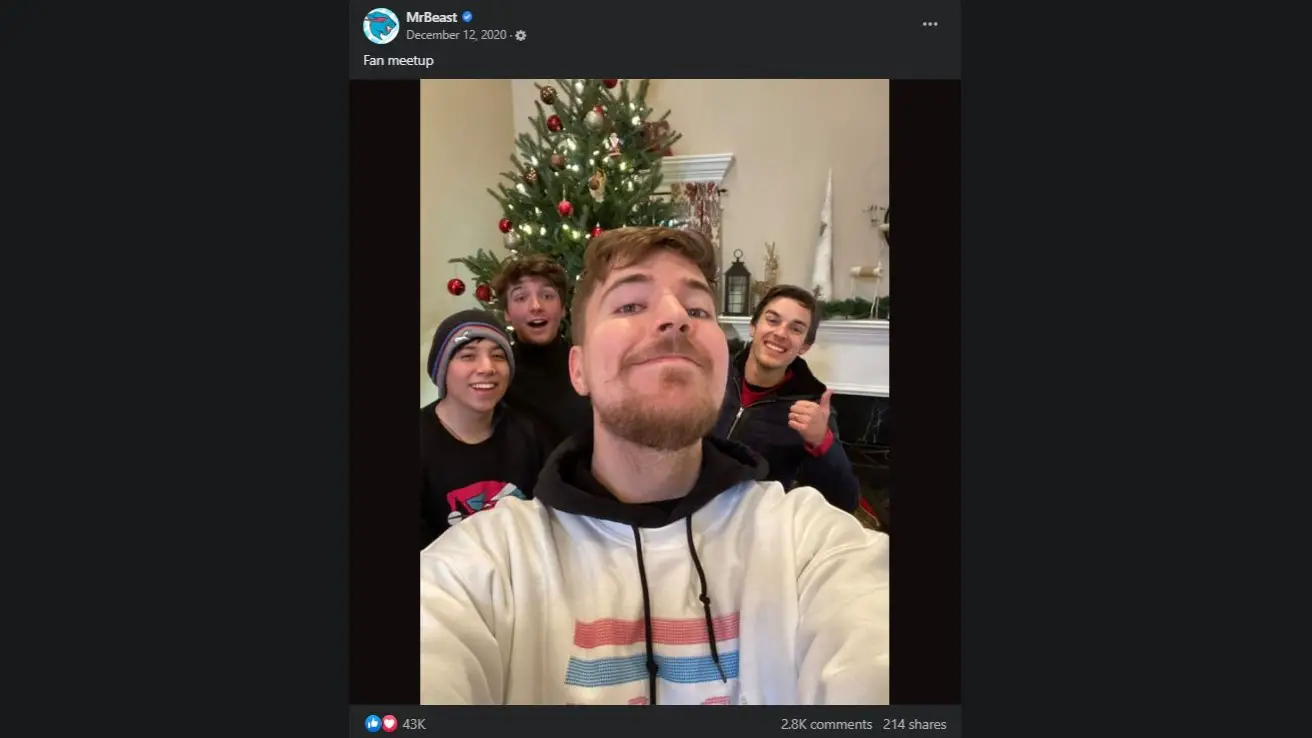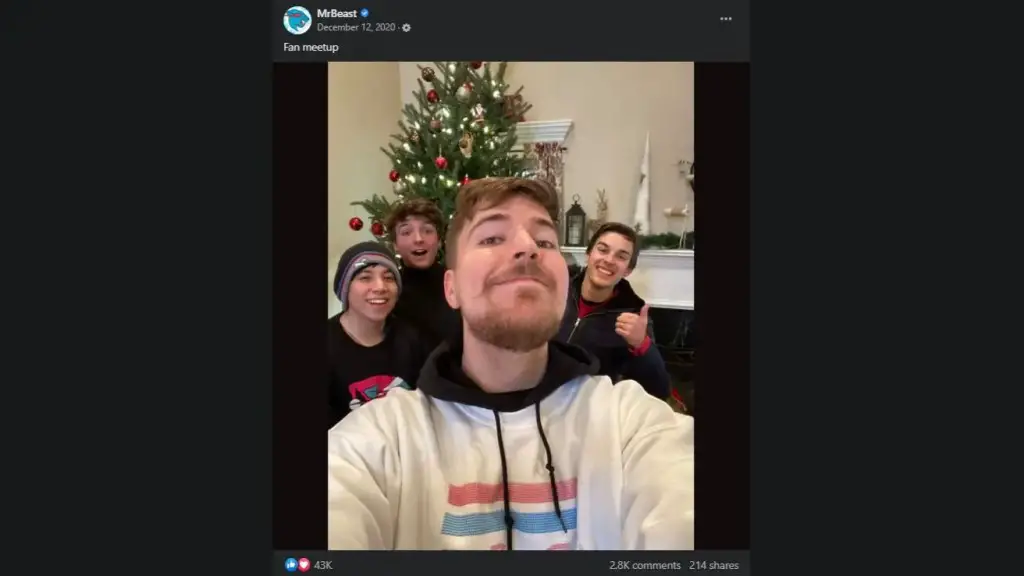 It's important to remember that behind the YouTube personality is MrBeast is Jimmy Donaldson, a real person. Given his high-profile status, many fans want to meet him in person which is perfectly natural. However, it is not acceptable to go to his home and try and meet him there.

Luckily, MrBeast loves his fans and does make opportunities available for fans to meet him. In order to find out about the latest opportunities for meet and greets, check his official social media channels to be the first to find out whenever there is an official fan meetup or public event scheduled!
About MrBeast
Jimmy Donaldson, better known by his handle MrBeast, is an American YouTuber based in Winterville, North Carolina. He has been posting videos online for nearly 10 years and has pioneered many of the now mainstream forms of content. With his extreme stunt videos and overwhelming generosity, he has built a legacy on YouTube with an immense following that well exceeds 100 million!

Jimmy's content is the embodiment of the slogan "You Gotta Spend Money To Make Money". His most-watched video is currently a re-creation of Netflix's popular series Squid Game, which provided nearly a half-million dollars in prizes.
YouTube Career
Born on May 7, 1998, in Kansas, Jimmy Donaldson started making videos on YouTube as MrBeast6000 when he was 13, those videos ranged from Let us Play Minecraft to speculation about other YouTube channels and content creators. He consistently produced videos on his channel, eventually building up a following through his series of "Worst Introductions" and had as many as 30,000 subscribers by 2016. By the end of 2016, Jimmy had left his university studies at East Carolina University and committed himself to his goal of becoming a full-time content creator.

That commitment paid off, as he began finding viral success through tortured stunts like counting up to 100,000 and listening to music for 10 hours straight. As his channel continued to grow, he began focusing more on challenges and charity videos known for their extreme rewards. This no doubt earned him a reputation for being the most generous content creator on YouTube and helped to propel his channel's subscriber count to the levels that we are seeing today.

There is a lot to love about MrBeast, so it's no wonder that fans want to reach out to him or even request an autograph through the mail (TTM). To help make that possible, the following addresses, emails, and phone numbers have been compiled in an effort to give MrBeast's fans the best and most up-to-date resources for contacting him directly or through his representatives.
MrBeast FAQs
Who is MrBeast's Manager?
MrBeast's manager is Reed Duchscher, the CEO and Founder of Night Media. Duchscher worked with MrBeast for several years, helping him to grow his channel into one of the most successful ones on YouTube. In addition to managing the channel, Duchscher also helps to run MrBeast's business ventures and handle his social media presence. He is an important part of the MrBeast team, and his work has helped to make MrBeast one of the most well-known YouTubers in the world.

MrBeast is also represented by Cesidia Carosa of Kovert Creative.
When did MrBeast Start His YouTube Channel?
MrBeast started his YouTube channel when he posted his first video on November 19th, 2015 when he was still only 17 years old.
How Many Kids Choice Awards has Mrbeast won? 
He has won numerous awards for his work, including four Kids Choice Awards. Mrbeast's first Kids Choice Award came in 2017 in the category of Favorite Gamer. He went on to win the award again in 2018 and 2019. In 2020, Mrbeast won his fourth Kids Choice Award, this time in the category of Best Social Media Star. Mrbeast is the only person to have won in this category more than once. In addition to his Kids Choice Awards, Mrbeast has also won three Streamy Awards and two Webby Awards.
How Much Money does MrBeast Make?
As one of the most popular YouTubers around, MrBeast has built up a sizable fortune. Forbes estimates his net worth to be $24 million, and that's just from his YouTube earnings. A large portion of that comes from the ad revenue his videos generate. On average, MrBeast earns around $1.2 million per month from ads alone. However, that's not the only source of income for MrBeast. He also makes money through sponsorships and product endorsements. For example, he has a partnership with G Fuel, and he often promotes their products in his videos. He also sells his own line of merchandise, which includes T-shirts, hoodies, and hats. With so many different sources of income, it's no wonder MrBeast is worth millions of dollars.
What is MrBeast's fan mail address?
Fans can send letters and mail to MrBeast and his team at his official fan mail address:
c/o Jimmy Donaldson
1822-6 S. Glenburnie Rd.
275
New Bern, NC 28562
What is MrBeast's phone number?
MrBeast has set up a phone number specifically for texting with his fans. You can reach out to him by texting +1 (917) 259-6364.
What is MrBeast's email address?
You can email MrBeast at his official email account (mrbeast@nightmedia.co) provided by his management company Night Media.
Outdated Contact Information
The following information is no longer valid and should not be used for contacting MrBeast.
Get Updated Celebrity Contact Info First!
Sign up for the Tales From The Collection newsletter and be the first to know when celebrities like new contact info is added for celebrities like Johnny Depp, Keanu Reeves, and Taylor Swift goes live!