After you've planned your wedding guest list, you may be left with a few extra invitations. If you'd like some unconventional guests or a few extra gifts, consider sending some to celebrities and your favorite companies.

It may sound crazy, but you would be surprised at how common it is to send wedding and bridal shower invites to celebs and popular companies like Yeti, Tesla, and Patagonia. Many brides-to-be are delighted to receive personal responses to their invitations from the actors, athletes, and musicians that they greatly admire or the brands that they enjoy the most.

If that sounds like an experience you'd like to have, then continue reading to learn how to contact the celebrities and businesses that are the best to send wedding invitations to.
What to Include in a Celebrity Wedding Invitation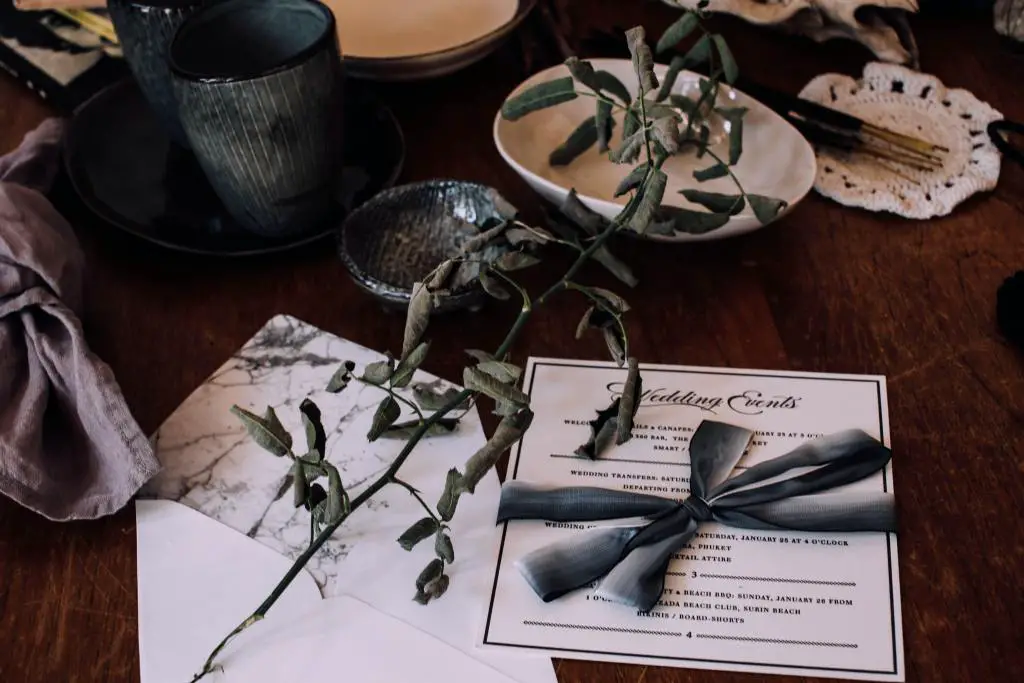 When you're sending a wedding invitation to a celebrity, there are a few things that you'll want to include. First, be sure to send it early, so that they have plenty of time to respond. You should also include the following:
– The date and location of the wedding;
– Why do you feel a connection with the celebrity; and
– A brief message explaining why you would like them to attend.
It's also important to remember that celebrities are busy people and may not be able to attend your wedding even if they want to. That may be a good thing, though. While Taylor Swift did accept an invitation to one of her fans' bridal showers, it's not reasonable to expect a celebrity to attend your big day. That could be for the best since you don't want anyone stealing your spotlight anyway.
What to Include in a Company Wedding Invitation
Inviting a company to a wedding is a little different than inviting a celebrity. After all, it's not like Coca-Cola is going to show up! Rather than getting a random employee from HR to attend your wedding, most couples hope to get a congratulatory note, free products, or swag.

Therefore, you don't need to worry about sending your invitation to a specific employee or even the CEO. Instead, simply send your invitation to the company's public relations (PR) department, and let them know why you love their brand and what their products mean to you as a couple!
How to Address Wedding Invitations to Celebrities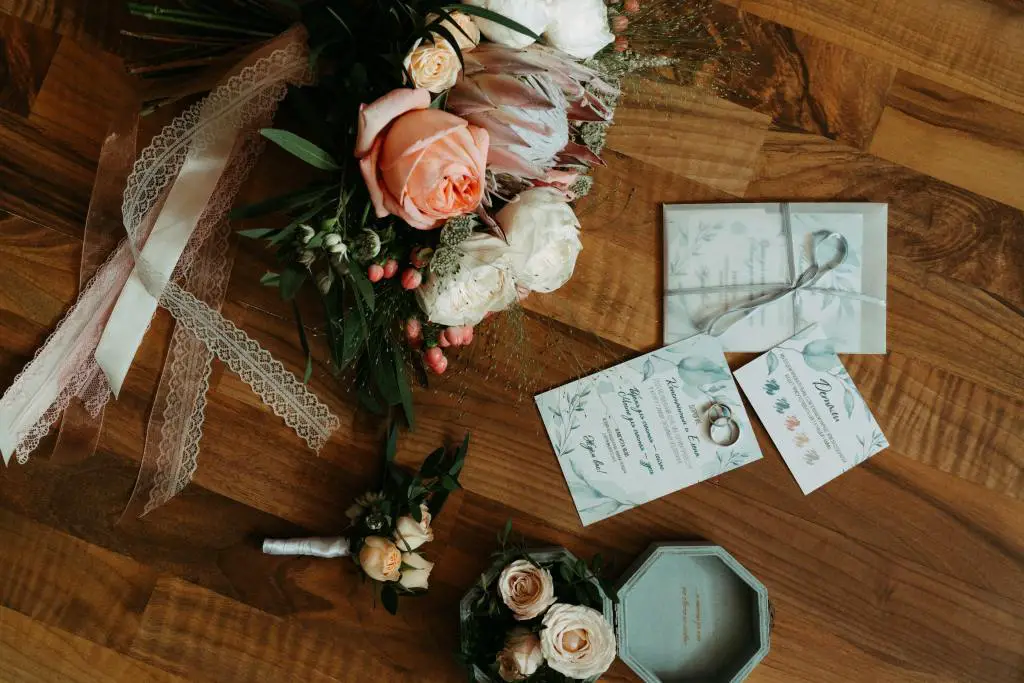 If you're inviting a celebrity to your wedding, you might be wondering how to address the invitation. While it's always best to use their formal name and title (if they have one), you can also get away with using a more familiar tone. For example, if you're inviting Jennifer Lawrence, you could address the envelope as "Miss Jennifer Lawrence" or simply "Jennifer Lawrence.
When it comes to addressing wedding invitations, there are no hard and fast rules. If you're not sure what to do, err on the side of caution, and go with the formal option. As far as finding the perfect address to send your invite to, check out our guide for finding celebrity addresses.
What Kind of Response to Expect from a Celebrity Invite
The best practice for sending celebrity wedding invites is to craft your invitation to let the celebrity know they are welcome to attend your wedding. However, go into it with the expectation that at best, you will get a personal response or congratulatory note from them. That's because while celebrities attending fans' weddings is rare, people do actually get responses!
Examples of Responses to Celebrity Wedding Invitations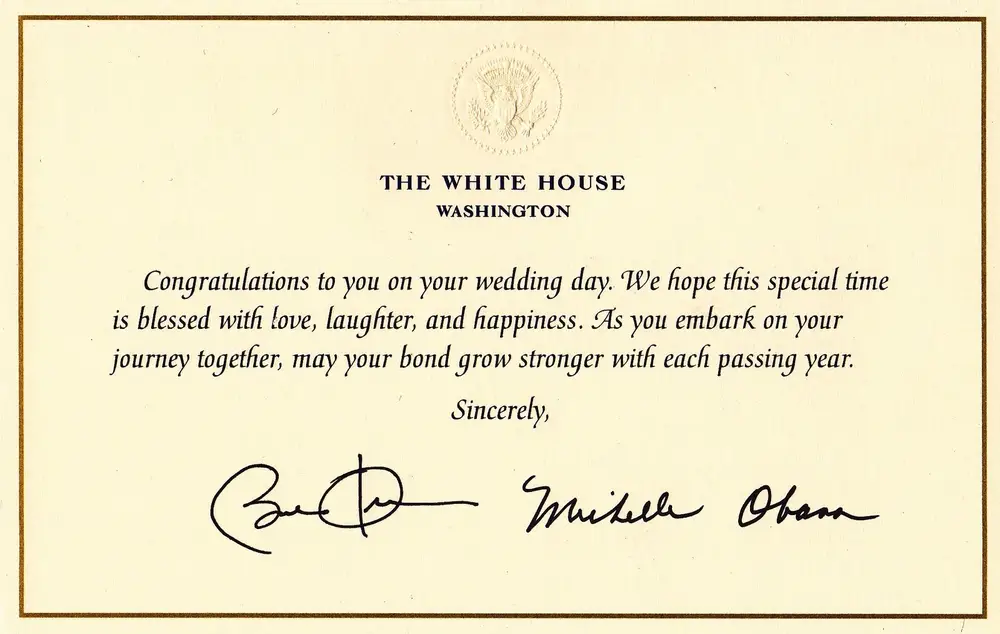 Many engaged couples choose to invite whoever the sitting President is at the time of their wedding. If you would like to get a response from the White House acknowledging your special day, you can simply go to the official website. No need to send an actual invitation.

If you want to send an invite to a celebrity, then your best chance of getting a response is to write to celebs who have a good track record of responding to letters from their fans in general. Here is a list of the Top 30 Celebrities that respond to fan mail. If you choose to send an invite to any of these movie stars, then you have a pretty good chance of getting a reply.
Sending celebrities wedding invitations is a fun way to add excitement to your big day. While you probably won't get too many yes RSVPs, it's still worth doing it if you're a fan of any of these celebrities. Who knows, you might just get lucky and have one of them respond positively to your invitation.
If this is something that you're considering, be sure to read our guide on how to contact celebrities before taking any further steps. It includes everything you need to know about getting in touch with them as well as a few tips on which ones are more likely to respond positively to invitations.

Here are a few examples of what you might be able to expect from Ewan McGregor and John Travolta.
Where to Buy Custom Wedding Invitations

Want to start sending out invites, but still haven't ordered? Picky Bride offers a quick and affordable solution for wedding invitation shopping also available on Amazon. With their user-friendly ordering process, couples can customize their invitations with just a few clicks. The company offers laser-cut designs and provides design proofs for confirmation before printing. Orders can be completed and shipped out in as little as 7 days. With Picky Bride, couples can get high-quality invitations without breaking the bank.
Our Dream List of Celebrities to Invite to Weddings
Here are a few celebrities that we'd love to see at a wedding:
– Jennifer Lawrence: She's funny, relatable, and always down to have a good time. You can bet that your wedding would be significantly more fun with Jennifer in attendance.
Jennifer Lawrence
c/o Jennifer Lawrence Foundation
291 North Hubbards Lane
Suite 172, Box 315
Louisville, KY 40207
USA
– John Legend: He's one of the most romantic singers out there, so it makes sense that he would be great to have at a wedding. His music would make for an amazing ceremony or reception soundtrack.
John Legend
Friends At Work
3331 Caroline Ave
Culver City, CA 90232
USA
– Beyoncé: She's the queen of glamor and would add some serious star power to your big day. Plus, she's sure to get everyone on the dance floor with her hits.
Beyoncé Knowles
c/o ICM Partners
65 East 55th Street
New York, NY 10022
USA
Do you have any other favorite celebrities that you think would be great wedding guests? Let us know in the comments below who you would like to invite to your wedding or find your favorite celeb in our contact information database!
Best Companies to Send Wedding Invites to
Companies like Nintendo are incredible at answering mail from fans, and they have received things stranger than wedding invitations over the years, so don't feel weird about sending your invite to a company. Replying to invites and messages is actually very beneficial for them as they may be able to profit from the inevitable organic social shares that will come from it!

Put those extra wedding invites to use and send them off to some of our favorite companies!
Company Addresses
Coca-Cola
c/o Public Relations
1 Coca Cola Plz NW
Atlanta, GA 30313
USA
Lowes
c/o Public Relations
1000 Lowe's Boulevard
Mooresville, NC 28117
USA
Microsoft
c/o Public Relations
One Microsoft Way
Redmond, WA 98052-7329
USA
Nike
c/o Public Relations
One Bowerman Dr
Beaverton, OR 97005
USA
Nintendo of America
c/o Public Relations
4820 150th Ave
Northeast Redmond, WA 98052
USA
Olive Garden
c/o Public Relations
1000 Darden Center Dr
Orlando, Florida 32837
USA
Patagonia
c/o Public Relations
259 W. Santa Clara St
Ventura, CA 93001
USA
PlayStation
c/o Public Relations
2207 Bridgepointe Pkwy
San Mateo, CA 94404
USA
Starbucks
c/o Public Relations
2401 Utah Ave. South
Seattle, WA 98134
USA
Tito's Vodka
c/o Public Relations
215 Lavaca St
Austin, TX 78701
USA
Under Armour
c/o Public Relations
1020 Hull St FL 3
Baltimore, MD 21230-5356
USA
Yeti
c/o Public Relations
7601 Southwest Pkwy
Austin, TX 78735
USA
Fortune 500 Company Headquarters Addresses
Not finding the address for your favorite company? Check out this list of corporate HQ addresses to send your wedding invitations to!

FAQs
Which companies are good to send wedding invites to?
The best companies to send wedding invites to are ones with large brands that you enjoy. If you're a gamer, then try sending an invite to Sony or Microsoft. Sports fans might get a kick out of sending an invite to their favorite team, but don't blame me if the whole starting line shows up for the reception! Just remember: the #1 consideration is always to have fun with it!
How early should you send wedding invites?
Assuming you've already sent out a save-the-date notification to your guest list four to six months prior to your wedding date, wedding invites should go out between six and eight weeks before the wedding date.
Can you invite celebrities to events other than weddings?
You can absolutely invite celebrities to events other than weddings. Teens will often invite their celebrity crush to prom, and Taylor Swift even showed up to a bridal shower. So, what's stopping you?!
Which companies can you send wedding invitations to for free stuff?
Many companies will send care packages to couples who are preparing to tie the knot. Some popular choices include Blue Moon Brewing Company, Yeti, and Tito's Handmade vodka to name a few.
Can you send baby shower invites to companies?
Many expecting mothers enjoy sending baby shower invitations to companies in the hopes of getting free stuff. Unlike sending wedding invitations to companies, baby shower invites are typically only sent to companies that sell or manufacture baby care products. Some popular companies to send baby shower invites to include Carters, Dr. Brown's Baby, and Gerber.
Can you send graduation invitations to celebrities?
Many high school and college graduates choose to roll the dice and invite their favorite celebrities to their ceremonies. Tales From The Collection offers comprehensive celebrity contact information to help grads invite their favorite celebs. Stars like J. Cole and Normani Kordei have attended their fans' graduations and even Taylor Swift once sent flowers to a graduating fan!