Arnold's First-Ever Con
On 27 October 2018, Arnold Schwarzenegger made his first ever comic convention appearance at Alamo City Comic Con (ACCC) in San Antonio, TX. I was lucky enough to be able to afford the opportunity to buy the "Judgement Day" VIP package which came in at a staggering $1,250. Initially, though, this was the only option available to be able to meet Governor Schwarzenegger, and I couldn't pass it up. The package initially included one photo op (for up to two people) and one autograph.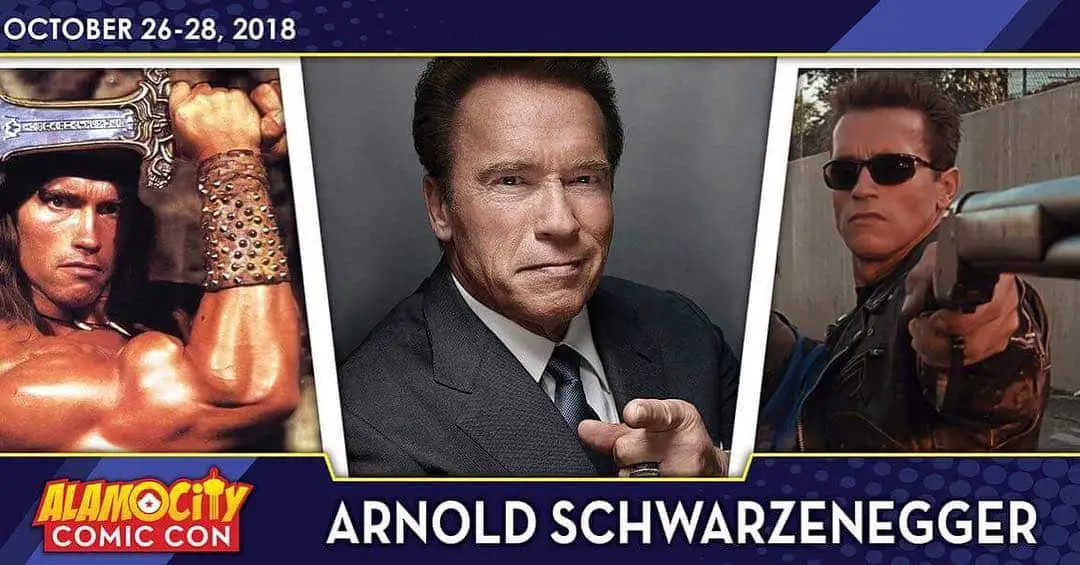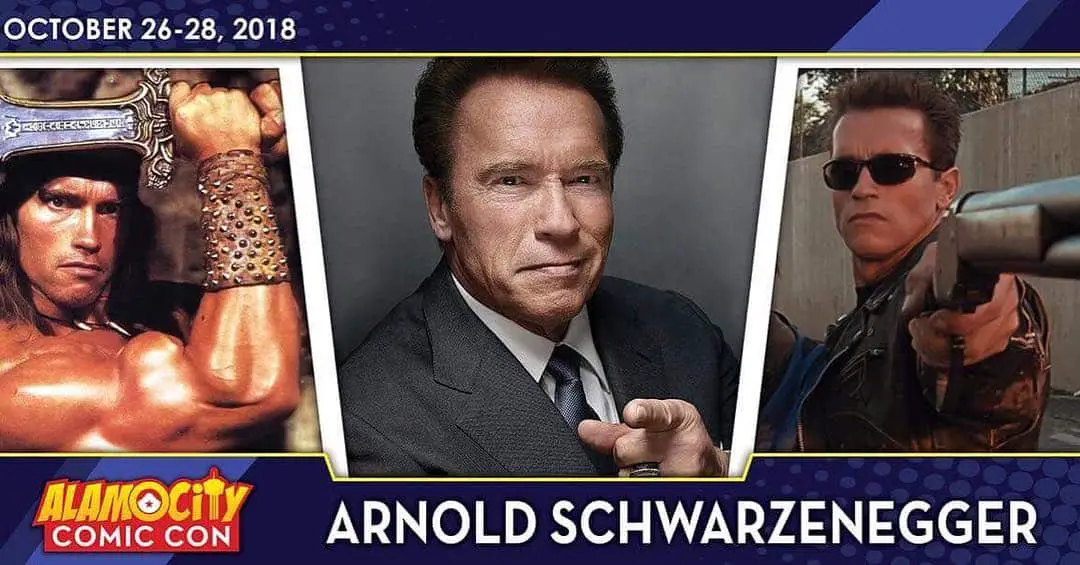 Eventually, 500 additional photo ops were made available for individual sale by ACCC. This was great for fans, but it came to the chagrin of those who had dropped the $1,250 and were told that it was the only way you'd be able to meet Arnold. As a way to appease the fans, days before the con, Arnold agreed to sign two items per VIP pass instead of the single item that was initially promised. While this was fantastic news, it left me with little to no time to find a second high-quality item to get signed like I did when I purchased the T2 one-sheet poster.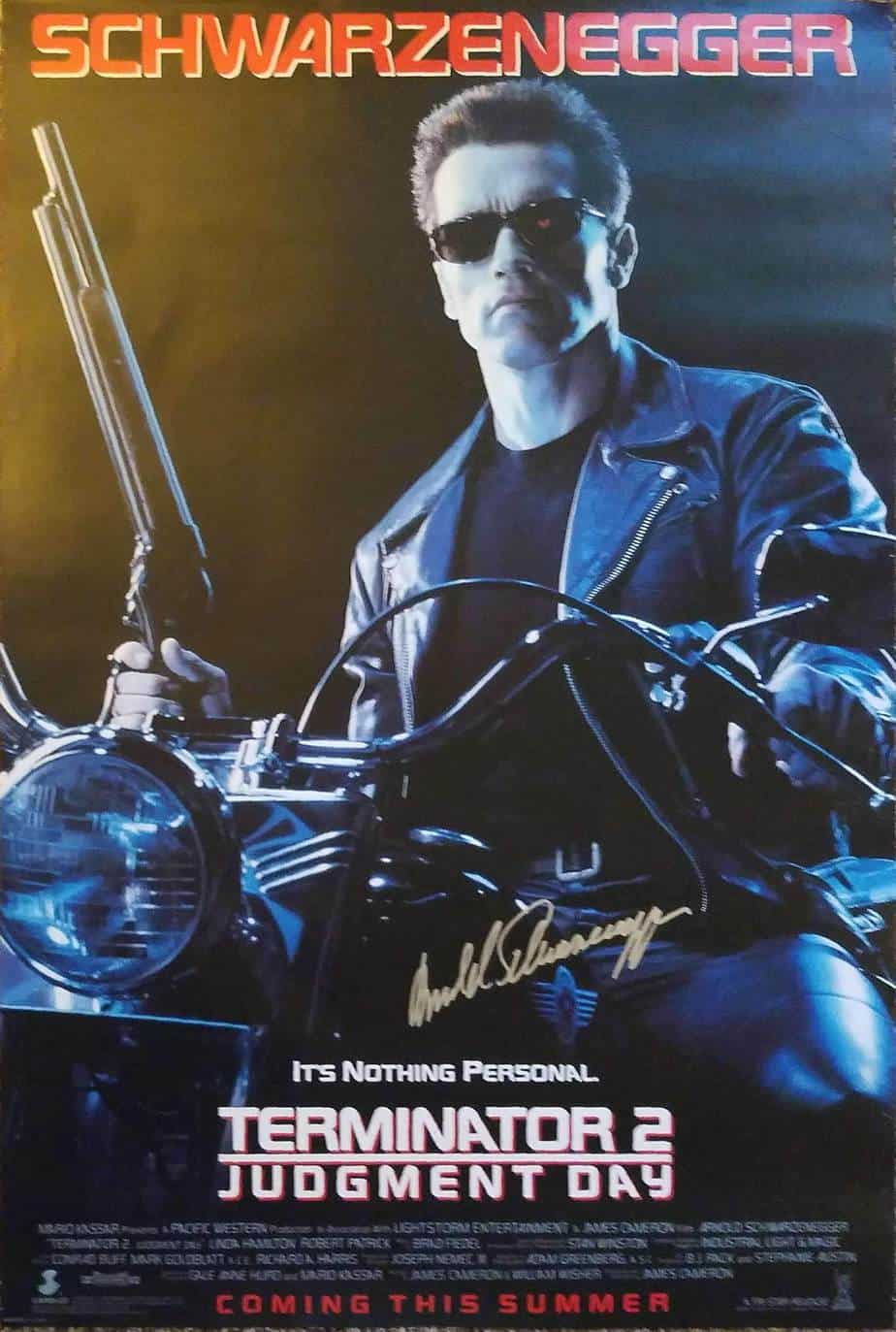 Now having to find a second item left me scrambling for something good. Since Sandahl who played "Valeria" in Conan the Barbarian was also in attendance at ACCC, I went for one of her table photos. Unfortunately, her pen smeared a bit but I didn't have time to source another item, so I was just stuck with it. I still think it turned out well, though.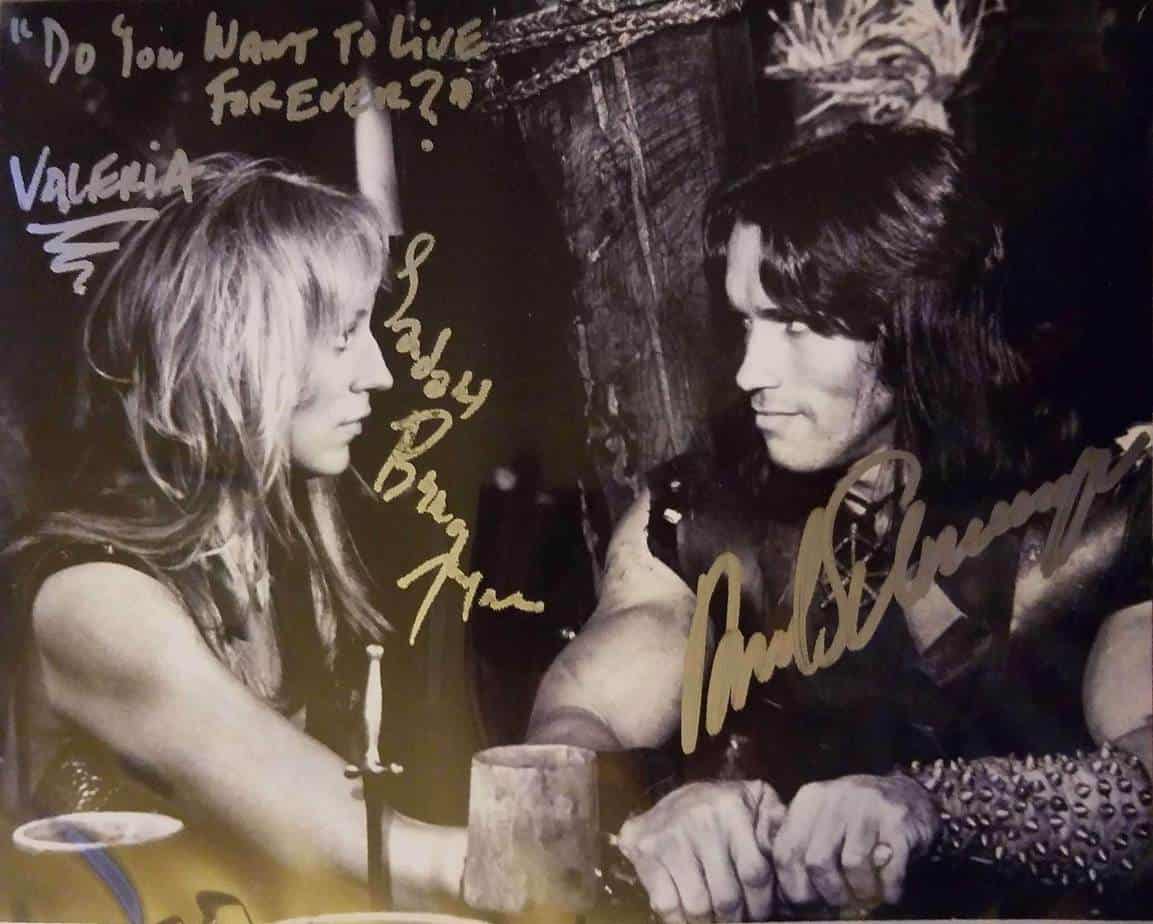 Schwarzenegger at the Convention
On the day of ACCC, Arnold's schedule looked like this:
VIP Photo-Ops: 3:00pm – 3:45pm
Signing: 3:50pm – 4:50pm
Q&A: 5:00pm – 5:30pm
Photo-Ops: 5:30pm – 6:30pm
Arnold Schwarzenegger & Taylor Swift Are Pioneering Digital Signatures; Who's Doing it Right, Who's Doing it Wrong?
Schwarzenegger Photo Op
As I had the VIP package, I was part of the first group to get my photo op done. I cannot express how quick my interaction was with Arnold. Saying that it was 15 seconds is probably being generous. I barely had enough time to say hello to him, and my wife almost didn't even get in the picture because we were ushered in and out so quickly. It made me very glad to have gotten the VIP package because the15 seconds we had was a blur, and if that was it, I would have been really bummed.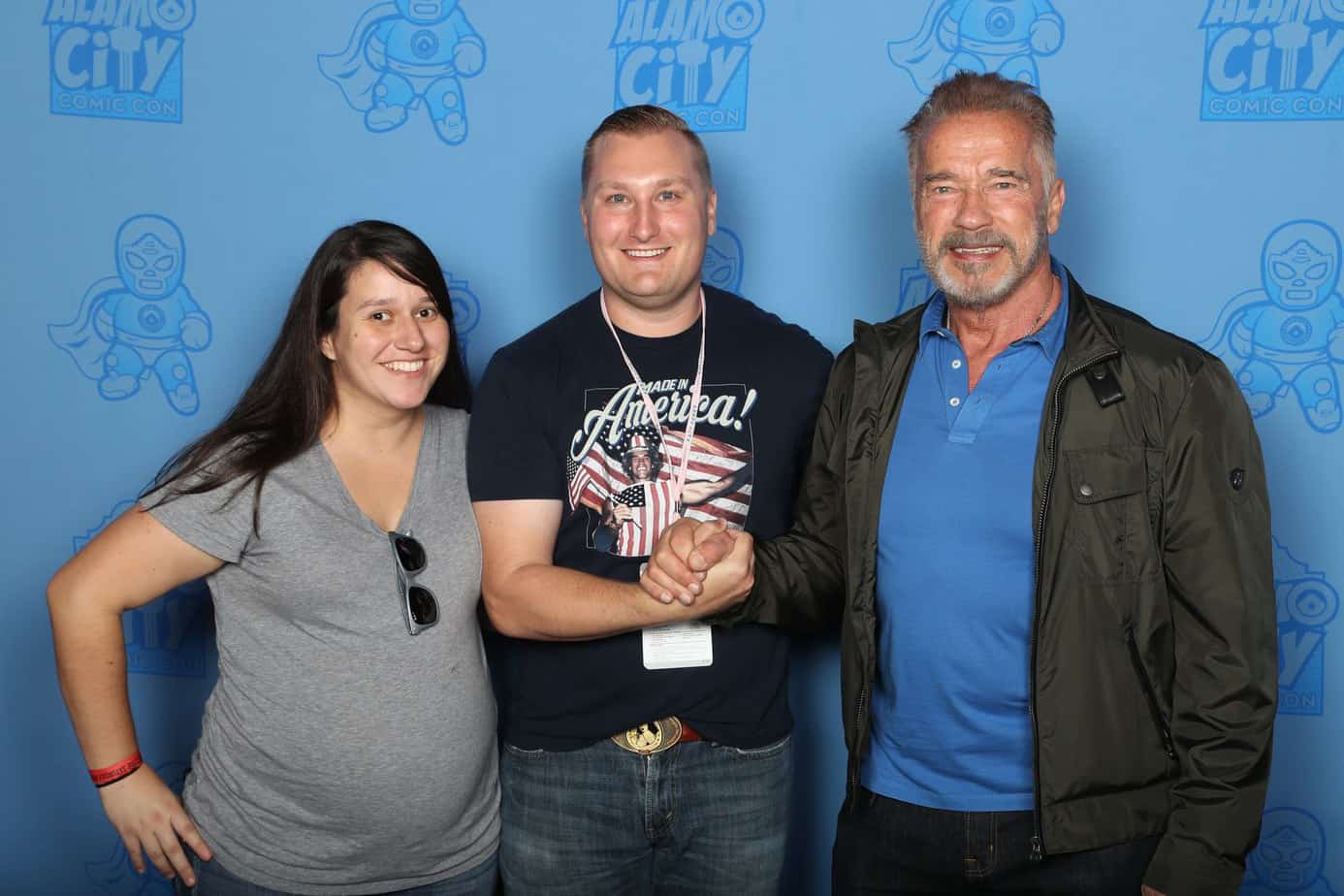 Getting to the Autograph Signing
After the photo op, there was a bit of confusion on exactly where to go as even the volunteers didn't seem to know. The fact that the photo-op and the signing were scheduled so close together didn't help matters, so it was a mad rush to try and get to the right place.
Once we found where the signing was to occur, which was on the opposite side of the venue, we waited in line until we saw Arnold pull up on a golf cart.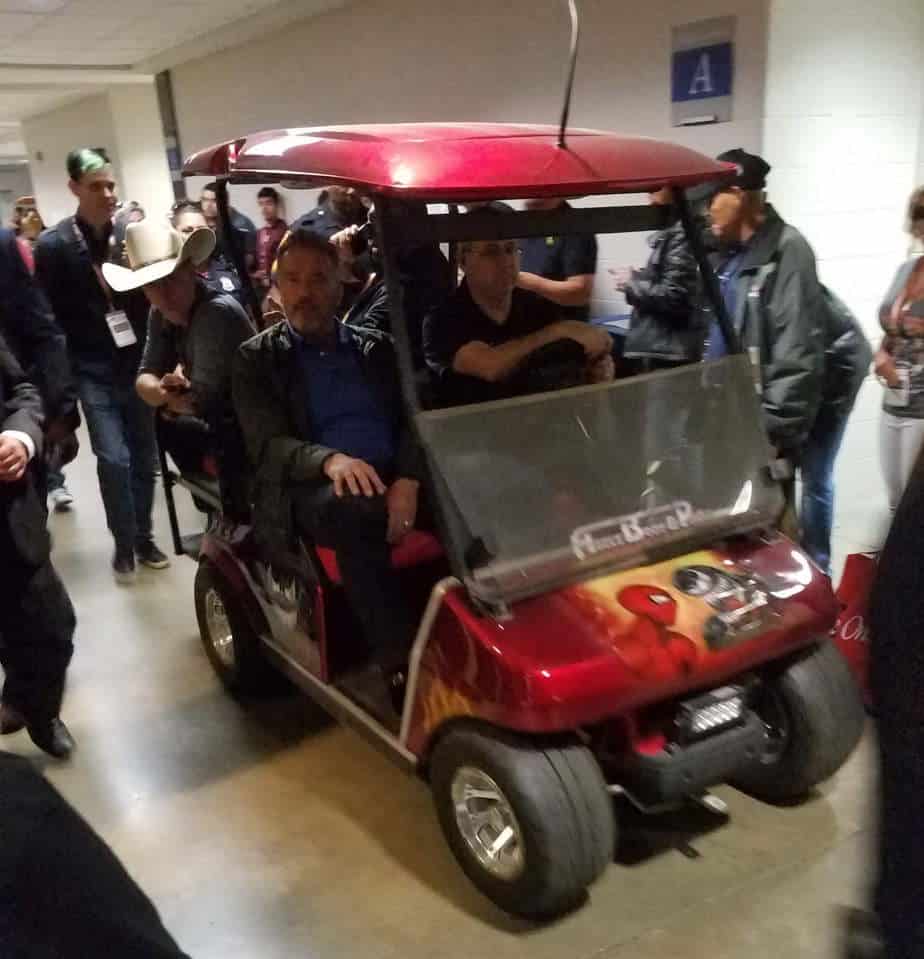 Signing began shortly thereafter with a line winding down a corridor before people were let into a snaking line that led to his table.
We only had one VIP ticket, which allowed for both of us to be in a photo. However, it didn't necessarily allow for both of us to see him for the signing portion. My wife Sheridan was pregnant at the time with our daughter, Emma, and I didn't want to leave her standing around by herself, so I was intent on getting her in with me. But, before we entered the signing room, one of the volunteers stopped us telling us that only one person could enter. I pointed out the uncomfortable state that Sheridan was in and appealed to her better nature and asked that she let us both in. Eventually, she yielded and allowed us both to go into the signing room.
My Interaction With Arnold Schwarzenegger
No cameras were allowed but I had to somehow record the moment I met one of my heroes for posterity. I started an audio recording on my phone, stuck it in my pocket, and let the tape roll. The quality isn't great, but here is how the less-than-a-minute conversation I had with him went. I knew I only had a few seconds in front of him, so I spit everything out in rapid succession.
There was a lot to say, but I mentioned that I worked at the California EPA when he was Governor. Back then I would run legislation down to his office from time to time. I also presented him with a challenge coin from my command's First Class Petty Officer's association. He seemed appreciative and kind of chided his handlers for not paying attention to what I was giving him. He signed my items and just like that, it was over.
Final Thoughts
To this day, I wonder if Arnold wound up keeping the coin that I gave him or if it went right into the trash. Regardless of whether he remembers the experience or not, it left a lasting impression on me and it's something that I continue to cherish.
About Arnold Schwarzenegger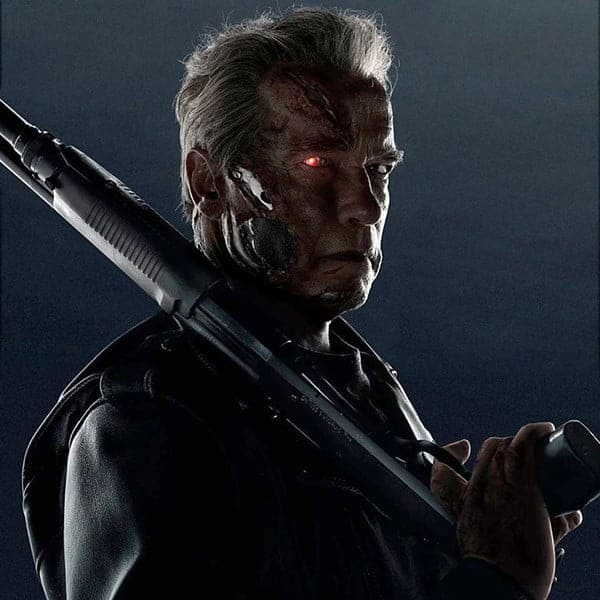 Standing 6 feet 2 inches tall, with a muscular physique that is the envy of any man, it is no wonder that Arnold Schwarzenegger is one of the most recognizable actors in the world.
Born in Austria in 1947, Schwarzenegger began his career as a professional bodybuilder, going on to win the Mr. Olympia title seven times.
He then made the transition to acting, appearing in such films as "The Terminator" and "Predator."
In 2003, Schwarzenegger was elected governor of California, and he served two terms in office. Today, at the age of 71, he remains an active presence in both the movie industry and politics. Truly, Arnold Schwarzenegger is a larger-than-life figure who has achieved success in multiple arenas.