What Are Digital Signatures?

Arnold Schwarzenegger and Taylor Swift have both embraced a new kind of autograph—the digital signature. When it comes to signing documents, we've been signing digitally for a long time. However, when it comes to the world of celebrity autographs, they have been polarizing, to say the least. So what are they?
The term digital signature has been broadly used to describe a number of different things. For the sake of clarity, a distinction will be made between the two kinds of digital signatures we're seeing. There are those that are done live by a person's hand and those that are copied. 
Live Digital Signatures
Live digital signatures are done by taking a stylus or fingertip and signing a digital photo on a screen. This is just the same as we all do when we sign a screen at the checkout counter. Importantly, these signatures remain personal and are usually dedicated or otherwise personalized. While these are reproducible as digital files, they do retain some of the appeal that fans have found with autographs. 
Arnold Schwarzenegger
Case in point, take the two live digital signatures below done by Arnold Schwarzenegger. Two artists sent their work to him, a hand-carved pipe and a portrait of Arnold. In return, both received digitally signed photos from the Terminator himself. Not only that, but both photos featured Arnold posing with the work the artists had done. Getting something like this would be enough to make any Arnold fan overjoyed. As if that weren't enough, Arnold added a dedication, thanked them for their work, and included his digital signature. It's unthinkable that anyone would view these as anything less significant than a hand-signed photo.
Ellie Goulding
One of the earliest examples of an artist doing live digital signatures is from 2012. Ellie Goulding did a live chat with her fans to promote her album Halcyon. Each fan received a photo of the album cover, uniquely signed by Ellie. She dedicated some to specific fans and others just had her signature. Ellie made everyone unique as they were all done by her hand. 
Copied Digital Signatures
As much personalization and uniqueness remain with live digital signatures, it is all stripped away with copies. These digital products are just that; products. They have lost any element of interaction between the celebrity and fan and are all identical and endlessly reproducible. Unfortunately, copied digital signatures require no human interaction to be produced. They were conceived as a marketing ploy to drive repeat sales of digital albums or song downloads.
Taylor Swift
By adding a copied digital signature, artists like Taylor Swift can release a new cover photo for an old song, driving some fans to purchase the same content with new packaging all over again.  To be clear, Taylor is doing the right thing by not advertising them as hand-signed. However, there is also little to no value added to the product. On the other hand, Taylor Swift in particular has an excellent track record of selling actual hand-signed autographed CDs, separate from her offerings of digitally signed albums. She even made our list of top artists that sell their autographs.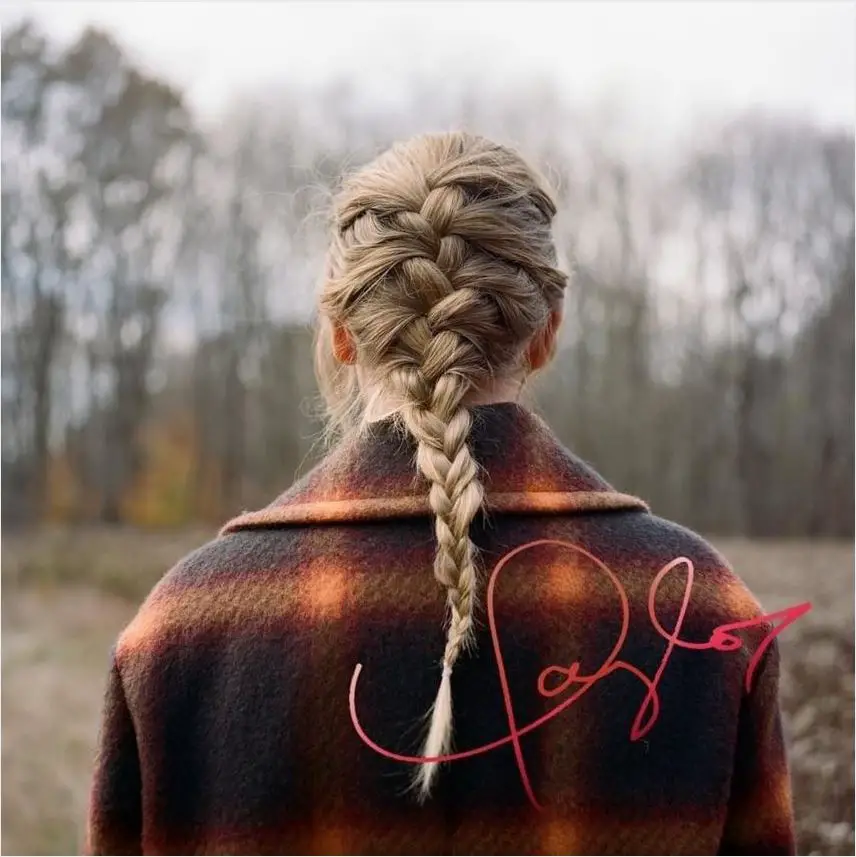 Camila Cabello
Part of the problem with digital signatures is the confusion that they cause. A recent Facebook ad by Camila Cabello advertised the sale of her single "Don't Go Yet" with a digitally signed cover and a limit of four per customer. Given that she has sold autographs in the past and limited the quantity to four, It makes it very unclear as to exactly what she's selling. It is not clear why a download would be limited to four. The presentation throws buyers through a loop and should be improved.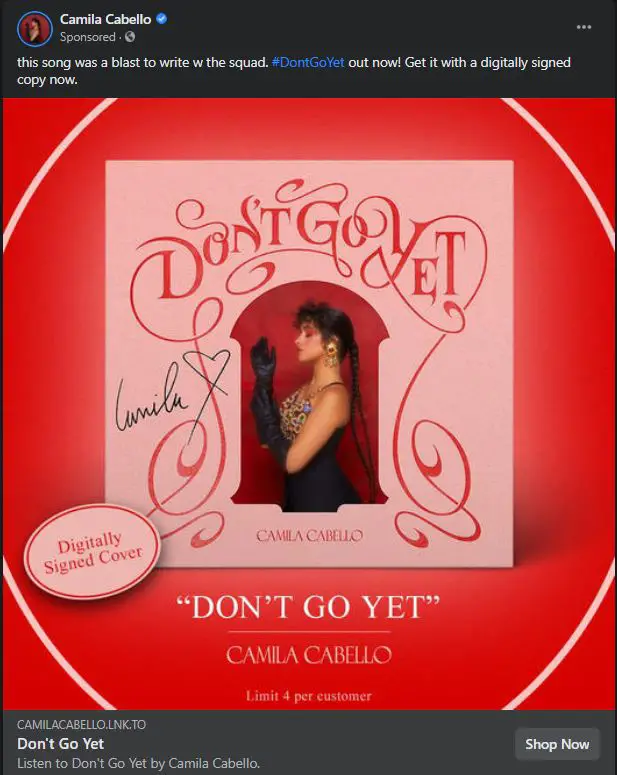 Migos
If you had thought that a digitally signed album was about as impersonal and contrived as you could get, you'd be wrong. When Migos released their digitally signed version of one of their albums, their digital signature came in the form of a text file. Honestly, It's hard to believe that something as disingenuous as calling a few characters in a text file a "digital signature" could be thought of as a good promotion strategy, but there it is.
Lady Gaga and Tony Bennett
Lady Gaga and Tony Bennett teamed up once again for their second album Love for Sale. In addition to the physical signed copies of their CD which were sold out in minutes due to their very limited quantity, the duo also offered digitally signed versions of the album covers. The digital albums sell for $10 a pop and according to the product description, each one "features digital replicas of Lady Gaga and Tony Bennett signatures and is available only in a digital format for U.S. customers".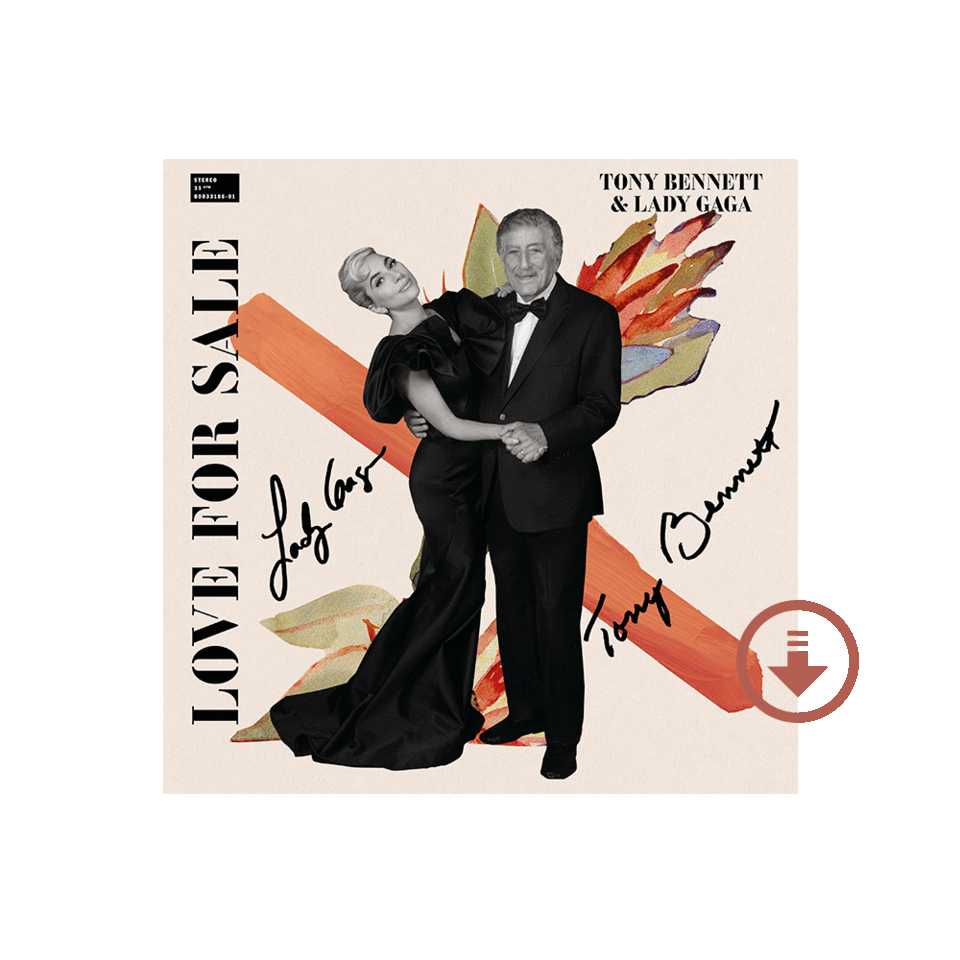 Get Taylor's Real Autograph
If you find yourself unable to purchase an autograph directly from Taylor's store, you can also try requesting one through the mail. The popular singer has built a good reputation for responding to fan mail over the years and has been known to surprise fans with responses and shout-outs over the years. Give it a try or check out our inventory below.
How to Frame a Taylor Swift Autograph
If you are lucky enough to get an autograph from Taylor Swift then you will likely want to display it for years to come. Unfortunately, displaying autographs can be quite risky for autographs over the long term. Damage from light, acidic framing materials, or direct contact with glass can all be disastrous for autographs. To ensure your autographs remain vivid over the years, check out our in-depth guide on how to frame autographs.