Taylor Swift's popularity can be attributed to a combination of her exceptional talent as a singer-songwriter, her relatable and personal lyrics, and her ability to continually reinvent herself and evolve musically. Her songs capture the emotions and experiences of her fans, often speaking to universal themes of love, heartbreak, and growing up.
She has also been an outspoken advocate for causes such as feminism and LGBTQ+ rights, which has resonated with her fans and earned her a dedicated following. Additionally, her constant engagement with fans through social media and her well-crafted public persona has helped her maintain a strong connection with her audience and solidify her place as one of the most influential musicians of her generation.
If you're one of the many individuals looking to get in touch with her, you're in luck! We've compiled a comprehensive list of the most current and reliable addresses, emails, and phone numbers available, enabling you to connect with Taylor Swift directly or through her representatives with ease.
Taylor Swift Contact Information Quick Reference
Taylor Alison Swift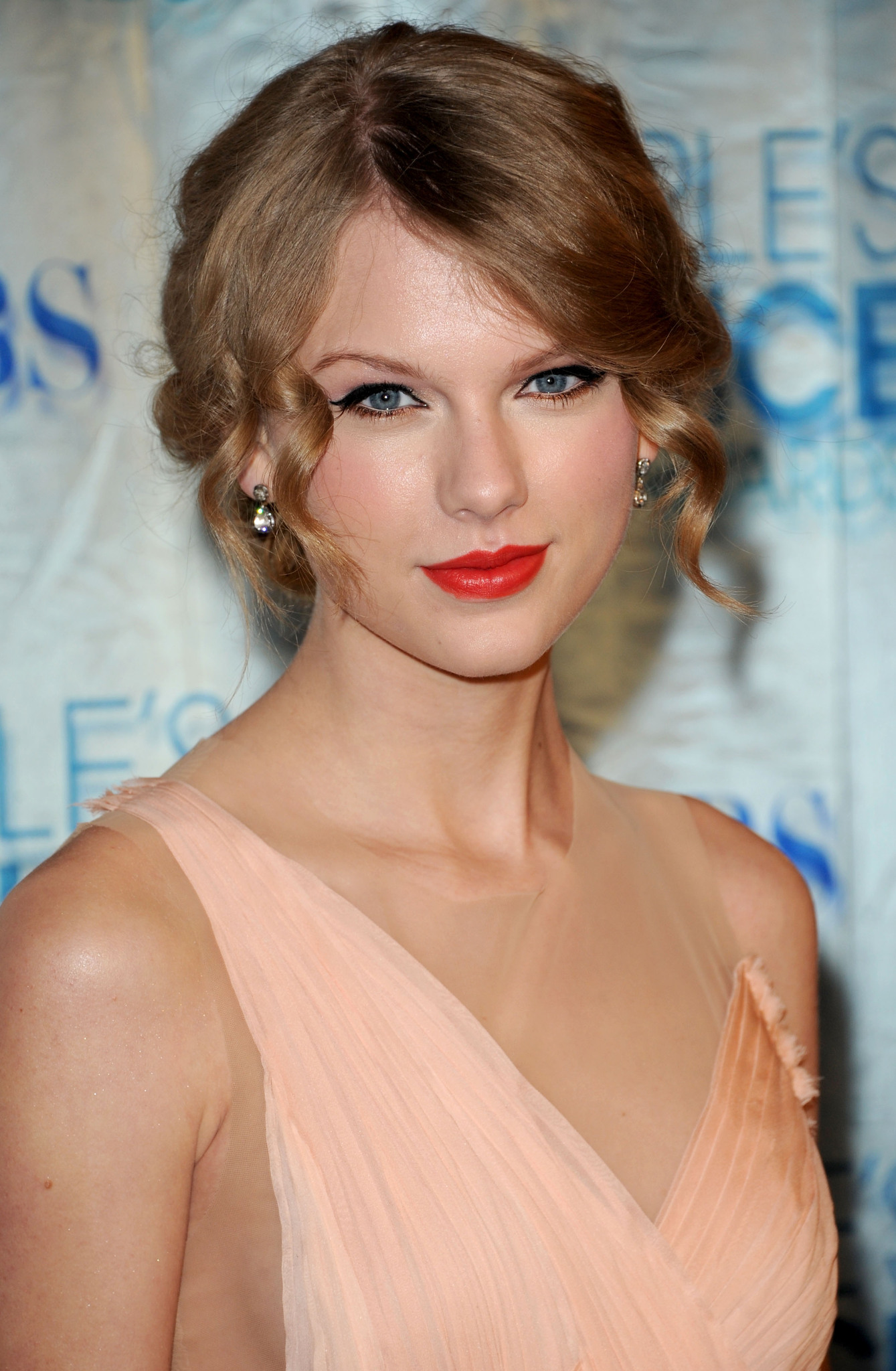 Singer
Taylor Swift is a Grammy-winning singer-songwriter known for her catchy pop hits and personal, confessional lyrics.
She has sold over 50 million albums and 150 million singles worldwide, making her one of the best-selling music artists of all time.
Born: December 13, 1989
Birthplace: West Reading, Pennsylvania
Founder of: Taylor Nation and 13 Management
Address:
c/o 13 Management
718 Thompson Lane, Ste 108256

Nashville
TN
,
37204
Phone:
+1 615 590 4050
Email:
info@13management.com
POC:
13 Management
Signature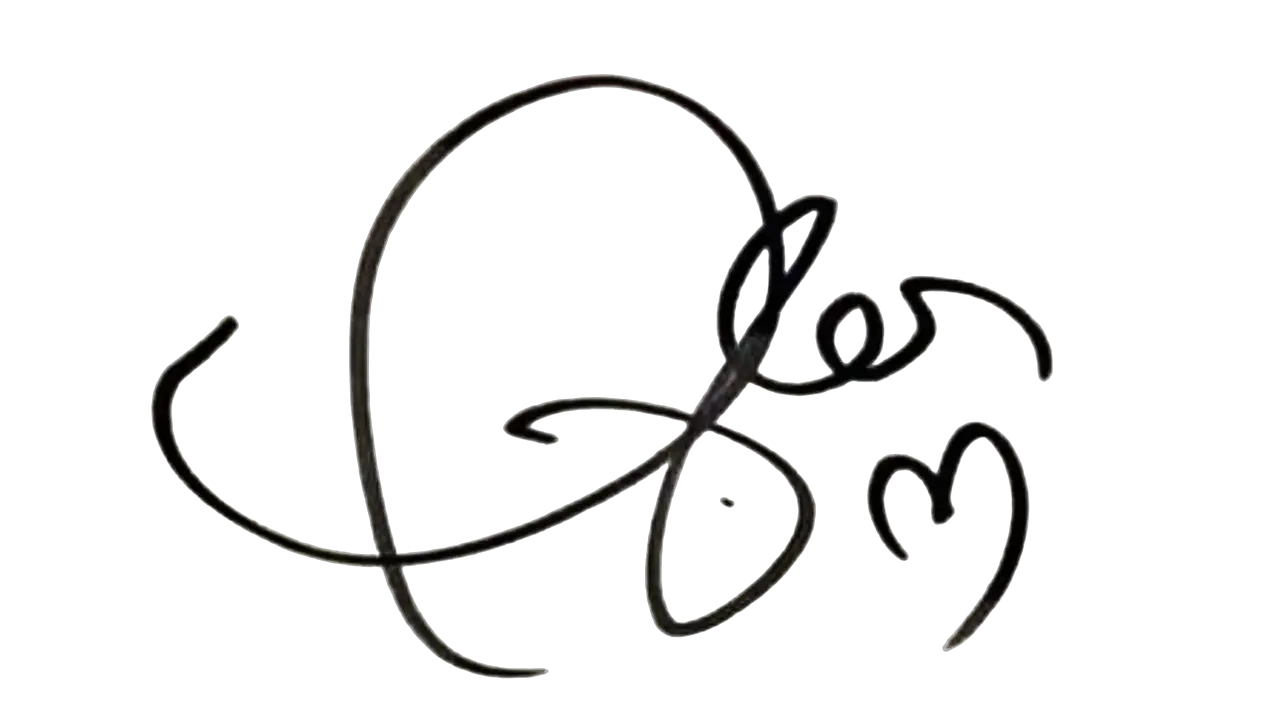 Taylor Swift's Fan Outreach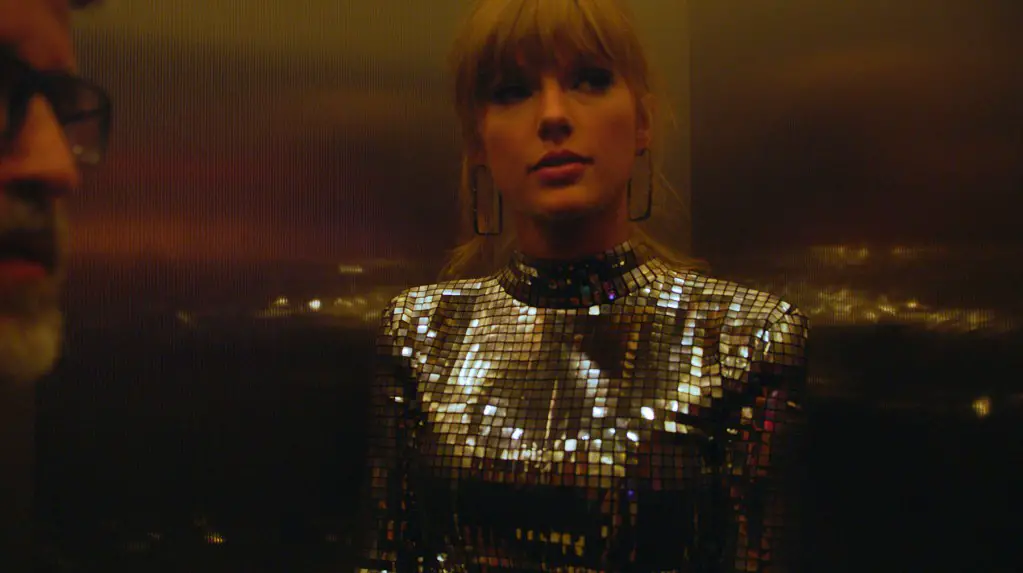 Time and time again Taylor Swift has shown that she has a deep appreciation for her fandom. She does an incredible job of making a small piece of herself available to all of her fans. In fact, she is known as one of the most prolific celebrities when it comes to selling her autograph, and she does so at an extremely affordable price. However, that's just scratching the surface because her interactions with fans get much more personal
Taylor Reads Fan Mail, Accepts Bridal Shower Invite
Taylor Swift is well known for her intimate interactions with her fans. According to Taylor herself, she goes through the fan mail she receives which is handled by her management company. One day while doing this, Taylor came across an invitation to a fan's bridal shower and decided to attend! She recorded the whole event and shared it on her YouTube channel.
Taylor Swift Responds to Fan Mail with Hand-Delivered Gifts
In the Christmas spirit, Taylor hand-selected a number of fans for personal gift deliveries. She let the lucky Swifties know that something was coming, only by sending them a Santa emoji on their social media accounts. She followed up her teaser by hand-delivering individualized gifts and their reactions were incredible!
Taylor Swift Buys Homeless Fan a House!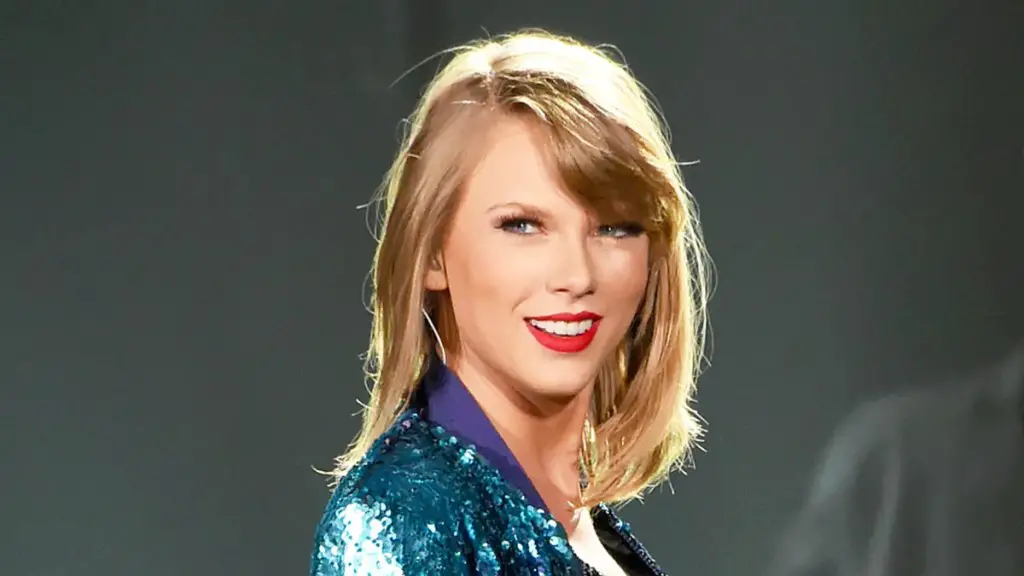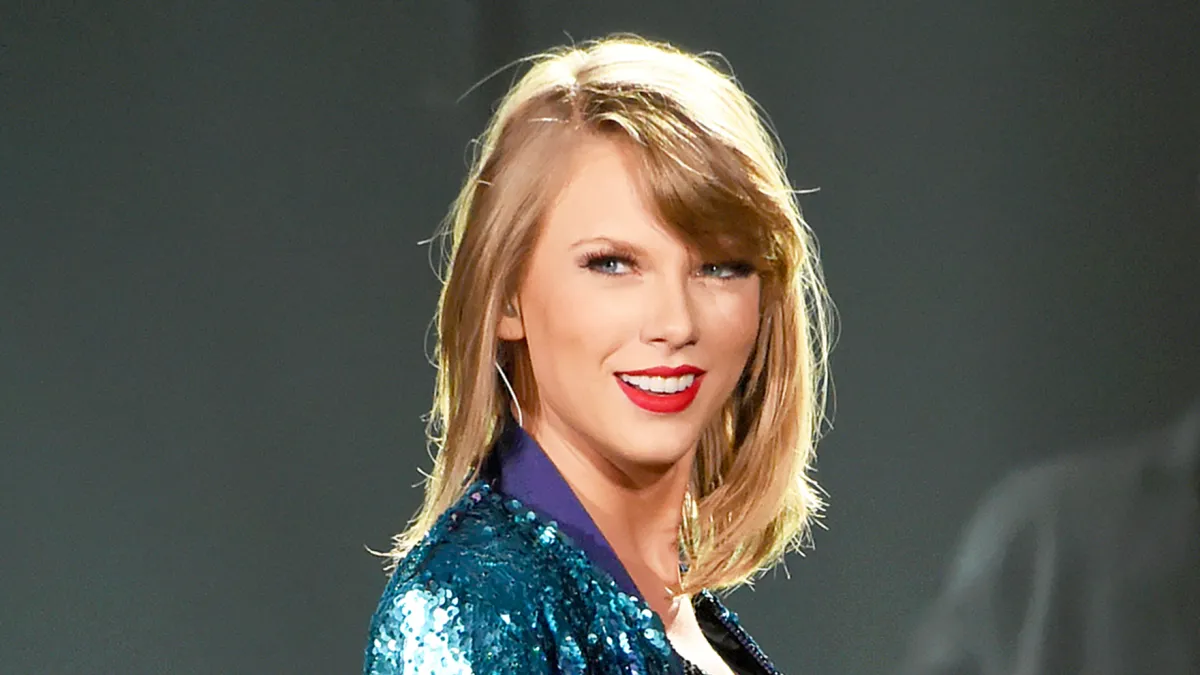 In what is surely Taylor's, and perhaps any celebrity's, most generous gesture to a fan, the pop vocalist helped a fan who was in dire need. Homeless and pregnant with a husband recently out of work, Taylor Swift fan Stephanie Waw was in an unimaginable predicament. That's when Stephanie's mother reached out to Swift and explained the dire straits that her daughter was in. Taylor took the initiative to invite the family to one of her concerts.
"After the show, Taylor took us back to her dressing room where she told me, 'Stephanie, you've been in my life for a long time and you've never asked me for anything. You could have reached out and I would have helped you. But you didn't. [Your] mum told me,'" Stephanie recalled. "She told me she wanted to give me the money back for my ticket that night. What she actually did was help us buy a home and all I needed for my baby. She told me, 'I want you to be able to enjoy your little girl, not have to worry about all this stuff.'"
How to Write to Taylor Swift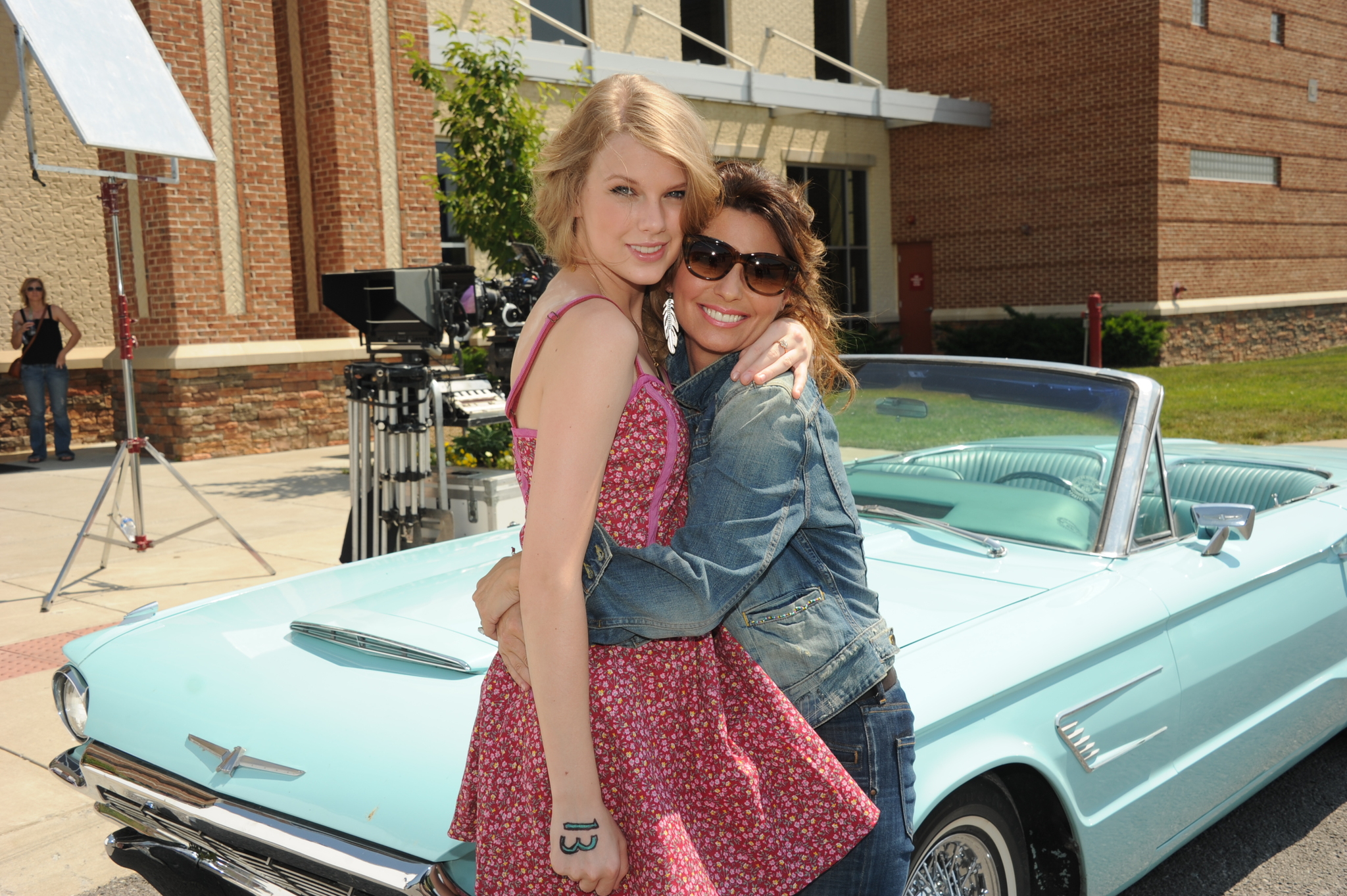 Sending fan mail is a great way to express your love and support for Taylor. To increase your chances of getting a reply, be sure to include a self-addressed stamped envelope.

Of course, if you're having trouble expressing yourself, you can use our fan mail template to get started or generate one with AI! Who knows, you might just get that fan mail response you've always wanted. 
Swift is a cultural icon who actually has been known to read the mail her fans send, but there is more than one way to reach her. One option is to contact her through her record label Republic Records at communications@umusic.com or by reaching out to one of the businesses that Taylor owns using the addresses below.
Taylor's Business Filing Information
DM Taylor Swift on Social Media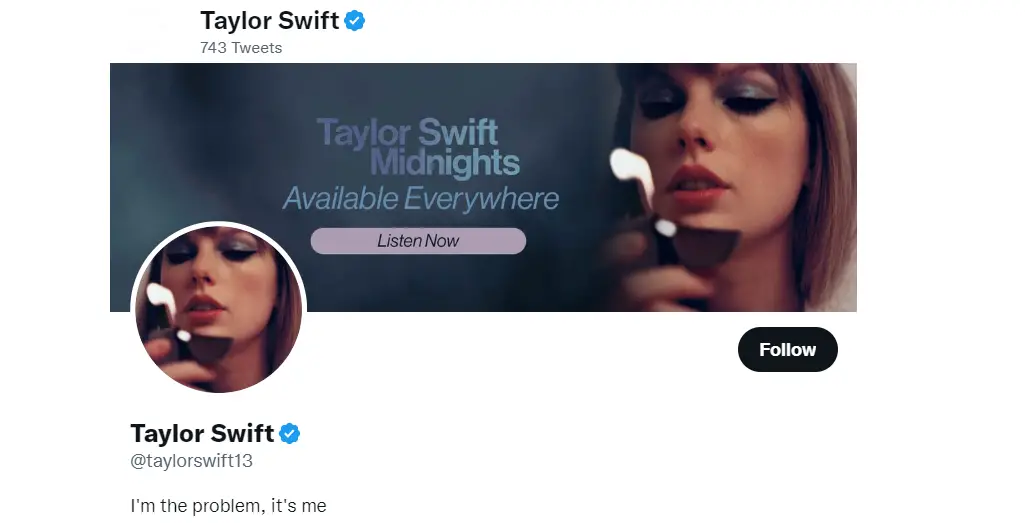 Finally, some celebrities have been known to respond on social media. You can try contacting Taylor Swift directly that way. She's active on Instagram, Twitter, and TikTok where she occasionally responds to messages from fans. With a little persistence and proper technique, you should be able to get in touch with your favorite actor.
Taylor's Fan Mail Fiasco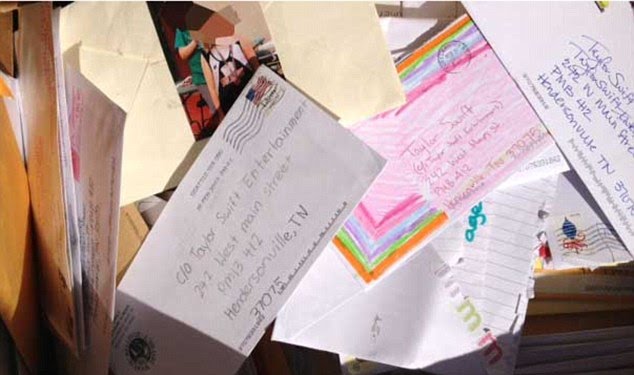 Taylor Swift's fans are some of the most dedicated in the music industry. They eagerly snap up her albums, attend her concerts, and wait outside her hotel rooms for a chance to meet their idol. So, it's no surprise that they also go to great lengths to send her fan mail. Unfortunately, some of those letters have ended up in the trash.
In 2013, pictures of Taylor Swift's fan mail being thrown in the garbage surfaced online, sparking outrage among her fans. While it's unclear exactly how the letters ended up in the trash, it's likely that they were mistakenly thrown out by Taylor Swift's staff. However, the incident highlights the importance of properly disposing of fan mail. With so many passionate fans sending letters to their favorite celebrities, there's always a risk that something will go wrong. For both celebrities and fans, it's important to remember that fan mail is a valuable commodity.
Don't let this mixup prevent you from writing though. Taylor likely had no clue how her mail was being handled. Given the media attention that this received, it's almost impossible to imagine that something like this could happen again.
Genuine Responses
Taylor has in fact responded directly to her fans before though. Back in 2008, a number of fans got the following form letter ahead of her 2009 Fearless tour. While the letter itself was generic in its thanks to her fan base, she did hand sign and dedicate each and every letter she sent out. Take a trip back in time and read Taylor's response to a fan's letter below.
---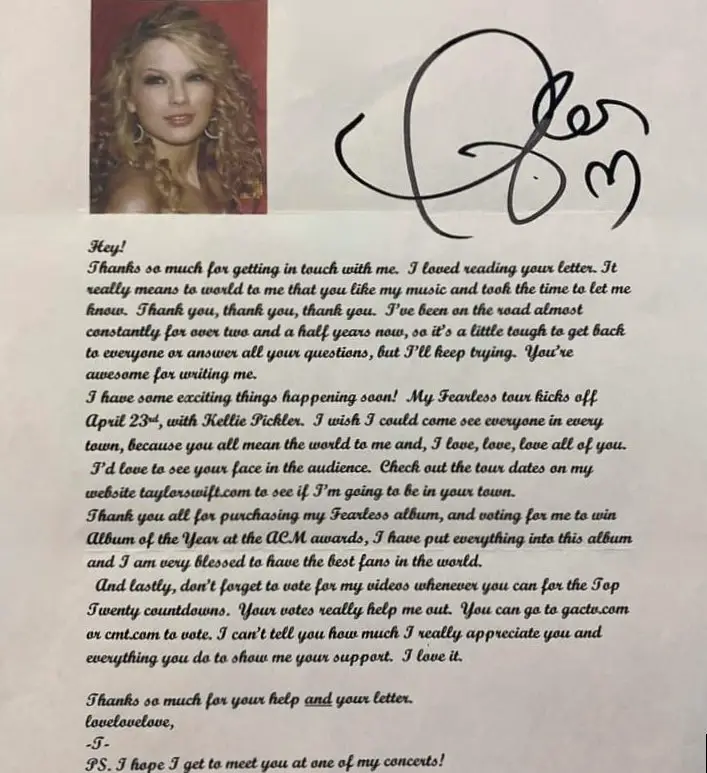 Hey!

Thanks so much for getting in touch with me. I loved reading your letter. It really means to world to me that you like my music and took the time to let me know. Thank you, thank you, thank you. I've been on the road almost constantly for over two and a half years now, so it's a little tough to get back to everyone or answer all your questions, but I'll keep trying. You're awesome for writing me.

I have some exciting things happening soon! My Fearless tour kicks off April 23rd, with Kellie Pickler. I wish I could come see everyone in every town, because you all mean the world to me and, I love, love, love all of you.

I'd love to see your face in the audience. Check out the tour dates on my website taylorswift.com to see if I'm going to be in your town. Thank you all for purchasing my Fearless album, and voting for me to win Album of the Year at the ACM awards, I have put everything into this album and I am very blessed to have the best fans in the world. 

And lastly, don't forget to vote for my videos whenever you can for the Top Twenty countdowns. Your votes really help me out. You can go to gactv.com or cmt.com to vote. I can't tell you how much I really appreciate you and everything you do to show me your support. I love it.

Thanks so much for your help and your letter.

lovelovelove,

-T-

PS. I hope I get to meet you at one of my concerts!
How to Get Taylor's Autograph
If you find yourself unable to purchase an autograph directly from Taylor's store, you can also try requesting one through the mail. The popular singer has built a good reputation for responding to fan mail over the years and has been known to surprise fans with responses and shout-outs over the years. Give it a try or check out our inventory below.
How to Frame a Taylor Swift Autograph
If you are lucky enough to get an autograph from Taylor Swift then you will likely want to display it for years to come. Unfortunately, displaying autographs can be quite risky for autographs over the long term. Damage from light, acidic framing materials, or direct contact with glass can all be disastrous for autographs. To ensure your autographs remain vivid over the years, check out our in-depth guide on how to frame autographs.
About Taylor Swift
Taylor Swift is a Grammy Award-winning singer-songwriter and one of the most popular and successful musicians of her generation. Born in 1989 in Pennsylvania, Swift moved to Nashville, Tennessee, at the age of 14 to pursue a career in country music.
She signed her first record deal with Big Machine Records in 2005 and released her debut self-titled album the following year. The album was a commercial success and spawned hit singles such as "Teardrops on My Guitar" and "Our Song," which made her the youngest person to ever write and perform a number-one song on the Hot Country Songs chart.
Swift continued to dominate the country music charts with her second album, "Fearless," which was released in 2008. The album went on to win four Grammy Awards, including Album of the Year, and established Swift as a crossover artist who could appeal to both country and pop audiences.
Over the years, Swift has released several more albums, including "Speak Now," "Red," "1989," "Reputation," and "Lover." She has sold over 50 million albums and 150 million singles worldwide, making her one of the best-selling music artists of all time.
In addition to her music career, Swift has also ventured into acting, appearing in films such as "Valentine's Day" and "The Giver." She is also a prominent philanthropist and has used her platform to advocate for causes such as education, disaster relief, and LGBTQ+ rights.
Swift is known for her honest and vulnerable songwriting, which often draws from her own personal experiences and relationships. She has won numerous awards and accolades throughout her career, including 11 Grammy Awards, 32 American Music Awards, and 25 Billboard Music Awards.
Taylor Swift FAQs
What is Taylor Swift's Management Company?
Taylor Swift owns a management company called 13 Management. It is based in Nashville, TN.
Who is Taylor Swift's Manager?
Robert Allen of 13 Management is Taylor Swift's manager.
What is Taylor Swift's Record Label?
Taylor Swift is signed by Republic Records and can be reached at communications@umusic.com.
Does Taylor Swift have an official fan club?
Taylor Swift does not have an official fan club nor is she in any way affiliated with one. She has never had a fan club in the past and will likely never have one in the future, so you should avoid any sites that claim to be an "official fan club".
What is the email to contact Taylor Nation?
To contact Taylor Nation, simply send an email to info@13management.com.
What is Taylor Swift's phone number?
While Taylor Swift's personal phone number is not public information, you can reach her by phone through her representatives by calling her agency 13 Management at +1 615 590 4050.