Scout Leader Seeks Nintendo's Help
ACHIEVEMENT UNLOCKED — Six young Cub Scouts from Wisconsin got some incredible recognition for their achievement from the President of Nintendo of America himself—Doug Bowser. Cub Scout pack leader Shaun Tanner reached out to the video game company, hoping they might recognize the hard work and dedication of the six young Cub Scouts under his charge. They all recently earned the rank of Arrow of Light, the highest achievement in Cub Scouting.

Posting on Facebook, Tanner explained that as a Cub Scout leader, he had organized a Blue & Gold Banquet (a celebration of the anniversary of the founding of the BSA) "which was 'electronic' themed, yet no electronics were played, only electronic themed games like Sonic the Hedgehog Ring Toss and Wreck-It Ralph Giant Jenga." He went on to say that "prior to the event he decided to reached out to Nintendo of America to see if they could send congratulatory letters to each of the Scouts." Tanner found that it wasn't as easy to do as he had perhaps imagined. However, after many emails and phone calls, he was eventually able to get through to the right department! At that point, he "simply asked for them to write a letter on official Nintendo letterhead congratulating each Scout on their achievements."
Nintendo Comes Through For BSA
Unfortunately, the letters Tanner requested didn't arrive in time for the event. but eventually, the letters did come! To Tanner's delight he received a welcome surprise from the Washington-based company when Nintendo came through with bookmarks and six letters—one for each Scout. Every letter was hand signed by President Bowser himself in recognition of the Scouts' meritorious achievement.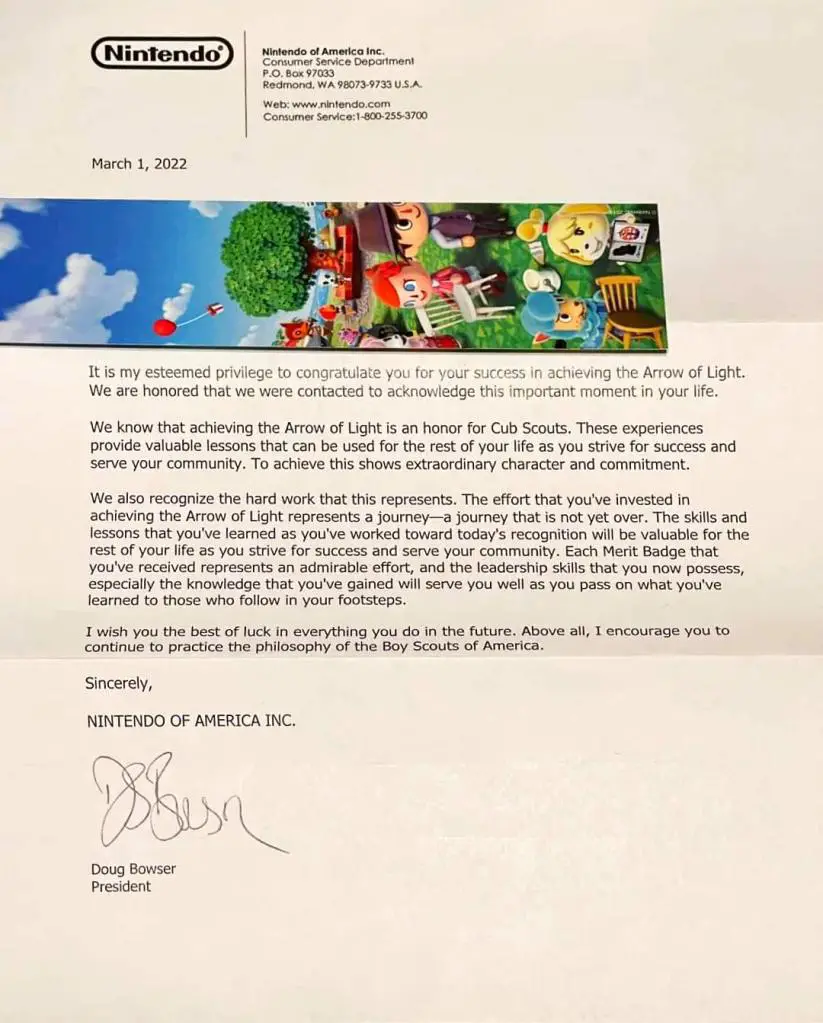 Bowser went on to not only congratulate the Scouts for the hard work and dedication that led them to that point, but encouraged them to continue working hard on their journeys towards success and community service. 
Nintendo Cares About Their Fans!
Nintendo has a long and rich history of meaningful customer interactions that goes back to the early 90's with the creation of the company's famed Gameplay Counselors. They have perfected the art of making their fans feel welcome and we see examples of this all the time! President Bowser's response is further proof that Nintendo has continued to honor their position of esteem among their fans, especially when it comes to young gamers.