Hundreds of Fans Fall Victim
Hundreds of fans have fallen victim to a con-man posing as Ian McKellen. Through Smuggler's Entertainments LTD, fans paid to send in their treasured items to be signed by a man who they thought was the legendary actor. Posters, figures, and photos were all sent in for McKellen to sign. Some were blank, while others were already filled with signatures from other actors making them valuable collectables that were defaced with the addition of a fake signature.

Many of the items sent in by fans were very cherished and are highly sought after pieces. To say that the revelation that the signing was fake came as a disappointment to many fans would be an understatement. An individual piece with multiple signatures takes many hours to complete and can be worth thousands of dollars.

As items started coming back from the signing, red flags started to be raised. It became clear from very early on that the signatures on people's items were not genuine. That was confirmed time and time again as new information came out by leading authenticators and eventually even Ian McKellen himself.
Fraud Exposed
Justin Steffman, the lead authenticator and CEO of autographcoa.com addressed fans' early concerns over the legitimacy of the autographs that they were receiving from the alleged signing. He released the following statement on the matter via Facebook:
Ian McKellen Addresses Scam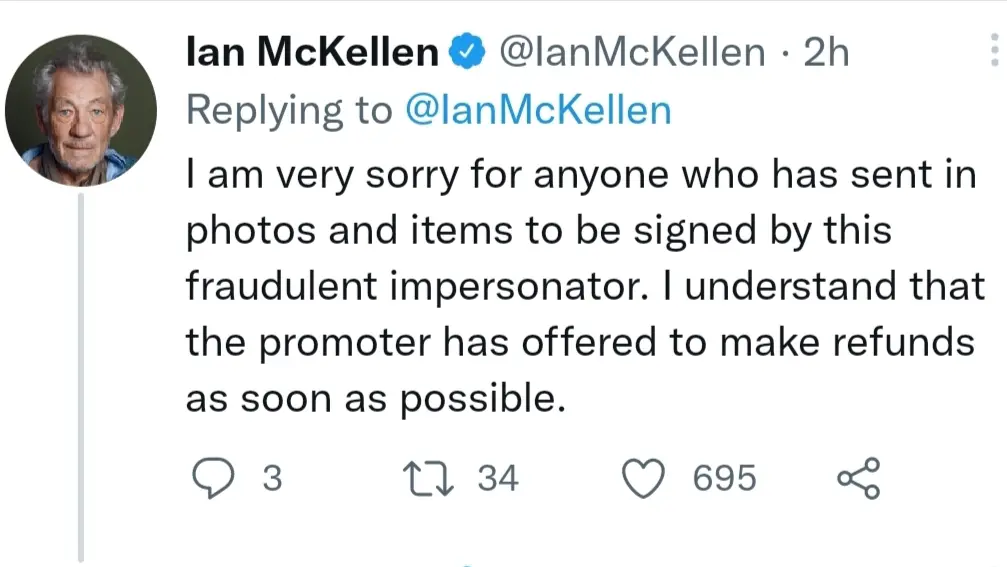 On February 10th, Sir Ian McKellen addressed his fans regarding the signing and made it clear that he was in no way affiliated with the venture. In doing so, he confirmed the deepest fears of many collectors who had been duped by the con-men running the signing, but who were still holding on to a sliver of hope that they were not actually deceived.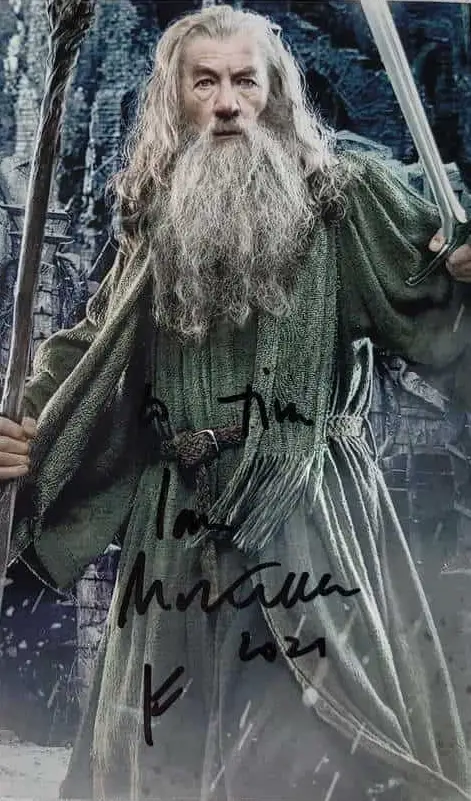 Interestingly, aside from confirming that the signing was a fraud, Ian McKellen did also confirm that he does in fact respond to fan mail and sign autographs through the mail! This recent response that I received from Ian McKellen serves as a great example of an authentic signature that can be obtained for free through the mail.
Fallout From The Fraud
According to Smuggler's Entertainments LTD, the signing was conducted by a masked man posing as McKellen. As items were signed, Smuggler's Entertainments apparently had the signatures remotely authenticated by Beckett Authentication Services. At that time they allegedly were initially validated by Beckett's lead authenticator Steve Grad, who only later called the signatures into question.

To Smuggler's Entertainments' credit, they have so far acted quickly in providing refunds to defrauded customers. They are further trying to compensate customers by trying to make them whole regarding their now damaged items. They have offered to assist with signature removal and even buying damaged items off of customers in some cases.
How to Remove an Autograph
If you are in a position where you have a fake autograph on one of your items and you would like to get it removed, my first piece of advice would be to seek help from a professional. The type of ink (paint, sharpie, ballpoint pen, etc.) as well as the type of material that the signature is placed on all inform the manner in which they are removed. Restoration services like Studio C help not only remove ink from your items, but can also do repair work on folded, torn, or otherwise damaged ephemera.