How to Get Funko POPs Signed
Collecting Funko POPs is a hobby for some and an addiction for others. That's thanks in large part to the incredible selection of figures that Funko produces. No matter what your interest, if it's pop culture related, Funko almost certainly has you covered. The diversity of figures, their desirability among fans, and their ability to hold their value over the years have made them the perfect medium for autographs.

Autograph collecting is a big industry that continues to grow and signed Funko POPs are no small part of that growth. There are several newer companies that focus just on selling signed Funkos, while many of the industry veterans have long since adapted to the demand by including the figures in their offerings. For those interested in getting their Funko POPs signed, there are many ways to do it, including taking advantage of current celebrity autograph signings. There are however many things you need to take into consideration like the type of pen being used for the autograph, signature placement, the cost and long-term value of POPs, and much more.
Comic and Pop Culture Conventions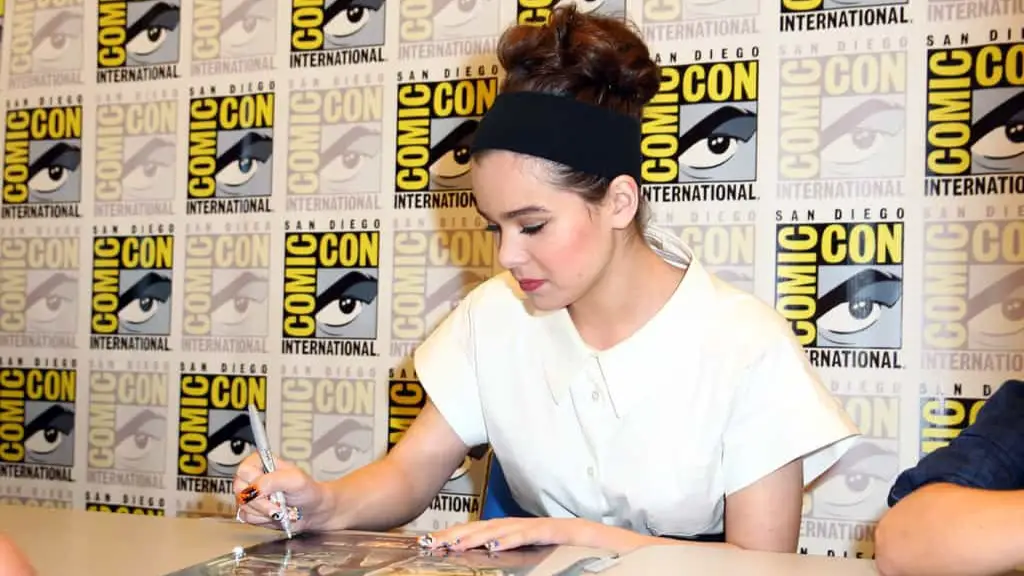 Walk past any autograph line at a con and you are likely to see a few guests holding Funko POPs. For many fans, there's nothing better than meeting your favorite celebrity in person and getting something signed. That's the main draw of conventions and it's major advantage over private signings where you pay the same price (or sometimes even more) for an autograph, but get none of the personal interaction. When you go to get a POP signed at a convention, it is as much of a keepsake as it is a valuable collectible. It serves as an interesting display piece, but also as a reminder of your interaction with that celebrity.
Through The Mail (TTM)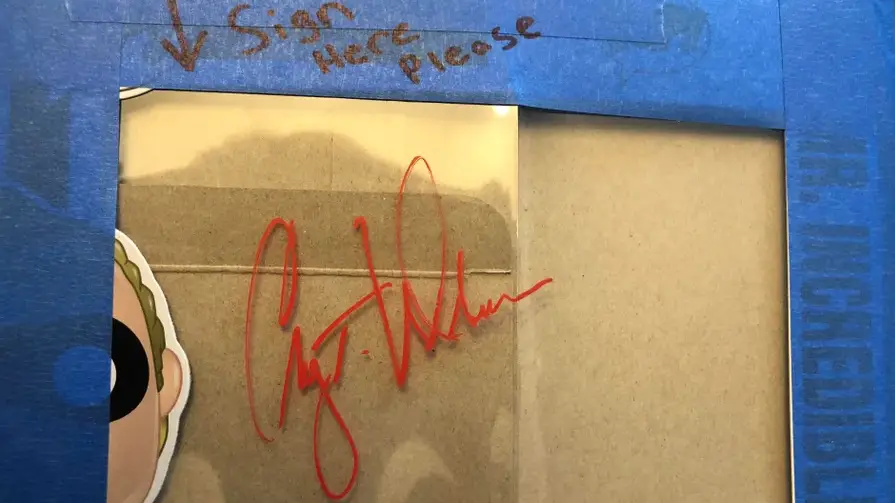 You may be surprised to know that many actors and voice actors that commonly appear at conventions are happy to give fans free autographs who request one through the mail (TTM). That makes TTM collecting particularly appealing for those who can't justify the expense of a pricey convention. Collecting autographs through the mail has been a hobby enjoyed by enthusiasts for easily over a century. Don't let its history fool you though, it's a hobby that is continually evolving and welcoming newcomers to the fold. That even includes Funko POP collectors who want to get their figures signed. In six easy-to-follow steps, you could send your POPs through the mail for your favorite celebrity to sign.
Whether you are sending a Funko POP, a trading card, or a photo to be signed, the process is fundamentally the same. The only difference is with how you ship your box. The best way to send your Funko is to remove the figure and to break the box down flat for shipping. You would be well advised to also make it clear where you want your POP to be signed and what you are requesting (i.e. a dedication or quote). If you use Post-it notes or painter's tape, it should come off with no damage to the box.
Where to Buy Signed Funko POPs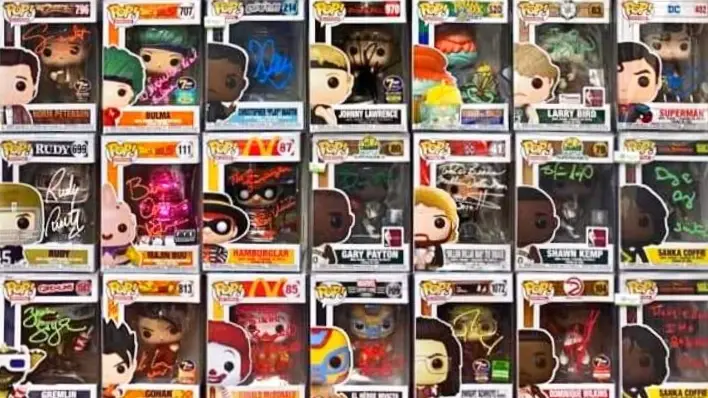 If going to a convention to get Funko POPs signed in person is not your thing or it's not an option available to you, you can still add these unique collectibles to your collection. There is no shortage of places to buy already signed Funko POPs from. The reality is that most of the sales of signed POPs are usually conducted by private sellers. This unfortunately opens the door to fakes, which platforms like eBay and Mercari are filled with. Always shop with extreme caution when browsing through those sites.

It's usually a safe bet to go through a vendor that specializes in the sale of signed Funkos. Some of these vendors do strictly online sales while others are storefronts for comic conventions. Some like GalaxyCon carry an inventory of signed POPs that they have built up from guests that appear at their shows. For the vendors that have made a name for themselves selling autographs, Funko POPs have been a big driver of sales. Most of them sell POPs to some extent while for others, the collectible figures may comprise the entirety of their business. Here are some of the biggest sellers of signed POPs.
GalaxyCon

GalaxyCon has built a reputation for itself as a company that knows how to run a fun and worthwhile pop culture convention. Organizing lots of conventions means that they interact with a ton of celebrity guests—actors and voice actors alike. They also run a number of virtual conventions which helps to stack the roster of talent they've represented in the past. Funko POPs signed by many of the guests that GalaxyCon has worked with in the past can be found in their online store.
ZOBIE

ZOBIE has a small but dedicated following thanks to the many autograph signings they conduct. You can tell that they have a passion for signed Funko POPs in particular, as they maintain a pretty broad selection of the figures in their online store. If you can't find the right POP, try sending in your Funko of choice. They conduct a number of private signings with celebrities and wrestlers and even offer send-in options to get your personal items signed.
SWAU (Star Wars Autograph Universe)

SWAU has grown far beyond its original Star Wars roots to become a powerhouse in the autograph world. They have secured signings with some of the biggest talent in the industry. Aside from offering signings, they also have an inventory of signed photos and POPs. When it comes to authenticity, SWAU has never been questioned. If you find a signed Funko POP in their inventory then you can rest assured that it's a genuine autograph.
More Notable Funko POP Vendors
Send-In Signings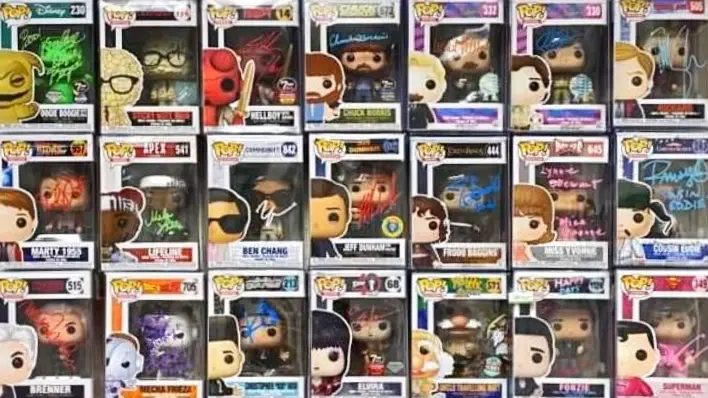 Autograph signings are becoming more and more common as autograph collecting transitions into being a mainstream hobby. Companies like Official Pix and ACE Comic Con have a long history of arranging signings with celebrities. Aside from offering a selection of merchandise for pre-order, often including Funko POPs, there is almost always a send-in option available. If you have a specific figure that you would like to get signed you can easily send it ahead of the signing date to get your Funko POP signed.

One of the best ways to participate in a send-in signing is to go through Streamily. Not only will you get to see your item signed on a live-stream with the celebrity, but you will also get to interact with them. These businesses all accept POPs for their signings:
Best Pens for Signed Funko POPs
When it comes to the best pens for autographs, paint pens are and always will be king. Ink fades over time, particularly when exposed to light. You might be surprised to see how fast something signed in blue sharpie will fade when on display. That's why I prefer to use DecoColor paint pens. Not just for signing Funko POPs either. For pretty much any surface I can think of, a DecoColor paint pen would be my first choice. Not only does it last, but it puts down a thick, bold layer of paint—even when signing fast. The only caveat is that you should make sure that you test the marker before using it for signings. Depress the nib to ensure ink is flowing and test your pen on some scratch paper to ensure even flow first.

DecoColor paint pens do give you the best look, but they are a little expensive, especially if you are sending them through the mail; never to be seen again. In those instances, I tend to use metallic Sharpies. They aren't paint pens, but tend to stand the test of time better than regular Sharpies. Furthermore, they have a low profile which makes them less intrusive when shipping them in a padded envelope. The final thing they have going for them is their low cost. It makes sending them off a lot more palatable for collectors with a budget. Ultimately, both options will look great when signing Funko POPs, whether that's on the acetate window or the cardboard box.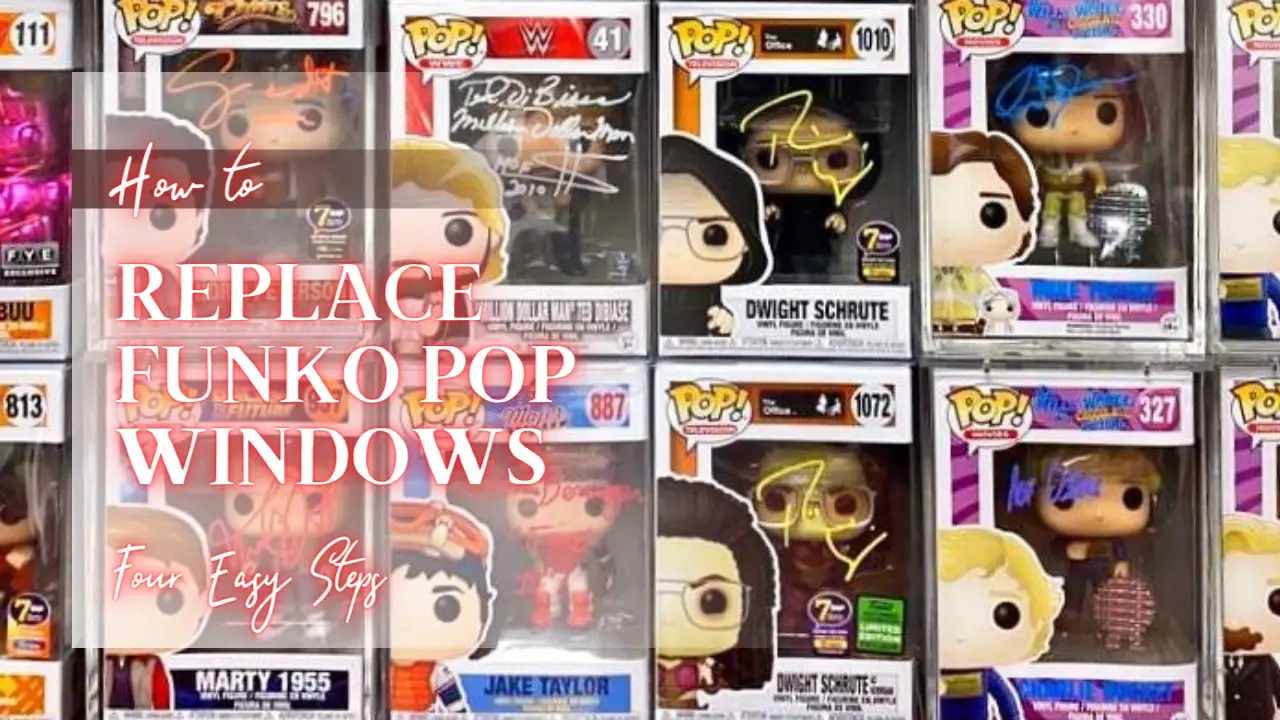 How Much are Signed Funko POPs
For years, naysayers have seen Funko POPs as a passing fad. However, Funko has shown time and time again that their collectible figures have real staying power—both in terms of collectability and their tendency to hold and even increase their value over time. If you're interested in buying signed Funko POPs, then you're likely wondering how much they cost. The majority of signed POPs can be purchased for under $100, but depending on the rarity of the figure and the signer who is providing the autograph, they can easily exceed $1,000.

In the autograph-collecting world, signed 8×10 photos are usually the standard. They serve as the baseline for pricing while larger format items such as 16×20 photos and posters can sometimes demand an upcharge. So where do Funko POPs fall on the spectrum? Every seller is different, but we'll look at SWAU's stock and compare their inventory of 8×10 photos and Funko POPs across the same signers.
How to Get Signed Funko POPs Authenticated
The process for authenticating an autograph is exactly the same whether it's on a Funko POP, a photo, or otherwise. First and foremost, you should always make your own judgment on authenticity when considering buying a signed Funko POP. Simply do a side-by-side comparison between your prospective purchase and several authentic examples. Photos of authentic autographs can serve as a baseline reference. Doing this basic comparison will help you to avoid the most obvious fakes.

Sometimes, the help of an expert authenticator is required to determine if an autograph is genuine or not. In cases where you want to get an item authenticated that's being sold online, services like Beckett's Signature Review and PSA's Quick Opinion will do the trick. They allow you to submit photos of the signature for them to render a qualified authentication. It's qualified since they can't physically examine the autograph and therefore can't say with as high a degree of confidence that an autograph is authentic in the same way they could if they had a signature in front of them.

If you already own a signed POP, then you can bring it to an event for authentication where a third-party authenticator (i.e. JSA, Beckett, or PSA) is in attendance. You can also ship your autographs directly to an authentication company. Full authentication will come with a unique serial number attached to a sticker or letter of authenticity. The cost of authentication depends on who the signature belongs to, but most cost between $20 and $50.
How to Encapsulate Signed Funko POPs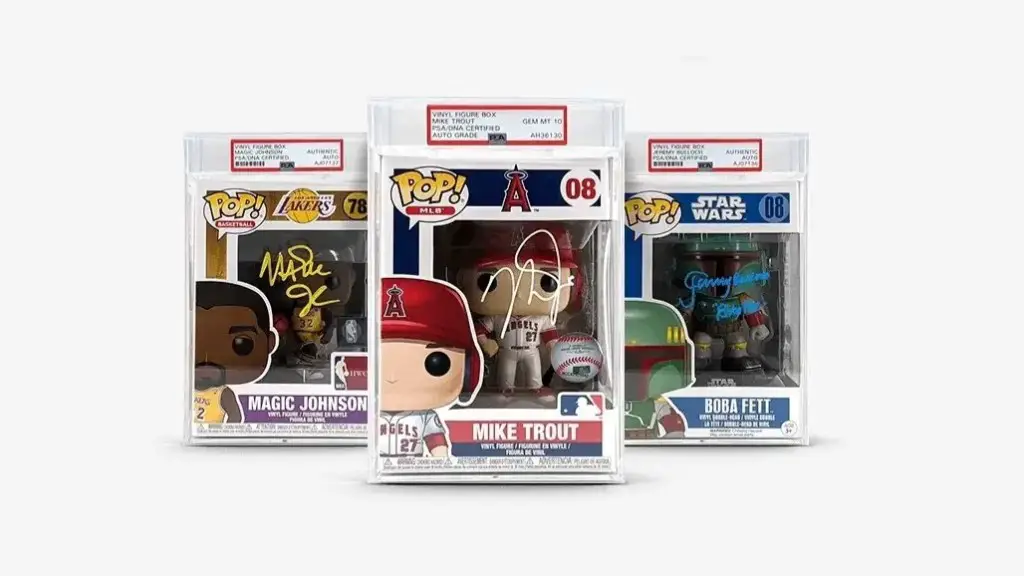 If you have a valuable Funko POP figure, whether it's signed or not, keeping it in mint condition is probably a high priority for you. What was once exclusive to valuable collectibles like trading cards and comics is now available for POPs as well. PSA's encapsulation service offers collectors the opportunity to encase their figures in hard plastic tamper-evident holders. These things are tough. Denting the corners of your box or scratching your POP's window will no longer be a concern once you get it slabbed in a PSA encapsulation. The one drawback to PSA's service is that they don't offer grading of POPs only of the autograph itself.
Best Signature Placement on Funko POPs
Signature placement on Funko POPs is pretty cut and dry, but a lot of fans make the mistake of choosing less than ideal placement. The "sweet spot" on a Funko POP box is the front of the window. There is a big space for the signer to place their autograph and the acetate window holds ink well, especially from paint pens. Many Funko collectors like to stack their POPs for display and a well-placed signature on the window will always be visible. On the other hand, signatures on the sides or bottom of the box will often be missed. If you own signed POPs, you paid a premium for the signature, so make sure that your autograph is well-placed and always visible.
FAQs
What size sharpie is best for autographs?
Fine-point Sharpies are best for autographs. You will lose definition with larger sizes and ink doesn't flow as well with extra fine points. Therefore, fine-point Sharpies strike the perfect balance between ink flow and signature definition.
Are signed Funko POPs worth more?
Almost without exception, a signed Funko POP will always be more valuable than an unsigned one. Autographs have intrinsic. They can cost as little as $40 but can easily break the $1,000 mark as well. Because Funkos and autographs are both so collectible they pair perfectly. That makes Funko POPs one of the best mediums to get signed.
Will Funko POPs lose value?
The value of Funko Pops can fluctuate depending on various factors, including their rarity, popularity, and condition. While some Pops may increase in value over time, others may decrease or remain stagnant. Signed POPs generally command a higher price.

It's important to do your research and invest in Pops that have long-term potential and appeal to collectors.
Do Funko POPs increase in value?
Some Funko Pops can increase in value over time, depending on factors such as their rarity, popularity, and condition. However, it's important to note that not all Pops will appreciate in value, and predicting which ones will increase in price can be difficult. Additionally, market trends can change, and a Pop that was once valuable may lose value over time. As with any collectible, it's recommended to do your research and invest in Pops that have long-term potential and appeal to collectors.
What is the best way to ship Funko POPs?
The best way to ship Funko Pops is to use a sturdy box that is slightly larger than the Pop itself, and use bubble wrap or packing peanuts to protect the Pop during transit. It's also a good idea to use a shipping method with tracking and insurance to ensure that the package arrives safely and is covered in case of damage.
What is the point of Funko POPs?
The point of Funko Pops is to provide fans and collectors with a fun and affordable way to express their love for their favorite characters from pop culture, such as movies, TV shows, video games, and comics. Pops also serve as collectible items that can appreciate in value over time, making them appealing to investors as well.
How much does it cost to ship a Funko POP?
The cost to ship a Funko Pop can vary depending on several factors, such as the destination, shipping method, and packaging materials used. In general, shipping a single Pop domestically within the United States using USPS First Class Mail can cost between $3 to $5, while international shipping can cost significantly more. Prices may also vary depending on the shipping carrier and any additional services requested, such as tracking or insurance. It's recommended to check with your chosen carrier for specific pricing information.
How much do Funko POPs cost?
The cost of Funko Pops can vary depending on various factors, such as the Pop's rarity, popularity, and age. In general, standard Pops typically range in price from $10 to $15, while more limited or exclusive Pops can cost significantly more. Some rare or hard-to-find Pops (including signed ones) can fetch prices in the hundreds or even thousands of dollars. It's important to research prices and purchase Pops from reputable sources to avoid overpaying or buying counterfeit items.
Why do collectors grade and encapsulate their Funko POPs?
Collectors grade and encapsulate their Funko Pops to protect them from damage and to ensure their authenticity and condition. Grading services evaluate the Pop's condition and assign it a grade, which can help collectors determine its value and rarity. Encapsulation, or sealing the Pop in a protective case, can help prevent damage from handling, dust, and other environmental factors. Encapsulation can also help deter counterfeiting and tampering. Collectors may also choose to grade and encapsulate their Pops to increase their value, preserve their condition, or authenticate their collection.