Streamily was founded in 2020 by entertainment industry veteran Dave Earnest. The company launched with impeccable timing, capturing a moment when lockdowns due to COVID-19 were forcing everyone to experience the world remotely. That didn't just mean working from home, pop culture conventions were also going virtual and Streamily was one of the few companies to capitalize on the moment, at least in the autograph space.

The online autograph company aims to create a paradigm shift in not only the way that autographs are signed, but also the way that celebrities interact with their fans in the digital age. I'm not talking about something impersonal like turning autographs into NFTs either. The autograph service has a web store where autographs can be purchased on demand, but their big appeal is their live signings in which fans can interact with celebrities in real time as they sign autographs from the comfort of their own homes.

Streamily is seeking to bridge the gap between fans and celebrities and in some ways, is providing an even more personal experience than what fans would normally have even with a face-to-face interaction at a convention. That's hard to imagine, but at a traditional convention, there is a lot of pressure to keep the autograph line moving. At cons, fans are rushed through the line in order to make the most sales possible in order to cover the cost of renting physical space, hiring tons of support staff, and providing travel arrangements and accommodations for guests. Ultimately that means you might have less than 60 seconds of interaction in a traditional setting. Thankfully, Streamily is flipping the script in a way that gives celebrities more time to interact with their fan base.
Pros and Cons of Streamily's Service
There are a lot of reasons why you might decide to use Streamily's autograph signing services. They offer some rare talent, make signings accessible to a broad fan base, and offer a chance for personal interactions with celebrities. It's not a perfect service though. There are some areas for improvement for this relative newcomer to the autograph space. However, the company is working on a lot of big changes: site renovations, concise messaging, and much-needed upgrades to their current shipping options.
Smart Focus on Uncommon Signers
Streamily has a lot of great things going for it. First and foremost is the talent that it attracts. Most of the celebrities that the autograph company works with are voice actors from the anime and video game world—a seriously underserved market. The International Trade Administration estimates that when Streamily got up and running in 2020 "the global video game industry was valued at $159.3 billion, with 2.7 billion gamers worldwide." That's a lot of enthusiastic fans who are spending mountains of money on the industry, but they have been largely ignored by convention organizers. Typically, only a few big-name voice actors like Mario's Charles Martinet tend to draw focus from convention organizers. Not at Streamily though. There they are front and center. Focusing on this underserved market is not only something the celebrities enjoy, but it offers fans a unique experience to interact with their favorite voice actors in a way that may have only been accessible by through the mail autograph collectors in the past.

While fan favorites like Steve Blum, Tara Strong, and Sean Astin have all done signings with Streamily, the autograph company brings a lot of added value beyond just the individual signers they work with. They will often bring groups of celebrities into their stable of talent who have all worked on the same project. This is a huge help for people who are trying to complete multi-signed cast pieces. No more sending one photo to ten different conventions to try and complete it, now that Streamily aims to be a one-stop shop. They represent talent from multiple popular franchises to include: Pokemon, Genshin Impact, Fire Emblem, Dragon Ball Z, Metal Gear Solid, and Persona.
Streamily's Excellent User Experience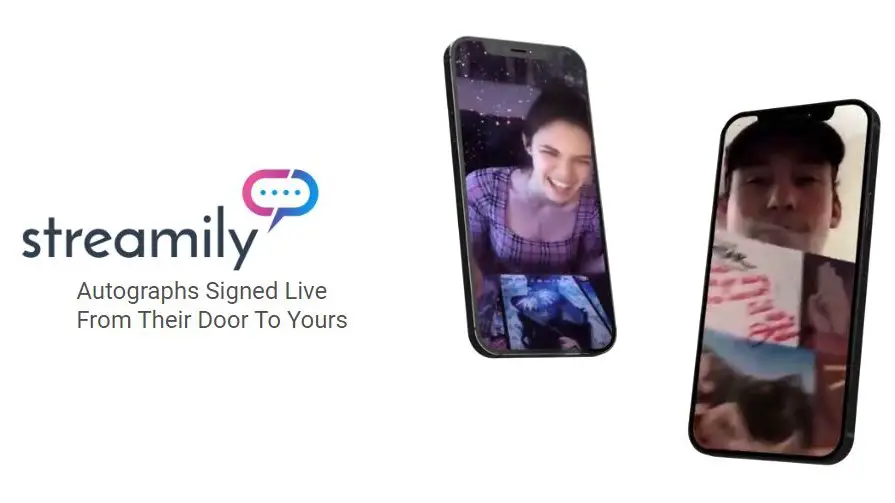 In the short time they've been in business, Streamily has built a strong reputation for transparency and good customer service, which isn't always the case with autograph signing companies. They are known for providing timely responses to emails and quickly and professionally addressing customers' concerns. They also allow users to update their orders by logging into their account on streamily.com where they can change things like to who the photo is dedicated to and what inscription you're asking for (whether that be a quote or character name).

With any online business, shipping is a key concern for Streamily as well. Given the company's business model where celebrities sign from their homes and then ship signed photos to Streamily for further distribution, getting every autograph to the right place seems like it would be a logistical nightmare. However, they've been able to pull it off with surprisingly few complaints.

According to Streamily, the company "works with artists around the world. It typically takes a few days to a week to receive all autographs for processing and shipment. Times vary depending on the artist's location and schedule. In rare cases it can take two weeks or longer to receive autographs for processing due to the artist's schedule or if the artist is in a remote location. Both Streamily and the artist strive to get your autographs to you as quickly and efficiently as possible. Streamily works to ensure all orders are processed and sent out expediently."

Autographs usually arrive from Streamily without a problem. However, in the rare case where an autograph does come damaged, customers have reported that the company has been quick to resolve the situation by either sending full refunds or replacement damaged autographs. That's great, but when it comes to shipping, there is a lot of room for improvement. For reasons unknown to me, Streamily does not offer combined shipping for multiple items. This is a big problem given that one of the major appeals of the service is that they offer multiple associated celebrities which incentivizes ordering from several actors at one time. However, it's a problem that the company has acknowledged and is seeking to rectify in the future. Customers based outside of the U.S. should also exercise caution as some have reported experiencing shipping costs that exceed the price of the autograph itself.





Live-Streamed Autograph Experience
The fact that live-streaming autograph signings is at the core of Streamily's business model makes it unique among its competitors. For example, GalaxyCon Live offers online ordering for their autograph signings and offers virtual meet and greets for fans to have one on one interactions with celebrities. However, they don't offer a unified experience in the same way that Streamily does. When Streamily does a live signing, whether, through their own channel or the celebrity's personal account, customers get a chance to not only see their autograph being signed but can interact with them as they do it. Celebrities know who they are signing for and will usually give a shout-out to them on the stream. In turn, fans can send messages to a chat that the signer has access to. Fans will often take advantage of this to send questions or relay how much the signer's work means to them.
Hot Signings From Streamily
Print Selection / Send-in Options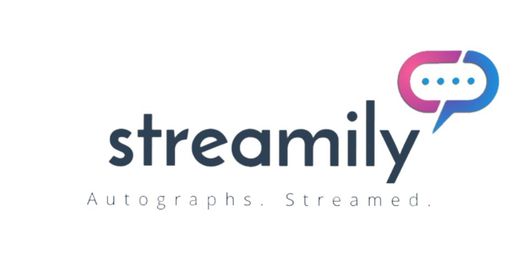 At this time, one of the biggest drawbacks of using Streamily's service is the selection of their stock photos. The images may be to some fans' taste, but I find a lot of the photos they offer to be a little tacky. There is a noticeable lack of officially licensed photos to choose from. Instead, most of the company's offerings consist of prints of fan art and the kind of collages that have been plaguing voice actors' convention booths for decades. But to be fair, many of the image choices apparently come directly from celebrities so it's no mere coincidence that what is offered by Streamily is on par with the table photos that you might find at a convention.

On the plus side, Streamily does offer a small selection of officially licensed products for their signings. These can include figures like Funko Pops or even trading cards. However, there is often slim pickings with these offerings. For example, Streamily offered customers the chance to get Pokémon cards signed by Brock voice actor Bill Rogers. A great option, but the selection was limited to the Pokémon that Rogers has voiced rather than cards that featured Brock himself, the trainer that Rogers is known for portraying.

If you aren't happy with Streamily's photo selection, one way to ensure that you get the image signed that you want, is to send in your own. Send-ins are currently something that Streamily is offering on a limited basis. However, the company's founder Dave Earnest anticipates rolling out send-ins for all signings at some point in the future. Handling customers' items is an expensive and delicate operation, so the rollout is taking some time for this still-young company.
Autograph Pricing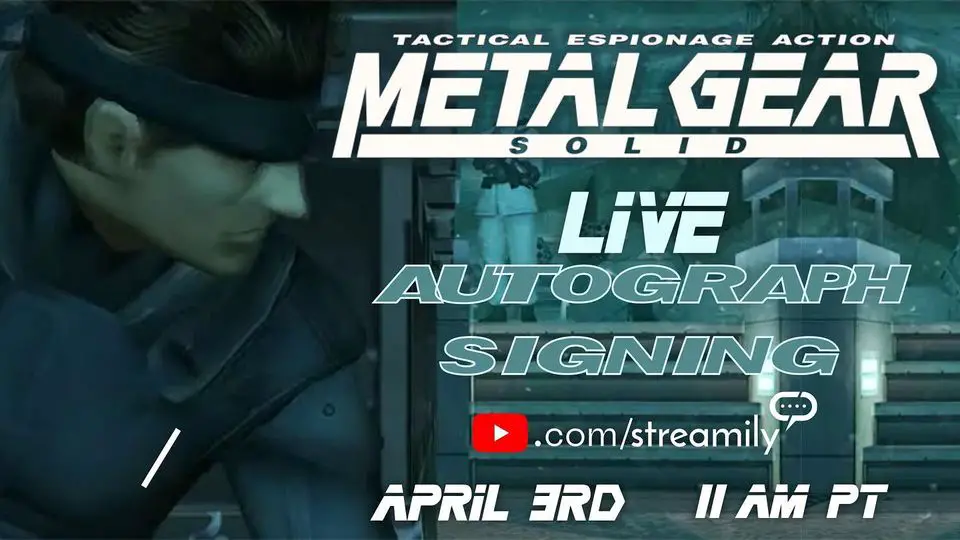 The autograph industry rakes in millions of dollars a year from conventions, private signings, and the secondary market. There is a lot of money to be made selling autographs. Some companies are cashing in by prioritizing their bottom line without regard for the rising cost of the hobby. The trend is unfortunately pricing many collectors out of the experience of interacting with their favorite celebrities. Luckily, Streamily does not seem to be one of those companies. Their prices appear to be on par with what you would expect to pay at a celebrity's booth at a comic con.

In fact, they are bucking industry pricing trends and holding the price of autographs down. It has become commonplace for companies like Star Wars Autograph Universe and Official Pix to drown fans in add-on costs for everything from adding a dedication (i.e. "To Customer Name") or inscriptions like quotes and character names. While Streamily doesn't guarantee that their talent will honor requests for dedications and inscriptions, it doesn't upcharge their customers for them.
Shipping Costs
Streamily currently offers free shipping on members' first order (up to a $14 value). After that, shipping on subsequent orders is dependent on the customer's location. However, you can expect to pay between $12 and $14 for shipping to the lower 48 states.
Streamily Membership Costs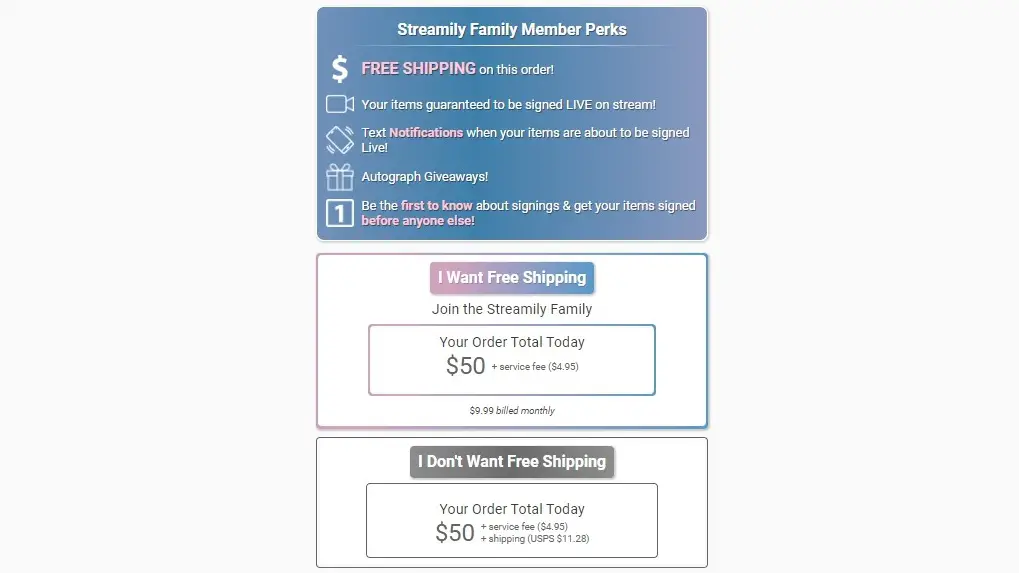 Personalized Videos on Streamily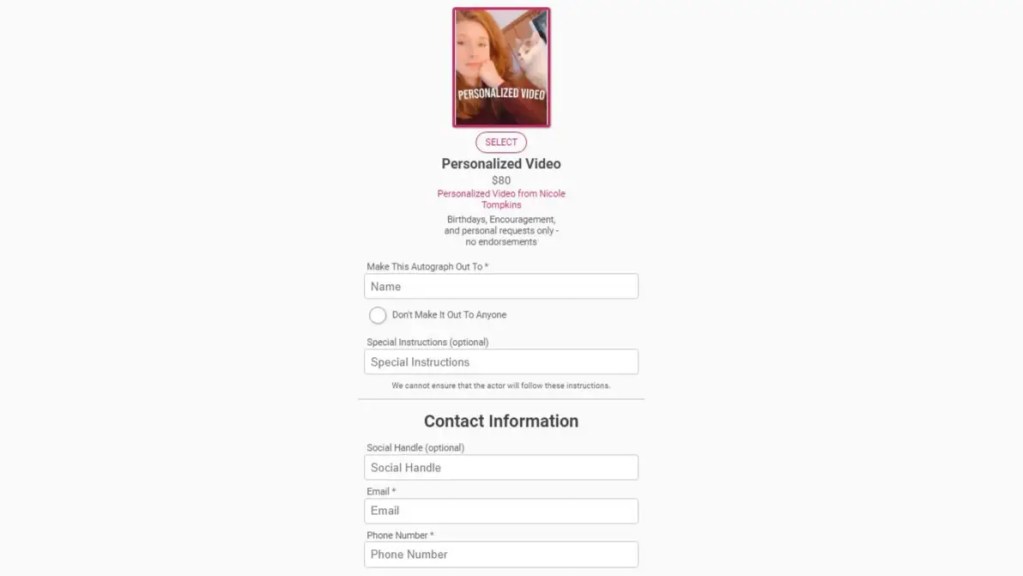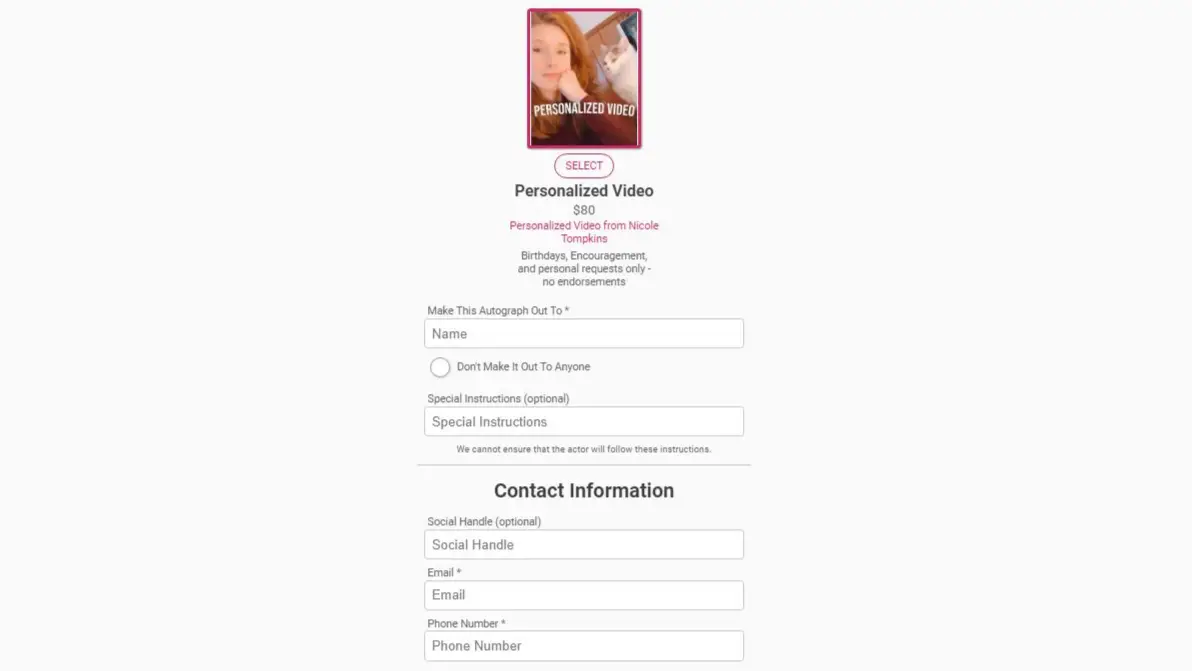 If you were hoping for an experience more similar to what Cameo offers, i.e. long-form video shout-outs where celebrities record specific messages, then Streamily has you covered. At least sometimes anyway. Depending on the celebrity, personalized videos are an option on some order pages. However, this is a feature that doesn't seem to be well implemented yet as it is not something that Streamily offers for most of their signers. To see how else Streamily stacks up against its competitors Cameo, GalaxyCon, and vShout, check out the side-by-side comparison of the leading celebrity video services.
Final Thoughts
Despite how new the company is, Streamily has managed to turn itself into a success story. It's a business that cares about their fans and they show it through their reasonable prices and commitment to opening a dialogue between enthusiasts and celebrities. They are also working on a number of improvements to include: transparent order tracking, an expanded send-in service, and an enhanced user experience on their website. As Streamily starts hitting their stride, I think we can expect to see a lot more great offerings and innovations for the company that has "customer first" as one of their core values.
Streamily does offer a membership program, sometimes referred to as the family membership, that comes with a few benefits. For a monthly subscription fee of $9.99, members get free shipping on their orders, access to autograph giveaways, and a guarantee to have your items signed live. Additional "perks" worth mentioning are text updates telling you when your order is about to be signed and early access to information about signings. Of course, you can cancel at any time by contacting Streamily's customer support.
Does Streamily Accept PayPal?
Currently, Streamily only allows customers to checkout with credit card payments. If you want to buy an autograph, there is unfortunately no option to pay with PayPal.
Does Streamily offer Certificates of Authenticity?
Yes! Streamily does offer certificates of authenticity. They are available for purchase as a $5 add-on before checkout.
Is Streamily trustworthy?
Streamily is very trustworthy. Because it is a live-stream autograph service, you never have to worry about autograph authenticity. You can watch the celebrities sign autographs live right before your very eyes!