If you want a personalized celebrity video message or shoutout then you're in luck. There are a ton of competitors in this space to choose from like Cameo, GalaxyCon Live, Streamily, vShout, Celebvm, LiveSigning, and Celebvidy. All of these celebrity video services seek to bring fans closer to celebrities through video interactions and no one service is exactly the same. But the crowded marketplace makes choosing just one a difficult proposition.

This review will help you differentiate between celebrity video services based on several important differentiating factors. I'll cover exactly what you can expect from each service including pricing and information about what you get when you purchase celebrity videos and shoutouts from these companies. Furthermore, several services like Streamily and LiveSigning offer an option to purchase celebrity autographs in addition to their video services, so we will also explore those options as well.
Side-by-Side Service Comparison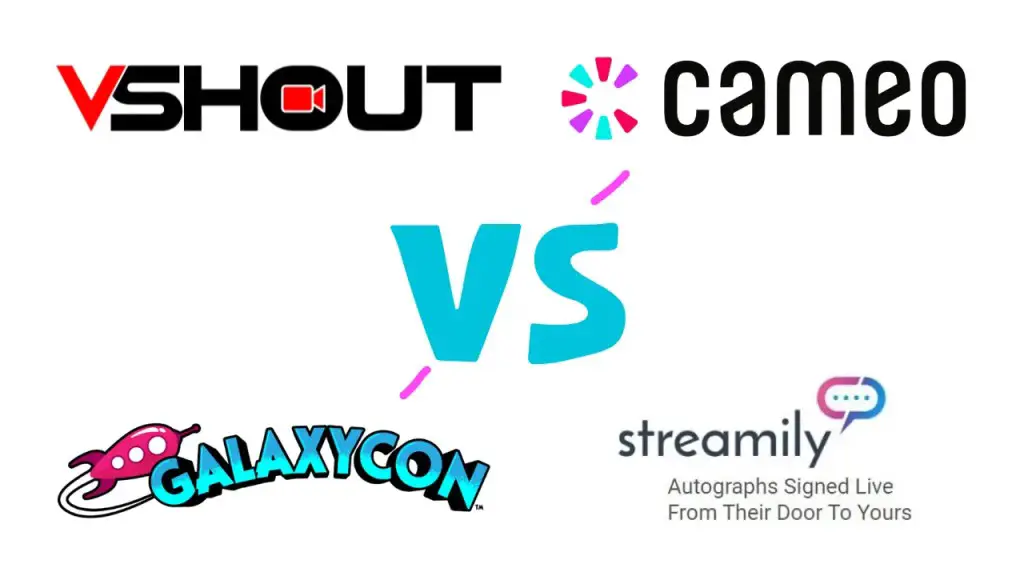 Services
Cameo
GalaxyCon Live
Streamily
vShout
Notes
Celebrity Roster
Very Good
Very Good
Very Good
Medium
Autograph Pricing
N/A
$96
$65
$55*
Pokémon voice over actor Tara Sands' autograph on Funko POP! figures used for price comparison.

* Last available price data is from May 2020
Photo Choices
N/A
Very Good
Good
Very Good
Celebrity Videos – Interactivity
Indirect
Direct
Direct and Indirect
Indirect
Direct videos are those that involve a live interaction.

Indirect videos are those that are prerecorded by a celebrity with no direct interaction from fans.
Celebrity Videos – price
Good
Good
included
included
Cameo and GalaxyCon Live had equal pricing when comparing the cost of voice-over actor David Kaye ($65).
Celebrity Videos – Quality
Very Good
Very Good
Good
Poor
Services
LiveSigning
Celebvidy
SIGND
Celebrityvm
Notes
Celebrity Roster
Very Good
Poor
Poor
No Longer Available
Autograph Pricing
Very Fair
N/A
High
No Longer Available
Photo Choices
N/A
N/A
Poor
No Longer Available
Celebrity Videos – Interactivity
Direct and Indirect
Indirect
Indirect
No Longer Available
Direct videos are those that involve a live interaction.

Indirect videos are those that are prerecorded by a celebrity with no direct interaction from fans.
Celebrity Videos – price
Included with purchase of a signed book.
Good
included
No Longer Available
Cameo and GalaxyCon Live had equal pricing when comparing the cost of voice over actor David Kaye ($65).
Celebrity Videos – Quality
Very Good
Very Good
Good
No Longer Available
Ranking by Autograph Services
1. Streamily
Streamily is my top pick between all of the autograph services. While they concentrate mostly on video game and anime voice over actors, they do have a wide selection of celebrities to choose from. Furthermore, they are very active with bringing new guests and signings online. The constant rate that they churn out signings, means that on just about any given day, you can order an autograph, watch a live-stream, and interact with a celebrity from one of your favorite franchises. Even better, as I mentioned in my Streamily review, their service is only getting better as the young company continues to expand their offerings.
2. LiveSigning
LiveSigning is the celebrity video component of Premiere Collectibles, which is the world's biggest seller of autographed books. The two services work hand in hand so that when you purchase select books, you are able to submit questions to celebrity authors to be answered during a live streamed book signing. Some live streams even offer the ability to interact with celebrities through real time chat. It's an incredible service that is offered at no additional cost. Given that many of the signed books offered by Premiere Collectibles are sold near the MSRP of their unsigned counterparts, it's an incredible value!
3. GalaxyCon Live
As their name suggests, GalaxyCon Live has made a name for itself through its pop culture and comic conventions. In recent years, they have expanded those in-person events to meet the demands of a public seeking to experience celebrity interactions remotely. Large conventions like the ones held by GalaxyCon can attract big name talent. The fact that they have grown accustomed to working with celebrities like Rosario Dawson gives them an edge over the competition.

However, while they do offer a lot of signings, they ultimately missed out on the #1 spot in the ranking due to their relative lack of offerings compared to their rival Streamily. They also took a hit in the rankings due to their relatively high prices compared to their direct competitors.
4. vShout
A subsidiary of the autograph company ZOBIE, vShout is a major player, both when it comes to autographs and celebrity shout-outs. They have a large selection of pre-signed back-inventory autographs to choose from and their prices are competitive. The only thing holding them back from ranking higher against their competition is their relative lack of talent. Like Streamily, their stable of celebrity signers largely consists of video game and anime voice-over actors with the occasional wrestler thrown in for good measure.
5. Cameo
As noted above, Cameo is strictly a celebrity shout-out business with the exception of one-off instances where a celebrity may choose to include an autograph with the purchase of a video. Cameo CEO Steven Galanis has even said that selfies are the new autographs. While he does have a point that celebrity selfies and professional photo ops are only gaining in popularity, he is entirely too quick to count out autographs as a thing of the past.
Ranking by Celebrity Video Services
1. GalaxyCon Live
GalaxyCon Live is doing celebrity videos right. They aren't just offering a three-second celebrity shout-out or even a minutes-long pre-recorded video, albeit tailor-made for a fan. They are actually connecting fans and celebrities, live and face-to-face with their meet-and-greet packages. These packages get fans about as close to an in-person convention experience as they can get from the comfort of their own home. Meet and greets are interactive experiences where fans usually get about three minutes to talk with their favorite celebrities.

It's a rich experience because fans can take the conversation where they want to and utilize their time as they see fit. Maybe they just want to relay how much a celebrity has impacted their lives or perhaps simply ask a question or two. Either way, it's a kind of interaction that outside of cons was something often only enjoyed by the fan mail and through the mail autograph collecting community.
2. Cameo
Given that Cameo is exclusively a celebrity video service, you might have expected it to be the best in that category. In some ways it is. Cameo does deliver its customers with videos usually lasting a minute or more. Customers can also make specific requests of the celebrities whether it be that they recite a movie quote or send well wishes for a special occasion like a birthday or other life events. Overall though, it's services are limited as it lacks direct fan/celebrity interaction and neglects the autograph market altogether.
3. Streamily
Streamily strikes a good balance between their autograph and live streaming services. When you buy a celebrity autograph from Streamily, you also get the opportunity to watch them sign it during a live-streamed signing event. During the live-stream, customers and celebrities have access to a chat room where they can interact with each other. Of course, celebrities can also respond directly over the live-stream itself.

In a way, you're getting that one-on-one celebrity interaction that GalaxyCon Live gives you, but to a much lesser degree. However, that difference is also reflected in the price because it's baked into your autograph purchase. For no additional cost, you have a chance to speak directly to your favorite celebrity which is much more than you will get from some of the leading autograph signing companies like SWAU or Official Pix.

They do also have select offerings of personalized videos, much the same as the ones offered by Cameo. As the autograph/celebrity video company really begins to hit its stride, it could easily overtake Cameo in the celebrity video category.
Read a full review of Streamily here.
4. vShout
While vShout bills itself as an autograph and celebrity shout-out business, the shout-outs take a back seat. When customers shop through vShout and buy an autograph, they also get a shout-out from that celebrity, which in all honesty is often little more than a few seconds-long mention of the customer's name. Their video offerings are so poor that they barely even fit into the category.

Read a full review of vShout's services here.
5. LiveSigning
LiveSigning, a company owned by the autographed bookseller Premiere Collectibles, also deserves a mention here, although their streaming service is less robust than some of its competitors. They tend to do one live streamed signing event per author following the release of a book. Signed copies are then made available for sale on Premiere Collectibles. The two sites work hand in hand together to bring customers a uniquely personal shopping experience.

LiveSigning's live streamed events allow Premiere Collectibles customers to submit questions to the authors. This creates an experience somewhat like that of Streamily's service. Although LiveSigning doesn't conduct as many signings as Streamily does, they do have a lot of high-caliber talent like Elizabeth Olsen that have worked with them in the past.

Read a full review of LiveSigning and Premiere Collectibles here.
6. Celebvm
Celebvm exists in the shadows of Cameo and VShout. They do what those services do, but with fewer relevant celebrities and a user experience that leaves a lot to be desired. When browsing through the "celebrities" they had to offer, I struggled to find more than a handful who were remotely relevant and even less than I could ever imagine wanting to get a shout-out from. Unless Celebvm is offering a particular celebrity that you want a video from that isn't available on any of the other platforms, then you should take your business to one of their competitors.
7. Celebvidy
Celebvidy is getting nothing more than an honorable mention here. Endorsed by American DJ Steve Aoki, the service had a failure to launch following an initial offering in 2019. While their site is still up and running, there is no way to order videos from the service at this time.
The Best Celebrity Autograph / Video Service
Overall, the best celebrity autograph and video service is Streamily. When you factor in pricing, services, and celebrity rosters, the upstart service comes out ahead of the competition. I appreciate the balance they strike between providing fans with an affordable and accessible means of interacting with celebrities while maintaining a format that makes it possible at scale. They also deserve credit for their straightforward pricing model with minimal upcharges for things like dedications and inscriptions which more and more is becoming the industry standard.

Streamily: Best overall autograph and celebrity video service.
GalaxyCon Live: Best celebrity interactions with their meet and greet offerings.
Cameo: Best celebrity video message service.
vShout: Competitive pricing with great future potential.
LiveSigning: Great selection of celebrity signers with a limited number of signings and fewer opportunities for direct interactions.
Celebvm: This service is trailing behind the competition and should be the last place you go to for celebrity videos.