Nothing can ruin a valuable piece quicker than choosing the wrong pen for an autograph. Generally, DecoColor paint pens are considered to be the best overall pens for signatures. However, while there are often clear winners and losers between pens, it's important to note that there is no one best pen for autographs.

Choosing the right pen for a signing is dependent on the color and material of the item being signed. For example, baseballs are best signed with a simple ballpoint pen while photos look best when signed with a paint pen or Sharpie.

Of course, when deciding on the right pen for the job, more than just the type of pen being used must be considered. For example, the paint or ink color of the pen is perhaps the most important factor of all. To help make the choice easy, we'll look at common practices in the industry and see what kinds of pens celebrities and industry leaders are choosing to sign with today.
Quick Reference for Pen Usage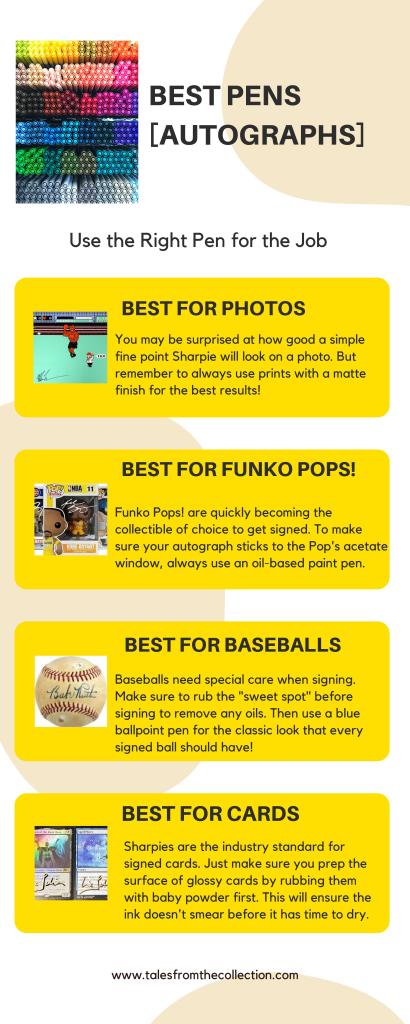 Best Paint Pen for Autographs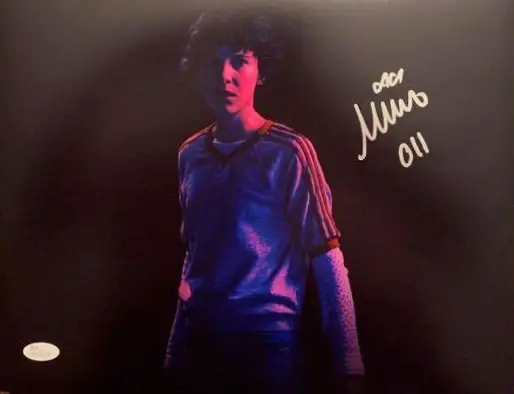 According to SWAU, one of the leading autograph companies in the industry, Oil-based paint pens are generally the gold standard when it comes to autograph signings. Uchida DecoColor paint markers (either the fine or extra fine tips) come in a wide variety of colors. They are also acid-free, which means they are archival quality so you won't have to worry about your valuable collectibles deteriorating over time due to a poor pen choice.
While Sharpie paint pens are also a popular choice for autographs, they are generally not as widely used. Thanks to their slightly broader tips, they don't apply paint as precisely as Deco markers do.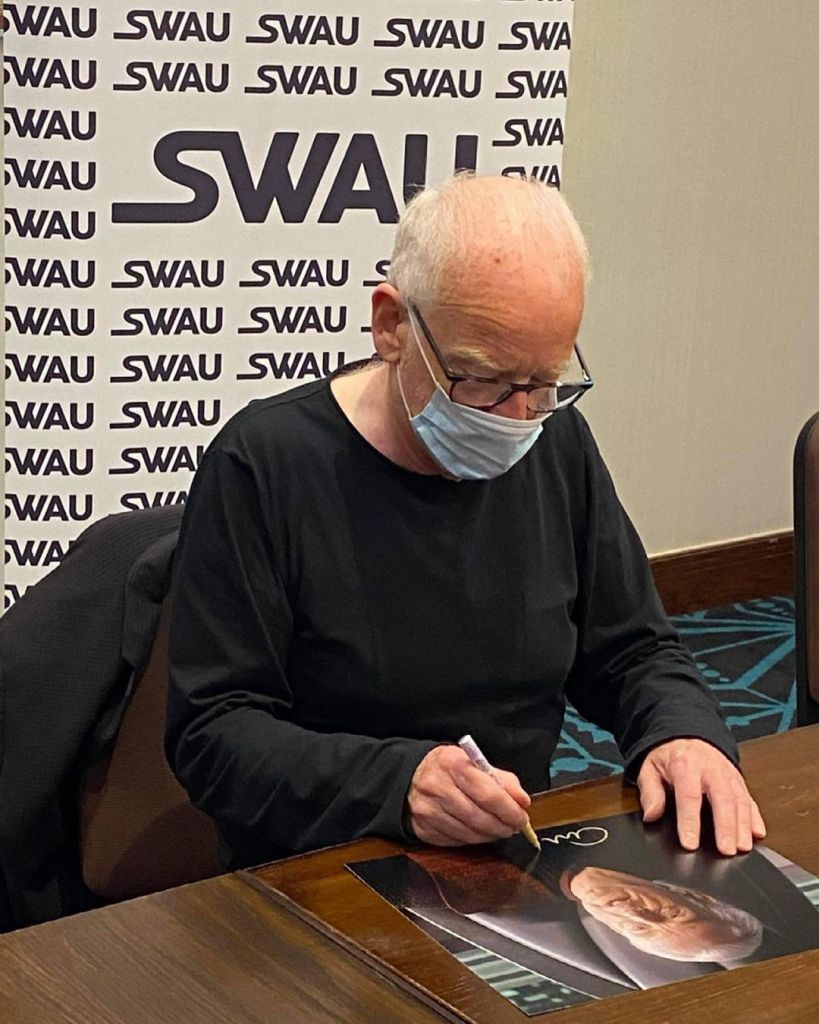 From left to right Ian McDiarmid, Taika Waititi, Chris Hemsworth, and Rosario Dawson all sign for SWAU using DecoColor paint pens.
Paint Pen Pros and Cons
Pros
Cons

Great for multiple surfaces to include photos, posters, and Funko POPs.
Come in a large variety of colors to complement any piece.
Opaque paint improves visibility and helps signatures to really pop.
Water-based acrylic paint pens have a reputation for flaking, unlike their oil-based counterparts.

More expensive than permanent markers.
Paint pens need to be tested before use to ensure the paint is flowing. Failure to do so can result in a poor autograph.
Best Permanent Markers
Before the reign of paint pens, permanent markers—Sharpies in particular—were the pen of choice for many autograph collectors. They still have their place though and are ubiquitous at conventions. You can rest assured that silver and gold metallic Sharpies as well as black and blue ones will be at every guest's autograph table.
From left to right: Timothy Olyphant signs a photo with a Sharpie while Hayley Atwell chooses from an assortment of permanent markers and paint pens provided by SWAU at a recent signing.
Sharpie Pros and Cons Table
Pros
Cons

Very affordable.
Commonly available.
Quick drying ink, so you don't have to worry much about smudging.
Best for photos

Permanent markers can fade over time when exposed to light.
They don't stand out as well as paint pens.
Best Pens for Funko POPs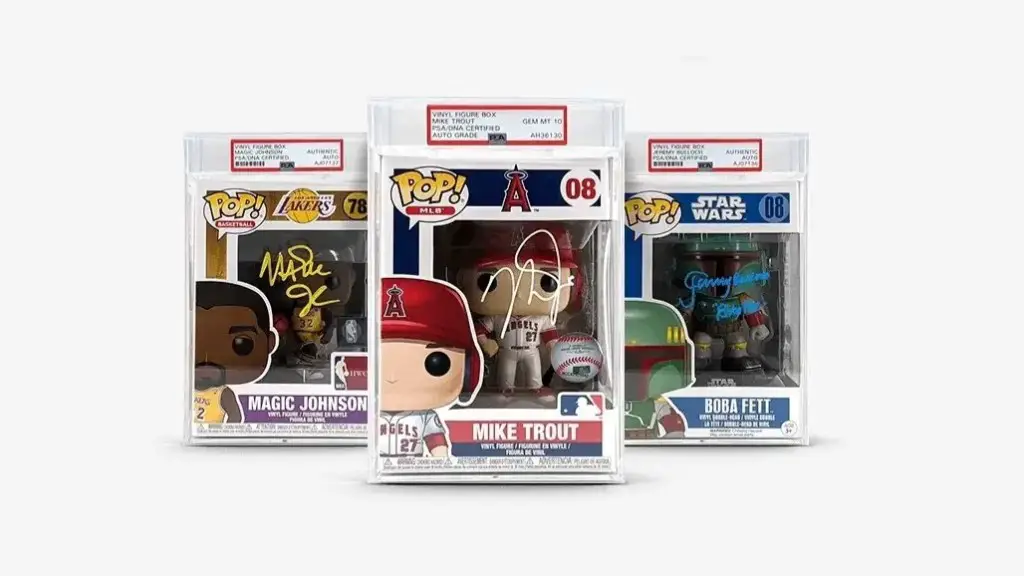 The sweet spot on a Funko POP! is the front window which is made out of acetate. Signatures can look great on these, but you need to be careful with your pen choice as not all kinds of ink adhere well to the window. Alcohol-based pens such as Krink or water-based acrylic pens like Molotow and Posca can scratch, chip, and flake as their ink sits on top of the window and doesn't adhere to it the same way that oil-based paint does.

Many POP collectors will recommend Sharpie oil-based pens, but the best pen for signing autographs on Funko POPs is the DecoColor.
Best Pens for Photos
Photos are perhaps the most common medium used for autographs. Signed photo prints look great on display and hold a lot of different types of ink. However, blue and metallic Sharpies are usually the most commonly used. Black Sharpies also look great but are prone to fading.
When it comes to signing photos, the photo itself may be more important than the pen you use. While specialty prints like metallic photos are offered by some print shops, most photos are either sold as matte or glossy. Glossy photos should be avoided for signings. They don't hold ink well and don't look as good on display due to being more prone to glare.

Getting matte photos signed in Sharpie is never a bad idea. Just be mindful of signature placement as dark ink can blend in rather well with a dark background.
The following pens were used on the above test photos:
Best Pens for Trading Cards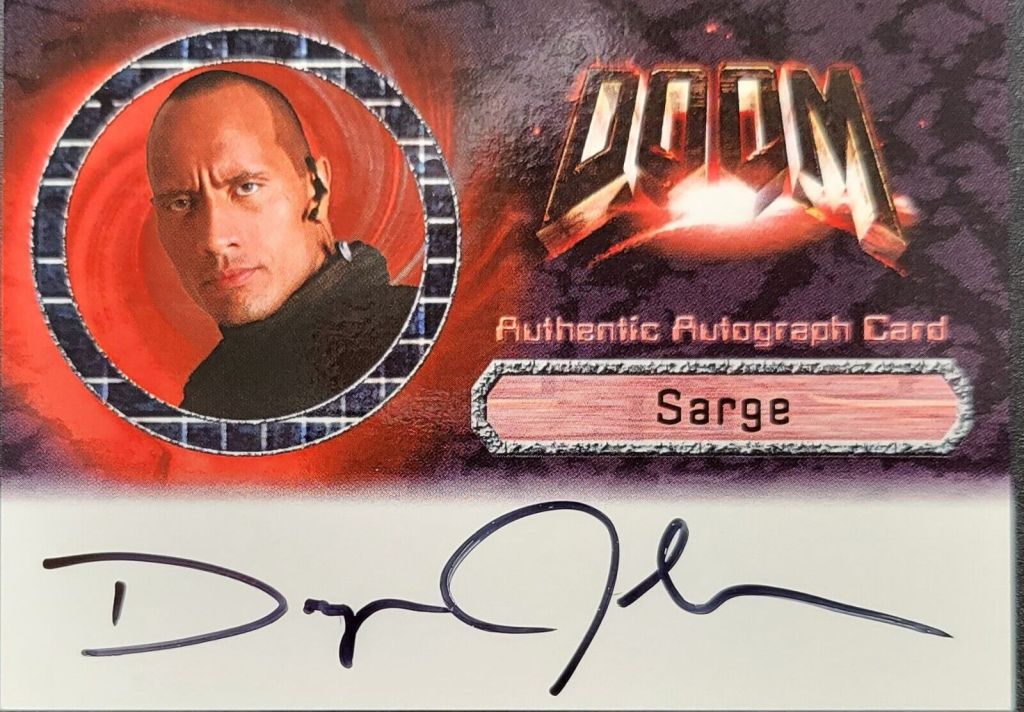 The easiest way to determine the best pen for signing trading cards is just to look at what professionals in the industry are doing. Companies like Topps, Leaf, Panini, and Upperdeck all make autograph cards for their sets. Just check eBay listings for signed cards and you'll find that almost all the ones that come from these industry leaders are signed in blue or black Sharpie.

A word of caution when getting cards signed though. Most modern cards are manufactured with a glossy surface. The gloss can often repel ink and ruin an otherwise good autograph. Those glossy cards aren't unsignable though. They just need to be prepped for signings by lightly removing the glossy surface.

To do this, simply rub your card with a dryer sheet or baby powder. The lightly abrasive nature of these materials will help remove the gloss and make your trading cards signable.
Best Pen for Baseballs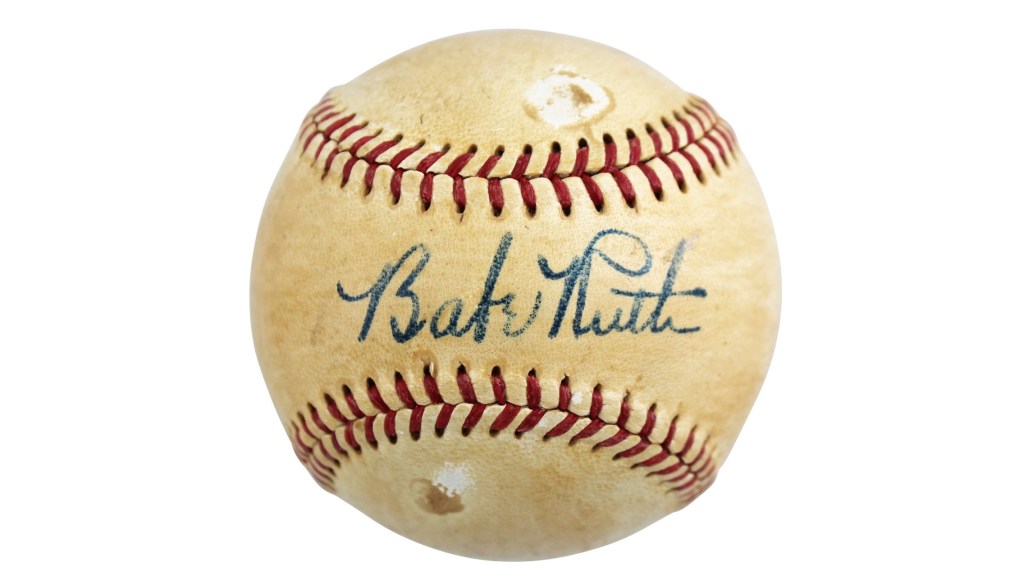 Baseballs and autographs have a long history together. Perhaps it's fitting then that the best way to sign a baseball is with an old-school writing implement—the ballpoint pen. Baseballs are made of animal hide or synthetic leather. This material causes problems for most kinds of ink. Permanent markers bleed and other kinds of ink don't hold as well as ballpoint pens. In particular, blue ink should be used since it holds up much better to light and black ink will fade much quicker.

Stay away from gel pens and either use Bic Cristal or Zebra F-301 pens which both work great. For the best results before signing, you should rub "the sweet spot". That's the ideal place for autographs on a baseball. You can find it where the gap between the stitches is narrowest. Also, be sure to use a cloth to wipe the sweet spot down to remove any oils that may be on the surface. This ensures that the ink is laid on the baseball cleanly.
Best Pen for Helmets and Props
Once again the DecoColor paint pen comes out on top as the most recommended pen for helmets and props. According to to prop maker Nick West, DecoColor really pops when used for autographs on helmets and props.

Sharpies are also commonly used for these kinds of items. Here you can see Master Chief voice actor Steve Downs putting down his Posca pen in favor of a Sharpie.
Best Pen for Posters
To find out the best pen to use on posters, I got in touch with Bryan Calloway of Autograph Alliance. He facilitates hundreds of autograph signings per year and has a lot of direct experience with getting posters signed.

He cautioned that a lot of markers react differently to different types of paper and that not every poster is printed on the same stock. However, if he had to pick one brand, it would be Deco. If you've read this far then that should be no surprise as DecoColor paint pens are the best overall pen for autographs. Once again, Sharpies also received an honorable mention as they can look quite nice on posters as well.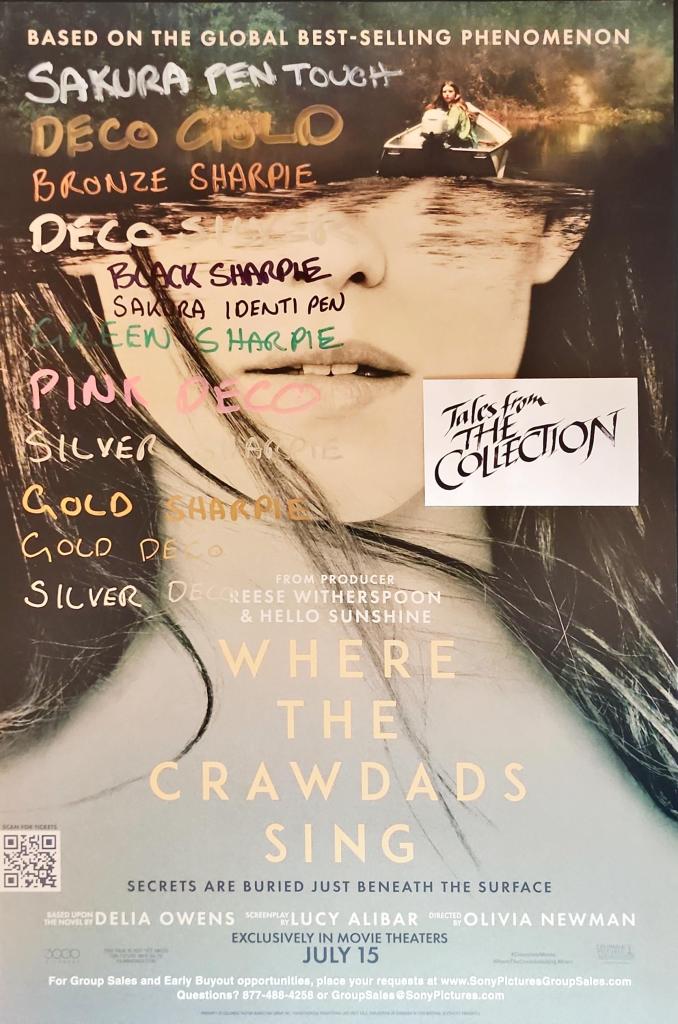 Above you can see how different markers and paint pens do on poster paper. I thought all of the Deco pens performed well while the Sakura Pen Touch showed up the worst. Also receiving a dishonorable mention was the Sakura Identi-pen. It didn't look as dark as the black Sharpie and had a noticeably stiffer nib which made it harder to sign with. The following pens were tested for the poster and the photos above:
Best Pen for Jerseys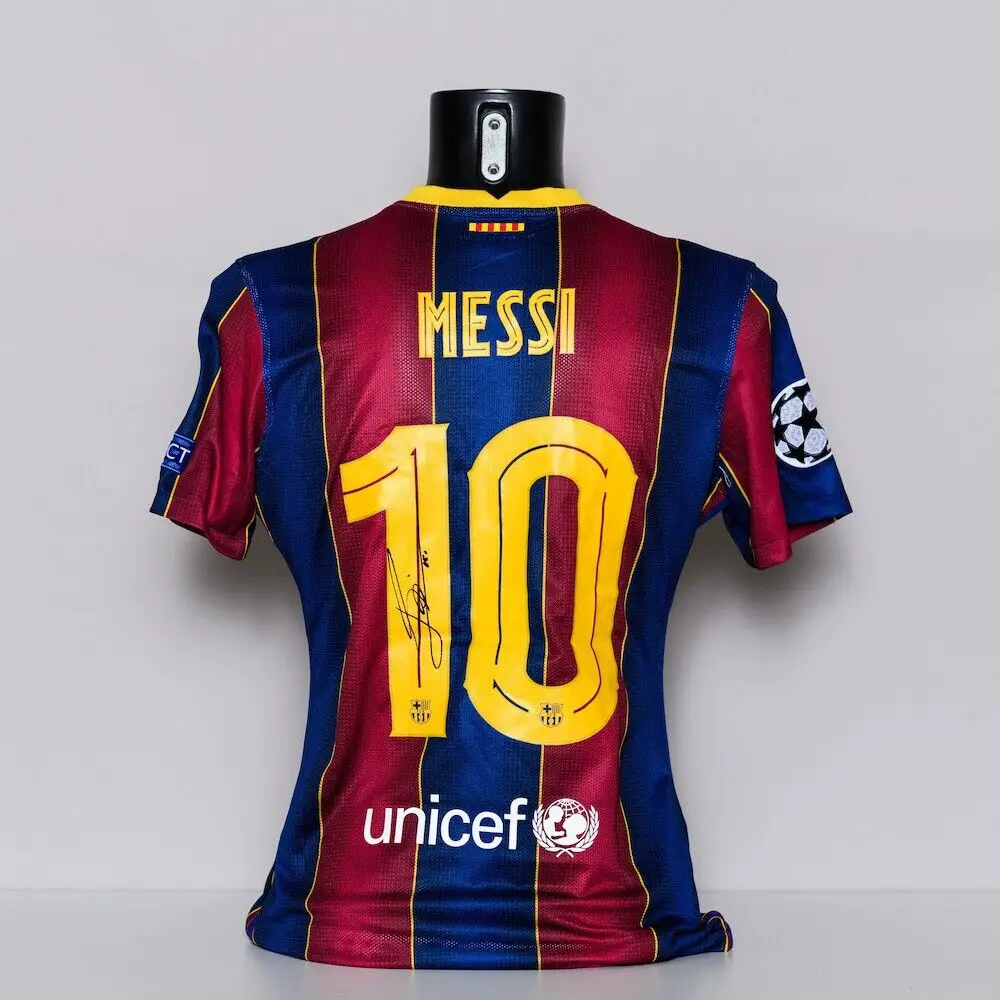 The best pen to use for jerseys depends on the type of jersey and the color of the numbers or letters you want to write on it. If you're signing in black, both Sharpies and paint pens do the trick. For silver, the Deco fine-tipped silver paint pen is the best choice.

If the numbers or letters are sewn onto the jersey, a paint pen is the best option for getting a clear and crisp signature. If the numbers or letters are screen-printed onto the jersey, a Sharpie or paint pen can be used. However, screen-printed numbers do not hold autographs as well as sewn-on numbers.

A word of warning. Fanatics branded jerseys may not hold ink well, so it is best to sign them on the jersey itself, but be sure to pull the jersey tightly to ensure the pen flows smoothly and the signature does not skip.

Additionally, Mitchell and Ness Team USA screen-printed jerseys may smudge easily and take a long time to dry, so it is best to use a paint pen on these and allow plenty of drying time.
Best Pen for Basketballs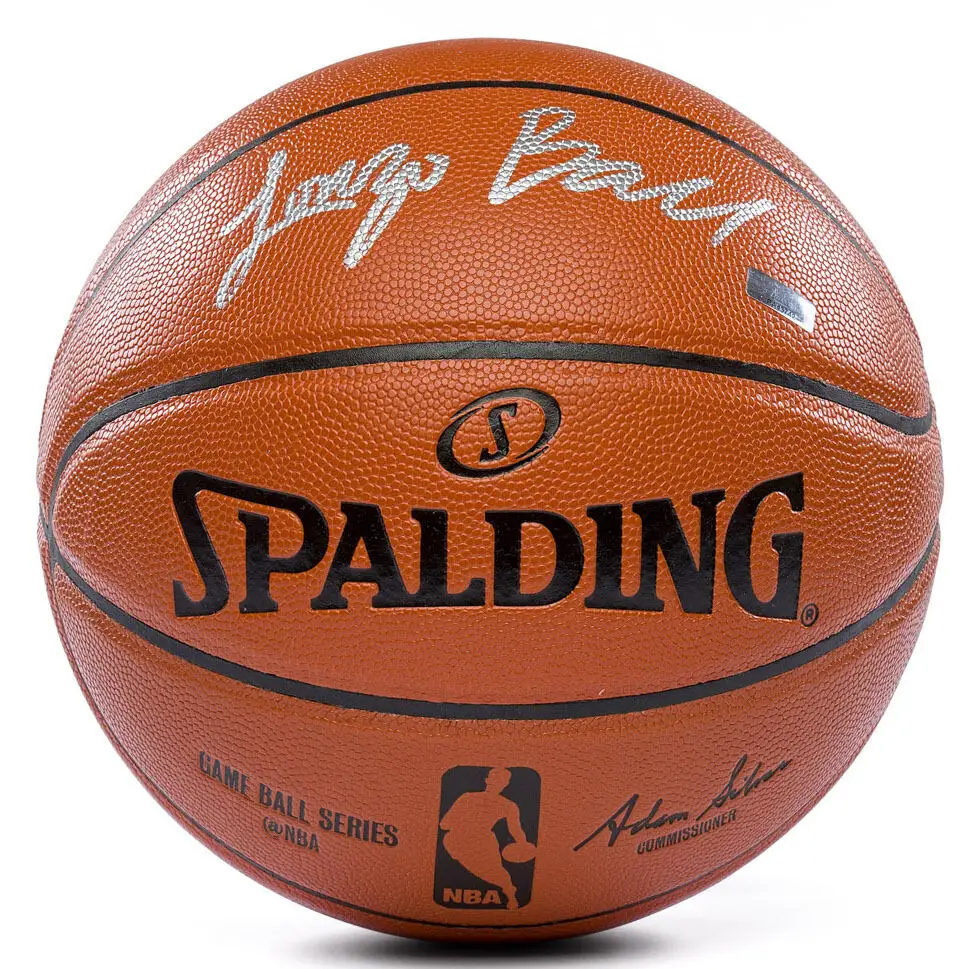 Broad-tipped silver paint pens like Deco are often considered the best pens to use for signing autographs on basketballs because they provide a bold, metallic finish that stands out against the dark surface of the ball. The broad tip of these pens allows for easy and precise application, despite the bumpy uneven surface texture of basketballs.

As an added benefit, Deco paint pens are typically resistant to fading or smudging, so the autograph will last for a long time. Additionally, silver is a neutral color that goes well with most other colors, so it is a safe choice for autographs on even non-standard basketballs. However, if your ball has a flat white panel like the Martin Sports Autograph Basketball, then you'll want to go with a black Deco paint pen rather than a Sharpie which will fade over time.
Best Pen for Footballs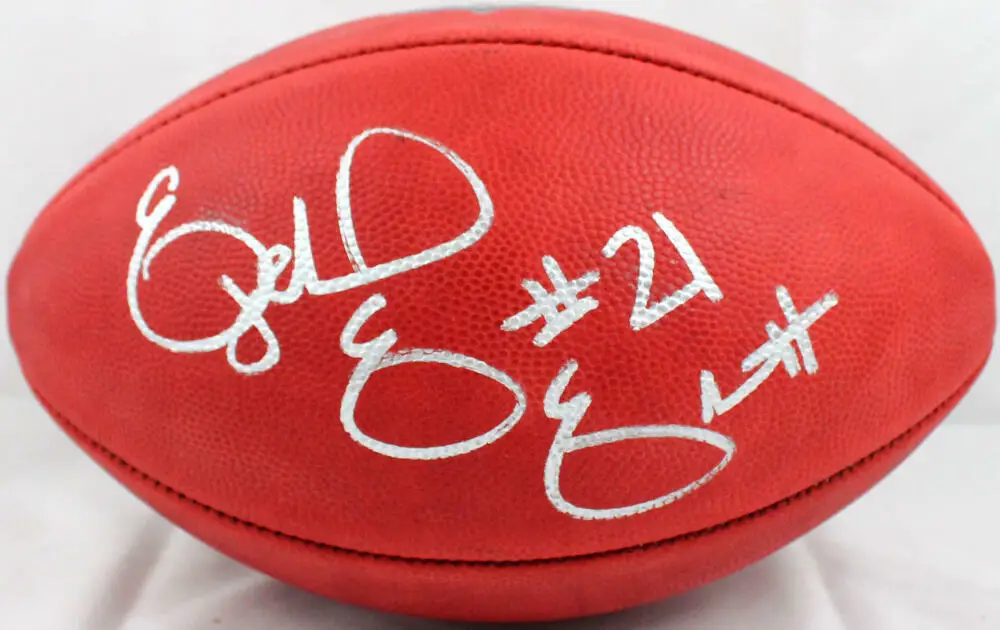 For an autograph that pops, Broad-tipped silver paint pens like Deco once again come out on top. Just like with basketballs, the broad tip is good for signing footballs because it allows for thicker lines and easier application on rough surfaces. The silver color is also a good choice because it stands out against the dark surface of the football and is easy to read.
Best Pen for Hockey Pucks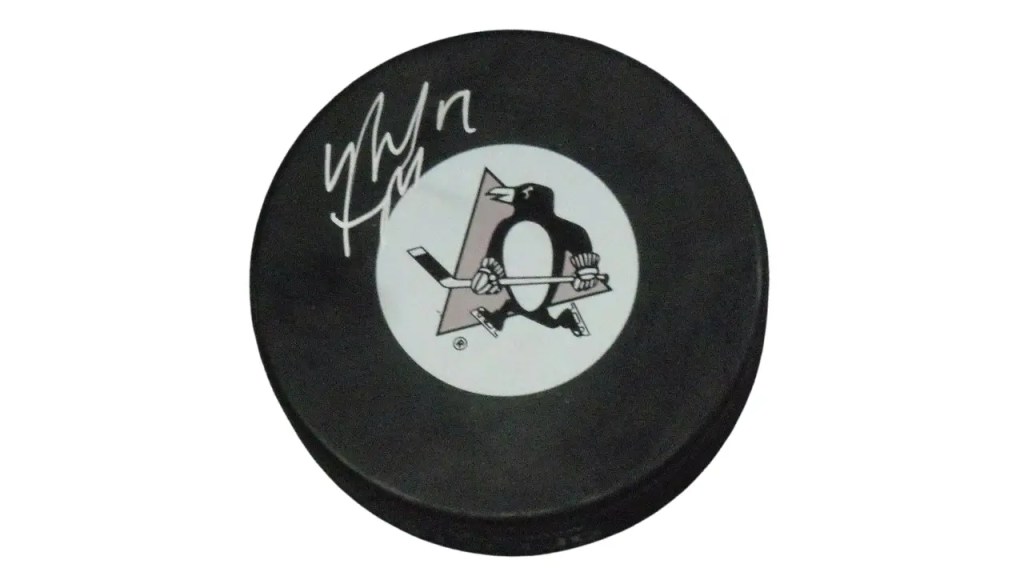 When it comes to signing hockey pucks, fine-tipped silver Deco paint pens are considered to be the best option for autographs. These pens have a thin, precise tip that allows for clean, clear writing and detailing, making them ideal for signing hockey pucks.

The silver color is also a good choice because it stands out against the dark black color of most pucks, making the signatures more visible and easily readable. Additionally, paint pens are generally more durable and long-lasting than other types of pens, so the signatures will remain clear and legible even after handling and use.

Overall, fine-tipped silver Deco paint pens are the best choice for signing hockey pucks due to their precision, durability, and visibility.
Best Pen for Signing Shoes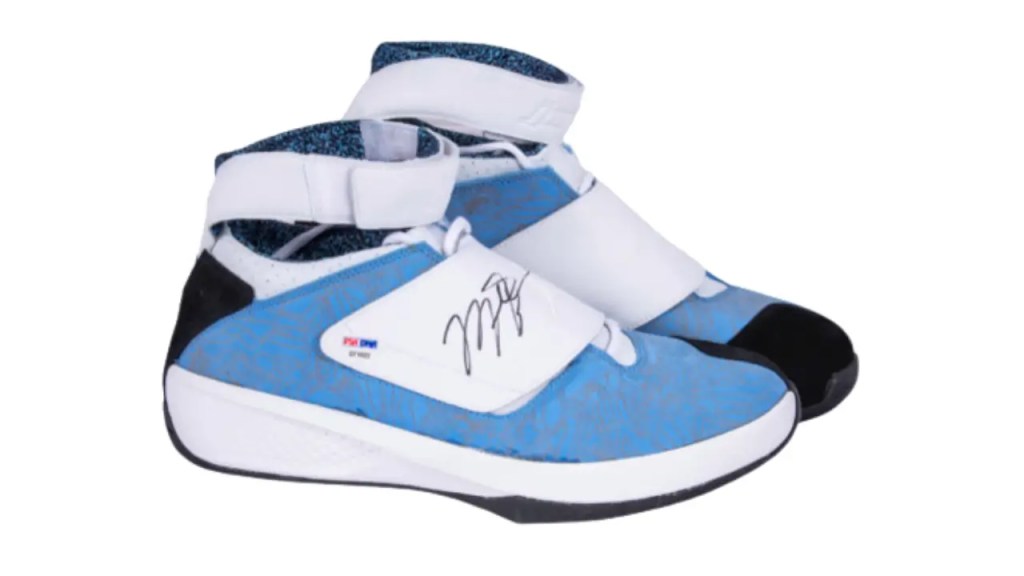 When it comes to signing shoes, one of the best pens to use is a paint pen, specifically the Sharpie oil-based paint markers. This type of pen provides a bold, opaque color that stands out against both light and dark surfaces. Unlike regular markers, the oil-based paint marker is permanent, water-resistant, and less likely to fade over time. It's also resistant to abrasion, which is particularly important when signing a textured surface like a shoe. The tip of the pen is also crucial; a medium point is often the most versatile, allowing for clear autographs without overwhelming the shoe's design.
Autographed shoes hold a special appeal for sports memorabilia collectors, with basketball fans showing a particular fondness. Basketball, more than any other sport, has a deep connection with shoe culture, and iconic footwear often becomes synonymous with the players who wore them. Think of Michael Jordan's Air Jordans or LeBron James' signature Nike line. Having these iconic shoes signed by the players themselves elevates their status from mere footwear to cherished mementos of the sport's history. This display of signed shoes not only showcases a collector's passion for the sport but also serves as a tangible connection to their favorite athletes and the memorable moments they created on the court.
Best Pen for Signing Tickets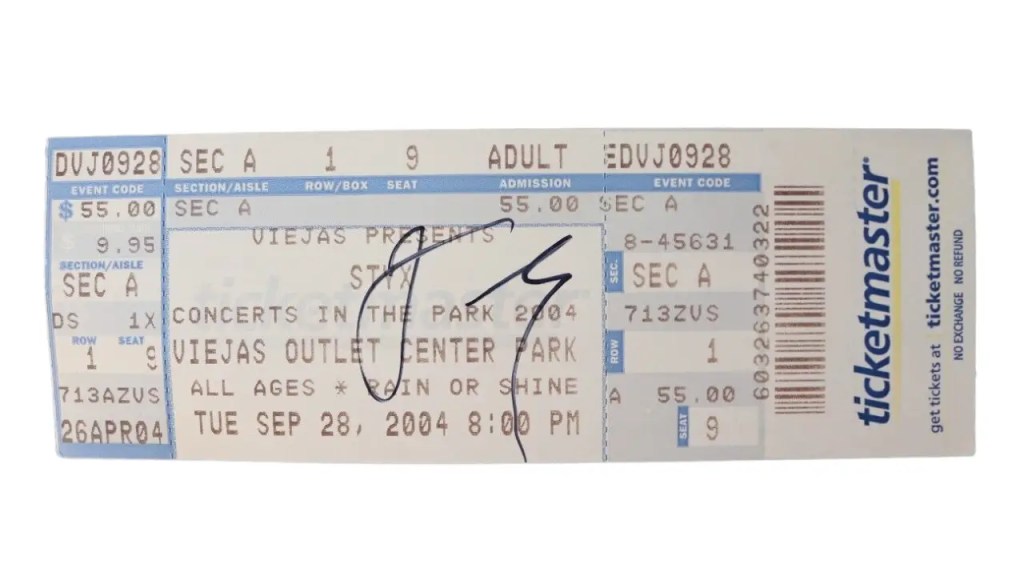 For signing tickets, the Uni-ball Signo Broad UM-153 Gel Pen is a top contender. The smooth-flowing gel ink in this pen delivers a vibrant and consistent line that stands out brilliantly on most ticket materials, including both paper and glossy finishes. The pigment-based ink is fade and water-resistant, ensuring that the autograph remains intact and legible for years. The 1.0mm tip allows for a broad line, which is ideal for autographs as it provides good visibility without taking up too much space on the ticket.
Tickets, especially those from concerts and sporting events, are popular items for autographs due to their direct connection to a specific event and the memories associated with it. Having an artist's or athlete's signature on a ticket not only commemorates the event but also personalizes it, making it a unique piece of memorabilia. While signed movie tickets are less common, they could potentially hold a similar appeal, particularly if signed by a prominent actor, director, or other film industry figure. The act of signing adds a level of personal connection, transforming a simple ticket into a keepsake that holds both sentimental and potential monetary value.
Best Pen for Signing Statues
When signing statues, the material of the statue and the surface being signed are crucial factors to consider when choosing the right pen. For signing a plaque affixed to a statue, the Sharpie permanent markers are an excellent choice. These markers are known for their quick-drying, waterproof, smear-proof, and fade-resistant ink. The fine tip allows for precise signing, while the variety of colors available lets you choose a color that contrasts well with the plaque for maximum visibility. The Sharpie's durable ink adheres well to smooth surfaces like metal and plastic, making it ideal for signing plaques.
However, if the base of the statue is being signed, especially if it's an uneven surface, the DecoColor paint marker is the way to go. Known for its ability to write on a multitude of surfaces, including stone, wood, glass, plastic, and metal, the DecoColor pen's oil-based paint is vibrant, opaque, and weather-resistant, ensuring the autograph remains visible and intact for years. The marker's valve action nib allows for a controlled flow of paint, which is particularly useful when dealing with uneven surfaces where standard pens or markers may skip or fail to make a consistent mark. It's always important to remember that when signing statues or any other valuable item, testing the pen on a similar but inconspicuous surface first is a good practice to ensure the result is as desired.
Posters in Inventory
FAQs
What are the best pens for autographs?
DecoColor paint pens are considered by autograph dealers and celebrities alike to be the best pens for autographs. They can frequently be found at autograph tables at conventions and private signings. These paint pens, which come in a wide variety of colors, are oil-based and acid-free, making them archival quality. They apply paint precisely, making them great for multiple surfaces like photos, posters, and Funko POPs. DecoColor pens are more expensive than permanent markers like Sharpies but are known to be more reliable and have better visibility.
Are Sharpies okay for autographs?
Sharpies are commonly used for autographs and are a popular choice among collectors. They are very affordable, widely available, and the ink dries quickly making it less likely to smudge. They work well on photos, but they can fade over time when exposed to light and the colors don't stand out as much as paint pens. However, it's important to keep in mind that the best pen for autographs depends on the color and material of the item being signed, therefore it's best to use Sharpies on smooth, light-colored surfaces.
What is the best kind of pen to sign Funko Pops?
The best kind of pen to sign Funko POPs is one that will not chip or flake from the window. The front window of a Funko POP is made of acetate, so not all types of ink adhere well to it. Alcohol-based pens like Krink, or water-based acrylic pens like Molotow and Posca, can flake from the acetate over time.

Many POP collectors recommend Sharpie oil-based pens or Uchida DecoColor paint markers as they both provide the best results on Funko POPs. Both are oil-based pens, which is important because the oil-based ink adheres well to the acetate window and doesn't scratch off.