Nothing can ruin a valuable piece quicker than choosing the wrong pen for an autograph. Generally, DecoColor paint pens are considered to be the best overall pens for signatures. However, while there are often clear winners and losers between pens, it's important to note that there is no one best pen for autographs.

Choosing the right pen for a signing is dependent on the color and material of the item being signed. For example, baseballs are best signed with a simple ballpoint pen while photos look best when signed with a paint pen or Sharpie.

Of course, when deciding on the right pen for the job, more than just the type of pen being used must be considered. For example, the paint or ink color of the pen is perhaps the most important factor of all. To help make the choice easy, we'll look at common practices in the industry and see what kinds of pens celebrities and industry leaders are choosing to sign with today.
Quick Reference for Pen Usage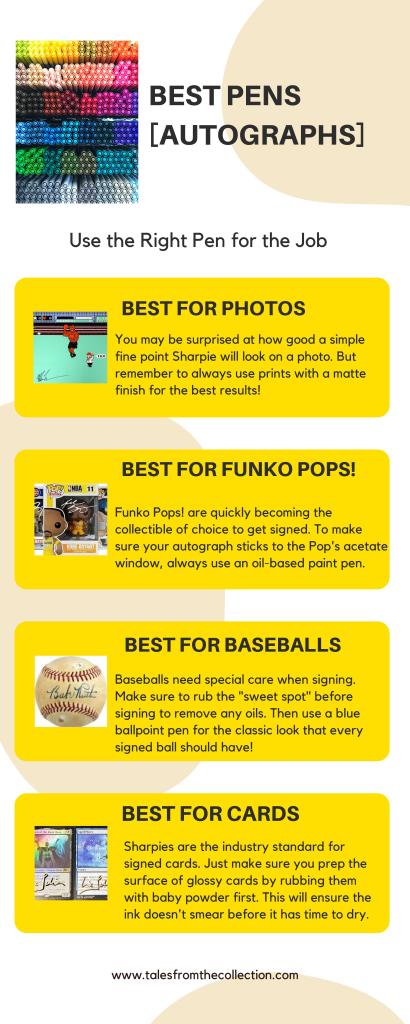 Best Paint Pen for Autographs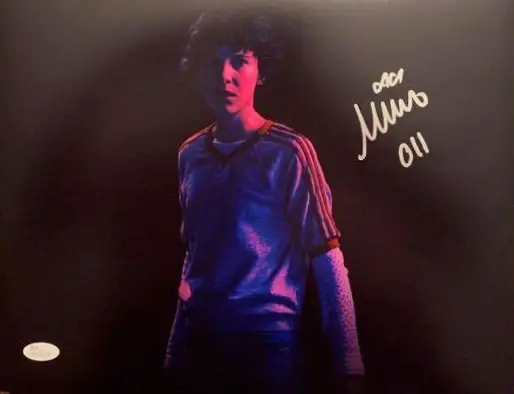 According to SWAU, one of the leading autograph companies in the industry, Oil-based paint pens are generally the gold standard when it comes to autograph signings. Uchida DecoColor paint markers (either the fine or extra fine tips) come in a wide variety of colors. They are also acid-free, which means they are archival quality so you won't have to worry about your valuable collectibles deteriorating over time due to a poor pen choice.
While Sharpie paint pens are also a popular choice for autographs, they are generally not as widely used. Thanks to their slightly broader tips, they don't apply paint as precisely as Deco markers do.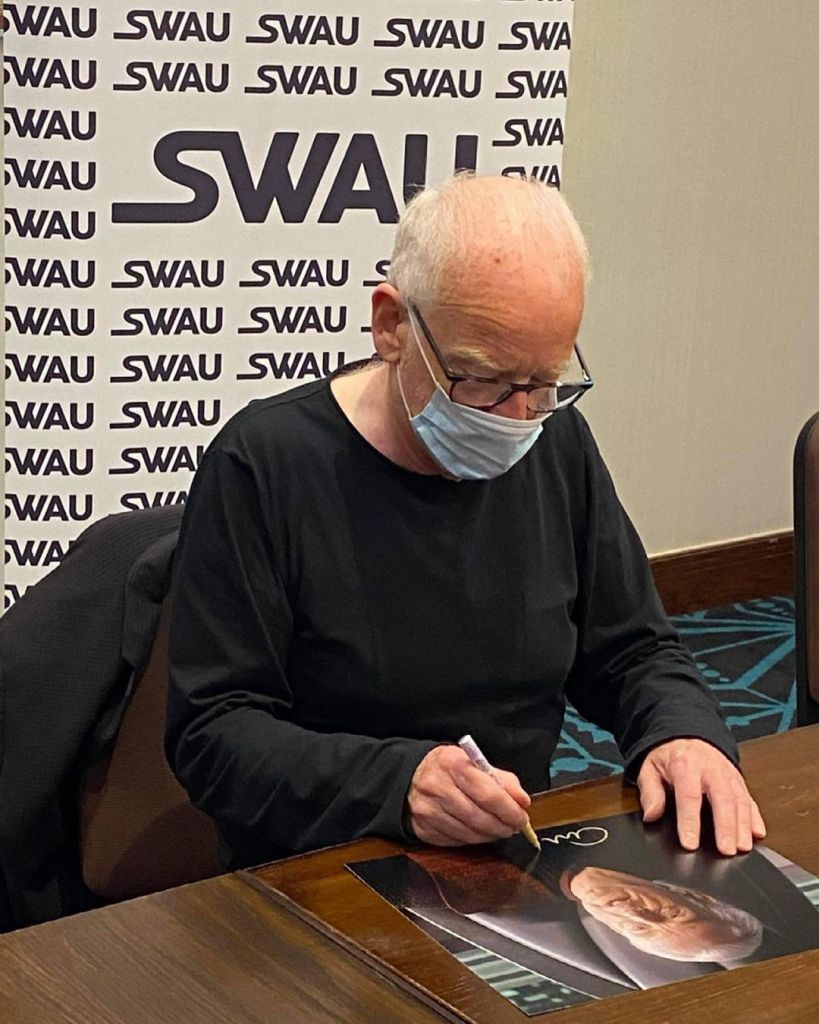 From left to right Ian McDiarmid, Taika Waititi, Chris Hemsworth, and Rosario Dawson all sign for SWAU using DecoColor paint pens.
Paint Pen Pros and Cons
Pros
Cons
◉ Great for multiple surfaces to include photos, posters, and Funko POPs.
◉ Come in a large variety of colors to complement any piece.
◉ Opaque paint improves visibility and helps signatures to really pop.
◉ Water-based acrylic paint pens have a reputation for flaking, unlike their oil-based counterparts.


◉ More expensive than permanent markers.
◉ Paint pens need to be tested before use to ensure the paint is flowing. Failure to do so can result in a poor autograph.
Best Permanent Markers
Before the reign of paint pens, permanent markers—Sharpies in particular—were the pen of choice for many autograph collectors. They still have their place though and are ubiquitous at conventions. You can rest assured that silver and gold metallic Sharpies as well as black and blue ones will be at every guest's autograph table.
From left to right: Timothy Olyphant signs a photo with a Sharpie while Hayley Atwell chooses from an assortment of permanent markers and paint pens provided by SWAU at a recent signing.
Sharpie Pros and Cons
Pros
Cons
◉ Very affordable.
◉ Commonly available.
◉ Quick drying ink, so you don't have to worry much about smudging.
◉ Best for photos


◉ Permanent markers can fade over time when exposed to light.
◉ They don't stand out as well as paint pens.

Best Pens for Funko POPs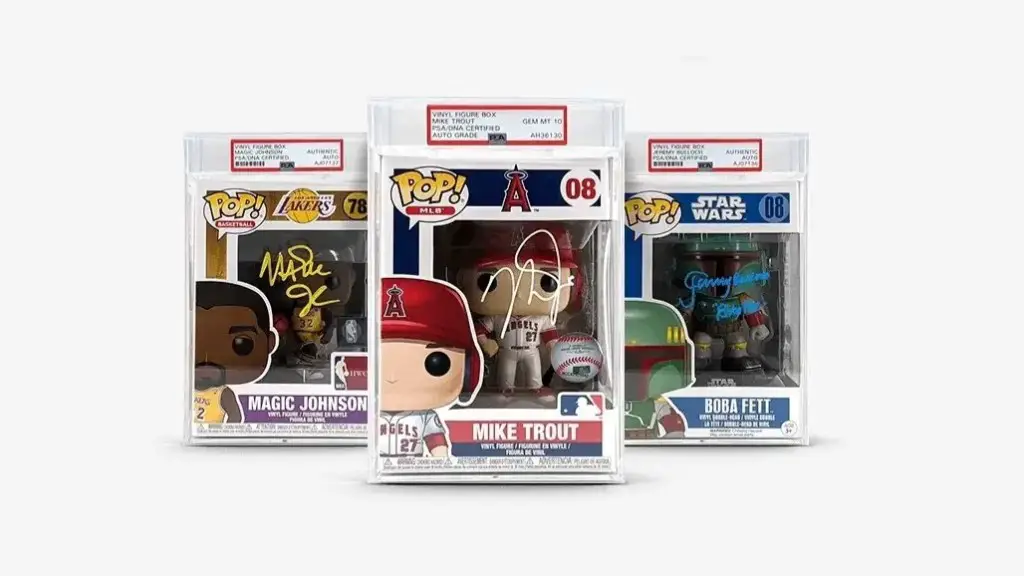 The sweet spot on a Funko POP! is the front window which is made out of acetate. Signatures can look great on these, but you need to be careful with your pen choice as not all kinds of ink adhere well to the window. Alcohol-based pens such as Krink or water-based acrylic pens like Molotow and Posca can scratch, chip, and flake as their ink sits on top of the window and doesn't adhere to it the same way that oil-based paint does.

Many POP collectors will recommend Sharpie oil-based pens, but the best pen for signing autographs on Funko POPs is the DecoColor.
Best Pens for Trading Cards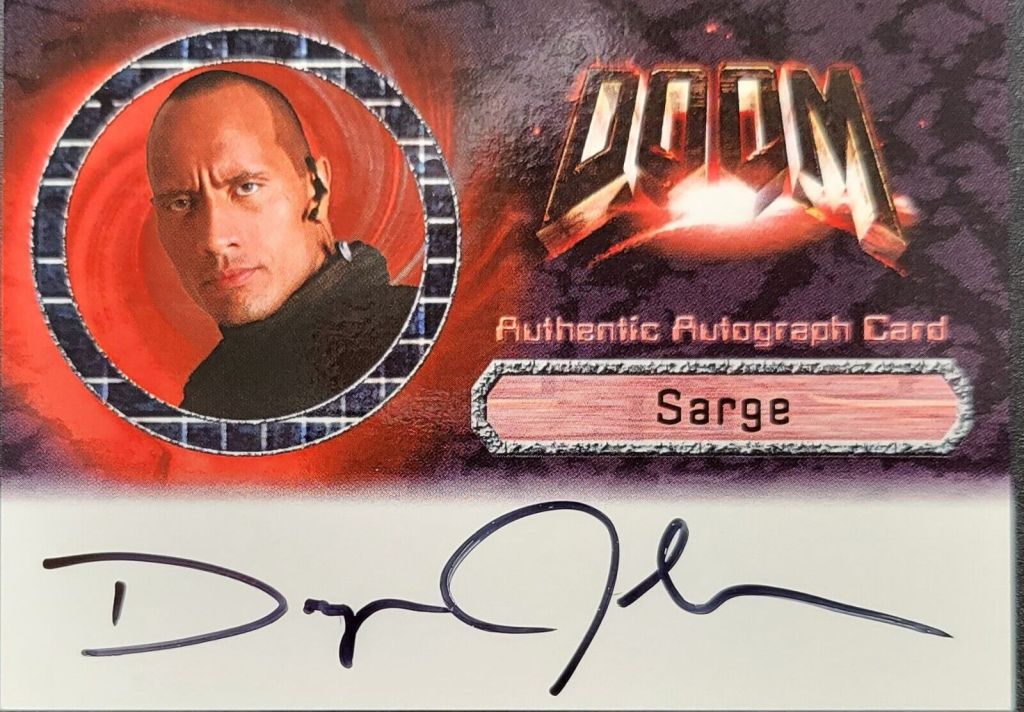 The easiest way to determine the best pen for signing trading cards is just to look at what professionals in the industry are doing. Companies like Topps, Leaf, Panini, and Upperdeck all make autograph cards for their sets. Just check eBay listings for signed cards and you'll find that almost all the ones that come from these industry leaders are signed in blue or black Sharpie.

A word of caution when getting cards signed though. Most modern cards are manufactured with a glossy surface. The gloss can often repel ink and ruin an otherwise good autograph. Those glossy cards aren't unsignable though. They just need to be prepped for signings by lightly removing the glossy surface.

To do this, simply rub your card with a dryer sheet or baby powder. the lightly abrasive nature of these materials will help remove the gloss and make your trading cards signable.
Best Pens for Photos
Photos are perhaps the most common medium used for autographs. Signed photo prints look great on display and hold a lot of different types of ink. However, blue and metallic sharpies are usually the most commonly used. Black Sharpies also look great but are prone to fading.
When it comes to signing photos, the photo itself may be more important than the pen you use. While specialty prints like metallic photos are offered by some print shops, most photos are either sold as matte or glossy. Glossy photos should be avoided for signings. They don't hold ink well and don't look as good on display due to being more prone to glare.

Getting matte photos signed in Sharpie is never a bad idea. Just be mindful of signature placement as dark ink can blend in rather well with a dark background.
Best Pen for Baseballs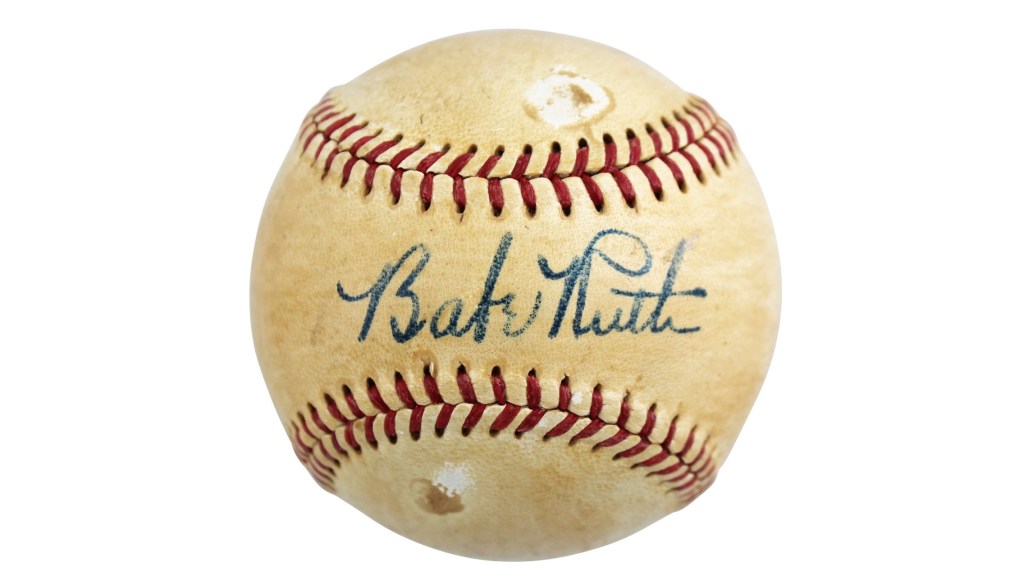 Baseballs and autographs have a long history together. Perhaps it's fitting then that the best way to sign a baseball is with an old-school writing implement—the ballpoint pen. Baseballs are made of animal hide or synthetic leather. This material causes problems for most kinds of ink. Permanent markers bleed and other kinds of ink don't hold as well as ballpoint pens. In particular, blue ink should be used since it holds up much better to light and black ink will fade much quicker.

Stay away from gel pens and either use Bic Cristal or Zebra F-301 pens which both work great. For the best results before signing, you should rub "the sweet spot". That's the ideal place for autographs on a baseball. You can find it where the gap between the stitches is narrowest. Also, be sure to use a cloth to wipe the sweet spot down to remove any oils that may be on the surface. This ensures that the ink is laid on the baseball cleanly.
Best Pen for Helmets and Props
Once again the DecoColor paint pen comes out on top as the most recommended pen for helmets and props. According to to prop maker Nick West, DecoColor really pops when used for autographs on helmets and props.

Sharpies are also commonly used for these kinds of items. Here you can see Master Chief voice actor Steve Downs putting down his Posca pen in favor of a Sharpie.
Best Pen for Posters
To find out the best pen to use on posters, I got in touch with Bryan Calloway of Autograph Alliance. He facilitates hundreds of autograph signings per year and has a lot of direct experience with getting posters signed.

He cautioned that a lot of markers react differently to different types of paper and that not every poster is printed on the same stock. However, if he had to pick one brand, it would be Deco. If you've read this far then that should be no surprise as DecoColor paint pens are the best overall pen for autographs. Once again, Sharpies also received an honorable mention as they can look quite nice on posters as well.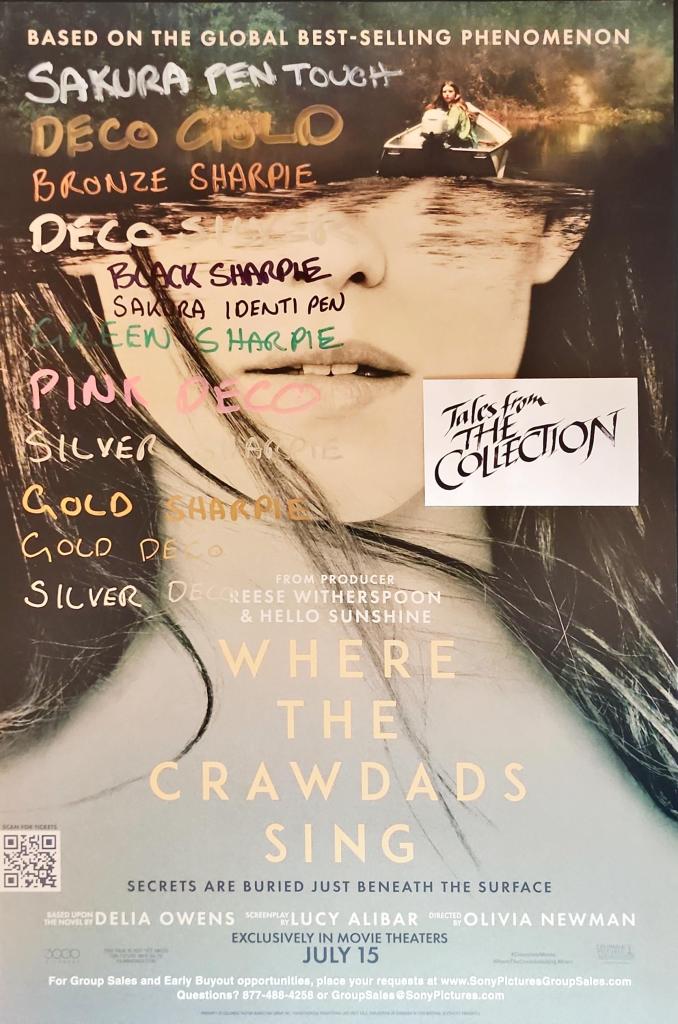 Above you can see how different markers and paint pens do on poster paper. I thought all of the Deco pens performed well while the Sakura Pen Touch showed up the worst. Also receiving a dishonorable mention was the Sakura Identi-pen. It didn't look as dark as the black Sharpie and had a noticeably stiffer nib which made it harder to sign with. The following pens were tested for the poster and the photos above:
Posters in Inventory