I received an authentic autograph from Sir Ian McKellen and Sir Patrick Stewart through the mail (TTM)! I sent them both two index cards. For Ian McKellen, I was given this 4×6 photo of Gandalf, which he graciously provided himself. The inscription reads: "To Tim, Ian McKellen 2021." I love X-Men, but I am very happy that he provided a picture of Gandalf as Lord of the Rings is my favorite work of his. There is no cooler wizard than Gandalf or a better fantasy franchise than Lord of The Rings.
Next, Sir Stewart, sent both of my index cards back signed. Read my detailed guide on how to start your journey in TTM autograph collecting and write your own fan letter to any celebrity of your choosing.
Sir Ian Murray McKellen is a British actor who has achieved international fame for his work on both the stage and screen. He is perhaps best known for his role as Gandalf in the Lord of the Rings trilogy, but he has also appeared in numerous other films and television shows over the course of his career.

McKellen was born in England in 1939, and he began his acting career while still in college. He soon established himself as one of the country's leading stage actors, appearing in such classic plays as Hamlet and King Lear.

In the 1980s, McKellen made the transition to film, later appearing in successful movies such as The Hobbit and X-Men. In recent years, he has continued to appear on both stage and screen, winning critical acclaim for his work in both mediums. Sir Ian McKellen is one of the world's most celebrated actors, and his work has entertained audiences for decades. In 2022, a man posing as McKellen defrauded many of the acclaimed actor's fans. He has since been very responsive to his fans as a way to make amends, although he had no involvement in the scam.
| | |
| --- | --- |
| Date Sent | 10 Jan 2021 |
| Date Received | 21 May 2021 |
| Turn Around Time | 131 days (US -> UK -> US) |
| Items Sent | Two index cards |
| Items Received | 4 x 6″ photo of Gandalf |
Ian McKellen Fan Mail Address
Sir Ian McKellen
Independent Talent Group Ltd
40 Whitfield Street
London W1T 2RH
United Kingdom
Patrick Stewart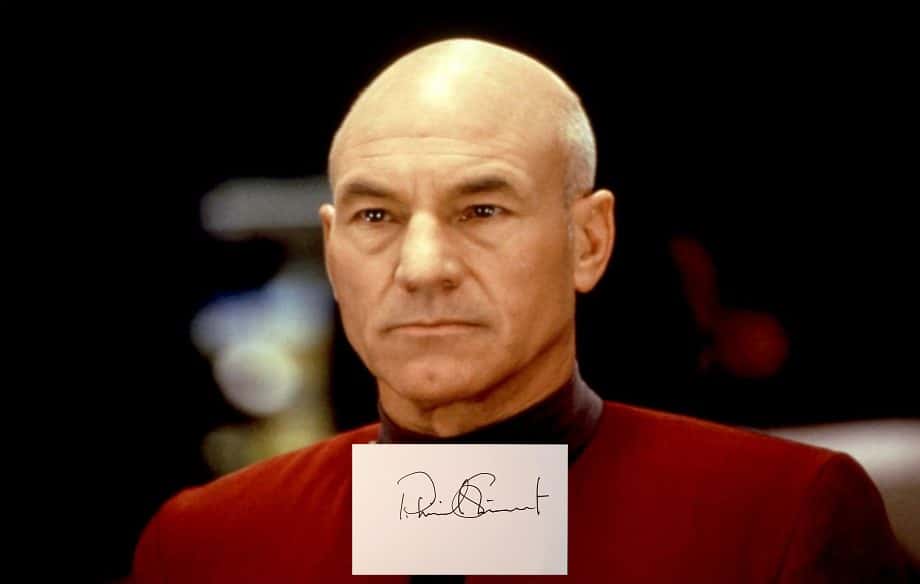 Sir Patrick Stewart is a highly accomplished actor who has starred in some of the most iconic roles of the past few decades. He is perhaps best known for his role as Captain Jean-Luc Picard in Star Trek: The Next Generation, but he has also appeared in many other popular films and television series.

In addition to his work in science fiction, Stewart is also a respected stage actor, having performed with the Royal Shakespeare Company and National Theatre. In recent years, he has also taken on roles in several blockbuster superhero movies, including X-Men and Logan. Whether on stage or on screen, Sir Patrick Stewart is an undeniable talent who continues to entertain audiences all over the world.
I was lucky enough to get two index cards signed by the legendary actor. Here is how my own fan mail experience went and how you can write to Sir Patrick Stewart yourself.
| | |
| --- | --- |
| Sent | 10 January 2021 |
| Received | 23 July 2021 |
| Days | 193 |
Picard films through January 2022
Patrick Stewart Fan Mail Address
"Star Trek: Picard"
CBS Stidops Inc.
25135 Anza Drive, Unit A
Valencia, CA 91355