Autograph signing company ZOBIE launched vShout in 2020. It's their combination celebrity shout-out/autograph service that has been connecting fans and celebrities even from afar. The service arose in the wake of the comic and pop culture convention cancellations that dramatically changed the autograph industry as a result of the COVID-19 pandemic. With no physical conventions at the time for celebrities to attend and sign autographs for fans, ZOBIE saw an opening in the market that needed to be filled, and they sought to do it virtually. vShout came to prominence along with similar services like Cameo, Streamily, and GalaxyCon Live. None of these services are exactly the same though.

Despite vShout getting its name from the pre-recorded shout-outs that come with autographs purchased through the service, the autographs themselves still take center stage. Their videos on the other hand seem more like an afterthought for vShout. Many of their shout-outs consist of little more than a brief three second aside. The company does have some aspects to its service that makes it unique and worthwhile though. So if you're curious to know exactly what you'll get from vShout, keep reading to find out about how their video services, pricing, and signing options stack up to other players in the autograph industry.
Pros and Cons of vShout's Service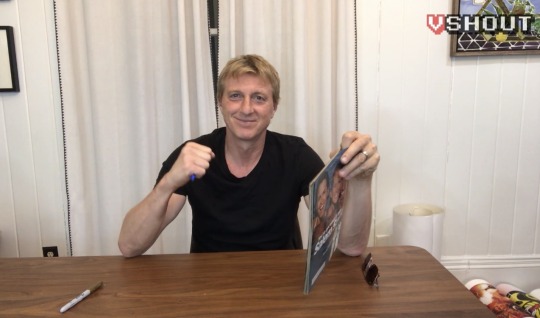 I'll start with what's great about vShout—their autograph service. Parent company ZOBIE is one of the top recommended sellers of signed Funko POPs. They have built a solid reputation for selling authentic autographs thanks to the private signings they conduct with celebrities. So if you're asking if ZOBIE, and by extension vShout, is legit, the answer is yes! You can buy with confidence when ordering through vShout's online store. They even offer their own serialized stickers for tracking and assurance of authenticity. Alternatively you can pay an extra $10 for a JSA sticker.

Importantly, when you shop with vShout, you're not just getting an autograph, you're also getting a celebrity shout-out as well. Strangely though, pricing remains the same between ZOBIE and vShout. For example, a certified Christina Ricci autograph costs $110 from ZOBIE and the same from vShout, but with the additional video message. Furthermore, if you don't opt for the JSA certification from vShout the price drops to $100. So in effect, you are getting more for less if you do a vShout signing over purchasing from ZOBIE's stock. Of course, it should also be mentioned that ZOBIE and vShout are priced slightly above the competition with autograph services like Official Pix selling signed Christina Ricci 8x10s for only $90.
A Focus on Uncommon Signers
The core of vShout's signers are voice over actors (VOA) and talent from popular franchises that may not have been in the limelight for quite some time. That's not to say that the autograph company's stable of celebrity signers is undesirable, but they haven't begun to offer the A-list actors that services like Star Wars Autograph Universe or Official Pix have come to be known for. In fact, the two biggest talents that sign for vShout are probably Christopher Lloyd and Christina Ricci. Both of them are also on competing services, so the company doesn't have a lot of notable exclusives from the looks of it.
vShout's User Experience
Many customers have come away from vShout's private signings feeling very happy with the experience. It starts with the ordering process which is pretty straight forward. You simply choose whether you are doing a send-in or pre-order and then you select your photo or arrange to have your item signed. If you are doing a send-in, most items must be pre-cleared by vShout so give yourself a good amount of lead-time ahead of the signing date. Once your order is in, it's just a matter of waiting for your autograph and shout-out which will likely come at different times.

Of course, any time when you are dealing with shipping, there is a possibility that your items may be damaged. If that's the case, vShout is committed to having the autograph re-done when damage occurs or if there is an error in the personalization, such as a misspelled name.
vShout's Recorded Autograph Experiences
vShout is named after the company's pre-recorded celebrity shout-out service, the eponymous vShout. Given that vShouts are its flagship service, one would expect them to be much more substantive than they are. In reality, the actual shout-out may be as brief as only mentioning the customer's name, and may be as long as a few sentences. It's unclear if the celebrities are simply disinterested in interacting with fans or if the pre-recorded nature of the shout-outs is so impersonal as to not elicit a genuine interaction.

Ultimately, it would seem that vShout is at least making an effort to create some kind of dialogue between fans and celebrities. On some of their autograph order pages, there is a box where customers can add personal notes for the signers to read. It's unclear if this is being underutilized by fans /or if the notes simply aren't being passed on by the company. Regardless, the results are pretty clear. Many fans find themselves underwhelmed by the two to three second shout-out they receive. Ultimately, it gives the impression that minimal effort is being put in by many of the company's signers.
Print Selection / Send-in Options

While vShout has a fairly limited licensed print selection, they do tend to have a decent selection. Depending on the signer, you might see movie and TV stills, official artwork, or even fan art. Of course, just like their competitor Streamily, vShout also offers the same kinds of collages that have been plaguing voice actors' convention booths for decades. So there is some bad mixed in with the good. That's okay because fan art and character collages are to some fans' liking, so I would say that they've stuck a good balance across a wide range of tastes.

If their stock photos aren't to your liking though, then utilizing vShout's send-in options would be a good choice. They offer send-in options for, if not all, then most of their signings. However, there are some limitations. They don't accept full sized posters and items like Funko POPs and already signed items require customers to pay an upcharge for their handling that ranges between $10 to $30 extra. This is a fairly common practice for send-in signings, but it can still feel like companies are nickel and diming customers when they do it. Ultimately, their offerings are so diverse that every collector should be able to find something to get signed that they will be happy with.