Contrary to popular belief, celebrities do in fact often respond to their fan mail. There is a negative perception about celebrities replying to their fans. It exists because they simply don't have the time to reply to every single letter. Inevitably some fans will not get a reply, but it's not an all or nothing game. Even A-list celebrities take the time to respond to fan mail. Famous Hollywood actors like Harrison Ford can be reliably depended on to personally reply to at least a few fan letters every year.

Time and time again we hear about the incredible ways that many celebrities choose to respond to fans. If you don't believe me, check out the following examples of how Tom Hanks, Ana de Armas, and Cristina Vee all went out of their way to respond to fans and encourage them to continue reaching out! If you're feeling inspired and want to write your own fan letter, then check out our fan mail template and FAQ page.
Tom Hanks Honors Artist For His Fan Art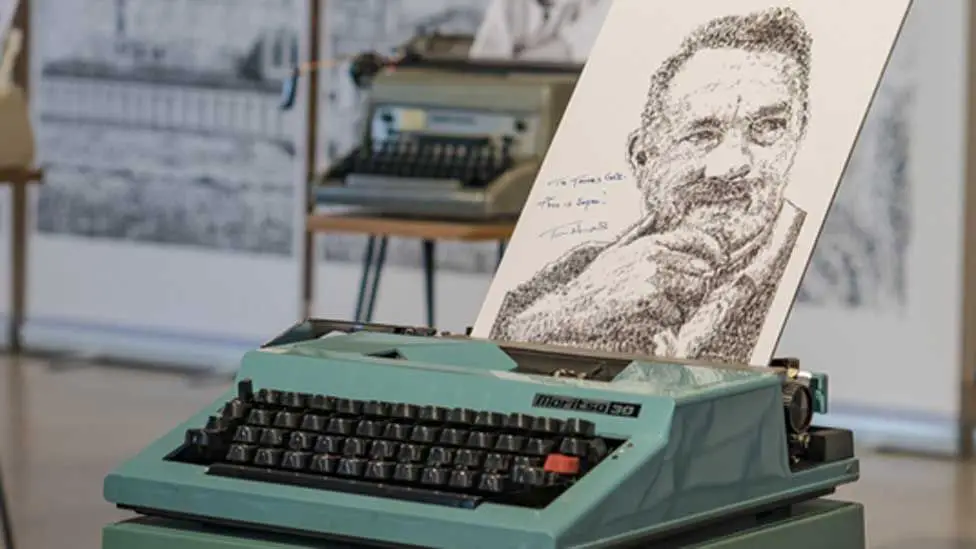 Typewriter artist James Cook had a brilliant idea to send his work to one the world's most well known typewriter enthusiasts—Tom Hanks. Hanks is well known for corresponding with fans through typewritten letters, his favorite medium of choice. Given their shared affinity for the typewriter, the UK-based artist decided to share his work with the Hollywood actor. As fan mail goes, Cook's letter was sent and all that was left to do was wait for a reply.

To the artists' surprise, Cook found a letter from Mr. Hanks in his mailbox. Opening the correspondence revealed that Hanks had returned Cook's print with something special. The actor added a handwritten message that read: "To James Cook. This is super! Tom Hanks". For fans wanting to reach out to Tom Hanks, or any other celebrities, there is a key takeaway here. Always strive to make your letters unique and heartfelt. You don't need to include art in yours. However, by doing that, Cook, like another fan who got a well-known Tom Hanks response, made his letter stand out among the hundreds of other letters that the veteran actor no doubt gets every week.
Tom Hanks Fan Mail Address
Tom Hanks
Playtone Company
9100 Wilshire Blvd.
Suite 1000W
Beverly Hills, CA.90212-3463
USA
Ana de Armas Reacts to Fan Mail
Knives Out actor Ana de Armas gave one fan an incredible surprise. Julia Chagina sent fan mail to the Spanish actress and was shocked to see her letter appear on the star's Instagram account. Ana de Armas shared a photo on her story of Julia's letter with the caption "Thanks for your letter Julia! I never saw [the] other ones you sent. These are coming your way now. xx". Ana was referencing how in Julia's letter, she had mentioned how she had tried to write to the famous actor a few times before.

In addition to the Instagram reply, Ana de Armas also signed both of the photos that Julia sent her along with the inscription "To Julia, with love! Ana de Armas xx". After weeks of anticipation following Ana's Instagram post, the letter finally arrived in Julia's mail box. If there's one thing that you learn from this is that every letter doesn't find its way to the celebrities we write to, but with a little persistence and luck, incredible responses like this really do happen!
Ana de Armas Fan Mail Address
Ana de Armas
c/o A3 Artists Agency (NY)
The Empire State Building
350 Fifth Ave.
38th Floor
New York, NY 10118
USA
Christina Vee Encourages Fans to Write Her
Many fans will know Christina Vee from her work as a voice over actor for Ladybug on Miraculous: Tales of Ladybug & Cat Noir. She is one of many celebrities like Stranger Things' Maya Hawke who encourage their fans to reach out to them by sending fan mail. In one of Christina's TikToks the actress invites her supporters to send her their fan art and letters. She even promises to share some of what she receives on her social media accounts. That's the kind of celebrity/fan interactions that makes sending fan mail one of the most fun and rewarding hobbies for anyone to get into.
Christina Vee Fan Mail Address
Cristina Vee
PO Box 55785
Sherman Oaks, CA 91413