Ana de Armas is a Cuban actor who has appeared in both Spanish and English-language films. She made her breakthrough appearance in the 2015 film "Knock Knock", which led to roles in several Hollywood films including "War Dogs" and "Blade Runner 2049". In 2019, she starred in the blockbuster hit "Knives Out" followed by a leading role in the James Bond film "No Time to Die". Ana is a talented actor who has demonstrated her versatility with a wide range of roles. Like Taylor Swift, Keanu Reeves, and Emilia Clarke, Ana de Armas is one of the celebrities that fans want to contact the most.
How to Send Ana de Armas Fan Mail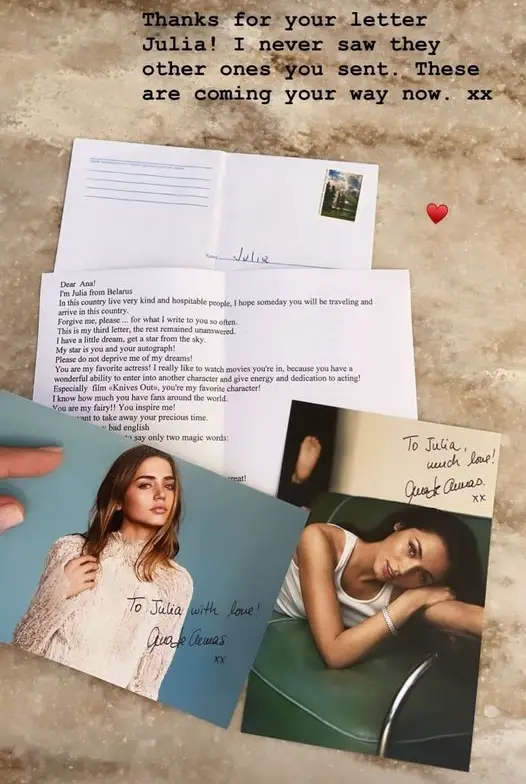 Ana de Armas has been in a lot of popular films since beginning her acting career in 2006. It should be no surprise then that contacting her is at the forefront of many people's minds. Many fans are left to wonder if she responds to her fan mail. Luckily the answer is yes!
The "Knives Out" actor has responded to fan mail in the past and even went as far as posting about it on her Instagram account. One of Ana's fans Julia Chagina had apparently tried to contact Ana several times before she finally got one of her letters. Ana apologized for not having seen her previous messages saying "Thanks for your letter Julia! I never saw the other ones you sent. These are coming your way now. xx".

Ana then sent Julia two signed photos. They were both inscribed by Ana with "to Julia with love".

If you would like to get a response from Ana de Armas, try and contact her via representatives from her talent agencies via the phone numbers, email addresses, and addresses below.
DM Ana de Armas on Social Media
A lot of fans are more comfortable DMing than they are with sending a letter in the mail. It's a strategy that can work as there are a number of celebrities that have been known to respond to DMs. If sending a DM doesn't work, try tagging her in a post or mentioning her in a comment. You never know, you might get a response!
More Ways to Contact Ana de Armas
If you still need more email addresses, phone numbers, and addresses in order to reach the Cuban actress then look no further. Ana has had a long successful career and therefore has a lot of managers and agencies looking out for her interests. Here are some of her representatives, including her publicist and legal representatives, that you can also try reaching out to.
FAQs
Who is Ana de Armas Manager?
Josh Lieberman of Creative Artists Agency (CAA) is Ana de Armas' main manager, although she has many agents working to represent her interests.
Where does Ana de Armas Live?
As of 2022 Ana de Armas lives in New York. She was born in Havana, Cuba in 1988, moved to Madrid Spain in 2007, and to Los Angeles, CA in 2014.
How old was Ana de Armas in Knock Knock?
Ana de Armas was 27 when Knock Knock was released in 2017.
How old was Ana de Armas in Knives Out?
Ana de Armas was 31 when Knives Out was released in 2019.
How old was Ana de Armas in No Time to Die?
Ana de Armas was 33 when Knives Out was released in 2021.
Career History
30 April 1988 – Born in Havana, Cuba

2006 – Starred in the Cuban film Una rosa de Francia

2007 – Moved to Madrid, Spain

2007 to 2010 – Starred in El Internado for six seasons

2014 – Moved to Los Angeles, CA

2015 – Starred opposite Keanu Reeves in her first Hollywood release "Knock Knock"

2019 – Starred in Knives Out

2021 – Played a Bond girl in No Time to Die

2022 – Moved to New York, NY