Ana de Armas has rapidly gained popularity due to her remarkable talent, versatility, and undeniable on-screen charisma. Her ability to seamlessly transition between various genres and languages has made her a force to be reckoned with in both the international and Hollywood film industries.
Her captivating performances in critically acclaimed films like "Blade Runner 2049" and "Knives Out" have resonated with audiences and critics alike, showcasing her range as an actress. Additionally, her humble beginnings and relentless determination to succeed have made her a relatable and inspiring figure, further endearing her to fans around the world.
If you're one of the many individuals looking to get in touch with her, you're in luck! We've compiled a comprehensive list of the most current and reliable addresses, emails, and phone numbers available, enabling you to connect with Ana de Armas directly or through her representatives with ease.
Ana de Armas Contact Info Quick Reference
Ana Celia de Armas Caso
AKA
Ana de Armas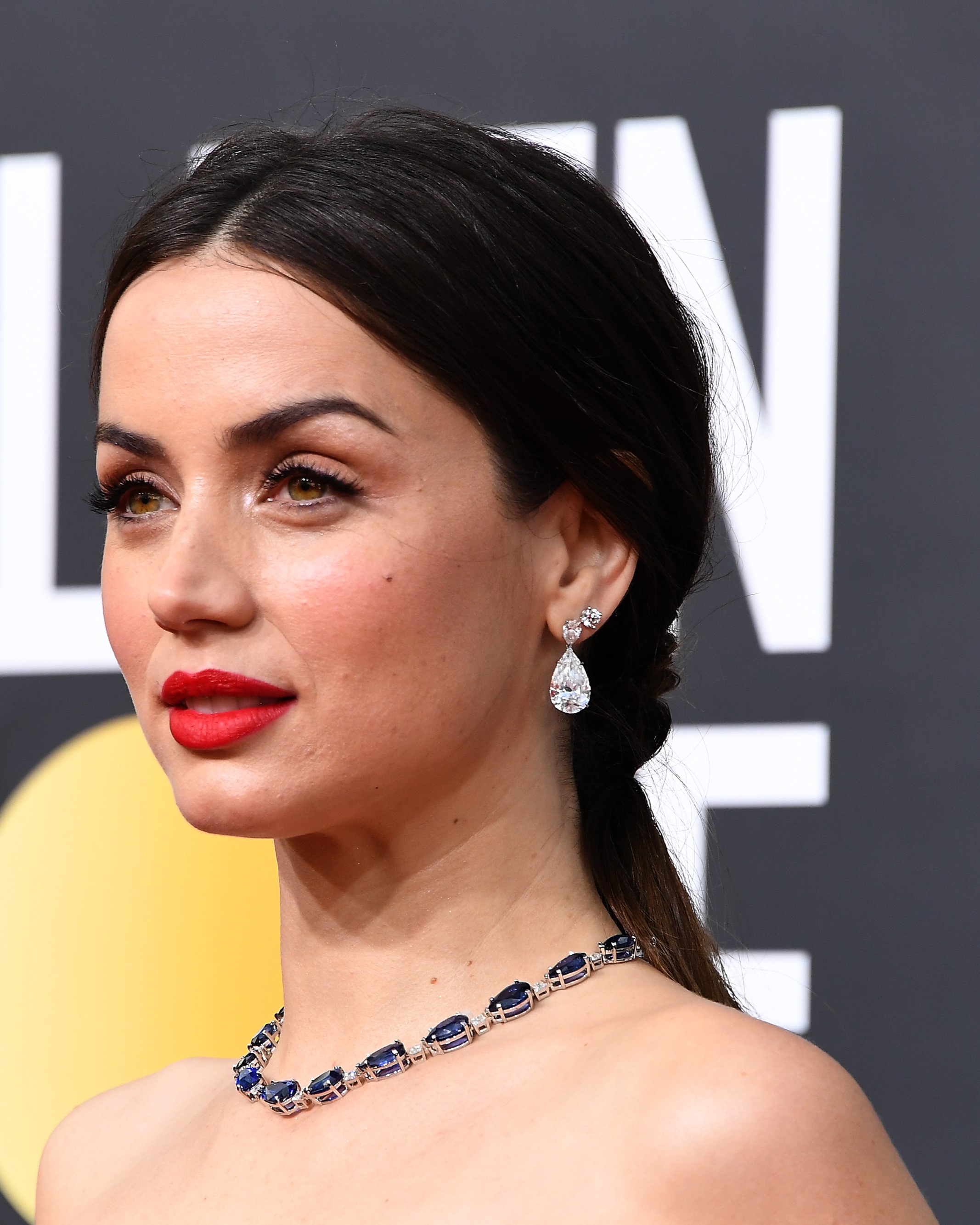 Actress
Ana de Armas is a talented Cuban-Spanish actress known for her captivating performances and screen presence. She has appeared in various critically acclaimed films and television series, both in Spanish and English-language productions. De Armas's versatility and ability to take on diverse roles have endeared her to audiences worldwide, and her rising prominence in the international film industry has established her as an influential figure in the entertainment world.
Born: April 30, 1988
Birthplace: Santa Cruz del Norte, Cuba
Address:
c/o Creative Artists Agency (CAA)
2000 Avenue of the Stars

Los Angeles
,
CA
90067
USA
Phone:
+1 424 288 2000
Email:
info@caa.com
POC:
Franklin Latt of CAA
Signature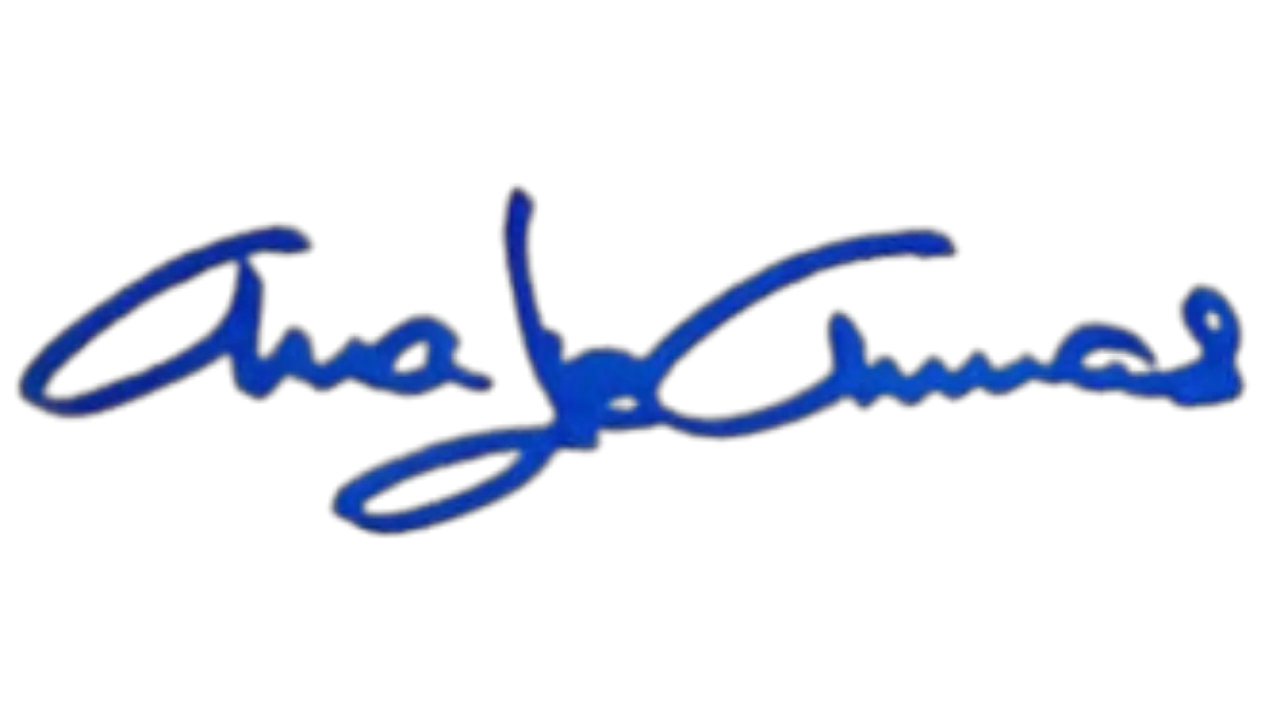 How to Send Ana de Armas Fan Mail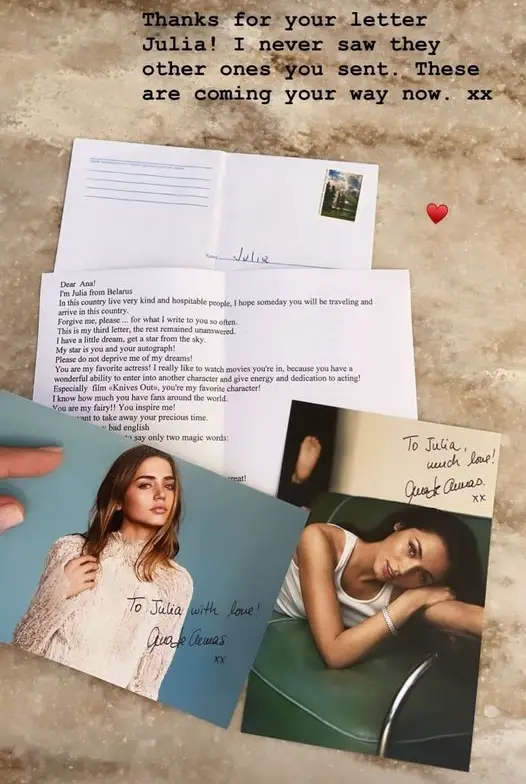 Ana de Armas has been in a lot of popular films since beginning her acting career in 2006. It should be no surprise then that contacting her is at the forefront of many people's minds. Many fans are left to wonder if she responds to her fan mail. Luckily the answer is yes!
The "Knives Out" actor has responded to fan mail in the past and even went as far as posting about it on her Instagram account. One of Ana's fans Julia Chagina had apparently tried to contact Ana several times before she finally got one of her letters. Ana apologized for not having seen her previous messages saying "Thanks for your letter Julia! I never saw the other ones you sent. These are coming your way now. xx".

Ana then sent Julia two signed photos. They were both inscribed by Ana with "to Julia with love".

If you would like to get a response from Ana de Armas, try and contact her via representatives from her talent agencies via the phone numbers, email addresses, and addresses below.
DM Ana de Armas on Social Media
A lot of fans are more comfortable DMing than they are with sending a letter in the mail. It's a strategy that can work as there are a number of celebrities that have been known to respond to DMs. If sending a DM doesn't work, try tagging her in a post or mentioning her in a comment. You never know, you might get a response!
More Ways to Contact Ana de Armas
If you still need more email addresses, phone numbers, and addresses in order to reach the Cuban actress then look no further. Ana has had a long successful career and therefore has a lot of managers and agencies looking out for her interests. Here are some of her representatives, including her publicist and legal representatives, that you can also try reaching out to.
About Ana de Armas
Ana de Armas is a talented and versatile Cuban-Spanish actress who has made a significant impact on both the international and Hollywood film industries. Born in Havana, Cuba on April 30, 1988, Ana Celia de Armas Caso showed a passion for acting from a young age. She honed her skills at the prestigious National Theater School of Cuba before relocating to Spain to pursue her career further.
In Spain, Ana landed her first significant role in the television series "El Internado" (2007-2010), where she played the character Carolina Leal. This breakthrough role helped her gain recognition in the Spanish film and television industry. Over the next few years, Ana appeared in various Spanish productions such as "Mentiras y Gordas" (2009), "Los Abrazos Rotos" (2009), and "Faraday" (2013).
In 2014, Ana de Armas decided to make the bold move to Los Angeles to expand her career in Hollywood. Her fluency in English, strong work ethic, and undeniable talent soon paid off. In 2015, she starred alongside Keanu Reeves in the thriller "Knock Knock," which marked her Hollywood debut.
Ana's breakthrough role in Hollywood came with her portrayal of Joi in the critically acclaimed science fiction film "Blade Runner 2049" (2017), directed by Denis Villeneuve and starring Ryan Gosling and Harrison Ford. Her performance was praised by both audiences and critics alike, and she quickly became a sought-after actress in the industry.
Since then, Ana de Armas has continued to build an impressive filmography, appearing in films such as "War Dogs" (2016), "Overdrive" (2017), and "The Informer" (2019). Her role as Marta Cabrera in the hit whodunit film "Knives Out" (2019) further solidified her place as a leading actress in Hollywood.
Ana's forthcoming projects include the much-anticipated James Bond film "No Time to Die" (2022), where she portrays the character Paloma. With her exceptional talent, dedication to her craft, and captivating on-screen presence, Ana de Armas is expected to continue her meteoric rise in the entertainment industry for years to come.
FAQs
Career History
30 April 1988 – Born in Havana, Cuba

2006 – Starred in the Cuban film Una rosa de Francia

2007 – Moved to Madrid, Spain

2007 to 2010 – Starred in El Internado for six seasons

2014 – Moved to Los Angeles, CA

2015 – Starred opposite Keanu Reeves in her first Hollywood release "Knock Knock"

2019 – Starred in Knives Out

2021 – Played a Bond girl in No Time to Die

2022 – Moved to New York, NY