Katy Perry is an American singer who rose to prominence in the early 2000s with her hits "I Kissed a Girl" and "Hot n Cold". She has since released several more successful albums, including "Teenage Dream", "Prism", and "Witness". Perry is known for her colorful, eccentric fashion sense and her sexually empowering lyrics. She is also a UNICEF Goodwill Ambassador and has been involved in various philanthropic efforts. In 2017, she was ranked as the world's highest-paid female musician. Katy Perry is one of the bestselling musical artists of all time, with over 100 million records sold worldwide.
How to send Katy Perry Fan Mail
Every day, thousands of people send fan mail to the celebrities, athletes, and public figures they admire most. That's because fan mail is a great way to express your support and admiration. Because Katy Perry is so well loved by her fans, the "California Gurls" singer gets her fair share of messages from fans.
Katy Perry has built a good reputation for responding to her fans. Going all the way back to the early days of her career in 2008, Katy was sending fans who requested an autograph signed photos. Nowadays, she continues to make her autograph available to fans, as she is one of the top artists known to sell signed albums. Still, many of her fans will still want to contact her directly. One of the best ways to do so is to contact her via her representatives at her talent agency and management company.
DM Katy Perry on Social Media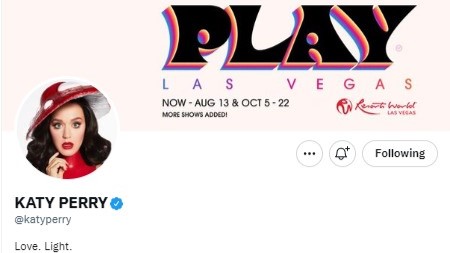 A lot of fans are more comfortable DMing than they are with sending a letter in the mail. It's a strategy that can work as there are a number of celebrities that have been known to respond to DMs. If sending a DM doesn't work, try tagging her in a post or mentioning her in a comment. You never know, you might get a response!
Write Katy Perry at Her Next Concert
For those who want to contact Katy directly, this idea might honestly be your best chance. Sending fan mail to actors and musicians at the venues they will be performing at is known as via venue fan mail. In fact, many signers are happy to respond to fans this way. More often than not, if hard-to-contact celebrities are going to respond to fan mail, it's likely going to be when they're at a venue like a concert hall or film set.
Sending fan mail via venue is just a matter of having proper timing and doing a little bit of research. First, look at Katy Perry's tour schedule and see where she'll be performing. Then simply Google the venue to find its address. Finally, just send your letter a week prior to the concert. With any luck, management at the stadium will pass on your letter!
More Ways to Contact Katy Perry
If you still need more email addresses, phone numbers, and addresses in order to reach Katy Perry then look no further. Katy has had a long successful career and therefore has a lot of managers and agencies looking out for her interests. Here are some of her representatives as well as her home address that you can also write to.
What year did Katy Perry become a judge on American Idol?
Katy Perry first became a judge on American Idol during Season 9 of the show which premiered on January 12, 2010.
How much does Katy Perry make for being a judge on American Idol?
As one of the most successful pop stars in recent memory, it's no surprise that Katy Perry commands a hefty salary for her work on American Idol. According to Variety, Perry is earning $25 million for her role as a judge on the show's 2018-2019 season. This makes her the highest-paid judge in the show's history, eclipsing the $20 million salary of previous record-holder Mariah Carey.
How much does Katy Perry make for her Las Vegas residency?
Katy Perry is one of the highest-paid performers in Las Vegas. Her residency at the Planet Hollywood Resort & Casino reportedly earned her $168 million over the course of two years. This averages out to $1.6 million per show, making her one of the most successful residents in Las Vegas history.

In addition to her impressive earnings, Perry also holds the record for the most sold-out shows in a row at Planet Hollywood. Her residency is a clear testament to her popularity and appeal as a performer.