Getting a reply from a celebrity is merely a dream for many fans, but dreams can become reality. Celebrities are often seen as heroes and influencers that people look up to. Inspired by their respect and admiration for celebrities, many fans around the world send fan mail and messages on Instagram and other social media accounts to these larger-than-life figures every day. In a surprising number of cases, they are fortunate enough to get a response.
Sometimes these incredible responses make headlines and other times it goes under the radar, but they range from advice, kind words, or even simple responses and acknowledgments that show that celebrities are in fact listening to their fans. Celebrities like to keep their fans close and treat them as a part of their lives, often conversing with them via social media. So let us look at the top replies from celebrities to their fans on Instagram and other social media platforms.
 Adele Thanks Fan for His Twitter Posts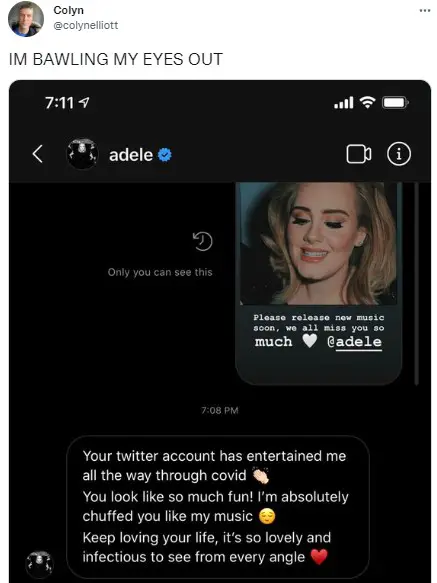 In 2020, Adele responded to a fan's direct message in the sweetest manner. Colyn (@colynelliott on Twitter) received a direct message from his idol on August 29th, 2020.
Adele wrote, "Your Twitter account has entertained me through covid. You look like so much fun! I'm chuffed you like my music. Keep loving your life. It is so lovely and infectious to see from every angle". To be Colyn at that moment would be to know true happiness and excitement.
 Taylor Swift Compliments Fan's Look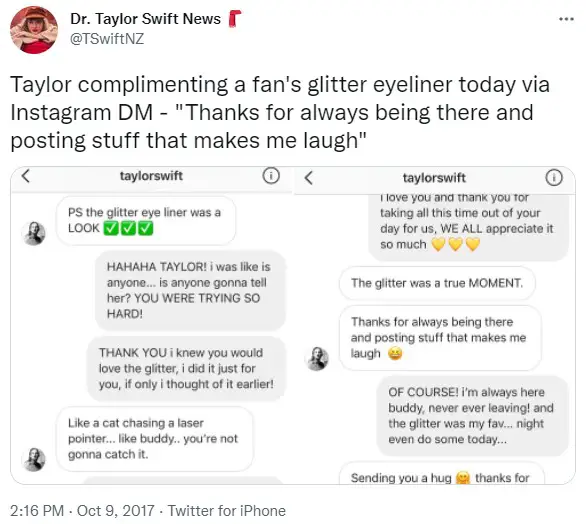 Taylor Swift is famous for her back-to-back chart-topping albums and huge fan base—which is arguably one of the largest and most passionate on the planet. Many Swifties, as her fans like to call themselves, DM her every day. One such fan was fortunate enough to not just get a response but to have a conversation with Taylor.
Taylor wrote, "Thanks for always being there and always posting stuff that makes me laugh," and went on to compliment the fan's glitter eyeliner look.
 Ariana Grande Tells fan she loves them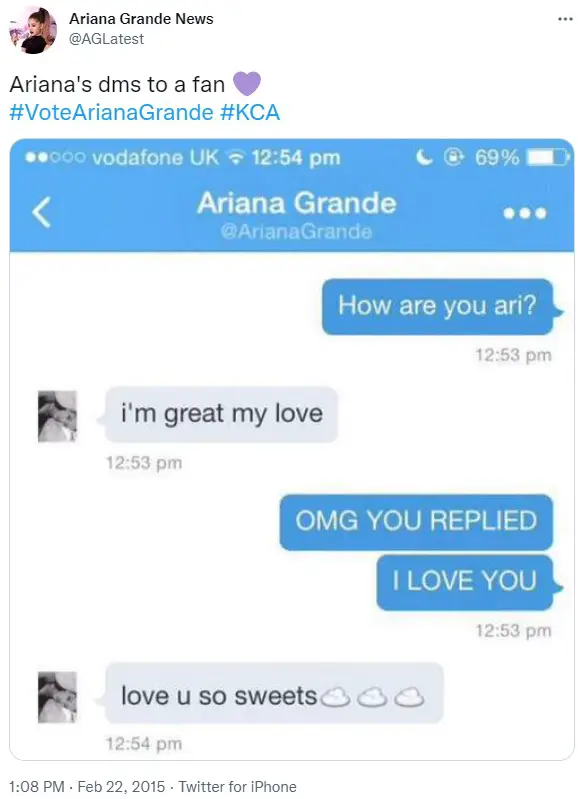 Ariana Grande is among the top musicians of this decade. Her fan base, known as Arianators,  will often send the actor/musician DMs with loving messages. In one such instance in 2015, Ariana responded to a fan. They simply asked her how she was doing, but Ari wrote back saying "I'm great, my love," followed by a "love u so sweets." It goes to show that while doing something out of the ordinary can be the trick to getting a celebrity response, sometimes all it takes is being genuine and showing that you care.
 Harry Styles' Relationship Advice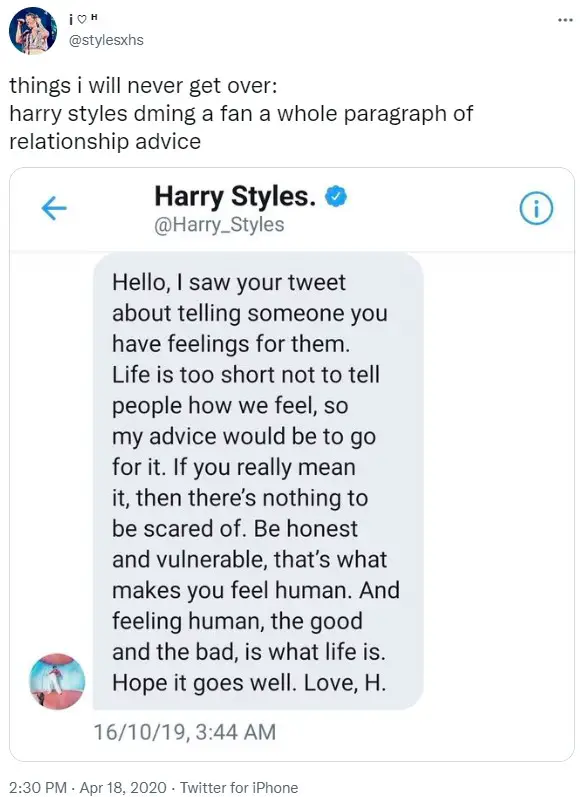 Harry Styles is well known for his One Direction days when he gained millions of fans for his incredible voice. However, his solo career has taken his popularity to an all-time high, especially following the release of his album "Harry's House". In one instance, a fan tweeted about having relationship problems, and Harry quickly took the conversation to her DMs and offered her relationship advice.
He wrote, "Hello, I saw your tweet about telling someone you have feelings for them. Life is too short not to tell people how we feel, so my advice would be to go for it. If you really mean it, there is nothing to be scared of. Be honest and vulnerable; that is what makes you feel human. And feeling human, the good and the bad is what life is. Hope it goes well. Love, H".
 Shawn Mendes Thanks a Fan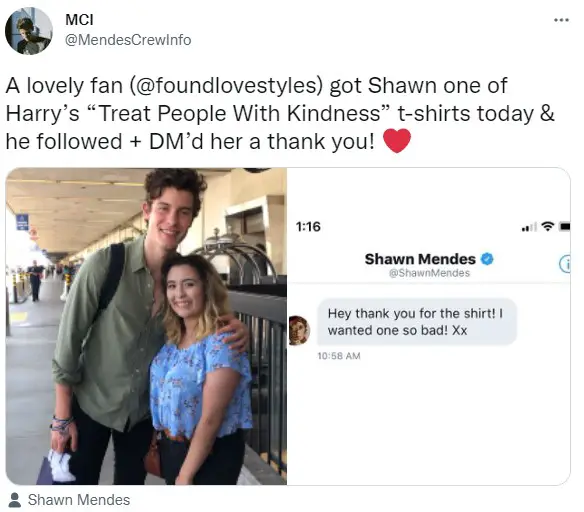 Shawn Mendes is a very popular award-winning musician. Many of his fans reach out to him, and he occasionally writes back. A lovely fan (@foundlovestyles) gifted Shawn one of Harry Styles' "Treat People With Kindness" T-Shirts, and the musician was quick to DM her a thank you.
Shawn said, "Hey, thank you for the shirt! I wanted one so bad! xx", and immediately followed her.
 James Charles Gives Fan Makeup Advice 
James Charles is a very famous influencer, mainly popular for makeup trends. He often responds to fans via Twitter and Instagram, helping them level up their makeup game and master the latest trends. One Twitter user Morgan (@MorganGeex), was fortunate enough to get a reply from him. She asked him about a product and her skin type, and he was quick to respond via DM.
 Justin Bieber Thanks Fans for Supporting Him 
Justin Bieber reached new heights of stardom after his hit single 'Baby' topped the charts. He became an overnight sensation and the rest is history. Besides his music, the Canadian singer is known to sometimes respond to his fans on Instagram and Twitter. His messages often consist of sending words of gratitude to his fans and thanking them for their support. For example, he wrote to a fan about writing new music and thanked him for his love and appreciation. 
 Zayn Pays for a Fan's Veterinary Expenses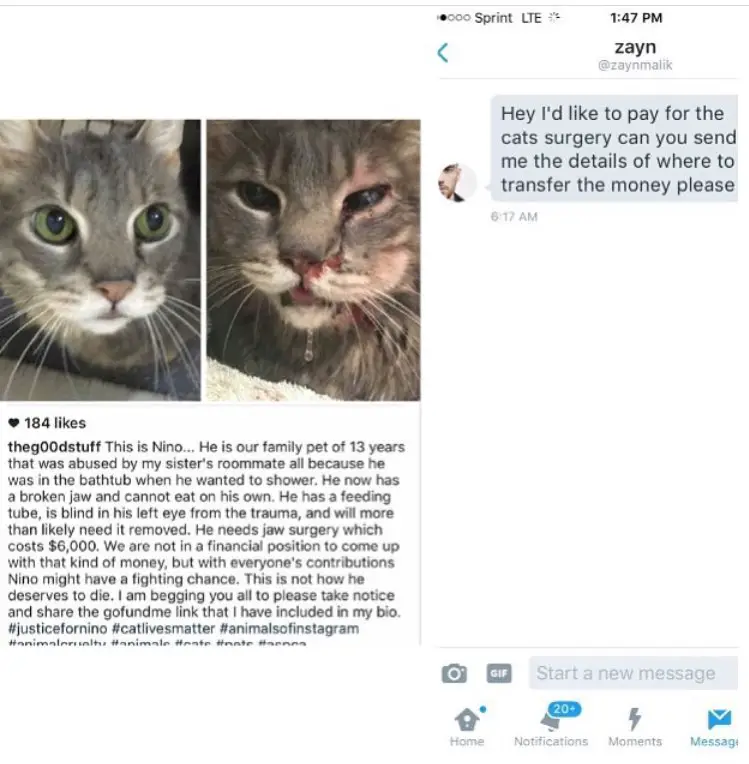 Going back to his One Direction days, Zayn Malik, like Harry Styles, has been a heartthrob. He frequently talks to his fans via Instagram live sessions and tweets. A fan tweeted about an abused cat and his surgery on one occasion. Zayn quickly DM-ed the fan and inquired about the payment details to pay for the surgery.
He said, "Hey, I'd like to pay for the cat's surgery. Can you send me the details of where to transfer the money, please?"
Zendaya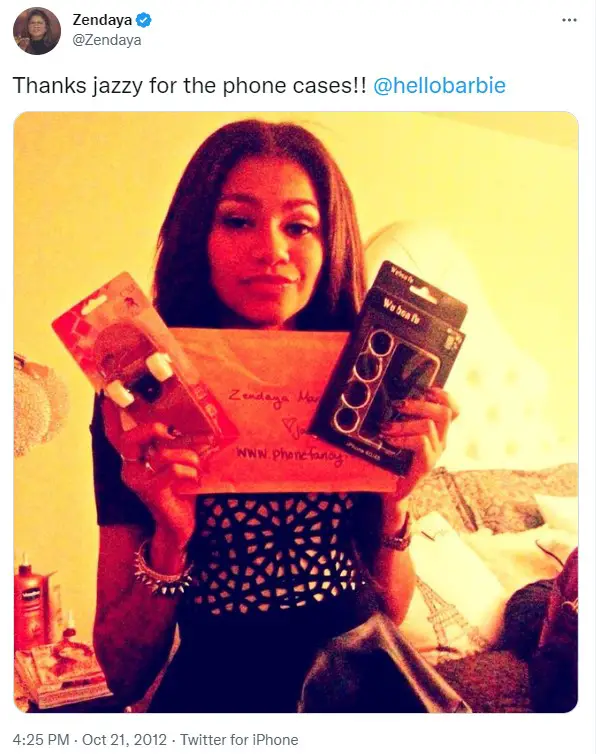 Zendaya has given lots of shout outs to fans in the past via her social media accounts. One of many examples occurred early on in her career when she got a gift from a fan and took to social media to thank them! Sometimes, going old school and sending a physical letter can ironically be the key to getting a DM or mention on Instagram or Twitter.
 Anyone Can Contact Any Celebrity

There are many dedicated fans out there reaching out to their favorite celebrities on a daily basis. Whether it's via Instagram, other social media platforms, email, or even the traditional post, celebrities do in fact respond to their fans.

If you need a little help getting started writing letters or messages, check out our fan mail template and writing guide or review the basics of contacting celebrities and influencers.
FAQs
Do celebrities reply on Instagram?
The best way to get a reply from a celebrity on Instagram is by tagging or mentioning them in your content. DMs occasionally work, but they can also go straight to the message requests folder which makes them difficult for celebrities to see.
How do you know if a celebrity is really messaging you?
If you are messaging with an account that appears to be owned by a celebrity, always use caution. There are many people out there who pretend to be celebrities on social media. Make sure that you are actually messaging with the celebrity's official account. A verified account checkmark is always the best way to know that you are talking to an official account.