Which Celebrities Respond to DMs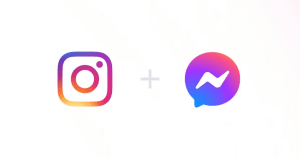 If you're reading this, you've probably at least thought about contacting a celebrity through DMs. Whether that's on Instagram, TikTok, Twitter, or any other social media platform that your favorite celebrity has a presence on, there is a chance that they will answer. I've personally had great success contacting celebrities like Ian Mckellen, Felicity Jones, and Liam Neeson using more traditional methods of sending fan mail, but there are celebrities that respond to DMs as well.

The first thing you have to understand about DMs is that the bigger a celebrity is, the more messages they get. Some celebrities get thousands of DMs every single day, so if you're hoping to slide into an A-list celebrity's DMs, I'm sorry to say that it is much more likely to be lost in the queue of thousands of other unread messages than to be responded to. But that doesn't mean that all hope is lost.

If you set your sights on reaching out to celebrities who don't get as many DMs from fans, you have an astronomically better chance of getting a reply. For example, up and coming actors, movie directors, stunt performers and the like are likely to be very receptive to fans reaching out to them. 

With so many options, what's the best way of reaching out? For starters you could send an email, write a letter, or contact the celebrity's agent. However, it probably also crossed your mind to go right to their social media account and try to slide into their DMs. It seems quick and easy, but it is the worst way to do it.
Do Celebrities Respond to DMs?
It's natural to want to get in touch with celebrities  who we have a lot of respect for or whose work we greatly admire. But are DMs the best way to contact celebrities? A number of  Taylor Swift fans decided to find out and shared their experiences on Twitter. As you can probably imagine, Swift, who is the world's highest paid musician, didn't reply to any of their  DMs.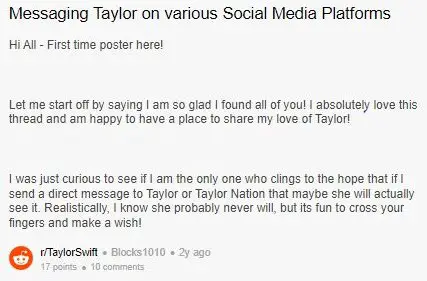 Reddit user u/thisisaconspirac seemed to have sent genuinely sincere messages to Taylor only to have them never read by her. However, there's no blame to be put on Taylor as it's just the nature of DMs. Afterall, she has been great about interacting indirectly with fans by making signed CDs available to them for very affordable prices. It all comes down to the volume of DMs that celebrities of her caliber receive.
Social media sites are simply not geared to prioritize unsolicited messages. Actually, it's just the opposite. Sites like Facebook and Instagram filter out messages from users that are not connected. Furthermore, Twitter has an option to remove the ability to send DMs to users altogether. Ultimately, a social media account may not even be run by the celebrity themselves. All of those factors combined make DMs one of the most difficult ways to contact celebrities. Luckily, we have you covered with the three best ways to contact celebrities.
How to Know if a Celebrity is Really Replying
Fans need to be aware that there are a lot of celebrity accounts on social media that are either run by fans out of admiration or by scammers who are attempting to deceive you. However, dont let that deter you. It's actually very easy to tell if you're talking to a real celebrity.
The first thing you should look for is that the account is verified—usually denoted by a blue checkmark. If the account is verified then you can be certain that you are talking directly to a celebrity or their official representative.
If you are talking to an unverified account, then it's either fake or it belongs to an up and coming or lesser known celebrity who has simply not yet reached a level of fame to have earned verified status.
In the case of some celebrities like Johnny Depp, they are upfront about not responding to DMs while others may show that they do by sharing screenshots of their conversations.
No matter what, when messaging a celebrity through DM, do some due diligence and research the account you're communicating with to ensure that you are talking to an official account!
Better than DMs: The Best Way to Contact Celebrities
Here are the three best ways to contact celebrities. The most effective way is by sending them a fan letter through the mail (TTM). Next is sending their representative an email and finally by tagging or mentioning them on social media.
Writing Fan Mail to Celebrities
The best way to get in contact with celebrities is by sending a fan letter through the mail (TTM). This is the tried and true method for reaching out to celebrities. Big names like Patrick Stewart, Henry Cavill, and Harrison Ford have all been known to sign autographs for fans this way or reply with personalized messages. McKellen have all been known to sign autographs for fans this way or reply with personalized messages.
Emailing Celebrities' Agents
Of course celebrities have email addresses, but good luck finding them. Instead, it's much easier to email the Of course celebrities have personal email addresses, but good luck finding them. Instead, it's much easier to email the celebrity's representative or agent. Contacting an agent via email, will allow you to get in touch with the celebrity's direct representative. With a little luck, they will forward your message or otherwise help you get in touch with the celebrity. Also, if you know the domain of the celebrity's agency or business you can find email addresses associated with it via Snovio.
Tagging and Mentioning Celebrities
Finally, we get to a method that still uses social media. Although DMs won't get your message through on social media to some of the biggest celebrities, that's not to say that it can't still be used to your advantage. While it's a real long shot, tagging/mentioning them on social media may get you the reply that you are looking for.

I analyzed the last 100 tweets of 15 celebrities like Taylor Swift, Mark Hamill, and Arnold Schwarzenegger. By looking at how many of their tweets were replies, we can get an idea for how likely a given celebrity is to respond. This is a good objective assessment that at least shows how frequently a celebrity replies to tweets. Maybe you too will be one of the lucky few to get a response.
Celebrities Ranked by Twitter Replies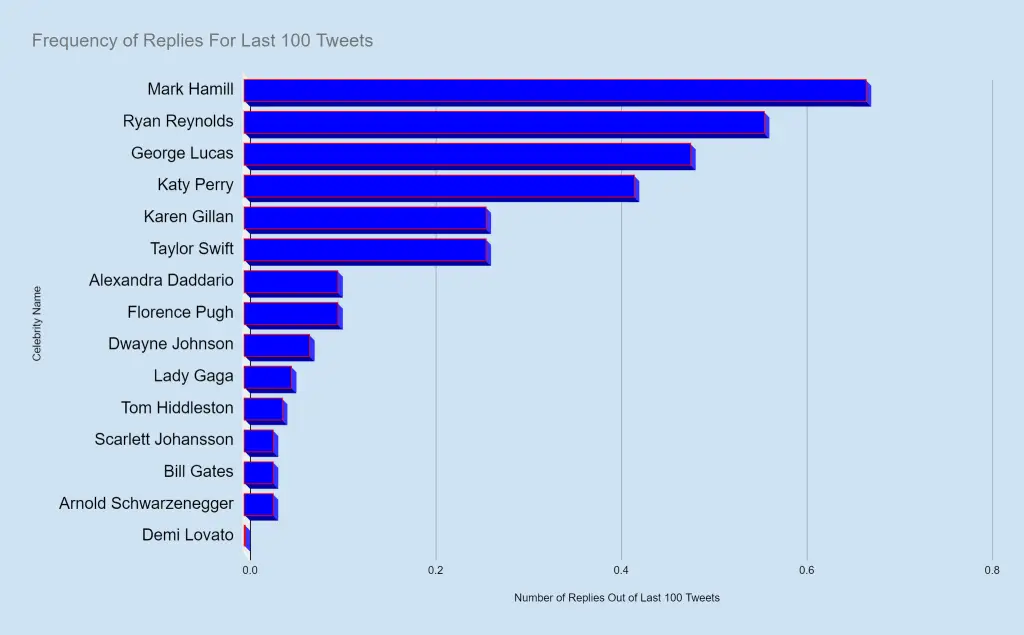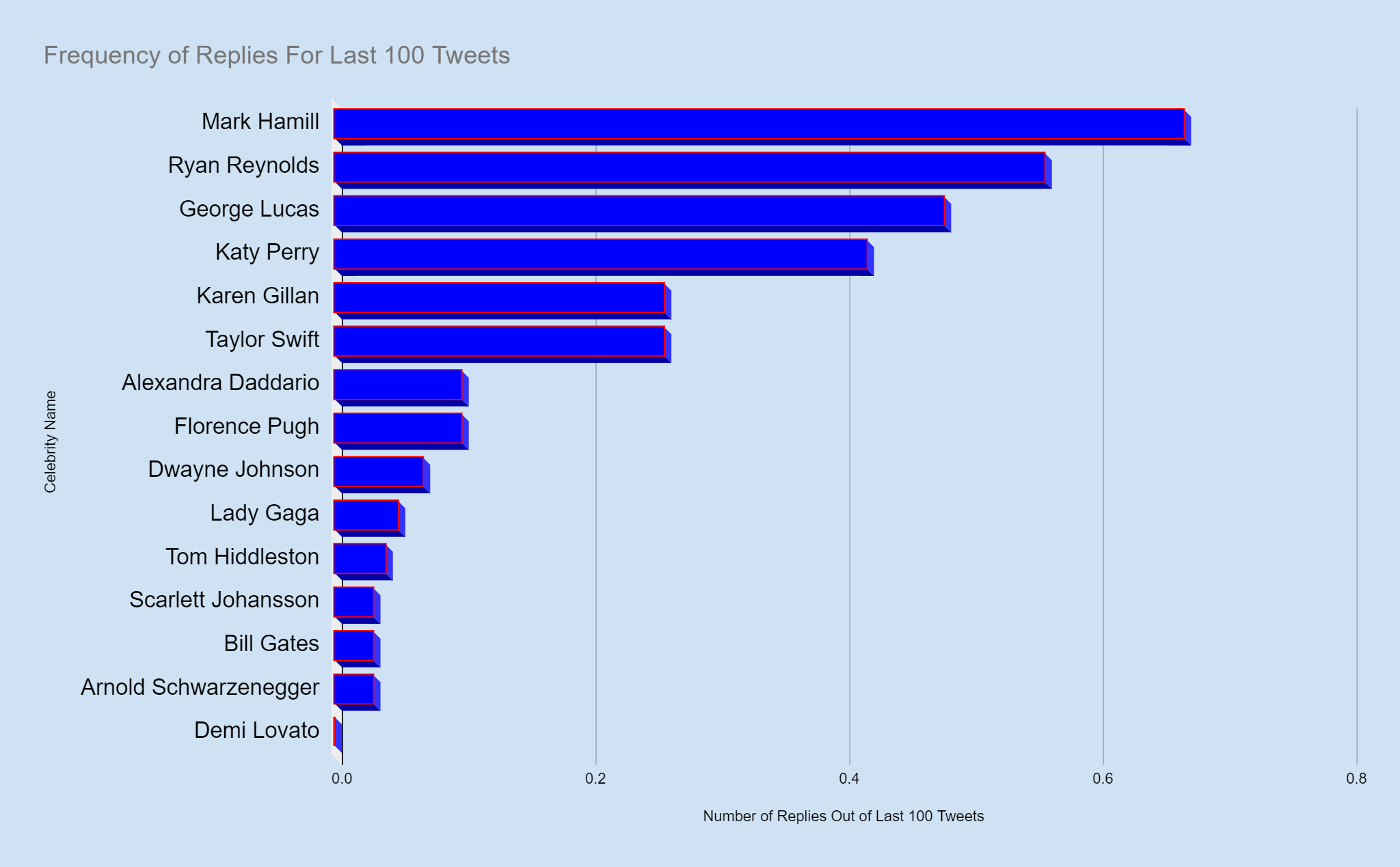 FAQs
How many dms do celebrities get a day?
Celebrities may get hundreds or even thousands of DMs a day in addition to emails and traditional mail. The volume of DMs is often so high that many messages go unseen are are left to pile up in a celebrity's message request folder.

The more popular a celebrity, the more DMs they get which means the harder they are to contact!
Hoow do you know if a celebrity is really messaging you?
The easiest way to know if you are messaging a celebrity is to check if the account is verified! If it is, then you can message them with a high degree if confidence. Do remember that even celebrities get hacked though, so always use your best judgment.