Given his gruff public persona, you may be surprised to learn that Harrison Ford is actually quite generous when it comes to his fans—and he certainly has a lot of them!
Harrison Ford is popular for several reasons. He has starred in many iconic roles in popular movies like Star Wars, Indiana Jones, Blade Runner, and The Fugitive, among others. He is known for his rugged good looks, charm, and talent as an actor.
His ability to bring complex characters to life with authenticity and depth has won him critical acclaim and a devoted fanbase. Additionally, he has a reputation for being a private and enigmatic figure, which adds to his appeal to many fans.
To help make it easy for Harrison Ford's fans to contact him, the following addresses, emails, and phone numbers have been compiled to give his fans the best and most up-to-date resources for contacting him directly or through his representatives.
Harrison Ford Contact Information Quick Reference
Harrison Ford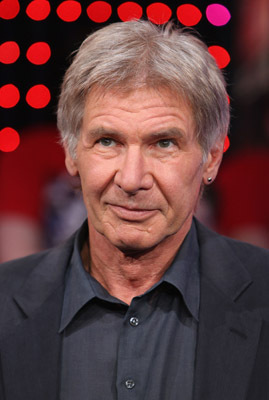 Actor
Born: July 13, 1942 (age 80)
Birthplace: Chicago, Illinois, USA
Harrison Ford is a renowned American actor and film producer, famed for his roles as Han Solo in the Star Wars series and Indiana Jones in the franchise of the same name. With an acting career spanning over six decades, Ford has made significant contributions to cinema, earning him several prestigious awards and nominations. Apart from his acting career, Ford is also known for his activism and passion for aviation. His iconic performances in several blockbuster movies have ensured him a prominent place in Hollywood's hall of fame.
Address:
2000 Avenue of the Stars

Los Angeles, CA 90067
,
USA
Signature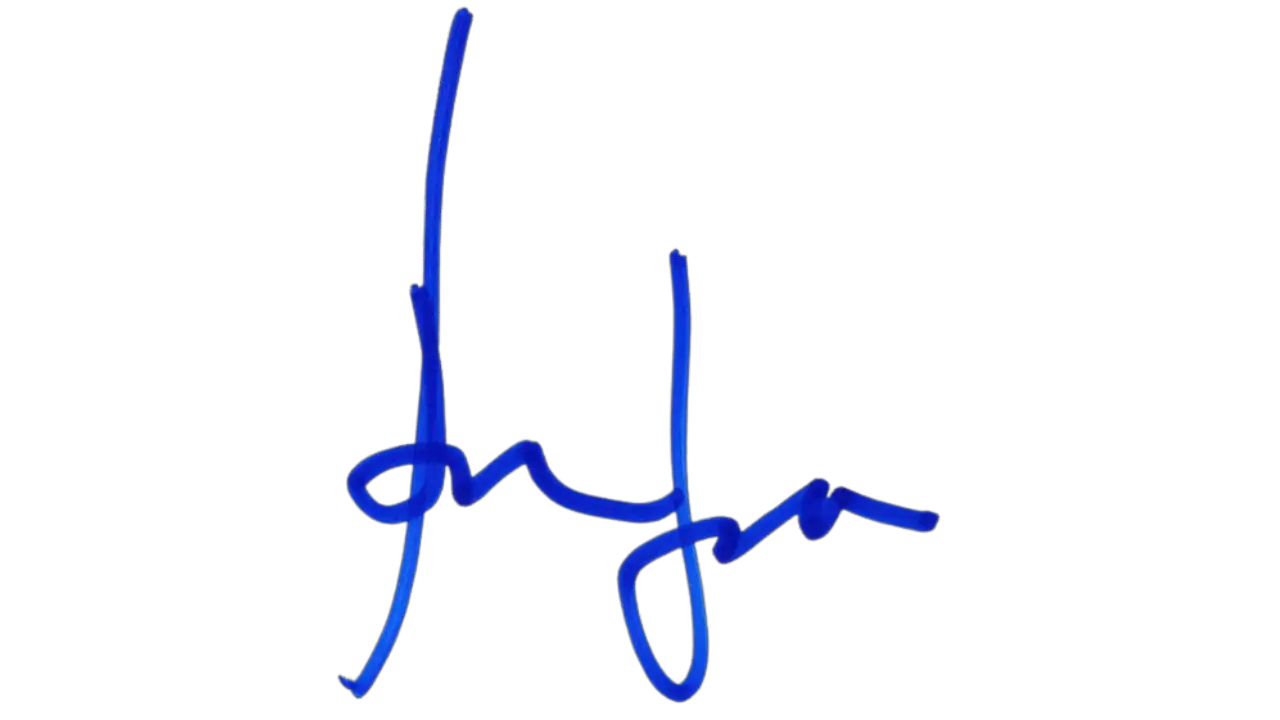 Harrison Ford Fan Mail Responses
When Harrison Ford does sign for his fans, He has been known to sign one to three items per request. It's an incredibly generous thing to do considering how much his autograph goes for at private signings.
If you're lucky enough to have Harrison Ford sign for you, you can expect that he will dedicate the photos you send to either you or your loved ones if you are requesting an autograph on someone else's behalf.
Those who aren't lucky enough to get a reply directly from Harrison Ford will receive two 5×7″ photos with preprinted signatures. To be clear, these are not hand-signed autographs. They are simply reproductions, but many fans will enjoy simply getting something back from Harrison Ford—and for free at that because it costs nothing more than the price of postage.
How to Write to Harrison Ford
The secret to getting a response from Harrison Ford is that there is no secret. Fans who have gotten replies from him in the past haven't used special addresses, they've just followed proper technique and had a little bit of good luck. One of the best ways to contact Harrison Ford is through his production company Harrison Ford Productions (AKA H.F. Productions).

A few times a year he visits the H.F. Productions office and signs a few pieces of fan mail that his secretary has set aside for him. It's those lucky individuals who get a response—I should know because I was one of them!
Harrison Ford's Production Company
Harrison Ford is renowned for his accomplishments in both the entertainment industry and as a successful entrepreneur. Along with his successful acting career, he is also the proud owner of H.F. Productions, his own production company. If you wish to contact Harrison Ford, the best way is to write a letter to H.F. Productions at the address provided below.
H.F. Productions
Harrison Ford
c/o H.F. Productions
P.O. Box 49344
Los Angeles, CA 90049-0344
USA
Talent Agent
You may have to try a few different addresses to be one of the lucky few who gets a response from Mr. Ford. United Talent Agency (UTA) is a good place to try next.
Talent Agent
Harrison Ford
UTA Plaza
9336 Civic Center Drive
Beverly Hills, CA 90210
USA
PHONE: +1 310 273 6700
FAX: +1 310 247 1111
EMAIL: info@unitedtalent.com

UTA Representatives:
Darren Boghosian
Jim Berkus
Jordan Gorelick
Tracey Jacobs
Brittany Balbo (balbob@unitedtalent.com)
Publicist
Finally, you can try Ford's publicist. Ina Treciokas represents him at Slate PR. If you would like to send Harrison Ford an email, you can do it by reaching out to Ina at info@slate-pr.com or by phone at 310-461-0102.
How to Meet Harrison Ford
If you would like to meet Han Solo himself, then it is certainly possible. Unlike many celebrities, Harrison Ford doesn't do comic cons where fans can meet him in mass. He does however attends several charity events each year where tickets costing well over $1,000 can be purchased by the general public to attend. If you manage to attend an event that he'll be speaking at then you'll not only get to see him live but there is a very good chance that you can meet him as well. This is a technique that many hard-core Star Wars and Indy fans have used to meet the man who was so vital to the success of those franchises.
Paid Harrison Ford Autograph Signings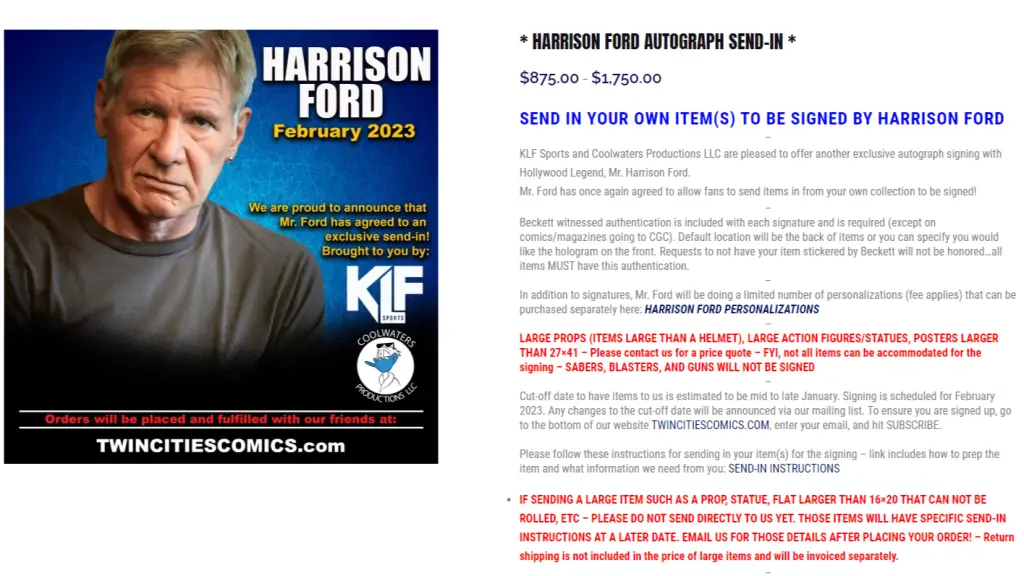 Many fans simply won't want to wait months, or even years, like some have waited to get a response from Harrison Ford. That's where paid signings come in. When it comes to autograph signings, Ford is represented by Coolwaters Productions. So whether he is signing with KLF or SWAU, you can always find details about his upcoming signings on Coolwaters' site.
About Harrison Ford
Harrison Ford is an American actor and producer who has left an indelible mark on Hollywood over his five-decade-long career. He was born on July 13, 1942, in Chicago, Illinois, and grew up in a middle-class family. Ford developed an interest in acting while studying at Ripon College, Wisconsin, and later moved to Los Angeles to pursue his passion.
Ford began his career as a carpenter in Hollywood, where he worked on various film sets, including the iconic western film "Gunsmoke." He soon caught the attention of the industry and landed his breakthrough role as Han Solo in "Star Wars" in 1977, which became an instant classic and catapulted him to fame.
He followed his success with an impressive range of roles, including the iconic Indiana Jones in "Raiders of the Lost Ark" and "The Temple of Doom," as well as Rick Deckard in "Blade Runner." In addition to his acting career, Ford has also ventured into production, starting his own production company, H.F. Productions.
Throughout his career, Harrison Ford has won numerous awards and nominations for his exceptional acting skills, including an Academy Award nomination for Best Actor for his role in "Witness" and a Screen Actors Guild Award for his role in "The Fugitive."
Despite his success, Harrison Ford has remained humble and committed to philanthropy. He is an active supporter of various charities and organizations, including Conservation International, for which he serves as a board member. Ford has been married three times and has five children.
Harrison Ford continues to inspire generations of actors and fans with his captivating performances and dedication to his craft, making him an enduring icon of Hollywood.
FAQs
Who is Harrison Ford's manager?
Harrison Ford's agent is UTA's Brittany Balbo. You can contact Ford via his agent at balbob@unitedtalent.com.
What is Harrison Ford's fan mail address?
You can write to Harrison Ford via UTA at:
UTA Plaza
9336 Civic Center Drive
Beverly Hills, CA 90210
USA
What is Harrison Ford's phone number?
While Harrison Ford's personal phone number is not public information, you can reach him by phone through his representatives by calling UTA at +1 310 273 6700.
What is Harrison Ford's email address?
You can send Harrison Ford an email via Slate PR at info@slate-pr.com.
Where does Harrison Ford Live?
One of Harrison's Ford primary residences is in Jackson, WY. He owns an estate at 1850 South Ely Springs Road, Jackson, WY 83001-8743.
Get Updated Celebrity Contact Info First!
Sign up for the Tales From The Collection newsletter and be the first to know when new contact info is added for celebrities like Samara Weaving, Hayden Panettiere, and Tim Cook!