Book seller Premiere Collectibles announced a live book signing with Elizabeth Olsen and her husband Robbie Arnett. The two are co-authoring a new children's book called Hattie Harmony. Hattie is a feline worry solver who gives her animal pals practical tools for coping. Elizabeth and Robbie have already announced at least three in person book signings for which the schedule can be found on the couple's linktr.ee.

In addition to the in-person signings, Premiere Collectibles will be offering a virtual signing as well. Those who purchase a signed copy of Hattie Harmony through the online signed book retailer, will have an autographed copy shipped to them. Before you hit the order button though, make sure to fill in the text box! Since it's a live signing, Premiere Collectibles is giving you the chance to submit a question to Lizzie and Robbie.
Elizabeth Olsen Live Signing Details
AUTOGRAPHED HARDCOVER BOOKPLATED EDITION
– Hardcover Edition of "Hattie Harmony"
– Elizabeth Olsen and Robbie Arnett's Personal Autograph on Bookplate Inside Book
– Certificate of Authenticity
This Book's Availability: This is a pre-order product. Orders containing these signed copies will ship after the release date: 06/24/2022.

The live signing will take place on June 30th at 4pm EDT. Make sure you mark your calendars or set a reminder on your phone so that you don't miss it.

The signed book will only be sold for $20. That's an incredible price! For Elizabeth Olsen's upcoming signing with ACE Comic Con, she will be charging fans $235! This book signing is a bargain comparatively, especially considering that she has one of the most sought after autographs in the MCU.
Signed Hattie Harmony Books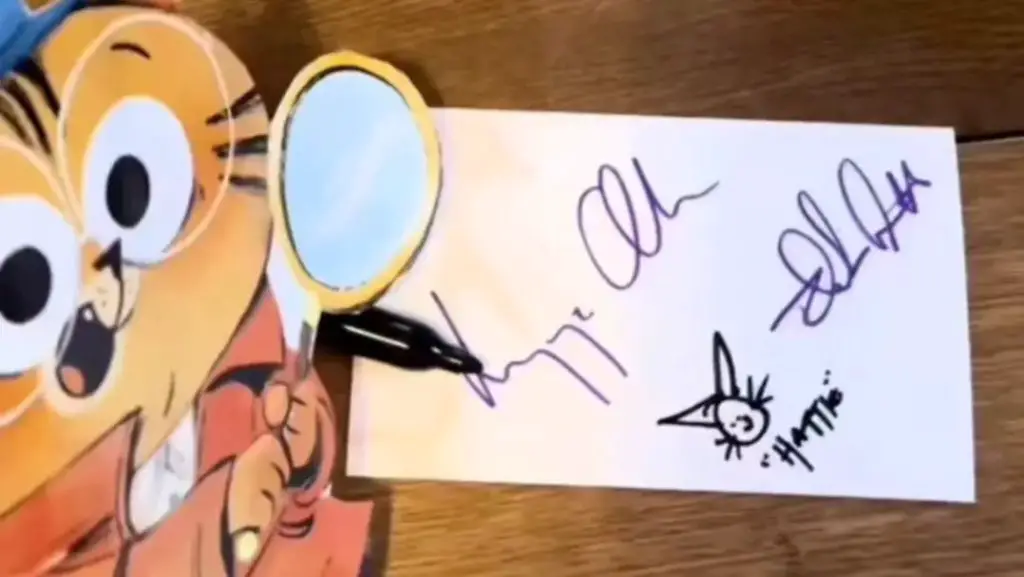 Elizabeth Olsen shared the first look on TikTok of what the signed Hattie Harmony bookplates will look like. Both are signed by Lizzie and Robbie Arnett on a mostly solid colored rectangle of paper. This is actually the best case scenario, because it makes for easy and beautiful autograph framing! The signed bookplate will pair perfectly with a matted photo of Elizabeth Olsen from the Marvel movies or your favorite film of hers.
Signed Copies Available!
Elizabeth Olsen Autograph – Hattie Harmony Signed Book by Elizabeth Olsen and Robbie Arnett
This is a signed copy of Elizabeth Olsen's children's book Hattie Harmony. It is hand signed by Elizabeth and 100% Guaranteed authentic!
Elizabeth Olsen Hattie Harmony Book Tour
Elizabeth Olsen and Robbie Arnett will be touring the country promoting their new book. Many of their stops will also be paired with a live-stream, so check individual retailers for details. The stops announced so far are:
Signed copies can also be found at Premiere Collectibles.
Hattie Harmony Book and Audio Book Preview
Hattie Harmony: Worry Detective will come out in both a hard cover and audio book format. Both are available for purchase separately on Amazon.
Hattie Harmony on Social Media

While you won't find Elizabeth Olsen on Instagram or TikTok directly, you can follow her and Robbie via the official Hattie Harmony accounts. They have created new ones for the upcoming book series on TikTok and Instagram.