Charli D'Amelio is an American dancer and social media personality. She first gained attention on the short-video app TikTok, where she quickly amassed a large following. Charli has since parlayed her online success into various other ventures, including endorsement deals, product collaborations, and a stint as a judge on the dance competition series World of Dance. Charli's success is all the more impressive considering that she only began posting videos online in 2019. In just a few short years, she has gone from being a relatively unknown teenager to one of the most famous people in the world. Charli's mix of natural talent, hard work, and good luck has made her an inspirational figure for aspiring social media stars everywhere.
How to Contact Charli D'Amelio
Regardless of how you've come to know her, it's likely that Charli D'Amelio's work has had an impact on you in some way or another. If you would like to send fan mail to one of the most beloved influencers on social media, whether it's to simply send a message of thanks or perhaps request an autograph through the mail, then the process is pretty simple. Since Charli is not one of the top celebrities known for responding to fan mail she may be a bit difficult to get in contact with.

If you would like to reach out to her anyway, you can use this simple fan mail template to get started. Then simply try reaching out via the addresses below.
Talent Agent
Publicist
Legal Representative
Fan Mail
Talent Agent
United Talent Agency (UTA)
Website: unitedtalent.com
Phone: +1 310 273 6700
Fax: +1 310 247 1111
Email: info@unitedtalent.com
Address:
UTA Plaza
9336 Civic Center Drive
Beverly Hills, CA 90210
USA

UTA Representatives:
Lucas Barnes
Riley Folsom
Steve Cohen

Align Public Relations
Website: align-pr.com
Phone: 310-909-8812
Email: info@align-pr.com

Align PR Representatives:
Cait Bailey
cait@align-pr.com
Nicole Perez-Krueger

Morris Yorn
morrisyorn.com
+1 310 319 3900 phone
2000 Avenue Of The Stars
3rd Floor, North Tower
Los Angeles, CA 90067
USA

Morris Yorn Representatives
Kevin Yorn
Email: ky@morrisyorn.com
7095 Hollywood Blvd, #792
Hollywood, CA 90028
USA
How to DM Charli D'Amelio on Social Media
If there is one thing that Charli D'Amelio is known for—it's her social media presence. Since celebrities have been known to respond on social media. You can try contacting her directly that way. She's active across multiple social media platforms, and she occasionally responds to messages from fans. With a little persistence and proper technique, you should be able to get in touch with Charli.
TikTok
Yes, you can message Charli on TikTok (@charlidamelio), but there is one big caveat. Not only do you have to follow her, but importantly, she has to follow you back. If she doesn't follow you back, which for most of us will not be the case, then you can't message her on the platform. You can however still mention her in your videos so, you can always try giving her a shout-out that way.
Instagram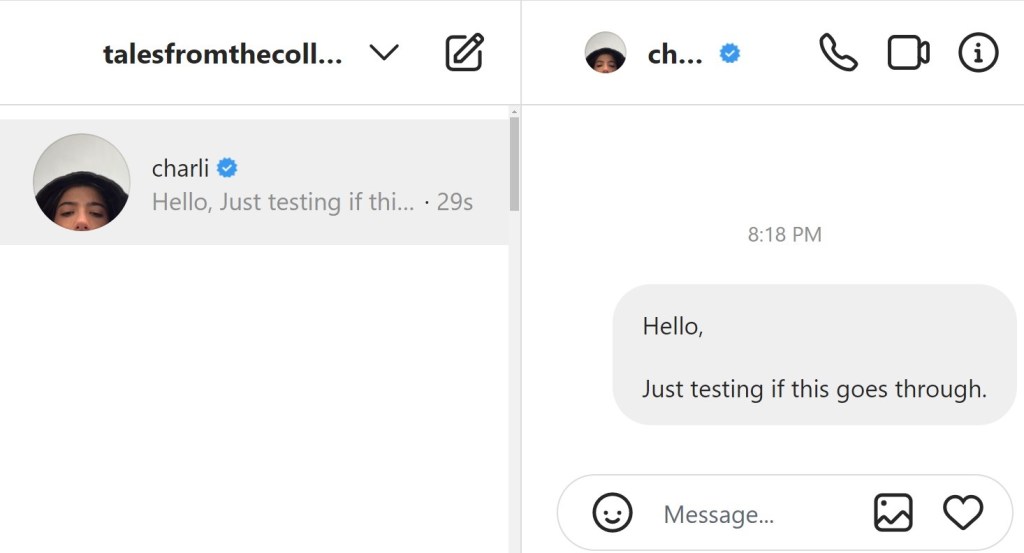 Charli has nearly 50 million followers on Instagram (@Charlidamelio). She has a huge platform there so it's a good place to try and reach out to her. You can send her a DM on Instagram, but it will go to the "requests" tab along with what are surely thousands of other messages from fans. The odds of her seeing any given message are slim unless Charli happens to be following you.
YouTube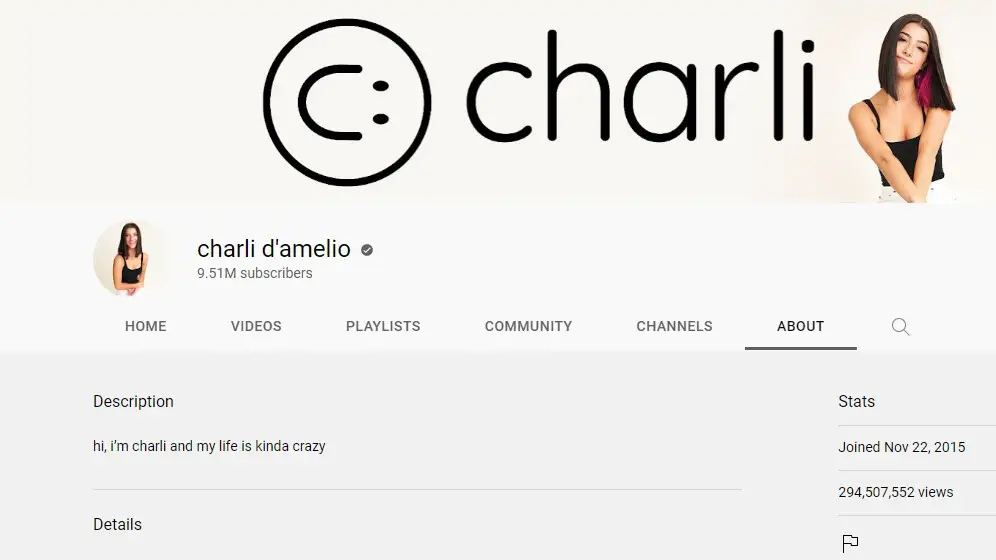 YouTube doesn't allow DMs like other social media platforms. However, you can easily mention her in a comment with the "@" symbol and hope for a reply. However, she does provide some useful info on the about tab of her YouTube channel where she lists her email as info@charlidamelio.com.
Twitter
If there's a popular social media platform then you can expect to find Charli D'Amelio there and Twitter (@Charlidamelio) is no exception. While some Twitter users do accept DMs on the platform, that is not something that Charli has not set up. However, like on other social networks, you can always mention her in a post and hope for a reply.
Triller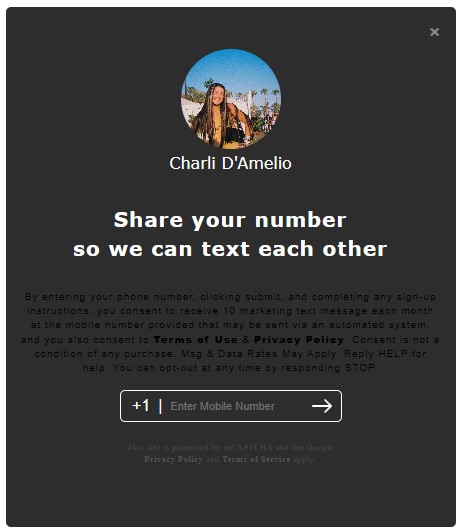 You may not know, but Carlie is also on Triller(@Charlidamelio). If you're not familiar with Triller, it's a social media app that allows users to create and share short videos. The app is especially popular with celebrities and influencers, who use it to share behind-the-scenes footage, personal moments, and more. Triller is also known for its music features, which allow users to lip sync or sing along to popular songs.

Triller also offers something special that gives fans a unique way of staying in contact with influencers, including Charli D'Amelio. You can now send and receive text messages with her via amplify.ai which is owned by Triller.
Snapchat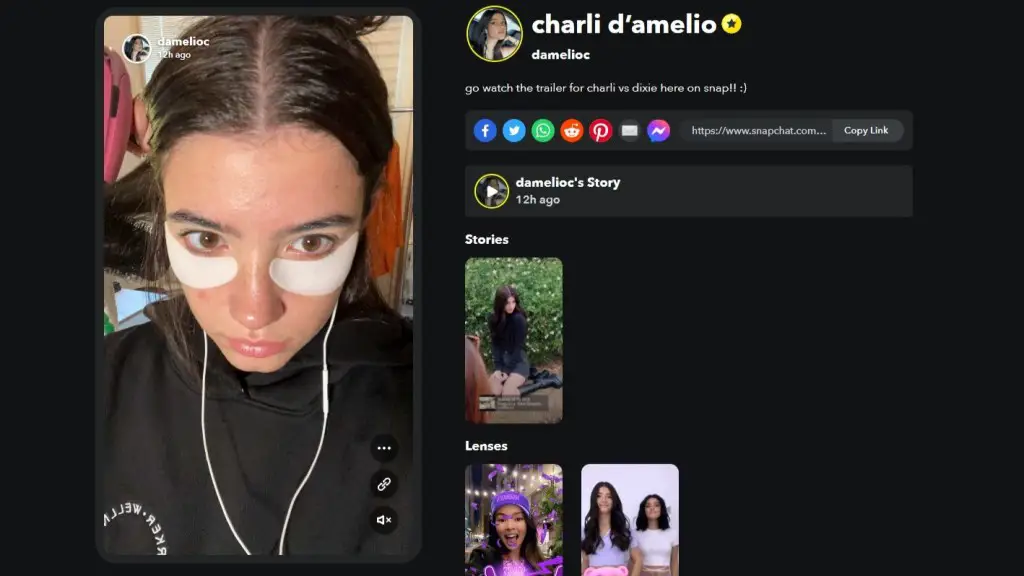 While Snapchat does allow messaging between users, that is not something that Charli (@damelioc)has enabled for her profile so it is sadly not possible to reach out to her via DMs or tagging on Snapchat like it is on other platforms.
Charli D'Amelio's Website
Finally, you can try and reach her via charlidamelio.com. This is probably the least viable option as the contact form seems to be strictly customer service related, but there is still a chance that someone working for Charli may pass on your message.
Charli D'Amelio FAQs
Where is Charli D'Amelio's Fan Mail Address?
Charli D'Amelio lives at 7095 Hollywood Blvd, #792 Hollywood, CA 90028.
Who is Charli D'Amelio's Manager?
Charli D'Amelio's manager is Lucas Barnes of UTA.
What are Charli D'Amelio's Official Social Media Accounts?
Charli D'Amelio uses these Social Media platforms: TikTok, Instagram, YouTube, Triller, Twitter, and Snapchat.
Did Charli D'Amelio Get a Nose Job?
It had been speculated that Charli D'Amelio got a nose job, but that is not the case. In 2016, D'Amelio broke her nose during a cheerleading competition. She had surgery to correct the injury, and her nose appears to be slightly different as a result. However, this is due to the surgery and not to any cosmetic procedures. There is no evidence that D'Amelio has ever had a nose job.
How Many Kids Choice Awards did Charli D'Amelio win?
In 2020, Charli D'Amelio won two Kids Choice Awards for Favorite Social Media Star and Trendsetter of the Year. D'Amelio has also won awards for her dancing, including a Teen Choice Award and two MTV Video Music Awards. In addition to her awards, D'Amelio has also broken several Guinness World Records. In 2021, she was the first person to reach 100 million followers on TikTok.
What is Charli D'Amelio's phone number?
While Charli D'Amelio's personal phone number is not public information, you can reach her by phone through her representatives by calling her agency UTA at +1 310 273 6700.