Belle Delphine is a UK-based model and social media personality who has gained a large following on platforms like YouTube and Instagram like fellow YouTubers Pokimane and AzzyLand. Belle is best known for her cosplay and suggestive content, which has earned her a loyal fanbase. In addition to her racy content, Belle is also known for her funny videos and amicable personality.

Belle's fans appreciate her willingness to push the envelope and her non-judgmental attitude towards those who enjoy her content. They also love her British accent and quirky sense of humor. Ultimately, Belle's fans are drawn to her confidence and sense of fun. She brings a breath of fresh air to the social media landscape, and they can't get enough of it.
How to Contact Belle Delphine
To help make getting in touch with Belle Delphine possible, the following addresses, emails, and phone numbers have been compiled to give her fans the best and most up-to-date resources for contacting her directly or through her representatives.
Email Addresses
If email is more your thing then you're in luck! Belle has made at least one email available for the public to contact her at. She has posted the email address enquiries.belledelphine@gmail.com on several of her social media accounts. While this address isn't set up for fan mail, it's a great place to go if you have a business proposition for the famous model.
Send Belle Delphine a DM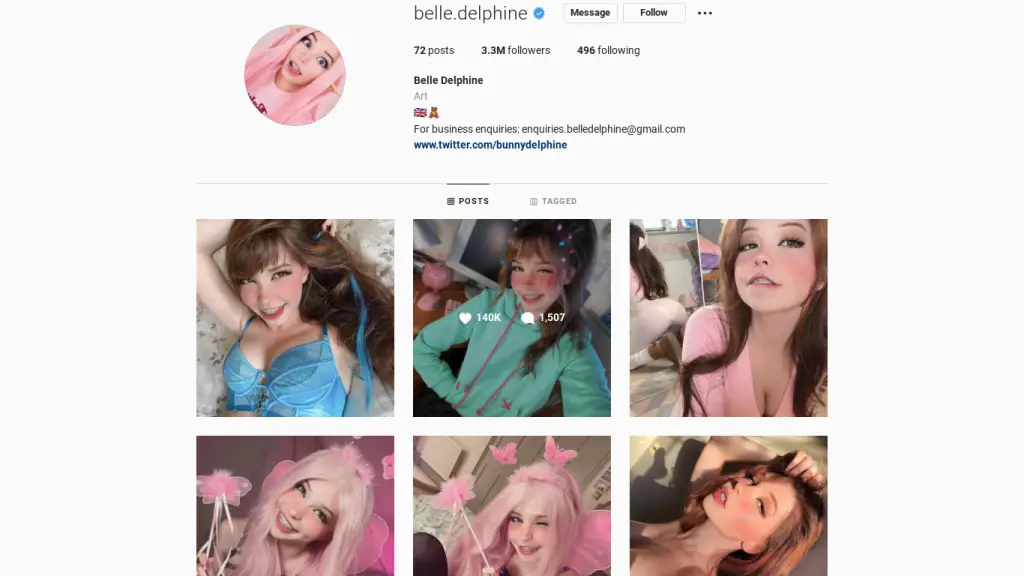 Some celebrities do in fact respond to DMs from fans. Since Belle Delphine is so well known for her online presence, it's natural that many fans would want to contact her by sending a message. Give it a shot by DM'ing her through one of her social media accounts. The following are Belle's official Social Media profiles.
OnlyFans users have the best chance of contacting Belle Delphine directly because it is actually a paid feature that she offers. According to her profile on the site, Belle entices her fans to DM her by saying "I'm so looking forward to chatting, interacting, and assisting you in all your needs."
About Belle Delphine
YouTube star Belle Delphine has gained a large following for her quirky and humorous videos. The young British girl (born October 23, 1999) first started posting videos in 2015. However, she didn't start to gain a large following until 2018.

Her YouTube channel now has over 2 million subscribers. In addition to YouTube, Belle is also a successful model. She has over 3 million followers on Instagram, where she often posts photos and videos of herself in various cosplay outfits.

Belle's unique persona and willingness to experiment with her content have made her one of the most popular YouTubers in the world.
Get Updated Celebrity Contact Info First!
Sign up for the Tales From The Collection newsletter and be the first to know when new contact info is added for celebrities like Billie Eilish, Garth Brooks, and Bruce Willis!