Billie Eilish Pirate Baird OConnell was born on December 18, 2001. She is known professionally as Billie Eilish and is an American singer-songwriter. She entered public consciousness in 2015 after the release of her debut single, "Ocean Eyes". It was written and produced by her brother, Finneas O'Connell, who she has collaborated with on music and live shows. Her commercially successful debut EP Do not Smile at Me (2017) reached the Top 15 in several countries, including the U.S., U.K., Canada, and Australia. 
Eilish's record When We All Fall Asleep, Where Do We Go? was one of the biggest-selling albums of 2019. Her later singles "All I Want", "My Future", "So What", and "Your Power" all reached the Top 10 in both the US and the UK. She was also included on TIME magazine's inaugural list, Time 100 Next, in 2019, and TIME 100 in 2021. 

Given her popularity, it's not surprising that Billie receives a lot of fan mail. Many fans of hers would love to get an autograph from the pop icon. Although, many often wonder if Billie Eilish read her fan mail. Unlike singers like Taylor Swift who have built a reputation for responding to fan mail, with Eilish, it is not so clear. There is very little evidence that she takes the time to personally respond to fan mail. In she tends to send out pre-printed notes and autographs to her fans.
Billie Eilish Contact Information Quick Reference
Billie Eilish
Singer, Songwriter, Producer
Billie Eilish is an American singer, songwriter, and producer known for her unique voice and innovative style. She has gained widespread recognition for her thought-provoking lyrics and genre-defying sound, quickly becoming a global music sensation and inspiring countless fans worldwide.
Born: December 18, 2001
Birthplace:
Los Angeles, California, United States
Represented by: Vox
Address:
c/o Vox
4804 Laurel Canyon Blvd
Ste 831

Valley Village
CA
,
91607
Phone:
+1 323 655 8699
Fax:
+1 323 852 1472
Email:
info@voxusa.net
POC:
Wes Stevens of Vox
Signature
How to Send Fan Mail to Billie Eilish
Regardless of how you've come to know her, it's likely that Billie's work has had an impact on you in some way or another. If you would like to send fan mail to one of the most beloved singers in America, whether it's to simply send a message of thanks or perhaps request an autograph through the mail, then the process is pretty simple. Since many celebrities respond to fan mail, it's not unthinkable that she might send fans free autographs through the mail. If you would like to reach out to her, you can use this easy-to-use fan mail template to get started. Then simply try reaching out via the addresses below. Good luck!
Fan Mail Responses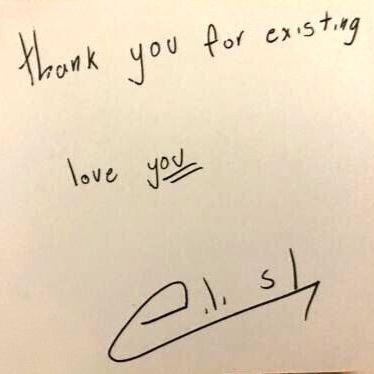 Billie Eilish has been known to communicate with fans more through her social media than through fan mail responses. To date, there have been no recorded responses from her by users of the autograph-collecting site Star Tiger aside from preprinted notes. At the very least, that means that she is a hard signer, but no one is impossible to get a response from! Sending fan mail comes at little to no cost, so you have nothing to lose by giving it a shot.
How to Write To Billie Eilish
Sending fan mail is a great way to express your love and support for Billie Eilish. The "Ocean Eyes" singer has a public fan mail address, but there is more than one way to reach her.
One option to contact Billie is to reach out to her agency via her official fan mail address: You can send your fan mail to any one of her talent agencies which include Wasserman Music and Vox.
Email and Phone Number
A reply from your favorite celebrity is always a great feeling. Fan mail can be an incredible way to get their attention and possibly even an autograph. To increase your chances of getting a reply, be sure to include a self-addressed stamped envelope. Who knows, you might just get that fan mail response you've always wanted. 
Publicist
Record Label
Record Label
Interscope Records
2220 Colorado Ave.
Santa Monica, CA 90404
USA
Phone: +1 310 865 1000
Fax: +1 310 865 7908
Polydor Records
Polydor Ltd
4 Pancras Square
London, N1C 4AG
United Kingdom
Universal Music Publishing Group
1904 Adelicia Street
Nashville, TN 37212
USA
Modeling
c/o Next Models
9, Boulevard De La Madeleine
75001 Paris
France

________________

c/o Next London
Ground Floor Blocks B and C
Morelands Building
5-23 Old Street
London EC1V 9HL
United Kingdom

________________

c/o Next New York
15 Watts Street
6th Floor
New York, NY 10013
DM Billie Eilish on Social Media
Some celebrities do in fact respond to DMs from fans. Since Billie Eilish is so well known for her online presence, it's natural that many fans would want to contact her by sending a message. Give it a shot by messaging her through one of her social media accounts.
About Billie Eilish
Billie Eilish Pirate Baird O'Connell is an American singer and songwriter born on December 18, 2001 in Los Angeles, California. She is the daughter of Maggie Baird, an actress and screenwriter, and Patrick O'Connell, a construction worker, and former actor. Eilish began singing and writing songs at a young age, and with the help of her brother Finneas O'Connell, she released her debut single "Ocean Eyes" in 2015, which went viral on social media and received widespread recognition.
Eilish's unique and distinctive voice, combined with her unconventional pop and hip-hop-influenced sound, has made her one of the most exciting and talked-about artists in the world. She has been praised for her ability to tackle dark and complex themes in her music, and for her willingness to challenge traditional notions of beauty and body image.
In March 2019, Eilish released her debut album "When We All Fall Asleep, Where Do We Go?", which debuted at number one on the US Billboard 200, and received critical acclaim for its genre-defying sound and thought-provoking lyrics. The album was also a commercial success, earning Eilish several awards and nominations, including five Grammy Awards, including Best New Artist, and Album of the Year.
In addition to her music, Eilish is known for her distinctive fashion sense and her outspoken activism on environmental and social issues. She has been a vocal advocate for mental health awareness and has used her platform to raise awareness about the importance of taking care of the planet.
Despite her young age, Eilish has already made a significant impact on the music world, and is widely regarded as one of the most talented and influential artists of her generation. She continues to break boundaries and push the limits of pop music, and her impact on the industry will be felt for years to come.
FAQs
Where does Billie Eilish Live?
Billie Eilish lives at 915 N Avenue 57, Los Angeles, CA 90042.
Who is Billie Eilish's Manager?
Billie Eilish's manager is Max Maulitz of William Morris Endeavor (WME) Entertainment.
What is Billie Eilish's phone number?
While Billie Eilish's personal phone number is not public, you can reach her by phone through her agency William Morris Endeavor (WME) Entertainment at +1 310 285 9000 .
Outdated Contact Information
As of 2023, Billie Eilish parted ways with Paradigm Talent Agency, which had represented her since the beginning of her career. The reasons for this decision remain undisclosed, and fans are encouraged not to reach out to Wasserman Music for further information.
Paradigm Talent Agency
700 N San Vicente Blvd
Suite G820
West Hollywood, CA 90069
USA
Phone: +1 310 288 8000
Fax: +1 310 288 2000