Taylor Swift is one of the most popular artists in the world. She has built an empire from not only her music sales but from her merchandise as well. One of the most sought-after kinds of Taylor Swift merch are her signed albums.

They are sold for a short duration and in limited quantities, so they tend to have high resale value. The biggest problem in the autograph-collecting hobby is fake signatures. That's especially true when it comes to Taylor's autograph.

This article will help protect you against fraud and equip you to better tell the difference between a real and a fake Taylor Swift autograph.
Authenticity Indicators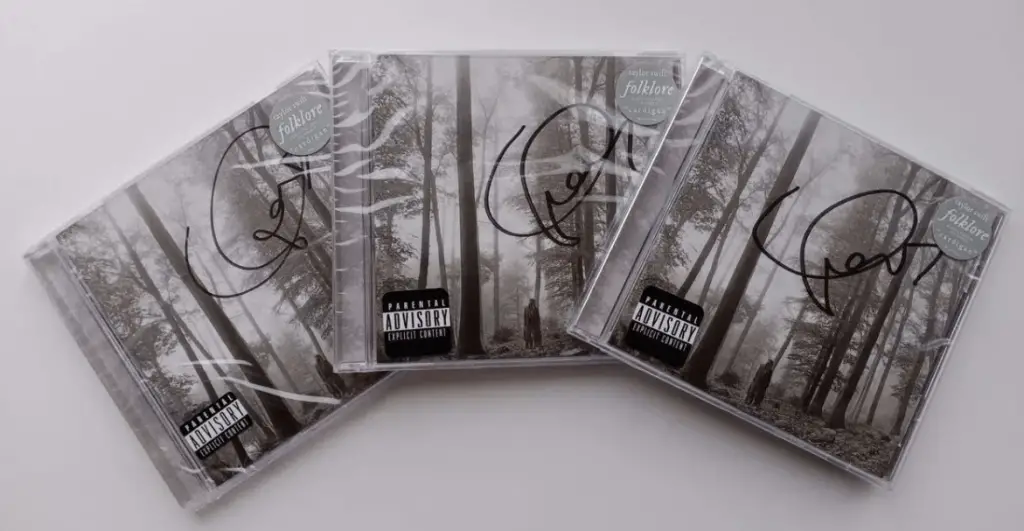 The following are indicators that can help you to determine if a Taylor Swift autograph is real or not. There may be authentic examples that are exceptions to these rules. However, if you are looking at a signature that checks all of these boxes, then you can have a high degree of confidence that it is real.
Ink Color & Type
Let's start off with the easiest and most basic indicators of whether or not a Taylor Swift autograph is authentic or fake—ink color. Taylor's signature has changed slightly over time, but many of her signing habits have remained consistent.

While black Sharpie is not the best pen for signing autographs, she almost exclusively signs with this kind of permanent marker. Therefore, if you see anything signed with green, red, or blue ink, you should exercise extreme caution and explore other purchasing options. The only exception to Taylor always signing in black ink is that in early 2006, some of her signed self-titled albums were signed in silver.
Signature Placement
Make sure to also pay close attention to signature placement. Taylor is very protective of her image and you can see that in her signings habits. When it comes to autographs, many celebrities don't give signature placement much thought. Many will sign without any regard, putting signatures in dark places or signing across their faces.

That's not the case with Taylor. She has a very good eye for placement, putting her autograph in spots where her signature is clear and visible. She also never signs across her face or body (with the exception of Fearless due to a lack of good places to sign). Using dark ink to sign a dark spot of a photo helps to obscure an autograph and is a common tactic used by forgers. Be careful!
Self-Titled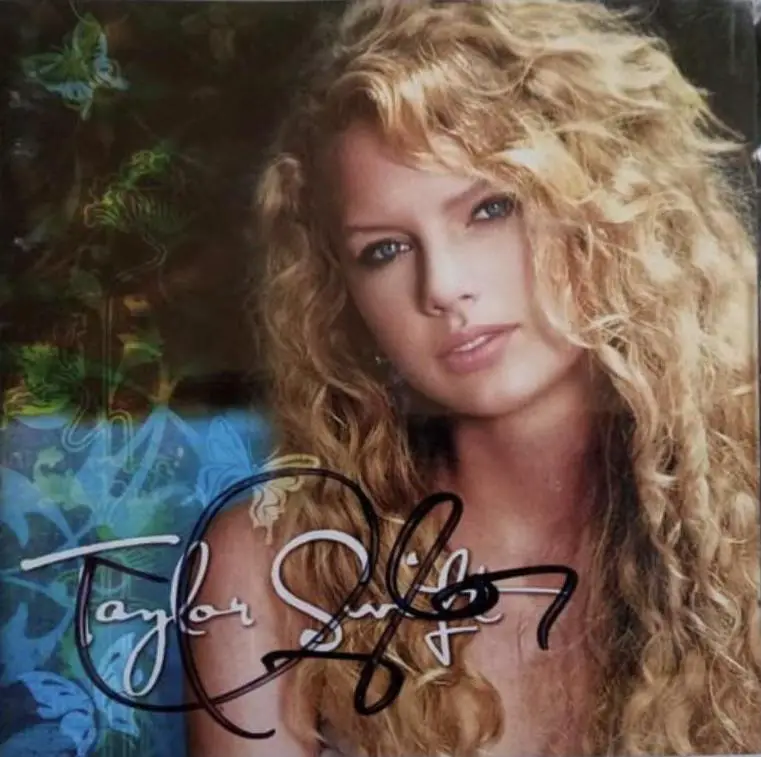 For her debut self-titled album Taylor Swift, she signed directly over her name. Signatures placed above the album title are a dead giveaway that they are not authentic.
Fearless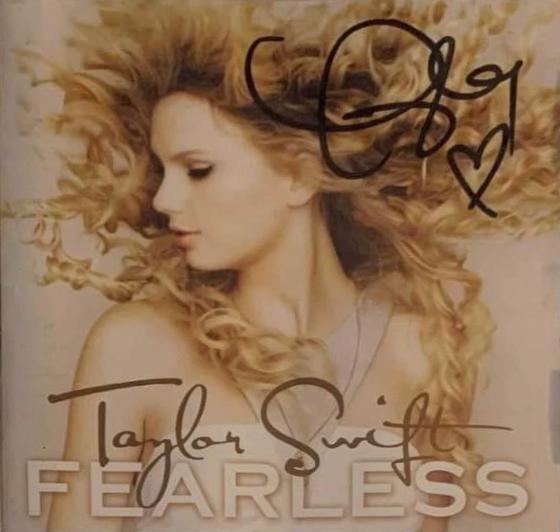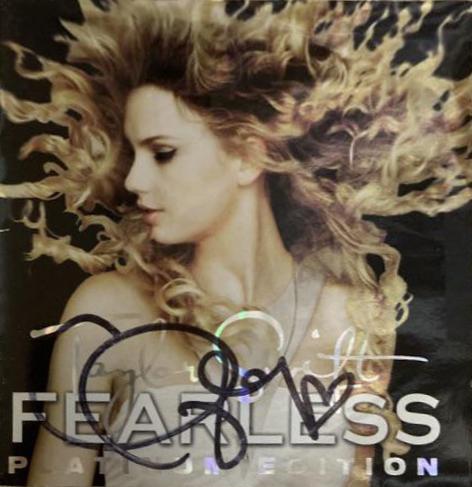 When looking at signed copies of Fearless, you'll notice that Taylor's signature starts at her hairline on the side of her face. However, some authentic examples also have her autograph signed around her neck area, slanting right. For the Platinum Editions of the album, they are signed over the "Taylor Swift" text at the bottom of the booklet.
Speak Now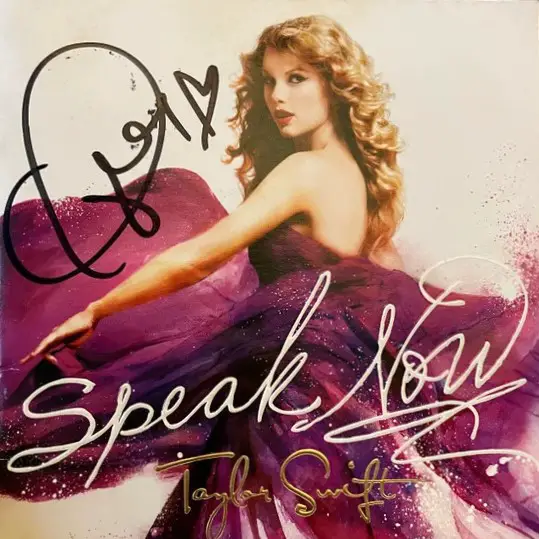 For Speak Now, Taylor signed in the upper left corner. Pay close attention to the "T" which touches the top of her dress and can be extended all the way down to her arm.
Red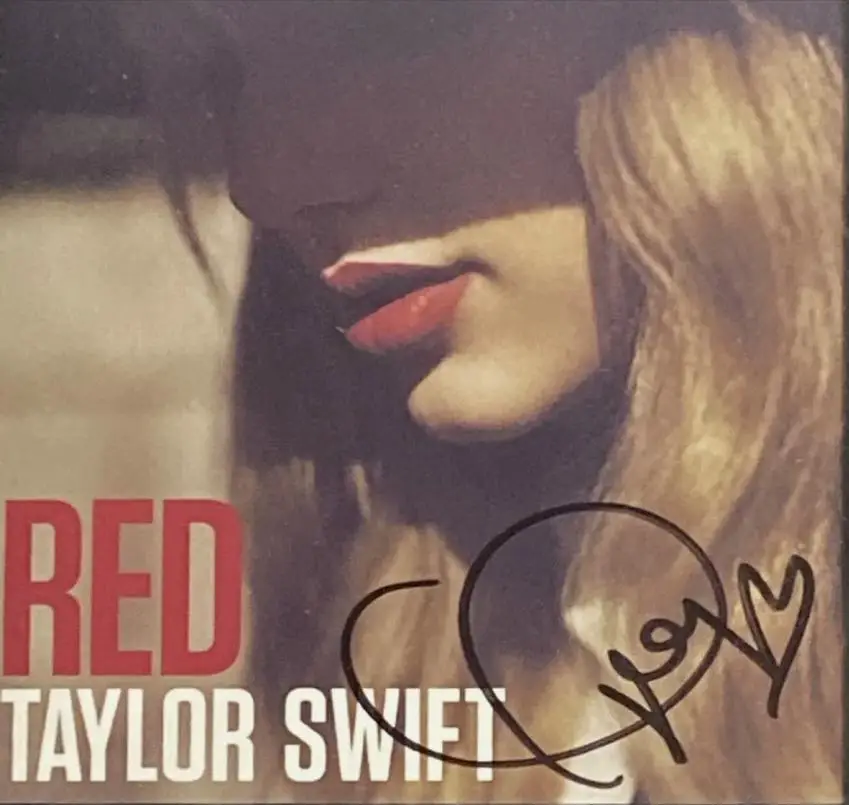 on Red, Taylor signed all of these albums on the bottom right. Her signature would start at the "W" of Taylor Swift printed at the bottom and continue through to the "T".
1989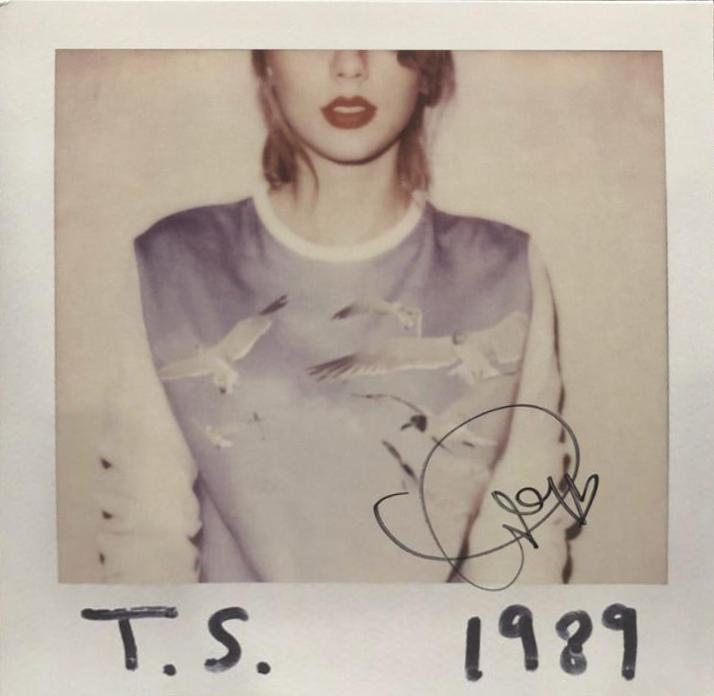 When it comes to 1989, signed booklets are rare. The ones that are out there were signed in a similar spot to the Red booklets.
Reputation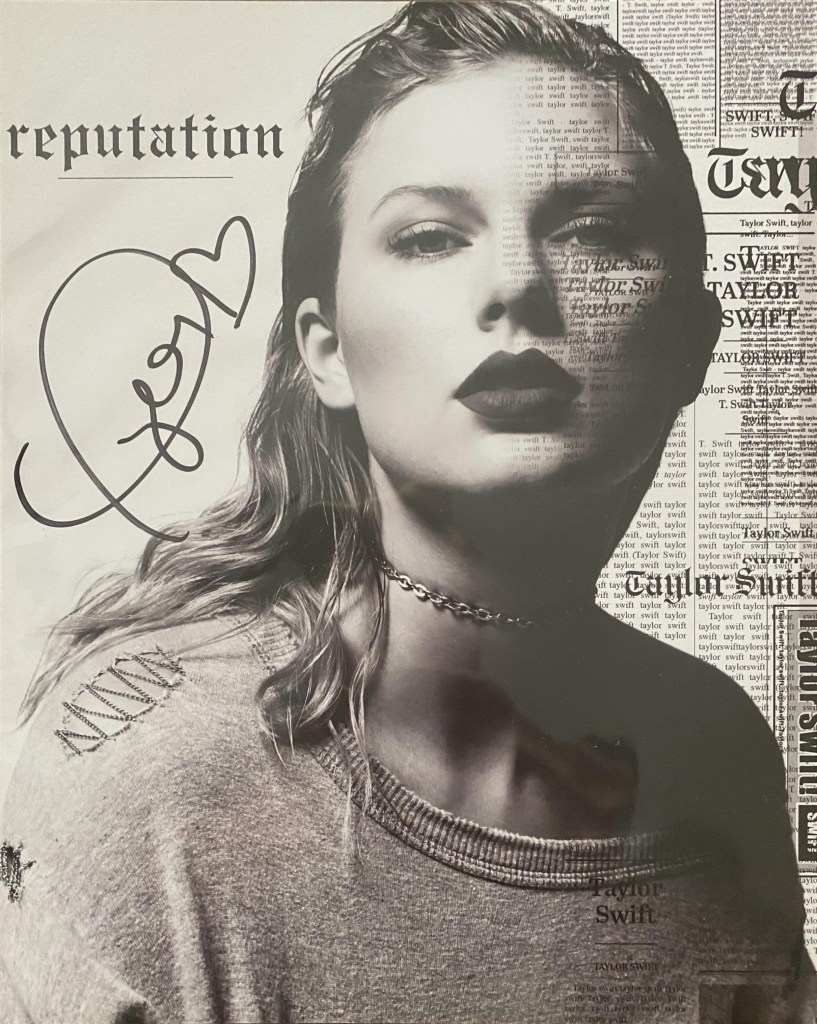 For Reputation Taylor released signed 8×10 lithographs. She placed her signature in the blank spot to the left of her head. It's a beautiful print if you can find one for sale!
Lover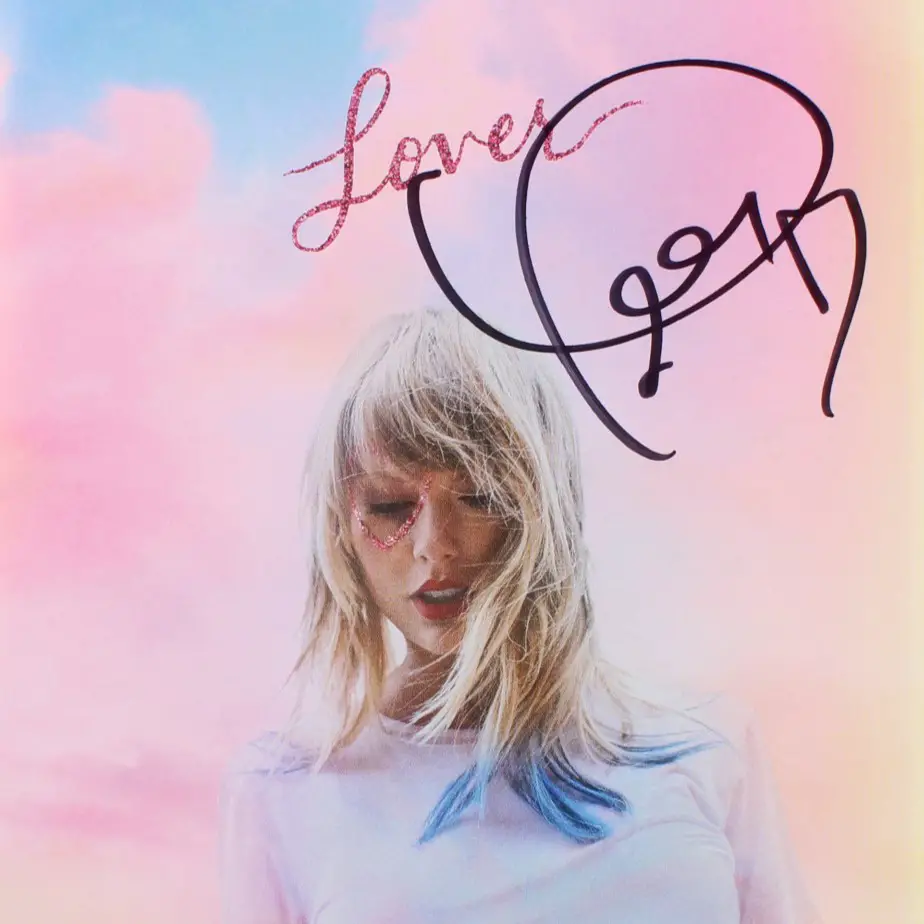 When Taylor signed copies of Lover, she placed her autograph between the "E" & "R" of Lover and extended down slightly into the top of Taylor's hair on the right side. Signed copies of lover were scarce so the album has held its value. Of course, that also means that it is heavily forged, so be aware.
Folklore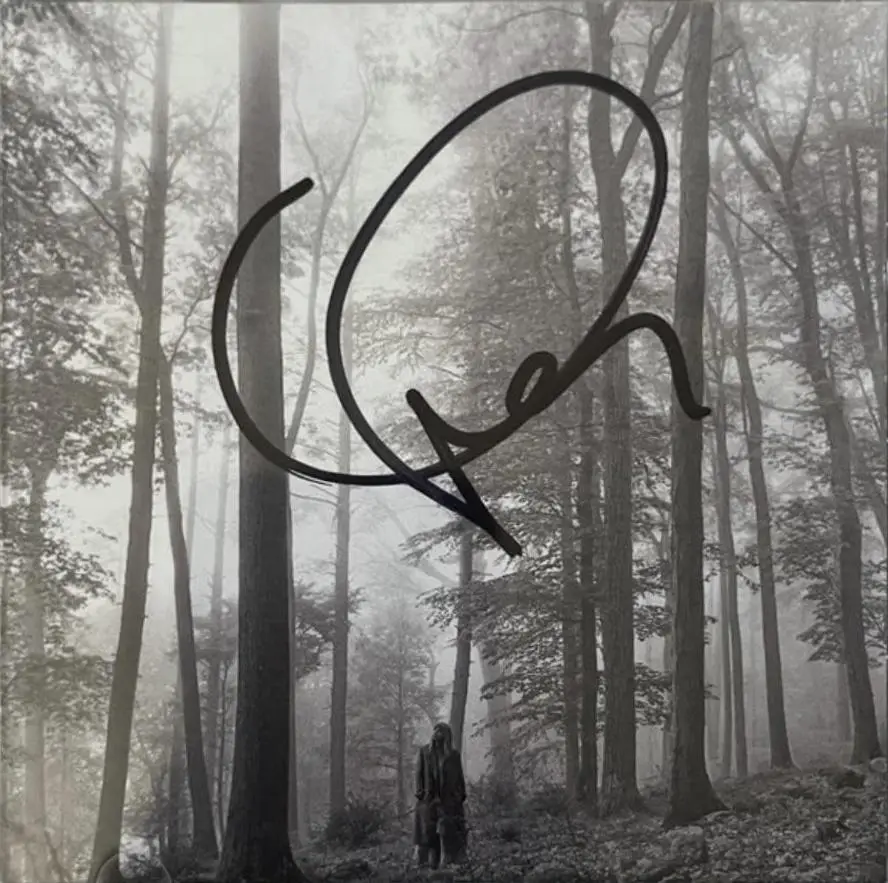 On Folklore, the album cover was essentially a blank canvas for Taylor to sign on. Her autograph could therefore get quite large, but would always be placed in the upper half and either centered or closer to the right side of the cover.
Evermore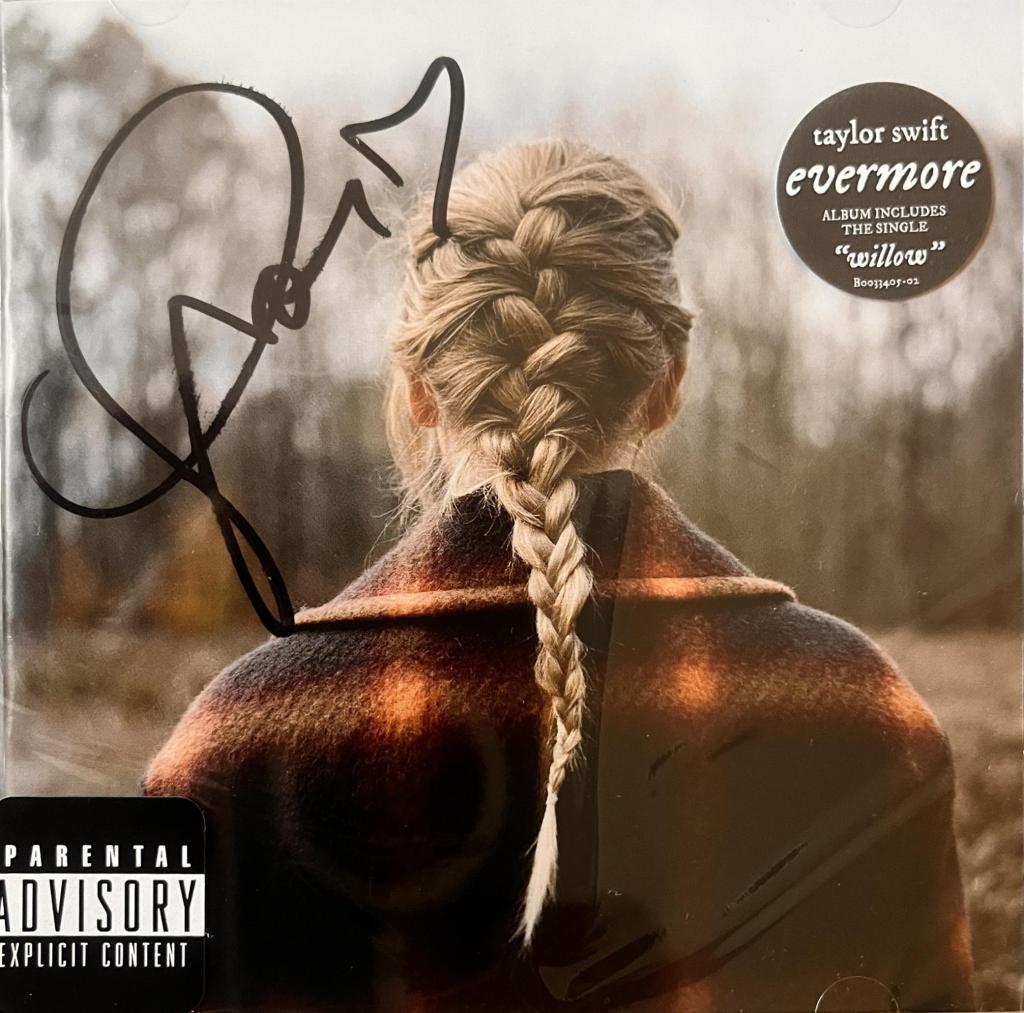 Similar to Folklore, Taylor signed her name on the treeline for Evermore. Again we see the characteristic slant going up and to the right.
Fearless (Taylor's Version)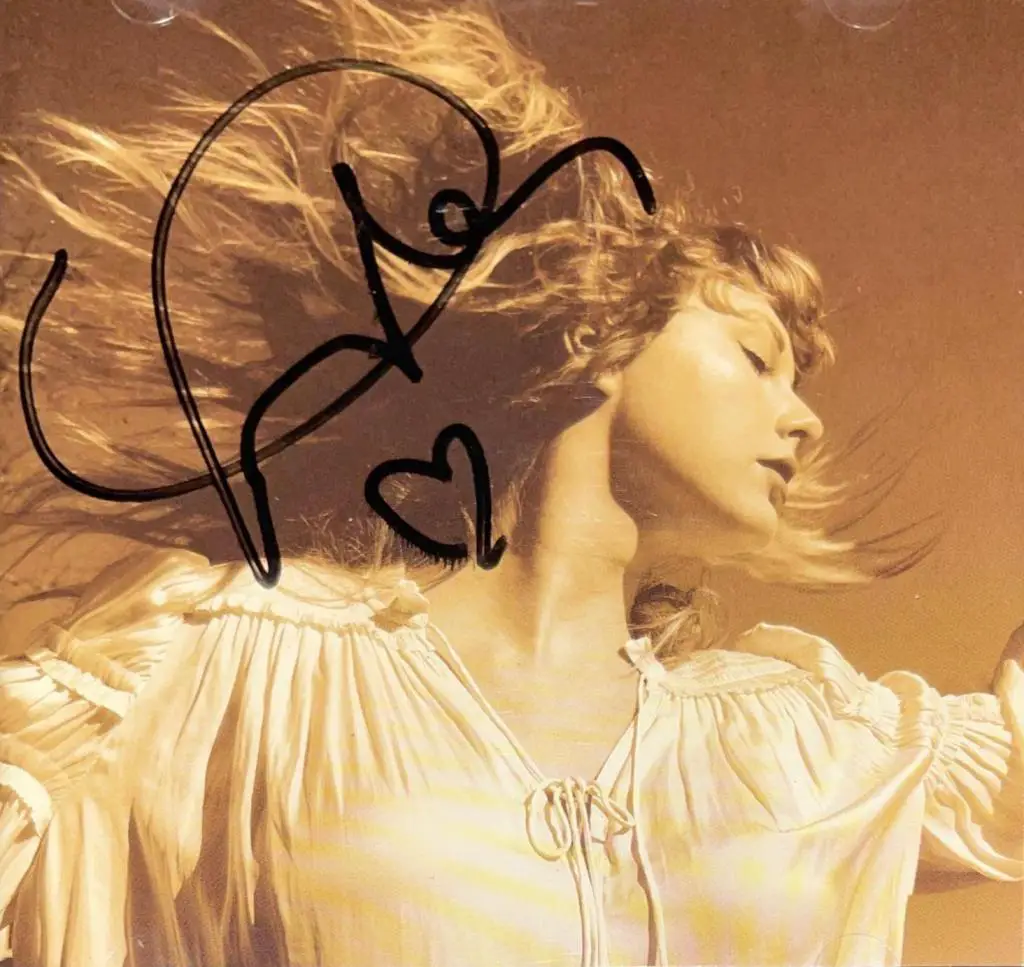 Just like on the original release of Fearless, Taylor's Version also features big hair. That's exactly where Taylor signed her name, but this side her signature can be found on the upper left side of the album art.
Red (Taylor's Version)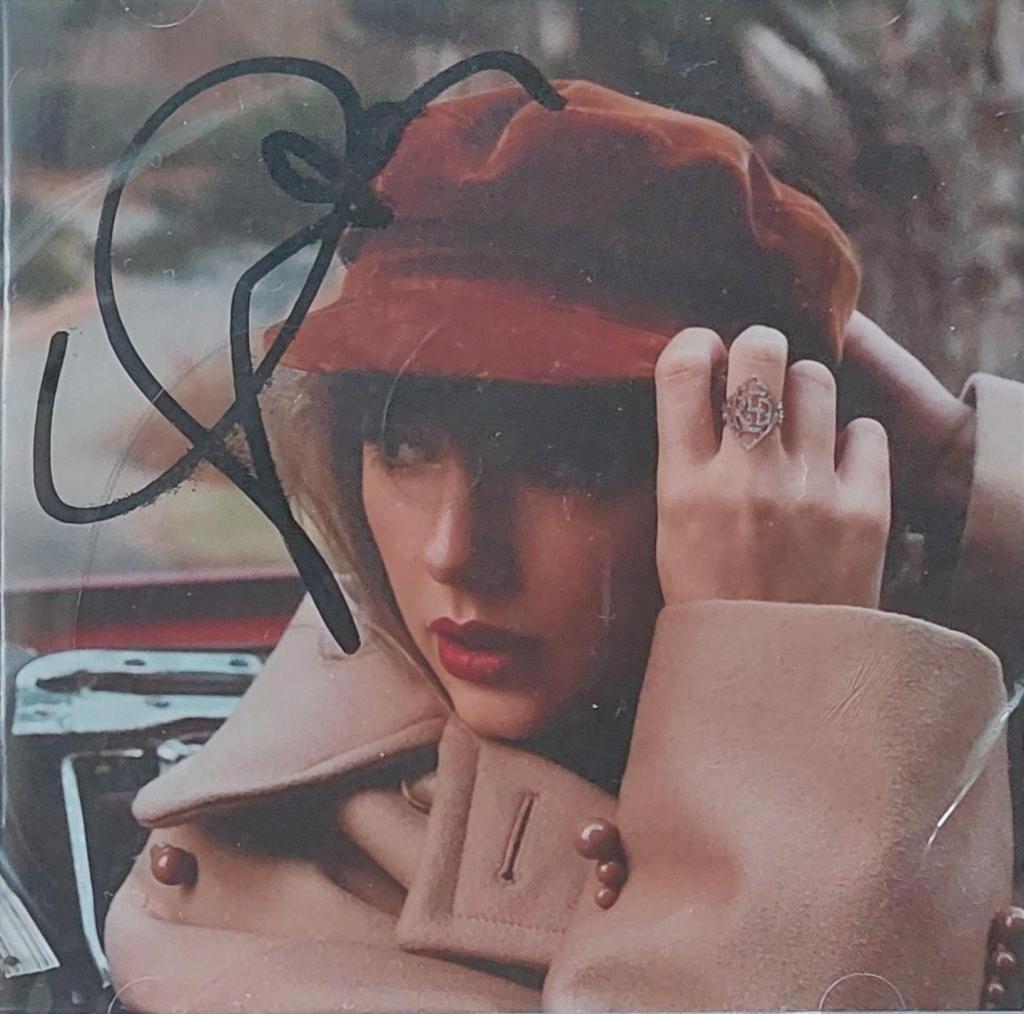 For Red (Taylor's Version), Taylor's signature frames her face. It covers her hat and extends down to her lapel.
Midnights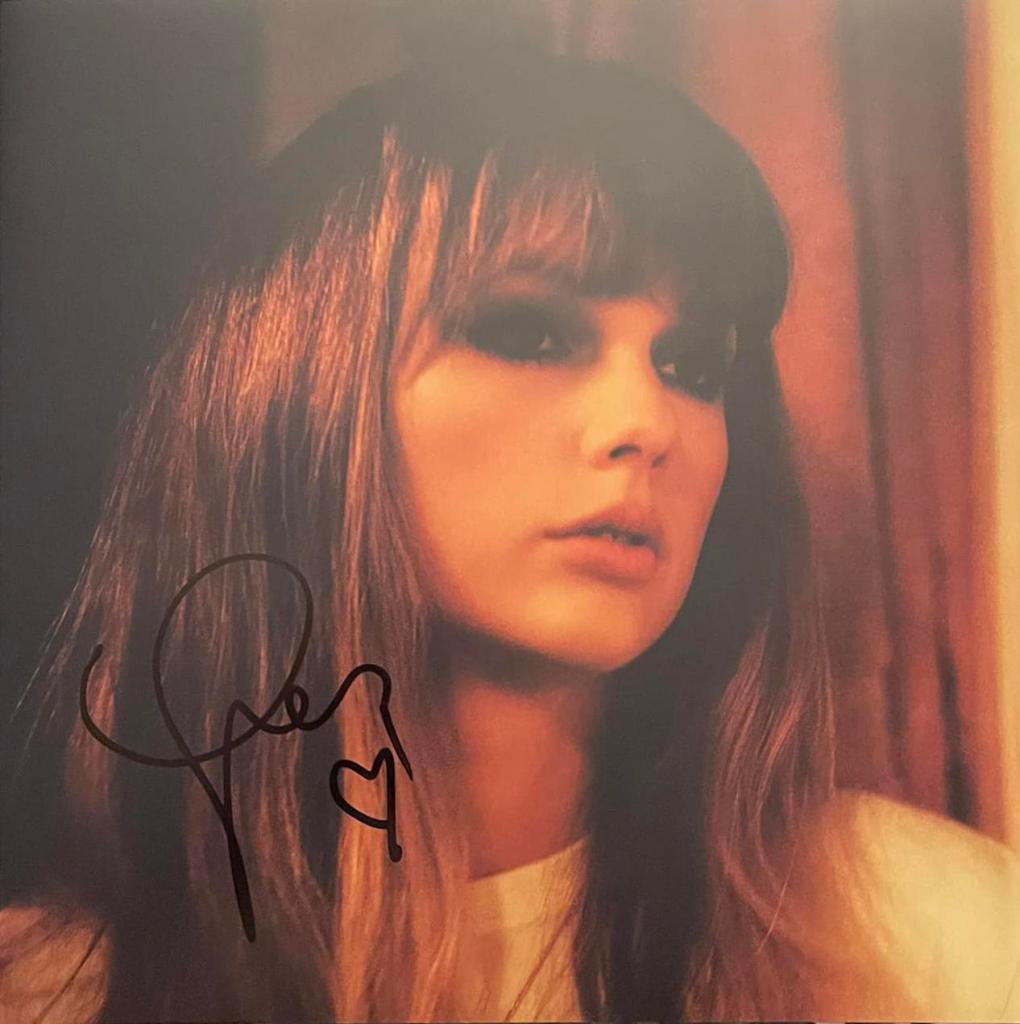 Midnights came out with 8 different signed lithos (four for the CDs and four 11×11 lithos for the vinyl releases). For these releases, her autograph placement continues to follow the same trends established on previous albums.
Signature Style
One of the most important indicators of authenticity in Taylor's signature is the loop. It shouldn't be too elongated or compact and should appear to have an even flow. While fakes do have loops incorporated, they often look unnatural with odd shapes and irregular spacing.
Also, pay attention to the angle at which the autograph is signed. If it's not slanted up and to the right then it's fake.
This is a general rule for determining authenticity, but it certainly applies to Taylor Swift. Make sure that the signature looks fluid. She signs her signature confidently, so there should be no indication that the signer's hand was shaking during signing or going slow (as-if tracing).
Embellishments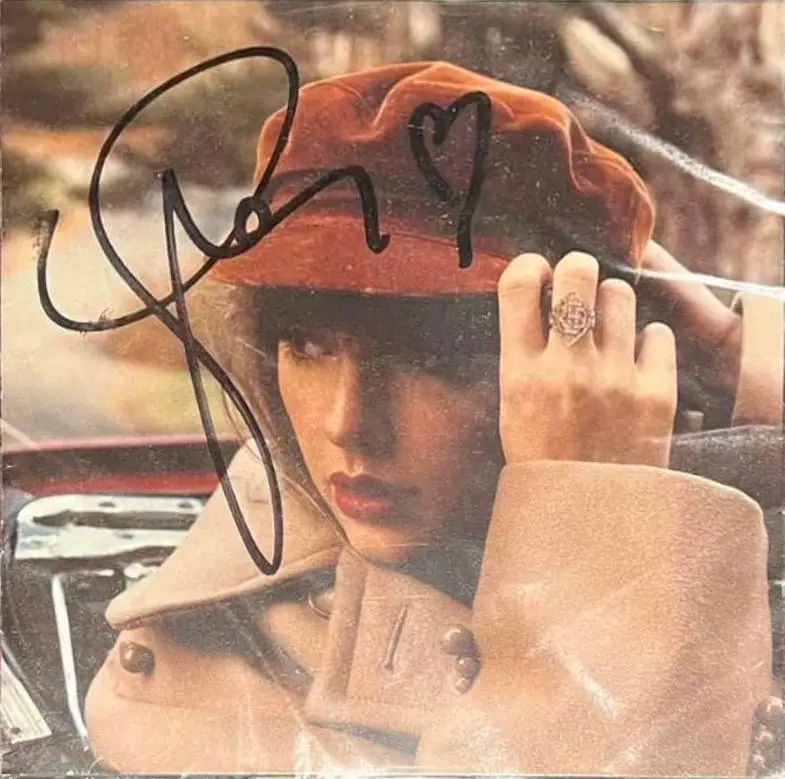 Taylor is known for embellishing her signature with hearts or even on rare occasions, with the addition of song lyrics. Of course, this increases the value of her signed items which is an incentive for fraudsters to deceive buyers. If you see a heart that appears to be signed with a different kind of ink, or with a different thickness than Taylor's signature, it is likely a fake embellishment.
Signed Photos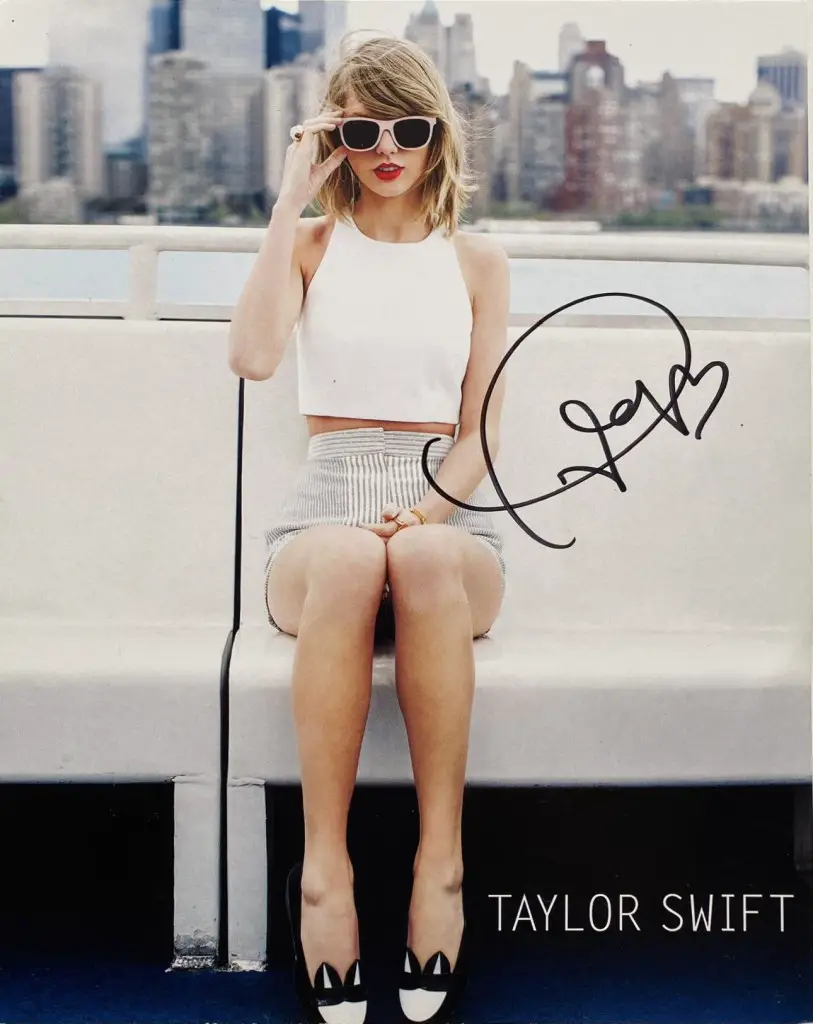 99% of authentic Taylor Swift autographs are on CD booklets and lithographs. All of these are well known in the Taylor Swift autograph-collecting community as they were official releases sold on her online store. There are relatively few photographs signed for fans through the mail or on the street. Therefore, an autograph on an 8×10 photo is generally a good indicator that it's fake.
Shop Authentic Taylor Swift Autograph
Third-Party Authentication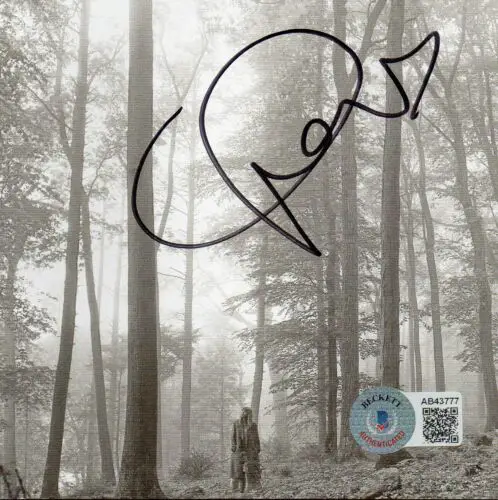 If you're still having trouble determining the authenticity of a Taylor Swift autograph on your own, you can always turn to a third-party authenticator (TPA). TPAs like Beckett, JSA, and PSA/DNA have authenticators on staff to help you determine if your autograph is real or fake. They even offer services that let you get an opinion before you buy by submitting a photo online.
FAQs
Does Taylor Swift hand sign her CDs?
Taylor Swift does hand sign every CD, lithograph, guitar and piece of merch sold on her official store. She has even released footage of her signing stacks of CD booklets!
Does Taylor Swift add hearts to her signature?
Since the beginning of her career, Taylor Swift has at times added hearts to embellish her signature! Autographs adorned with hearts or even song lyrics are often highly sought after by collectors.
When does Taylor Swift sell autographs?
Taylor Swift sells autographs on or around the release date of every new album, so be sure to check her official store when a new record is released.
Are Taylor Swift signed CDs real?
If you are buying a signed item from Taylor Swift's official store or Tales From the Collection, you can rest assured that you are buying a genuine Taylor Swift autograph! However, there are lots of bad actors who sell fake autographs so always exercise caution with other sellers.
Get Updated Celebrity Contact Info First!
Sign up for the Tales From The Collection newsletter and be the first to know when celebrities like new contact info is added for celebrities like Addison Rae, Kate Micucci, and Sophia Anne Caruso!