SIGND bills itself as providing "one-of-a-kind fan-based memorabilia experiences", but its offerings are far from unique. They are a relative newcomer in the personalized video and autograph space that is quickly becoming crowded with better-known competitors like Cameo, GalaxyCon Live, Streamily, vShout, Celebvm, LiveSigning, and Memmo.

Unfortunately, it would seem that the only "unique" thing about SIGND is just how limited their offerings are. That is true both in terms of the talent they represent as well as their autograph and personalized video services.
SIGND's Celebrity and Athlete Talent
With SIGND, you get a limited roster of athletes and D-list celebrities to choose from who they refer to as "Icons". The only notable exemptions perhaps being B-list talent at best. It was truly a struggle for me to find recognizable faces among their offerings

Some celebrities that can be found offering personalized videos and autographs on their service include Douglas Epps, Eric Nelsen, and Chance Kelly. If those names aren't recognizable to you, don't worry, they weren't to me either.
Actors from decades past like Butch Patrick of The Munsters were easy to find, but the site is largely devoid of celebrities with actual face recognition. That goes in stark contrast to other platforms where you can find the likes of Tommy Chong, Christina Ricci, and Luis Guzman all offering personalized videos and autographs.
That's a big problem for SIGND. Imagine you hire an "Icon", to send a personalized video to a friend or loved one as a birthday message, only to have them say, "thanks, but who is that?". I could imagine that being a very real scenario with almost all of their "Icons" currently on offer.

If you're ordering for yourself and you just so happen to be a fan of one of the obscure figures offered by SIGND, then great. But, at the end of the day, what you really want out of a personalized celebrity video is face recognition. That's not something that I suspect most people will find with this service.

If you can't tell who the video is from and you have to Google them, then the novelty is lost. Therefore, their lackluster offerings make the company a poor choice for those who want to surprise friends and family with a custom video message.
Celebrity Talent (in Context)
The COVID-19 pandemic temporarily put the breaks on conventions and in-person celebrity signings,  meet and greets, and photo ops. Consequently, companies have come out of the woodwork since 2020 to offer virtual versions of these once strictly in-person experiences. At the same time, big-name celebrities once thought impossible to arrange signings with, have lined up to do convention appearances, virtual events, and private autograph signings.
That's all to say that the autograph collector of today, has much higher standards than collectors of even 10 years ago. Fans have been spoiled with access to true icons like Harrison Ford, Arnold Schwarzenegger, and Chris Hemsworth. So SIGND's lackluster offerings (some of which come in at more than $300 for a video/autograph combo) seem like an insult to savvy collectors who have come to expect much more for their money.
Autographs from SIGND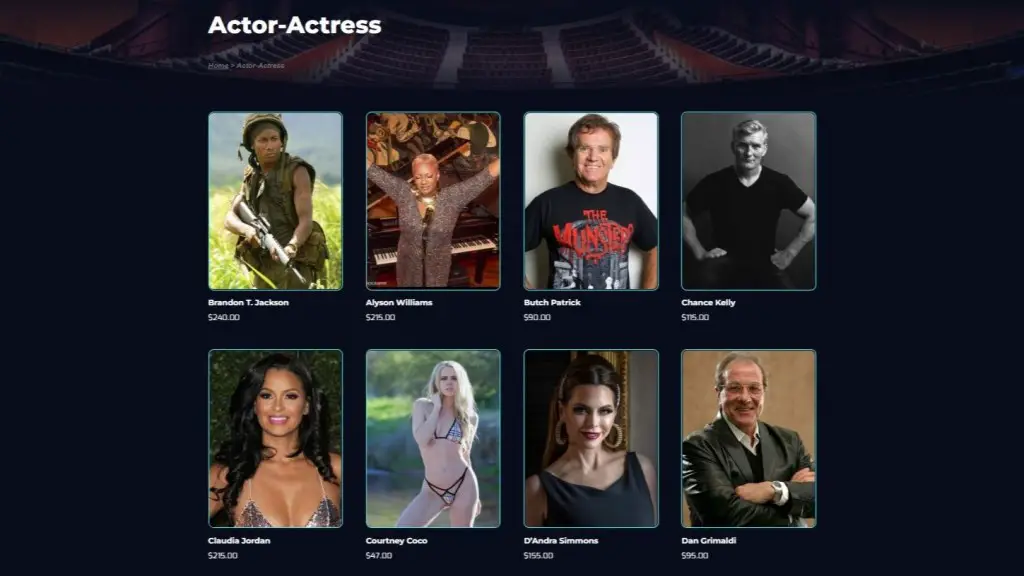 With a name like SIGND, you would expect their autograph services to be one area that they excel in. However, autograph collectors will likely not be impressed with what they have to offer. The current industry standard for autograph vendors is to provide a selection of photos or even Funko POPs, posters, and other memorabilia to choose from when purchasing an autograph. SIGND bucks this trend.

When it comes to what's getting signed, the online autograph company has elected a novel, although at times, unappealing option. Each autograph is signed on a predetermined piece of memorabilia which is printed with a QR code that links directly to a personalized video.

For athletes, that's usually a ball which may actually be an ideal option for many sports autograph collectors. My real gripe with their "memorabilia" is for actors, entertainers, and musicians.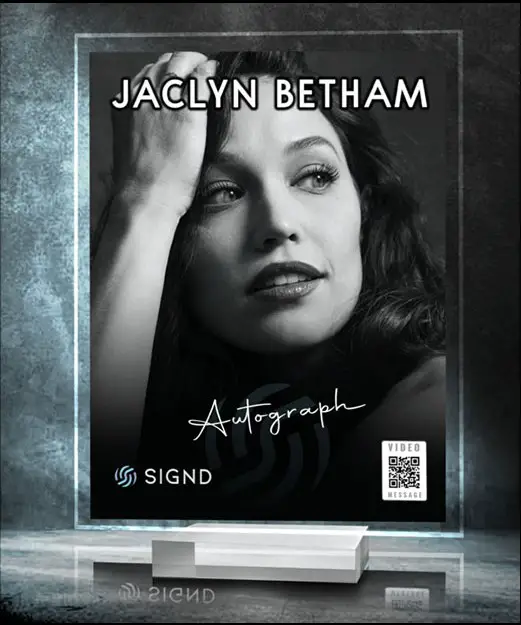 When you purchase an autograph from "icons" in these categories, your order comes with a very '90s-esque signed plaque that looks like it was pulled from the dark depths of a local card and comic shop.

With SIGND's acrylic plaques, there is no customizability when it comes to its appearance. What you see is what you get.
Personalized Videos
Ignoring the lack of desirable talent, which could change in the future, SIGND's personalized videos are on a par with competitors like Cameo. When ordering you can include instructions for the talent as to "what you would like the Icon to say in the video". This could be a congratulatory message, a birthday wish or perhaps a quote from your favorite movie.
Pricing
Personalized videos and autographs aren't sold separately on SIGND. Their video/autograph combos can get as high as the low $300's, but some are much more affordable. For example, "Icons" like Lukas O'Neall offer their services for as little as $40.

That's quite a low price for both an autograph and video, but when you consider how little-known actors like O'Neall are, the rock-bottom price seems absolutely appropriate. Higher priced "Icons" on SIGND's roster of talent, however, are not so clearly appropriately priced.
Side-by-Side Service Comparison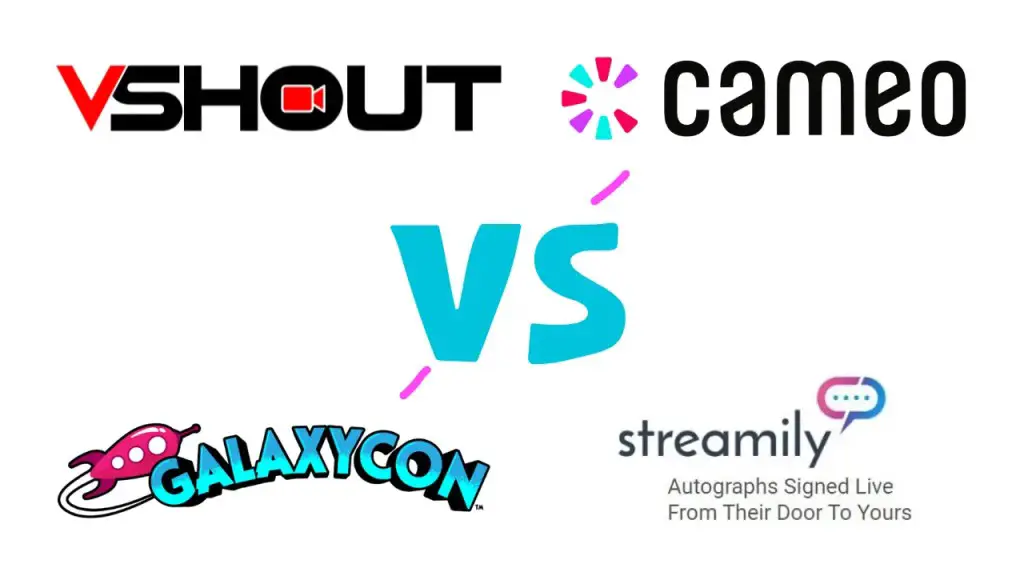 SIGND is operating in a very competitive space with multiple services offering autographs online via streaming experiences and/or personalized celebrity videos. Here is a comparison between SGIND and some of the most popular services out there today.
Services
Cameo
GalaxyCon Live
Streamily
vShout
Notes
Celebrity Roster
Very Good
Very Good
Very Good
Medium
Autograph Pricing
N/A
$96
$65
$55*
Pokémon voice over actor Tara Sands' autograph on Funko POP! figures used for price comparison.

* Last available price data is from May 2020
Photo Choices
N/A
Very Good
Good
Very Good
Celebrity Videos – Interactivity
Indirect
Direct
Direct and Indirect
Indirect
Direct videos are those that involve a live interaction.

Indirect videos are those that are prerecorded by a celebrity with no direct interaction from fans.
Celebrity Videos – price
Good
Good
included
included
Cameo and GalaxyCon Live had equal pricing when comparing the cost of voice-over actor David Kaye ($65).
Celebrity Videos – Quality
Very Good
Very Good
Good
Poor
Services
LiveSigning
Celebvidy
SIGND
Celebrityvm
Notes
Celebrity Roster
Very Good
Poor
Poor
No Longer Available
Autograph Pricing
Very Fair
N/A
High
No Longer Available
Photo Choices
N/A
N/A
Poor
No Longer Available
Celebrity Videos – Interactivity
Direct and Indirect
Indirect
Indirect
No Longer Available
Direct videos are those that involve a live interaction.

Indirect videos are those that are prerecorded by a celebrity with no direct interaction from fans.
Celebrity Videos – price
Included with purchase of a signed book.
Good
included
No Longer Available
Cameo and GalaxyCon Live had equal pricing when comparing the cost of voice over actor David Kaye ($65).
Celebrity Videos – Quality
Very Good
Very Good
Good
No Longer Available
Conclusion
SIGND is trying to innovate by inextricably linking autographs and personalized videos—two services that have each demanded individual fees in the past. The idea isn't bad, but the lack of recognizable talent and the limitations on what can be signed makes SIGND hard to recommend in its current iteration.