Cara Delevingne is a popular actress and a standout model in the fashion industry. Her bold eyebrows, androgynous features, and playful personality have made her a favorite among designers, photographers, and fans alike.
She is known for her talent and versatility and has proven herself as a successful model, actress, and musician, showcasing her abilities in different fields of entertainment. Her performances in various films, TV shows, and music events have been well-received by audiences and critics alike.
Additionally, Delevingne's authenticity and openness about her personal struggles, including her battles with depression and anxiety, have also gained her a loyal following. Her advocacy work for mental health awareness and other causes has further endeared her to fans who admire her for using her platform to make a positive impact.
It's therefore no surprise that businesses, charities, and fans alike all want to contact her. To help make that possible, the following addresses, emails, and phone numbers have been compiled to give Cara Delevingne fans the best and most up-to-date resources for contacting her directly or through her representatives.
How to Contact Cara Delevingne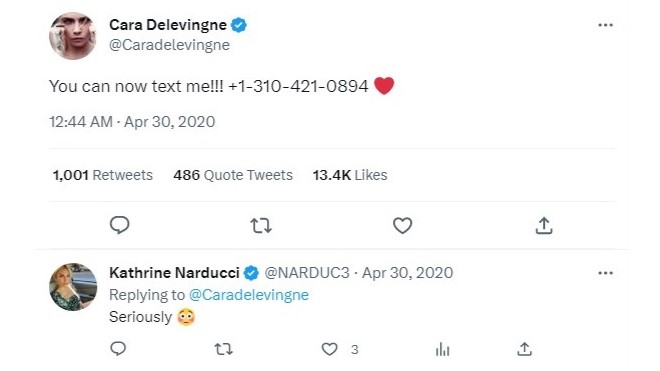 Every day, thousands of people contact the celebrities, athletes, and public figures they admire most. Some want to request donations for charity, some seek new business opportunities, but most want to send fan mail.
That's because fan mail is a great way to express your support and admiration. Since Cara Delevingne is only gaining popularity, there's no doubt that the popular actress gets her fair share of messages and well wishes.
Cara Delevingne does have some history of responding to fan mail. However, since 2016 she has seldom responded. Don't let that discourage you though! You can write to her by using this simple fan mail template. If you're having trouble expressing yourself, you can also generate a letter with AI! Then try reaching out via the addresses below. Good luck!
More Ways to Contact Cara Delevingne
If you still need more email addresses, phone numbers, and mailing addresses in order to reach the Suicide Squad actress, then look no further. You can reach out to Cara Delevingne via her representatives.
DM Cara Delevingne on Social Media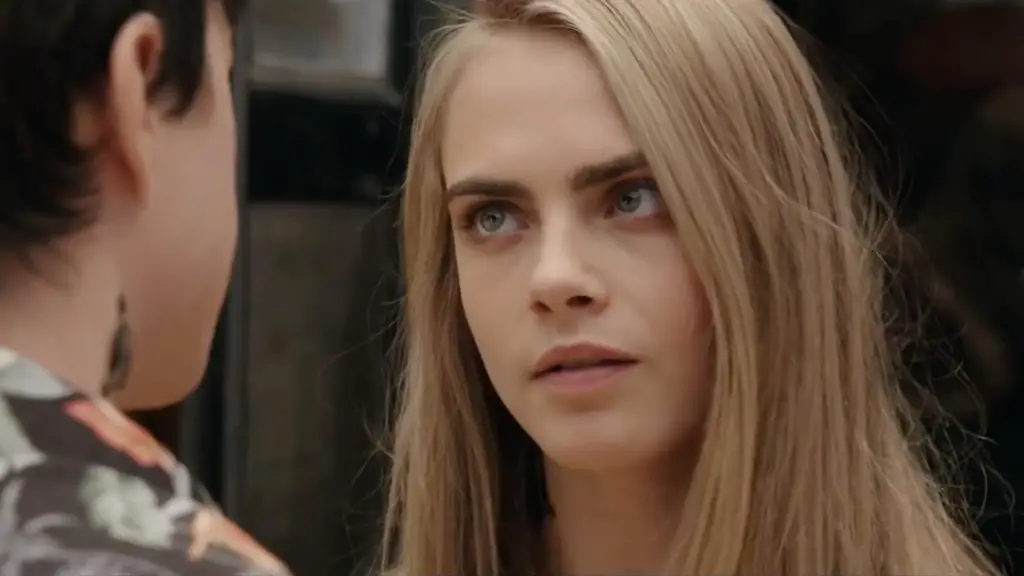 A lot of fans are more comfortable DMing than they are with sending a letter in the mail or making a phone call. It's a strategy that can work as there are a number of celebrities that have been known to respond to DMs. Try reaching Delevingne on her official social media accounts.
About Cara Delevingne
Cara Delevingne is a British model, actress, and singer born on August 12, 1992, in London, England. She grew up in a wealthy family with connections to the fashion industry, which helped her launch her modeling career at a young age.
Delevingne began modeling in 2009, and quickly rose to fame, appearing in campaigns for major brands such as Burberry, Chanel, and Yves Saint Laurent. Her unique androgynous look, bold eyebrows, and playful personality made her a favorite among designers, photographers, and fans alike.
In addition to her successful modeling career, Delevingne has also ventured into acting. She made her film debut in 2012 in the adaptation of Anna Karenina, and has since starred in films such as Paper Towns, Suicide Squad, and Valerian and the City of a Thousand Planets. She has also appeared in television shows such as Carnival Row.
Delevingne is also a talented musician, having released her first single "I Feel Everything" in 2017. She has expressed a desire to continue pursuing her music career and has performed at various events and venues.
Outside of her career, Delevingne is known for her activism and advocacy work. She is a strong supporter of LGBTQ+ rights, mental health awareness, and environmental causes. She has also been open about her struggles with depression and anxiety, and has used her platform to raise awareness and reduce the stigma surrounding mental health issues.
Overall, Cara Delevingne is a multifaceted and talented individual who has made a name for herself in the fashion, entertainment, and music industries, and is admired for her activism and honesty about her personal struggles.
FAQs
Who is Cara Delevingne's manager?
Cara Delevingne's manager is The Lede Company's Katie Greenthal. You can contact Delevingne through her manager at Katie.Greenthal@LedeCompany.com.
What is Cara Delevingne's fan mail address?
You can write to Cara Delevingne via The Lede Company at:
9701 Wilshire Blvd
Suite 930
Beverly Hills, CA 90212
USA
What is Cara Delevingne's phone number?
While Cara Delevingne's personal phone number is not public information, you can text her by phone through her Community number +1-310-421-0894.
What is Cara Delevingne's email address?
You can send Cara Delevingne an email via The Lede Company at info@ledecompany.com.
Get Updated Celebrity Contact Info First!
Sign up for the Tales From The Collection newsletter and be the first to know when new contact info is added for celebrities like Arnold Schwarzenegger, Madelyn Cline, and Lily Collins!