Raymond Kinman, is an accomplished wood carver and Disney imagineer, responsible for many intricately carved designs for signs, sculptures, and décor all around Disneyland. Kinman recounted how he began working for Disney, his first project doing the sign that hangs above the Indiana Jones Adventure Outpost, and, his most difficult work ever, the sign for The Country Bear Playhouse. Via Facebook, he had the following to say:
Raymond Kinman's Early Career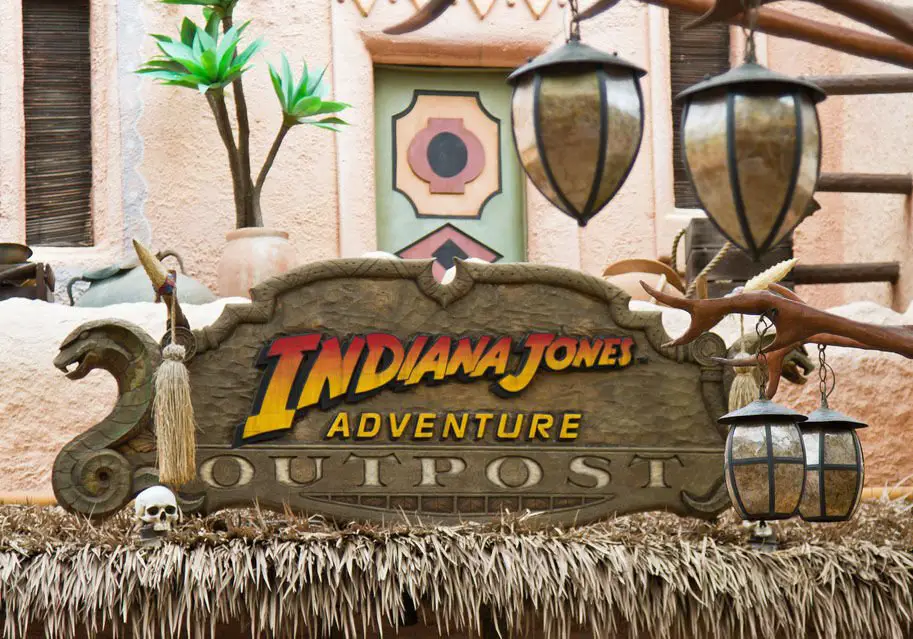 September 4th 2021 – This was the first woodcarving I ever did for Disney…How'd that happen? When my kids were very young we did what many parents often do: we took our kids to Disneyland for an adventure! I had been carving professionally for a number of years already, so I was looking around and thinking, "You know, I think that I can probably do stuff like this,". I decided that I would look into it…
As you read this story… just keep in mind the backdrop. As a self-employed artist and sole provider for a young family, I went through many, many years of mind-numbing struggle before anything ever happened. It wasn't easy…I did a little detective work and found the Disney Imagineering address, but I didn't have any names so I just sent it to the graphic design department. I tried submitting my work to Disney many, many times. Over and over again. No reply. Ever. Crickets and tumbleweeds.
After doing that for some period of time, I just figured it wasn't going to happen and I stopped trying…Incidentally, that's a big mistake. Your greatest asset isn't your education or your connections or how smart you are or even the quality of your work. Your greatest asset in any endeavor is your persistence….it took me a while to learn that.
Raymond Kinman Begins Working For Disney
Then one day, out of the blue, I got a phone call… from the Senior Graphic Designer at Disney Imagineering. He just happened to wander into a restaurant where I had done some work and got my number from the manager. Yep. That's what it came down to: a lucky break. Dumb luck. He asked me to submit some more examples of my work so that he could take a look at them. I did that.
A week or so later he called me back and told me that they had a project they'd like me to take a look at and asked if I could come in and present my portfolio to the Imagineers. Of course I said yes… When I arrived there I was escorted back into a labyrinth of meeting rooms to a room where there were a dozen or so Imagineers gathered around a large board room meeting table. I was REALLY nervous.
There I was, sitting at the table with some of the best artists and creative minds in the world. I was extremely intimidated to say the least. It's funny to think about now, but at the time, I had this nagging thought in the back of my mind which sounded something like, "Oh jeez… I hope nobody finds out that I don't know what I'm doing!" I brought some pieces with me and circulated photos around the table. They interviewed me and asked some very pointed and direct questions… I guess I did okay because somebody brought some rolled up blueprints and tossed them in front of me telling me that they had something they wanted me to take a look at.
Raymond Kinman Gets Indiana Jones
I figured that they would give me some obscure little project… something to test me on, right? I unrolled the blueprints and swallowed hard when I realized what it was. They were starting me at the very top….It was the Indiana Jones Adventure project. Gulp. Okay. We talked about some technical details and worked on design snags for a while. At one point I stopped and said, "Look you guys…. I really want this job!". The art director looked up at me and little smile settled on his face, then he said, "Yeah… we can tell!" I got the gig.
Long story short, the carve went very well and they were pleased with the result. It opened up a relationship which lasted many years and was certainly one of the coolest things I've ever done professionally. Think about this: Last time I visited Disneyland a couple of years ago, I counted 14 of my carvings which are still there today. Disneyland alone brings in 19 million visitors per year and I did the Indy Jones stuff almost 22 years ago. Do the math…Trip on that? Here's the deal: at the time, I didn't realize what working with Disney would mean for my career.
I thought it was interesting work and the money was good… that's about all of the thought I had put into it at the time. It was this experience which would eventually allow me to do what I do for all these years: to work with wonderful people and to do what I can to bring a little bit of good into the world. After 43 years, I still carve professionally but also realizing that it's time for passing the torch…. teaching quite a bit these days!
Disneyland's Country Bear Playhouse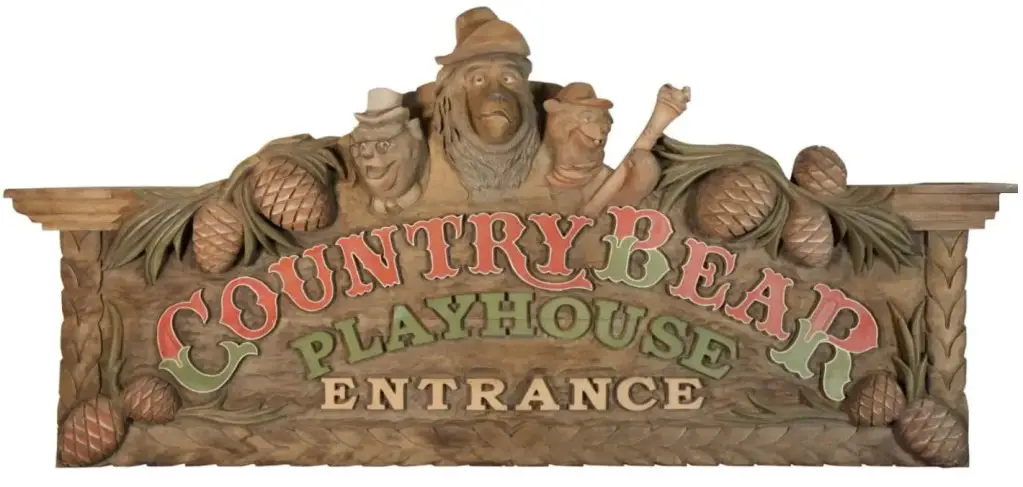 December 30th 2020 – People often ask me, "What's the most difficult woodcarving you've ever done?" The answer: The Country Bear Playhouse at Disneyland. Why? Because I carved most of it with just one hand.
I was doing a lot of carving for Disneyland and Mr. Bossman came to me with this design and asked if I could do it. Sure man, no prob! However…It just so happened that just before this carve came up on the schedule, I had a messy accident while working on some chainsaw carvings for the Disneyland Pocahontas display…. I lopped off my left index finger with a chainsaw. The answer is yes. The surgeon was able to make me a new knuckle and reattach the finger. It works. Sorta.
Raymond Kinman Begins Carving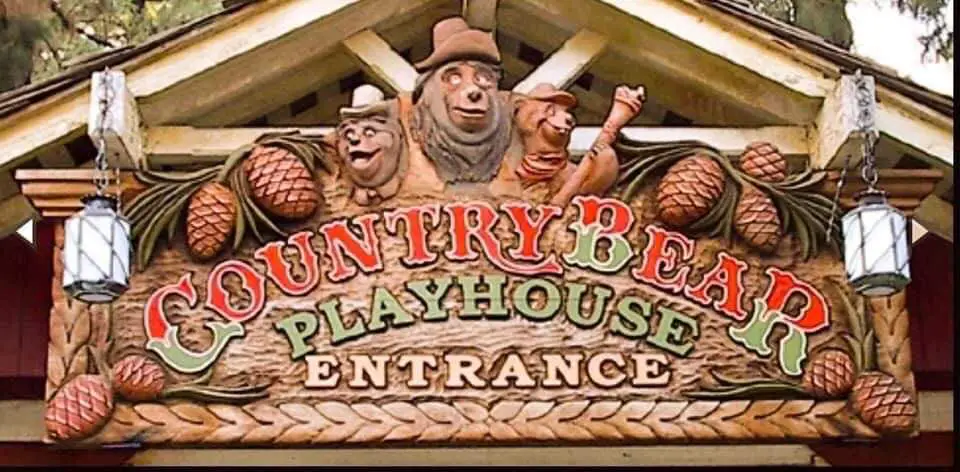 Cured me of my interest in chainsaw carving though…As they say, the show must go on. This sign needed to get done and my left arm was in a cast. It was too painful for me to do the rough out work. The vibration from the tools was too much. What to do? I managed to get it milled up and glued together by myself (This is 8' long x 4' tall mahogany). I called a friend and asked him to rough it out for me. He rough carved the basic shapes of the faces…the rest was up to me.
I still had my right hand but I couldn't hold any tools with my left hand. I wound up making a crude jig for holding the hand tools and attached it to the cast on my left arm. It was ridiculous but it worked in a loose sort of way. Most of the work was done with just my right hand. This carve took FOREVER! It sold last year at a collector auction for an absurd amount of money. Here's a pic of the original artist concept sketch and the finished carving just before the color was done.
I'm still a full time woodcarver (and teacher) after 44 years. Side note: You know how they say that it's impolite to point? After losing my left index finger I found out why. It's really weird but there's some kind of energy (or something?) which comes out of your finger when you point. How do I know that? Because since my accident, I can't point with my left hand anymore. It feels like nothing. No power comes out. Hard to describe. Take my word for it. Whenever possible, keep all of your fingers. Pointing is a good thing.
The Hungry Bear Restaurant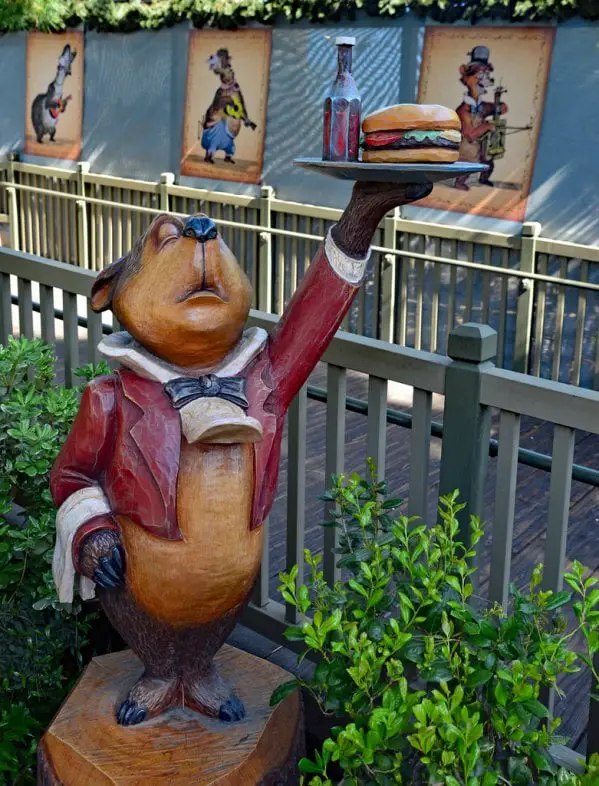 August 6 2021 – This chainsaw carving is at The Hungry Bear Restaurant at Disneyland. It's my very first attempt at carving with a chainsaw. I had been carving signs for Disneyland (many of which are still there today) and my boss came to me and asked if I knew how to do chainsaw sculpture. That put me in a bit of a quandary…. I had never done anything with a chainsaw before, but had always been interested in trying it.
I had to think fast…So I did exactly what you would have done. That's right…I lied. I told him that sure, I had done chainsaw carvings many times! Actually, it's not really lying. I prefer to call it "Telling the truth in advance". It was true, I really had done many chainsaw carvings, it just hadn't happened yet. The truth in advance. You have my permission to use it. You're welcome.
I didn't know the first thing about what to do. What tools am I going to need? How do I use those tools? Where do I find a large redwood log? On and on…I called a friend of mine who had been doing chainsaw carving for quite some time and he agreed to teach me what I needed to know.
Raymond Kinman Carves the Bear
I packed up and headed for redwood country in Northern California to find a log. I drove around and talked to people and finally wound up in the little town of Willets, California where I found a beautiful redwood log at a local lumber mill. The guy driving the tractor messed up while trying to load it in the truck and dropped it on the tailgate. I hauled the piece back to Southern California and somehow got through the carve. It was really hard… this was a difficult piece to do. This sculpture is still there today.
More Stories You'll Love