Comic fans have been getting their books signed at conventions and events for as long as artists, writers, and comic book creators have been attending them. For the majority of that time, it was difficult to guarantee the authenticity of the autographs once the books were signed. Enter CGC's Signature Series. The gold label that adorns every CGC Signature Series is a guarantee of authenticity. It signifies that the comic was signed in the presence of a CGC authorized witness.
How does CGC Signature Series work?
The process for submitting your comics for grading and certification through CGC's Signature Series is pretty straight forward. The first step is to find an event where a CGC authorized witness will be in attendance. This might be your local comic con or perhaps a private signing being conducted. Books can either be submitted at the event, or you can mail your submissions to CGC headquarters, and they will bring the collectibles to the show to be signed.

Comic creators and CGC's authorized witnesses work closely together so that there is a smooth handoff between creators and witnesses. Once your comic is signed, the CGC representative will take your comic for grading, encapsulation, and authentication. Once CGC is done processing the comic, they will ship it back to the owner encased in a tamper proof housing. Total processing time can be as long as several months unless you pay to expedite the process.
How Much does CGC Signature Series Cost?
The cost of getting your comic slabbed with the golden CGC Signature Series label ranges from $39 to $145 depending on the age of the comic and how quickly you want it to be processed. Magazines start at $47, concert posters at $57, handbills and postcards at $50, and other collectables like photos at $25. CGC's full price list can be viewed on the PDF below.
Are signature Series comics worth more?


Any comic with a signature series label will always be more valuable than the exact same comic that is either ungraded or graded with a green qualified label. The fact that you can prove that your comic was signed in the presence of a CGC witness means that the value of your comic can easily double. If you have a comic that would be worth $100 ungraded and graded as a signature series comic increases the value to $200, then that's a net profit of $61 when you factor in the cost of slabbing a modern comic.
Where to sell CGC Graded comics?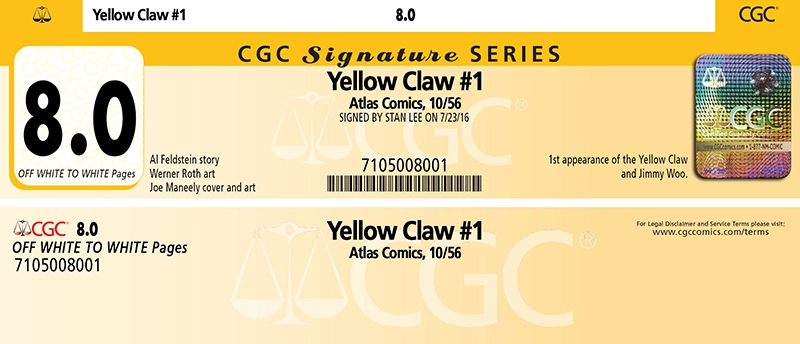 If you want to sell your CGC graded comics then you're in luck. The fact that the comic is graded means that the condition is well known , the comic is protected, and if signed, the autograph is authentic on comics that bear the yellow Signature Series label. You can sell your graded comics at all of the usual places like eBay, but you can also try StockX who offers a curated selection of higher-end comics or Certified Comic Shop who is happy to take consignments.
Can signed comics be graded by CGC?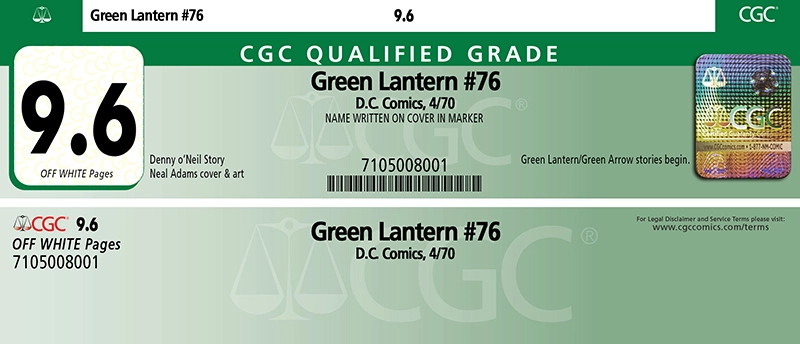 Yes! Signed comics can be graded by CGC. If the comic is signed in the presence of a CGC authorized witness then it is eligible for the highly sought after gold Signature Series label. If the comic was signed without being witnessed, then you still get it graded by CGC. The signature will not affect the comics grade because it will be given a "qualified" grade that takes the autograph into consideration. It does not, however, guarantee the authenticity of the signature. Unwitnessed signatures come with a green label.
What is a CGC qualified grade?
A qualified grade is given to signed comics that were not signed in the presence of a CGC authorized witness. The comics are given a grade as-if they weren't signed. The grade is "qualified" because writing on a book technically lower the condition and therefore the grade, but the special circumstance of a signed comic allows for a special kind of grade. Comics with a qualified grade are easily distinguishable thanks to their green labels.
Is CGC signature Series legit?

Yes, CGC signature Series is legit. CGC is a highly trusted company and the golden signature series means that the autograph isn't merely authenticated, but it is guaranteed authentic because it was signed in the presence of a CGC representative. Like its label, CGC signature series is the gold standard when it comes to signed comics, photos, and collectables.