She gained recognition in the late 2010s with her lead roles on the Disney television programs Bizaardvark and High School Musical: The Musical: The Series. After signing with Geffen and Interscope Records in 2020, Rodrigo released her debut single "Drivers License", which broke various records and became one of the best-selling songs of 2021, propelling her to mainstream fame.
Olivia Rodrigo was a rising star in Hollywood following her roles on Bizaardvark and High School Musical: The Musical: The Series. She achieved mainstream fame after signing with Geffen and Interscope Records in 2020. Understandably, Olivia has a huge fan base. Year after year, she continues to captivate audiences with her one chart topping single after another.
Given her popularity, it's not surprising that Olivia receives a lot of fan mail. Many fans would love to get an autograph from her, but they often wonder "does Oliva Rodrigo read her fan mail?" Unlike singers like Taylor Swift who have built a reputation for responding to fan mail, with Olivia, it is not so clear. There is very little evidence that she takes the time to personally respond to fan mail, but that could simply be a factor related to the relative freshness of her budding career.
How to Send Fan Mail to Olivia Rodrigo
Regardless of how you've come to know her, it's likely that Olivia's work has had an impact on you in some way or another. If you would like to send fan mail to one of the most beloved singers in America, whether it's to simply send a message of thanks or perhaps request an autograph through the mail, then the process is pretty simple. Since many celebrities respond to fan mail, it's not unthinkable that she might send fans free autographs through the mail. If you would like to reach out to her, you can use this simple fan mail template to get started. Then simply try reaching out via the addresses below. Good luck!
Fan Mail Responses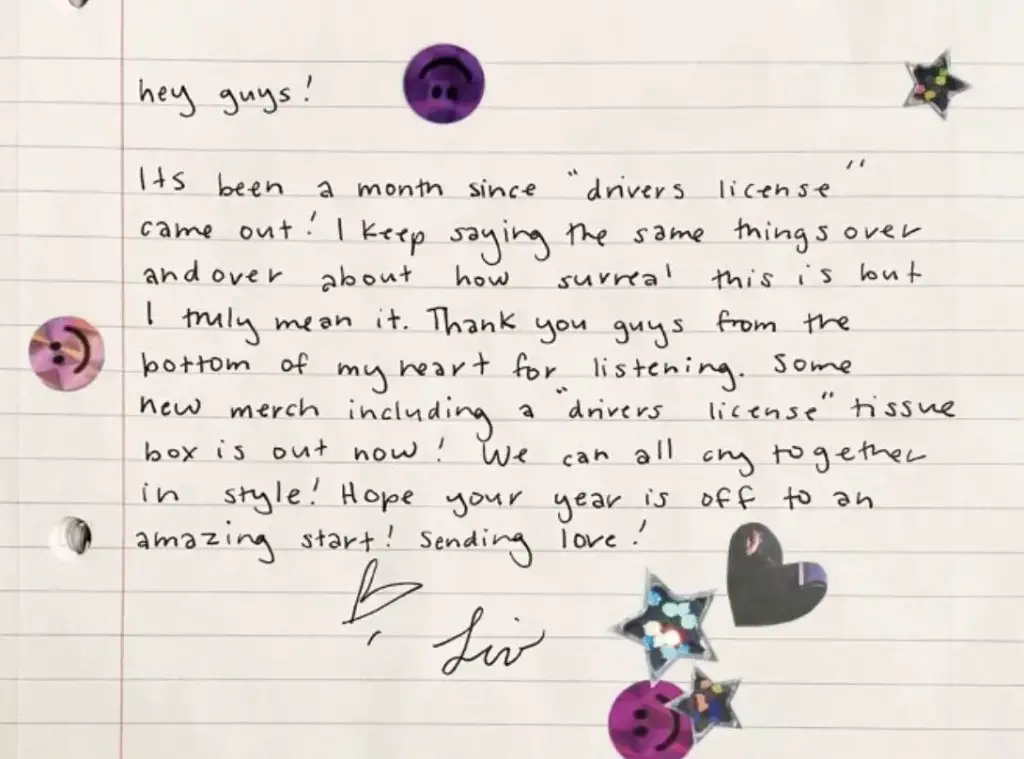 Olivia Rodrigo has been known to communicate with fans more through her newsletters than fan mail responses. To date, there have been no recorded responses from Olivia by users of the autograph collecting site Star Tiger. At the very least, that means that she is a hard signer, but no one is impossible to get a response from! Sending fan mail comes at little to no cost, so you really have nothing to lose by giving it a shot.
How to Write To Olivia Rodrigo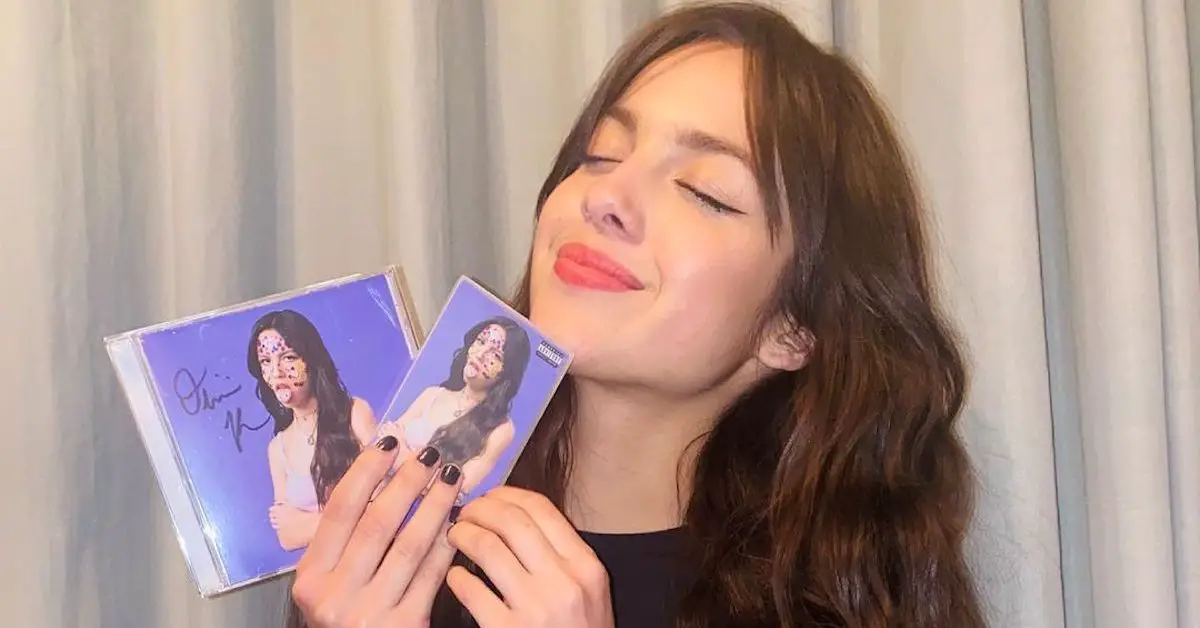 Sending fan mail is a great way to express your love and support for Olivia Rodrigo. The Sour singer actually has a public fan mail address, but there is more than one way to reach her.
One option to contact Olivia is to reach out her agency via her official fan mail address: You can send your fan mail to:
Olivia Rodrigo
Geffen Records
2220 Colorado Ave
Santa Monica, CA 90404
USA

PHONE: 310-865-1000 
---
Interscope Records
2220 Colorado Ave.
Santa Monica, CA 90404
USA

PHONE: +1 310 865 1000
A lot of fan mail is sent to musicians' agencies so it would be good to try her at William Morris Endeavor (WME) Entertainment as well. Olivia's agency mailing address is:
WME
9601 Wilshire Blvd
Beverly Hills, CA 90210
USA

PHONE: +1 310 285 9000
---
Olivia Rodrigo's WME Representatives
Esther Chang
Michelle Bohan
Sara Wortman
Stephanie Ritz
Her manager's mailing address is:
Lighthouse Management & Media
9000 W. Sunset Blvd.
Suite 1520
West Hollywood, CA 90069
USA
Her Publicist is:
Narrative
287 Park Avenue
6th Floor
New York, NY 10010
USA
PHONE: +1 347-778-5832
EMAIL: reception@narrative-pr.com
Email and Phone Number
If you would prefer to send Olivia Rodrigo an email, you can reach her via Rhett Usry (rhett@narrative-pr.com) or her representative at Interscope Hillary Siskind (hillary.siskind@umusic.com).

Finally, some celebrities have been known to respond on social media. You can try contacting Olivia Rodrigo directly that way. She's active on Instagram, and she occasionally responds to messages from fans. With a little persistence and proper technique, you should be able to get in touch with Olivia.
A reply from your favorite celebrity is always a great feeling. Fan mail can be an incredible way to get their attention and possibly even an autograph. To increase your chances of getting a reply, be sure to include a self-addressed stamped envelope. Who knows, you might just get that fan mail response you've always wanted.