About Emma Watson
Emma Watson is a British actress best known for her role as Hermione Granger in the Harry Potter films. She was born in 1990 in Paris, France, but was raised in England. Watson began acting at a young age and appeared in all eight Harry Potter films. After the final film was released in 2011, Watson took some time off from acting to focus on her studies. She graduated from Brown University in 2014 with a degree in English Literature.
In addition to her work as an actress, Watson is also a UN Goodwill Ambassador and an outspoken feminist. In 2015, she gave a powerful speech at the UN launching the HeForShe campaign, in which she calls on men to stand up against gender inequality. Watson has said that she wants to use her fame to promote issues that are important to her, and she is clearly doing just that.
How to Send Fan Mail to Emma Watson
Sending fan mail is a great way to express your love and support for Emma. Because she is so well loved by her fans, the Hermione Granger actor has set up a fan mail address for the public to get in touch with her. She let her fans know on a Facebook post that "the quickest way to get it to [her] is to use [her] PO Box" which is provided below.

Since she maintains this address for her fans, there's no reason not to try it. After all, she is just one of many Harry Potter actors that respond to fan mail.
Fan Mail Address
PO Box 68162
London
N1P 2AL
United Kingdom
Send Emma Watson an Email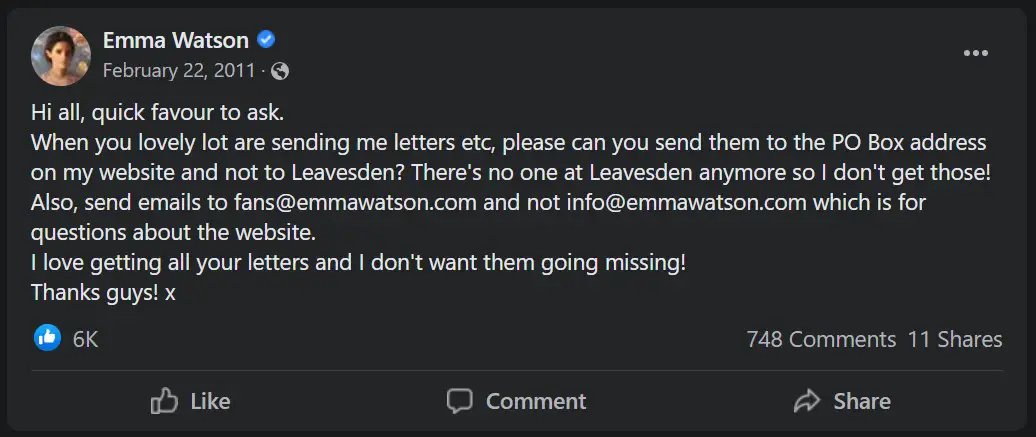 Not only can you use Emma Watson's official PO Box to send her fan mail, but you can also reach her by email. In a message to her fans, Emma instructed them to "send emails to fans@emmawatson.com and not info@emmawatson.com which is for questions about the website". She added that she loves "getting all your letters and [that she didn't] want them going missing".
DM Emma Watson on Social Media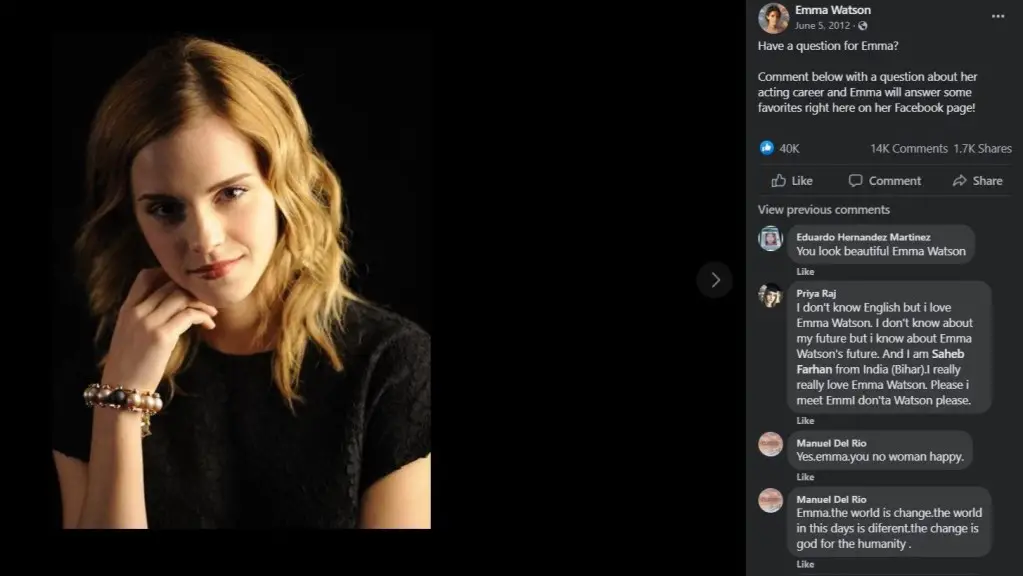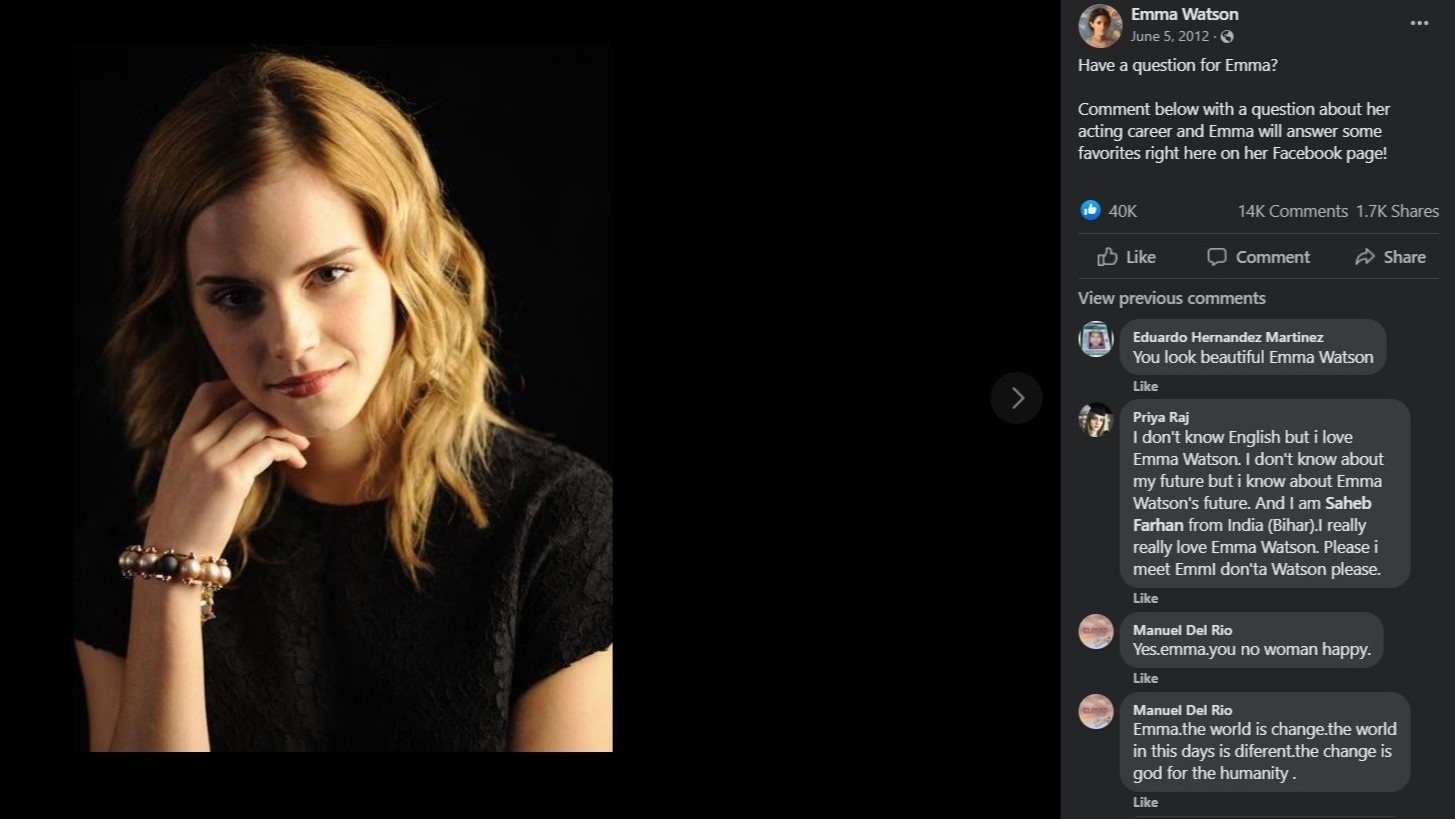 Some celebrities do in fact respond to DMs from their fans. Since Emma Watson is so well known for her online presence, it's natural that many fans would want to contact her by sending a message. Give it a shot by messaging her through one of her Facebook or posting a question for her. Emma dedicated a Facebook post just for responding to her fans.
More Ways to Contact Emma Watson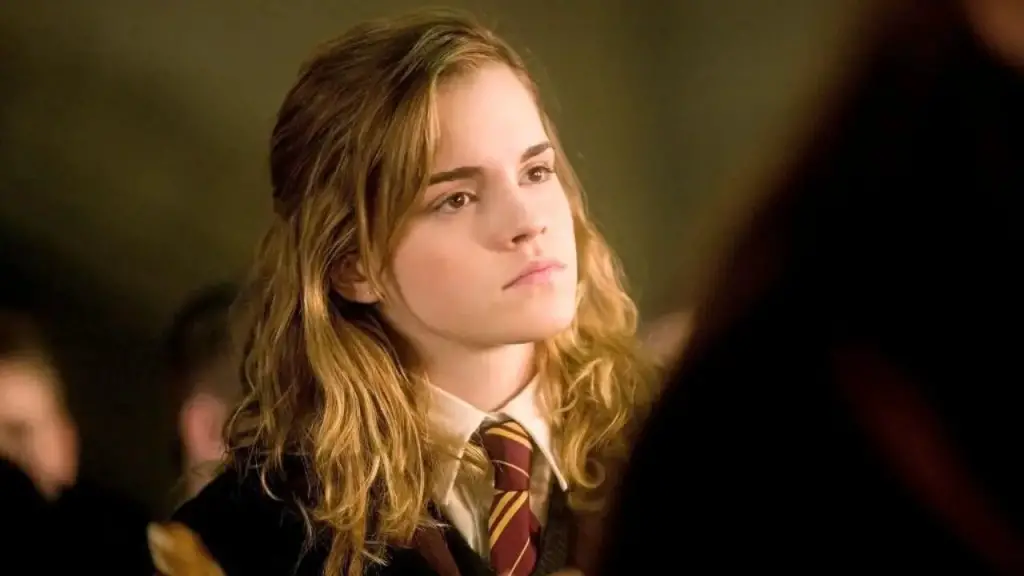 It's not uncommon for actors to expand beyond the career that made them famous. Each new business started or charity founded presents new avenues to reach out and connect with the people involved with them.
Management and Talent Agency
Many fans will choose to contact Emma via the management company and talent agency that represents her. In Emma's case, that would be Untilted Entertainment and Creative Artists Agency (CAA).
Manager
Talent Agency
Untitled Entertainment
350 South Beverly Drive
Beverly Hills, CA 90212
USA
Phone: +1 310 601 2100
Fax: +1 310 601 2344
Email: contact@untitledent.net

Representative:
Jason Weinberg
Website: LinkedIn
Creative Artists Agency (CAA)
2000 Avenue Of The Stars
Los Angeles, CA 90067
USA
Phone: (424) 288-2000
Fax: (424) 288-2900

Kering
An interesting way of reaching out to Emma Watson would be to get in touch with her at Kering, a French Luxury goods company. They should be able to forward her fan mail as she is on the company's Board of Directors. There she serves as an advocate for sustainable fashion. Try contacting her there.
Legal Representatives
Finally, you can also try and reach out to Emma Watson via her legal representatives at the addresses below.
Legal Representative
Legal Representative
Johnson Shapiro Slewett & Kole
2049 Century Park East
Suite 1400
Los Angeles, CA 90067
Representative:
Tara Kole
Phone: +1 424-451-4200
Markham, Froggatt & Irwin
4 Windmill St.
London W1T 2HZ
United Kingdom
Phone: +44 (0) 20 7636 4412
Fax: +44 (0) 20 7637 5233