Bob Dylan fans know that the legendary Folk singer is a bit of a recluse. When it comes to getting his autograph, it's a difficult task that is rarely done.

Usually, autograph seekers have to turn to eBay where his signature goes for thousands of dollars.

Alternatively, many collectors have sought out Bob Dylan's signed art prints which have for a long time been the only way to acquire an authentic autograph from the singer.

Now that is all changing with a still pricey, but much more affordable option from Canadian bookseller Indigo.
The Philosophy of Modern Song – Signed Books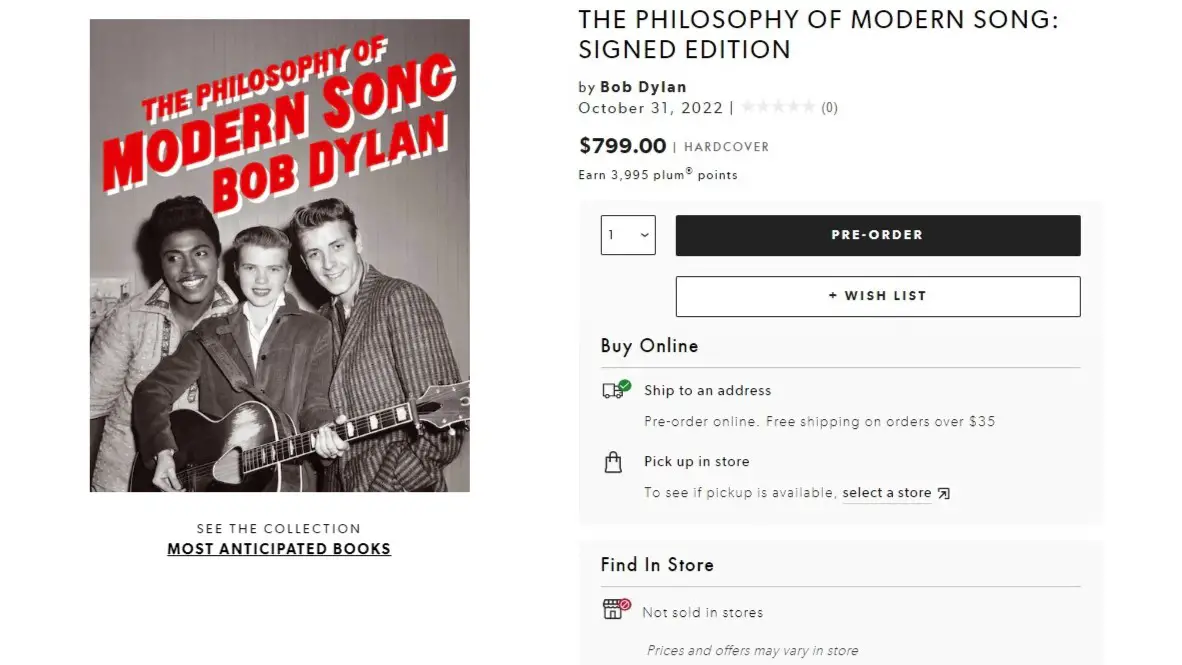 For $799 CAD (about $575 USD), you can own a copy of Bob Dylan's upcoming book The Philosophy of Modern Song.
The Philosophy of Modern Song is Bob Dylan's first book of new writing since 2004's Chronicles: Volume One—and since winning the Nobel Prize for Literature in 2016.
Dylan, who began working on the book in 2010, offers a master class on the art and craft of songwriting. He writes over sixty essays focusing on songs by other artists, spanning from Stephen Foster to Elvis Costello, and in between ranging from Hank Williams to Nina Simone. He analyzes what he calls the trap of easy rhymes, breaks down how the addition of a single syllable can diminish a song, and even explains how bluegrass relates to heavy metal. These essays are written in Dylan's unique prose. They are mysterious and mercurial, poignant and profound, and often laugh-out-loud funny. And while they are ostensibly about music, they are really meditations and reflections on the human condition. Running throughout the book are nearly 150 carefully curated photos as well as a series of dream-like riffs that, taken together, resemble an epic poem and add to the work's transcendence.
In 2020, with the release of his outstanding album Rough and Rowdy Ways, Dylan became the first artist to have an album hit the Billboard Top 40 in each decade since the 1960s. The Philosophy of Modern Song contains much of what he has learned about his craft in all those years, and like everything that Dylan does, it is a momentous artistic achievement.
Get the Book for the Cheapest Price
For a Bob Dylan autograph, The Philosophy of Modern Song's nearly $600 price tag is a steal, but it's still a lot of money to pay.
You can save $60 on your purchase if you purchase a Plum Plus membership for $40 which ultimately leaves you with a $20 savings plus free shipping.
After discounts, your total price should come out to be about $515 for the signed edition. Despite the high cost, it's a valuable investment considering his contributions to American culture and music.

If the price of a signed copy is too much to bear, you can always pick up an unsigned copy of the highly anticipated book on Amazon.
UPDATE: Autopen Revelation
By October 21st, some of Indigo's customers started to receive their "signed copies". To their disappointment, it was readily apparent that the books were not signed by Bob Dylan, but rather by an autopen machine! In response to a presumed wave of customers canceling their orders, Indigo took a proactive step and cancelled all existing orders of the fake signed book.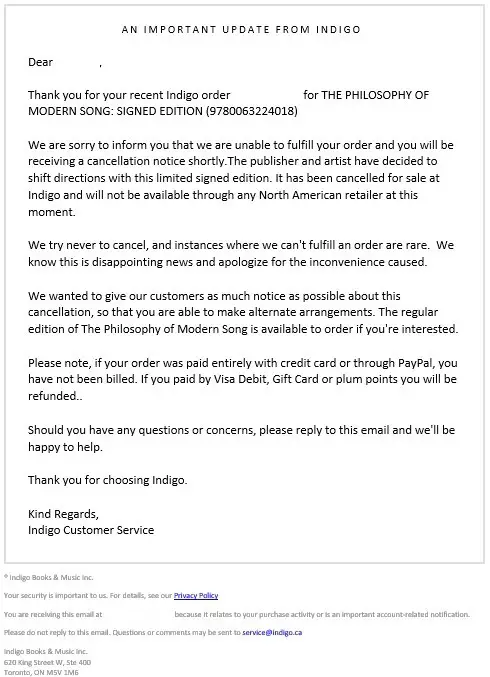 Get Updated Celebrity Contact Info First!
Sign up for the Tales From The Collection newsletter and be the first to know when new contact info is added for celebrities like Johnny Depp, MrBeast, and Taylor Swift!