Iman Vellani Steps Into Her New Role
Iman Vellani is to play Ms. Marvel, Marvel's first on-screen Muslim superhero, in the upcoming series by the same name. Marvel announced in September 2020 that she would play the show's titular role. Soon after, the young actor reported to one lucky fan in October that she had signed her first ever autograph for him.
Iman Vellani Signature Study
At first, Vellani began signing with just her first name (see the Funko Pop pictured above). She signed with a heavily slanted "I" and an exaggerated tail on the "n" that loops at the end of "Iman". By March of 2021, she added her last name to her autograph. Before, the letters of her first name were indistinguishable. Interestingly though, every letter in last name is legible in her updated signature style. She sometimes even draws a lighting bolt beneath her signature as a homage to her new character.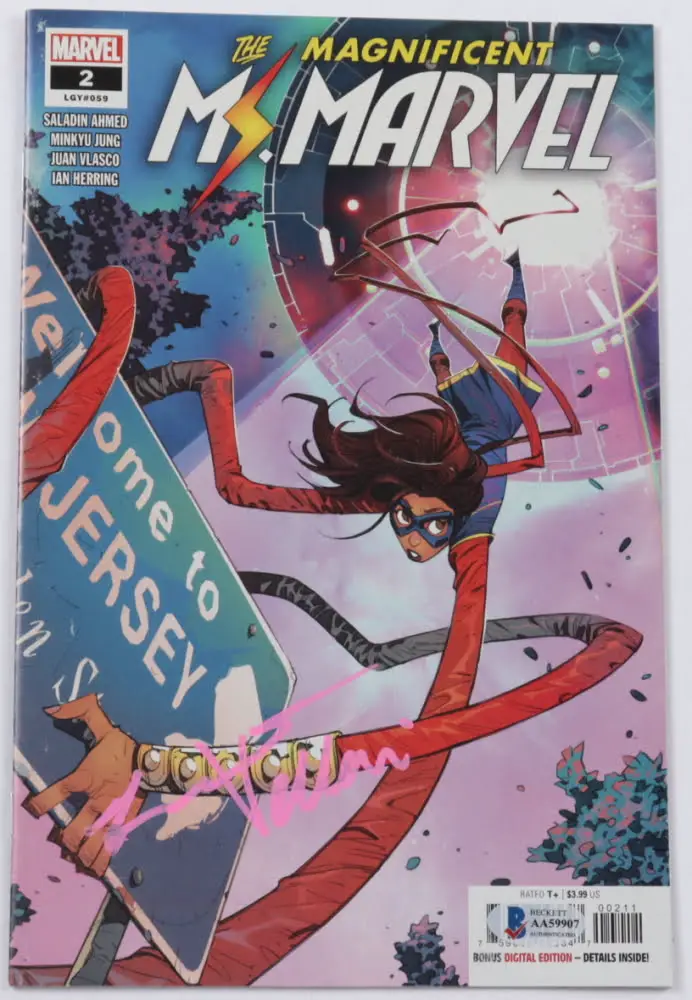 Ms. Marvel Responds to Fan Mail
Back in November of 2020, I found the address for the Ms. Marvel production office. (Check out our Guide to Finding Addresses) Having been able to find where the film was being shot, I thought I'd try my luck sending Vellani some fan mail. After all, she was a young woman on the verge of taking on a very important role. I couldn't pass up the opportunity. As a father of a young daughter I'm always happy to see strong female leads take on big roles like Iman is doing. Of course, that goes double for the Marvel Cinematic Universe (MCU) which hasn't always been all that representative.
Four months after writing, I received the signed index cards pictured above and a wonderfully heartfelt note from her. She graciously thanked me for my letter and shared with me how important the MCU was to her. Thinking about it now, I have no doubt that that's true. At only about 18 years old, the MCU, which began in 2008, has likely been a part of her experience with cinema for the majority of her life.
Shortly after I received my reply, another fan, Callum McArthur, received a response from Vellani as well. She was kind enough to sign three 4×6 photos for him.
Who plays Ms. Marvel?
Iman Vellani plays Kamala Khan (AKA Ms. Marvel) in the limited series by the same name and the feature film The Marvels.

When Did Ms. Marvel Air?
Ms. Marvel aired on Disney+ on June 8th 2022.
How old is Iman Vellani?
Iman Vellani was born on September 3, 2002.
How did Iman Vellani get the role as Ms. Marvel?
According to the Disney+ documentary A Fan's Guide to Ms. Marvel, Iman Vellani got the role as Ms. Marvel by auditioning for it. Having read and connected with the Ms. Marvel comics as a child, Iman knew she had to audition for the part. She shares her Pakistani heritage with the her character Kamala Khan. She was one of many to audition for the part, but was ultimately selected for the role!