Writing celebrities via venue on film or TV sets can sometimes be the ONLY way to get in contact with them. Unfortunately, there are a lot of factors that make via venue addresses some of the most difficult to receive responses from. Therefore, it's something I would only recommend for more experienced collectors who have exhausted all other options first. I'll explain why.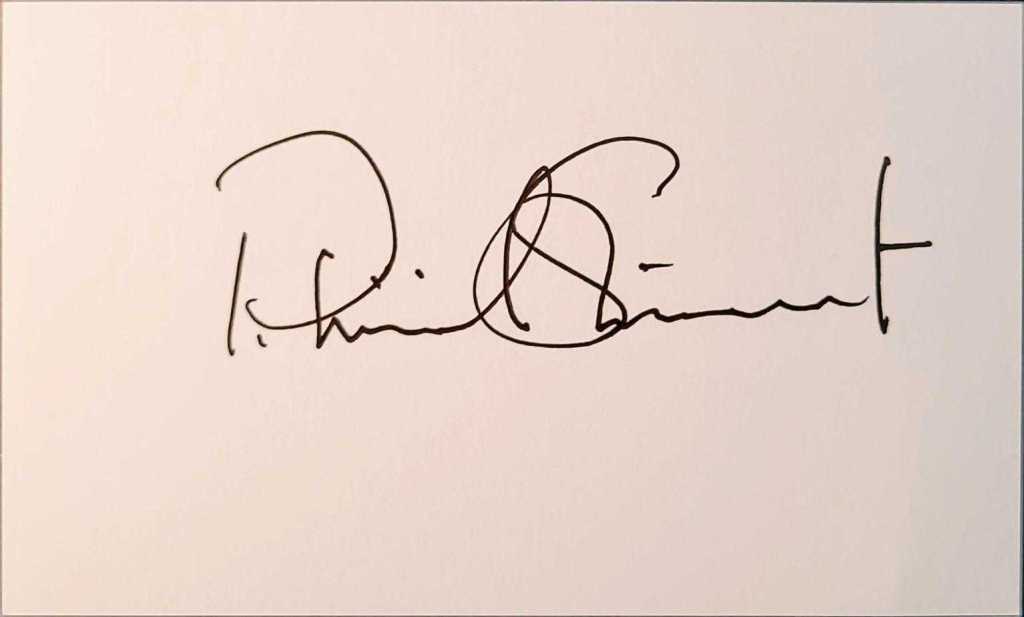 Firstly, as every production is unique, via venue addresses don't benefit from the same kind of vetting that agency or other fan mail addresses do. Secondly, they are temporary and timing can be critical to whether you get a response or not. Lastly, the addresses themselves are hard to find. However, production alert publications can make it simple, but only if you're willing to pay for the subscription fee. That's exactly what I did.
I sent fan mail to 100 celebrities while they were on set shooting new movies or TV shows. Each letter included a stamped return envelope and two index cards for the celebrity to sign. That puts the cost of each request at about $1.50 or so. (Check out our recommended supplies for the best quality and prices.) In all, that's a $150 investment, but it also cost about 33 man hours to write the letters, address the envelopes, and get them prepared for shipping. Assuming one's labor is worth at least $15 an hour, that's a total investment of $645.
Via Venue Address Cost/Benefit Analysis
Out of 100 fan letters, only received thirteen responses back from sets. Two of those were either pre-prints or autopen signatures leaving us with an 11% success rate. That's pretty low. Still, a quick cost benefit analysis shows that writing celebrities via venue still makes sense. As through the mail (TTM) autograph collecting isn't about selling autographs, the market value of the signatures is somewhat irrelevant. However, if you think in terms of replacement cost, it's easy to see that sending a TTM autograph request is much cheaper than buying one at a con. Take Krysten Ritter for example. A recent appearance by her at a Texas comic con had her autograph priced at $60.
Since Krysten signed two index cards, it would have cost $120 to obtain those signatures otherwise. If you assume that $60 is the median replacement cost for the signatures obtained TTM and that each celebrity signed two, then that leaves a $960 replacement cost.
Join the Conversation in Our Group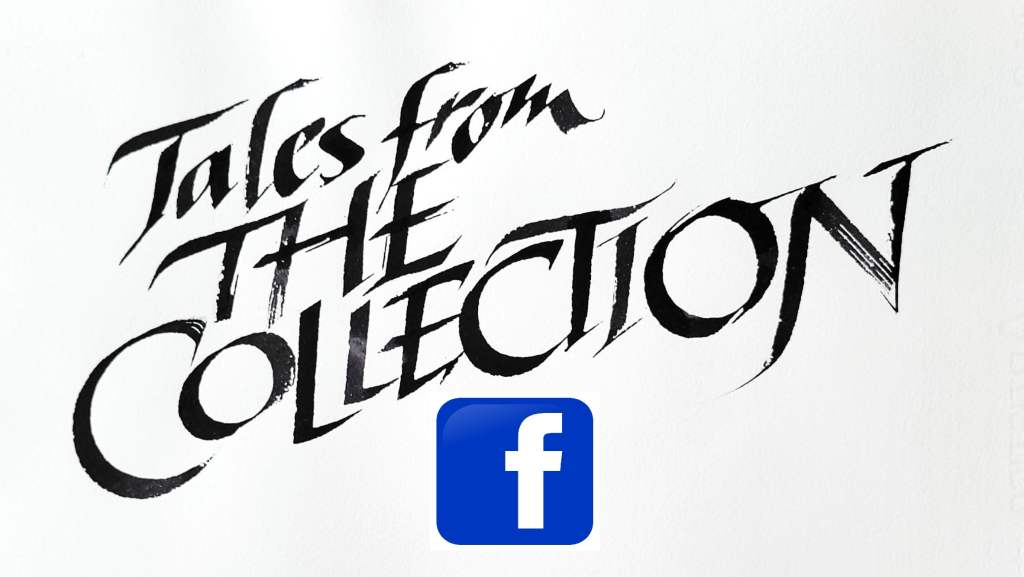 Via Venue Responses From Film/TV Sets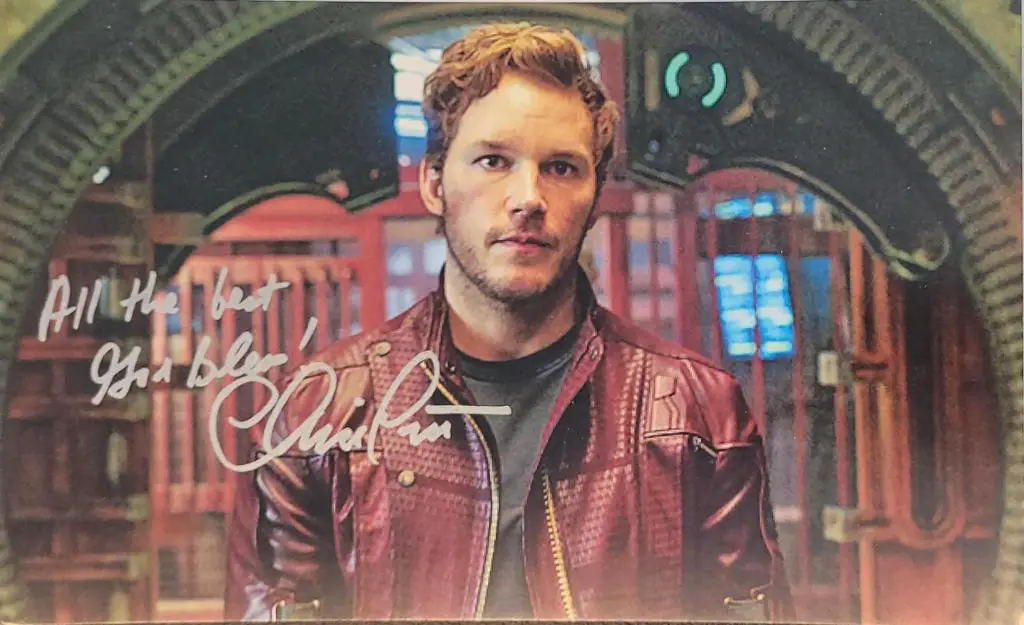 If you plan on writing your favorite celebrity via venue while they are on the set of a film or television production, you may be discouraged by the low response rate. That's why it's best to first check other resources on our fan mail address guide to see if they are known to respond via their agency or other permanent address first. If all else fails, try writing via venue. You may get lucky with a surprising result!
To increase your chances of success, make sure that you are sending your fan mail during the window that production is actually under way. If you send your request during pre-production or after filming has wrapped, you are all but guaranteed to get a return to sender. Also, given the low success rate, it's best to send index cards or inexpensive small format photos. If you send expensive 8×10 prints, the costs will quickly add up and surpass the replacement value of the autographs you will receive.
Successes
| | |
| --- | --- |
| Celebrity's Name | Film / TV Set |
| Alexandra Daddario | "White Lotus" |
| Alyssa Milano* | "Brazen Virtue" |
| Chris Pratt* | "Thor: Love and Thunder" |
| Elizabeth Olsen | "Doctor Strange in the Multiverse of Madness" |
| Elizabeth Tulloch | "Superman & Lois" |
| Grant Gustin | "The Flash" |
| Henry Cavill | "The Witcher" Season 2 |
| Iman Vellani | "Ms. Marvel" |
| Krysten Ritter | "Nightbooks" |
| Lloyd Kaufman | "Toxic Avenger" |
| Patrick Stewart | "Star Trek: Picard" |
| Penelope Cruz | "Madres Paralelas" |
| Tala Ashe | "DC's Legends of Tomorrow" |
* Pre-print or autopen signatures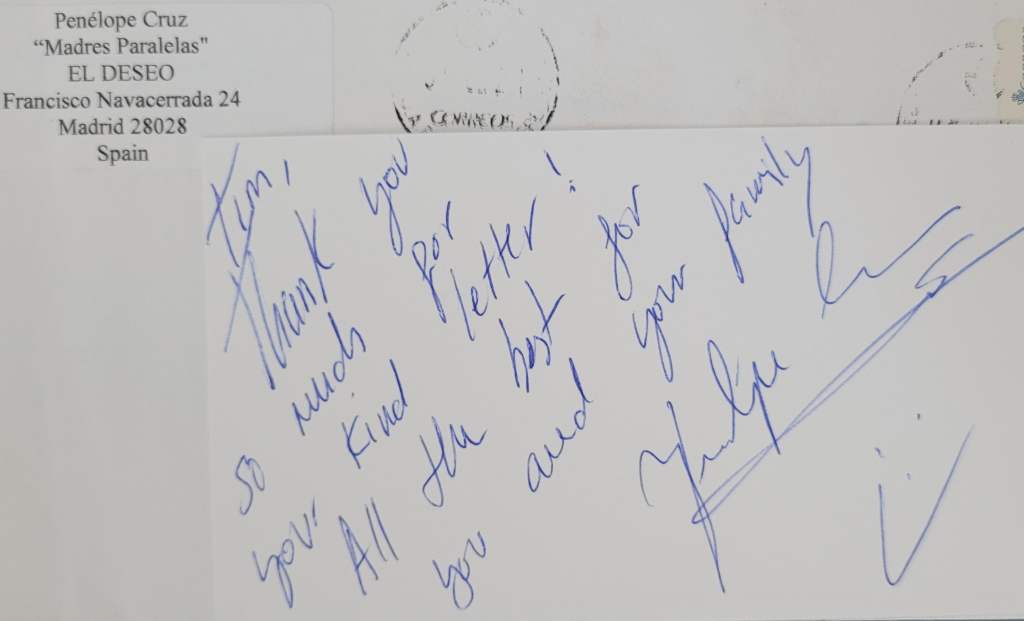 Return to Sender From Film/TV Sets
Whether you are sending fan mail via venue or to another address, you are guaranteed to have your letters returned to sender at one point or another. A return to sender is not a total loss though. The stamped return envelope can still be reused for your next request. To that end, just put your address as both the return address and destination address on your return envelope. That way, it can be used for any TTM autograph request.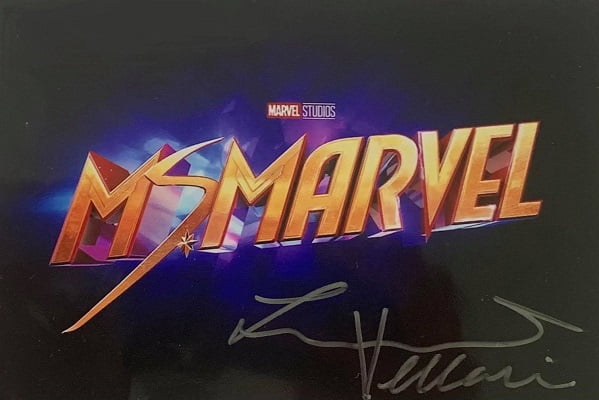 Return to Sender
| | |
| --- | --- |
| Celebrity's Name | Film / TV Set |
| Adam Driver | "Untitled Banach Project" |
| Billie Lourd | "American Horror Story" |
| Brad Pitt | "Panama" |
| Clint Eastwood | "Cry Macho" |
| Dwayne Johnson | "Black Adam" |
| Evangaline Lilly | "Ant-Man & The Wasp" |
| Ewan McGregor | "Halston" |
| Halle Berry | "Moonfall" |
| Isabel Merced | "Father of the Bride" |
| John Boyega | "The Test" |
| Jon Favreau | "The Mandalorian" Season 3 |
| Lady Gaga | "Gucci" |
| Oscar Isaac | "Moon Night" |
| Seth Rogan | "Black Monday" |
| Torrey Devitto | "Chicago Med" |
| Zoe Saldana | "Guardians of the Galaxy vol. 3" |
Finally, there's all of the outstanding fan mail that has yet to be answered. In time, some of these may still come back. Even after production has ended, if you sent your letter on time it may have been forwarded to the actor's agency for them to respond to at a later time. It's never too late to hope for a response as some fan letters may take years to get one.
Pending Via Venue Requests
| | |
| --- | --- |
| Alice Seabright | "Chloe" |
| Caity Lotz | "DC: Legends of Tomorrow" |
| Christian Slater | "Dr. Death" |
| Christina Ricci | "Yellowjackets" |
| Daisy ridley | "The Marsh King's Daughter" |
| Donald Glover | "Atlanta" |
| Dwayne Johnson | "Black Adam" |
| Evangeline Lilly | "Ant-Man and the Wasp: Quantumania" |
| Ewan McGregor | "Obi-Wan Kenobi" |
| Helena Bonham Carter | "The Cleaner" |
| James Cameron | "True Lies" |
| Jason Momoa | "Slumberland" |
| Kevin Feige | "She-Hulk" |
| Lady Gaga | "Gucci" |
| Lateef Crowder | "The Mandalorian" Season 3 |
| Lena Heady | "Gypsy Moon" |
| Leonardo DiCaprio | "Killers of the Flower Moon" |
| Mads Mikkelson | "Indiana Jones 5" |
| Michael Dowse | "8-Bit Christmas" |
| Neve Campbell | "The Lincoln Lawyer" |
| Nicole Kidman | "Roar" |
| Olivia Cooke | "House of the Dragon" |
| Owen Wilson | "Paint" |
| Rose Byrne | "Physical" |
| Sadie Sink | "Stranger Things" Season 4 |
| Samuel L. Jackson | "The Last Day of Ptolemy Grey" |
| Sebastian Stan | "Pam & Tommy" |
| Sigourney Weaver | "Call Jane" |
| Taika Waititi | "Our Flag Means Death" |
| Tatiana Maslany | "She-Hulk" |
| Woody Harrelson | "The White House Plumbers" |
| Zoe Saldana | "From Scratch" |
Multiple letters were sent to different actors via the same set. Duplicate productions were removed.
TikToks: Via Venue Responses From Film Sets
Patrick Stewart
Iman Vellani
Henry Cavill
Lloyd Kaufman
Black-ish
Elizabeth Olsen
More Stories You'll Love
Does sending fan mail via venue work?
Sending fan mail via venue can be the only way to get replies from some celebrities that are hard to contact.