Dragon Spirit got its US release on June 20, 1987. However, the Nintendo Entertainment System (NES) port, titled Dragon Spirit: The New Legend, didn't come out until 1989. The game is a fantasy-themed vertical-scrolling shooter developed and published by Namco. The players controls the dragon Amul and must complete each of the game's nine areas to rescue the princess Alicia from the demon Zawell.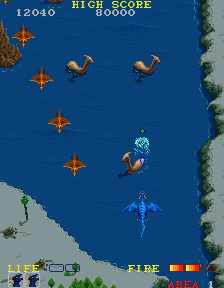 The game's home console release was promoted both in the the U.S. and Japan by way of TV commercials featuring dragon puppets. The Dragon Spirit commercial for the PC Engine version of the game features a grey dragon flying over head.
For the American commercial, the dragon was created by Lynette Eklund. She is an accomplished puppeteer with a long filmography thanks to her special effects work on movies like Jurassic Park III. Lynette had the following to say about her work on the puppet.
Despite the low resolution, it appears that the dragon from the Japanese commercial does not match Lynette's, but does appear to be quite similar. It is also missing the amoeba and anemone she described as having made for the commercial. Furthermore, it's not a Nintendo commercial, so it would seem that the commercial she worked on is another one entirely. However, the Japanese PC Engine one should give you a good idea of what the Nintendo commercial might have looked like.
Note: Originally posted on Retro Informer