October was a great month for autograph collecting! There were some great through-the-mail (TTM) successes with autographs from Star Trek: Voyager's Robert Picardo and the cast of Good Trouble to name a few. However, for every TTM autograph, I got this month, I probably got two in person, either on the street or at Big Texas Comic Con from actors like Giancarlo Esposito and Tara Strong. A few friends and I also found our way to the set of Fear The Walking Dead near Austin, TX where we met Alexa Nisenson. There were also a few purchases that came in from Taylor Swift and Star Wars: Ronin author Emma Mieko Candon, as well as one failure from Lily Allen who declined to sign autographs while making her West End debut. Enjoy!
Through The Mail (TTM) Autographs
Robert Picardo
After Robert Picardo posted on his Twitter account that he would "gladly offer a free autographed photo to any unvaccinated Star Trek fan who gets a vaccination in the next 7 days", I decided to reach out to him. I explained that I was already vaccinated, but requested an autograph anyway. I also thanked him for helping to encourage others to get vaccinated. It's very important that those in the public eye use their influence for the social good as Mr. Picardo did in this instance and telling him that was as much motivation for me to write as was the autograph itself.

Fast forward two months later and I received a reply from him in the mail. He sent both of my index cards back signed and included a small note thanking me for the kind words.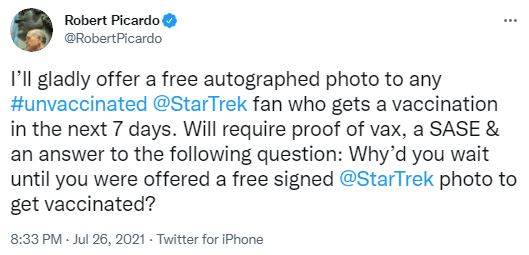 Good Trouble Cast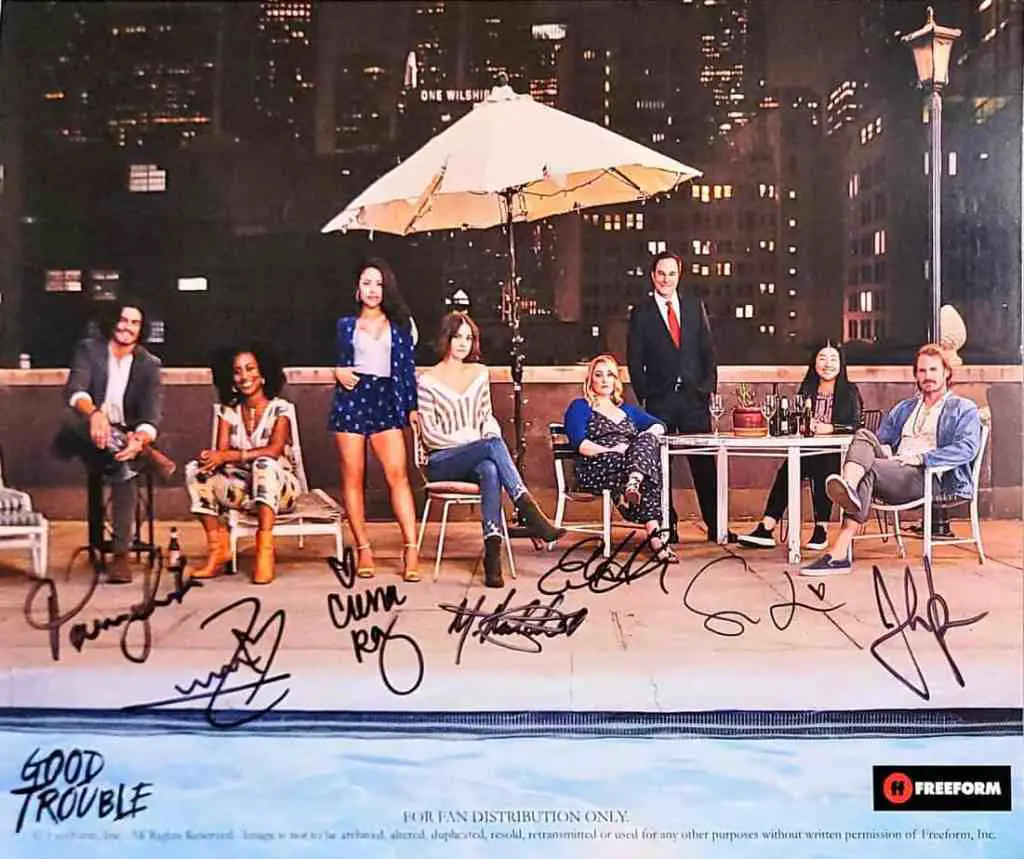 I sent an email to the "Good Trouble" production office and within only a week or two, received this cast-signed photo!

"Good Trouble" is a show on the Freedom network that follows characters Callie and Mariana as they embark on the next adventure in their lives in Los Angeles. Mariana tackles the male-dominated world of tech, and Callie faces the harsh realities of the legal system as she clerks for a federal judge. After moving to The Coterie in downtown Los Angeles, Callie and Mariana realize that living on their own is not all it's cracked up to be. Although they have new neighbors, new romances, and new challenges, the sisters must rely on each other to navigate the City of Angels.
Lynette Eklund & Terri Hardin
I wrote to Lynette Eklund for her role on Star Tours. She created the Ackbar puppet used in the Tokyo Disneyland version of the ride. I am currently trying to get autographs from all of the cast and crew that worked on the ride and the ride film which includes both Disney Imagineers and ILM employees and even some more contributors beyond that. Ultimately, I'd like to frame the autographs I've collected along with a poster from the ride.

Lynette also did some work for Nintendo which you can check out at Retro Informer.

I contacted Lynette and Terri Hardin around the same time to request their autographs for my Star Tours project. They both know each other as the Ackbar puppet was a joint project between them and after all these years they actually just wrote a book together called Giggling Pumpkins. At the original ride in California, she is credited with designing the "Vomit Seat". It was a redesigned seat for the ride, better equipped to handle, well, vomit.

Terri also requested a small fee for signing which I was happy to pay.
Tracy Kidder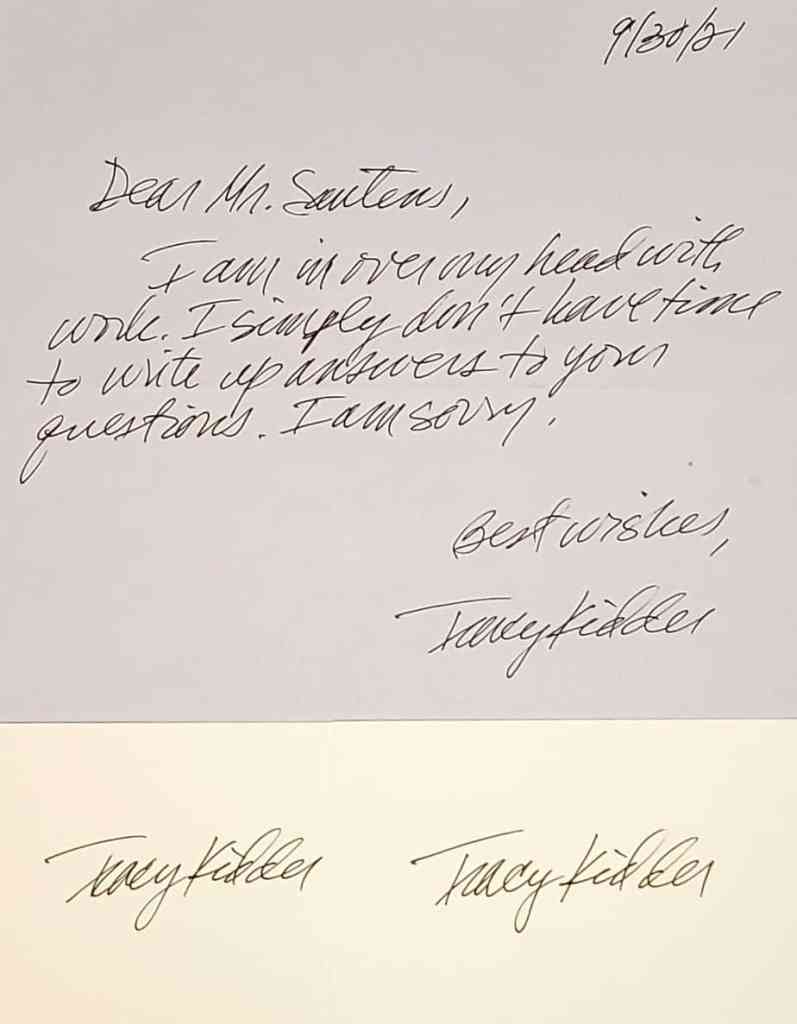 John Tracy Kidder is an American writer of nonfiction books. He received the Pulitzer Prize for his book The Soul of a New Machine, about the creation of a new computer at Data General Corporation. His book was one of the inspirations for one of my favorite shows, AMC's Halt and Catch Fire.
Jay Machado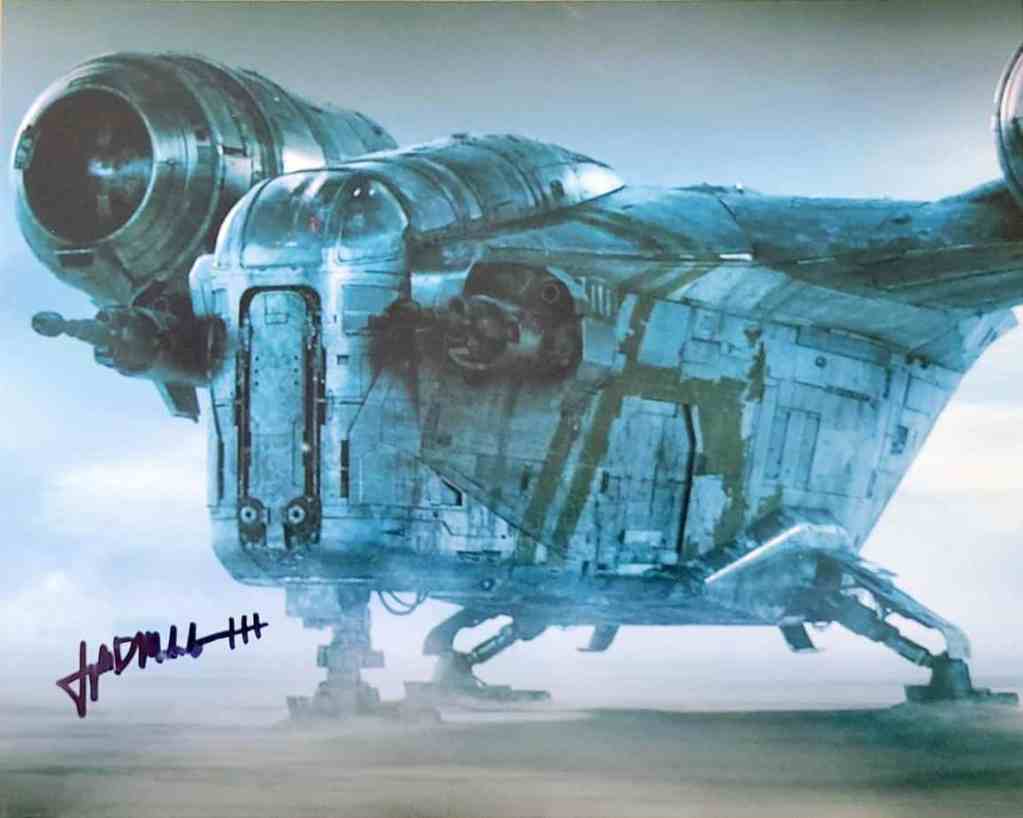 Jay is a Model Supervisor at Industrial Light and Magic, specializing in hard surface modeling, texture painting and look development. He has worked at ILM for seven years, and has nine years of experience as a modeler. His credits include The Mandalorian, Millennium Falcon: Smuggler's Run, Rogue One, Star Wars: The Force Awakens, and Transformers: Age of Extinction. In addition to his work on feature films, Jay has worked on music videos, commercials, AAA games, and amusement park rides. He is also exploring physically based rendering, VR, game development, and 3D printing outside of work. Be sure to check out the interview I did with him and other Star Wars VFX artists.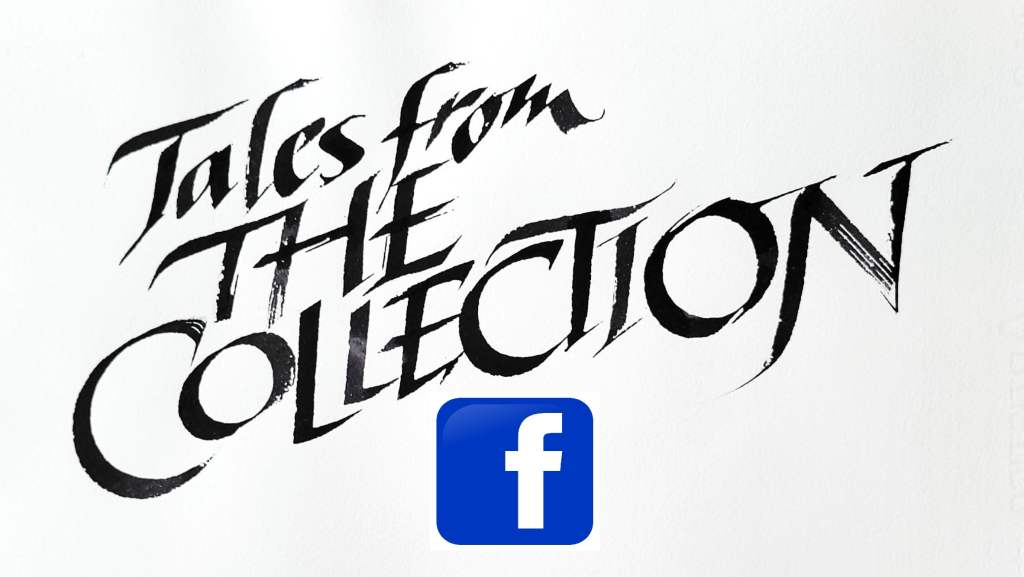 Bob Singer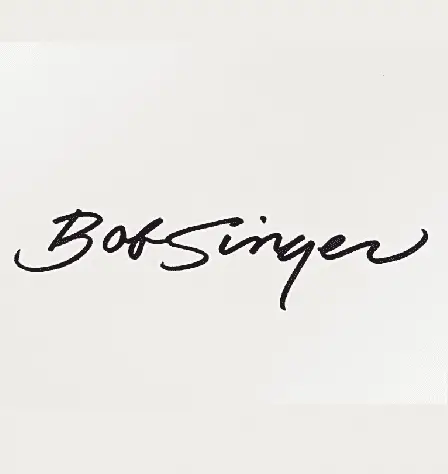 I wrote to Mr. Singer due to his work with Hanna-Barbera on classic animated series like Godzilla and Pac-Man. The latter was the first of its kind to take a video game property and turn it into a TV series. It started a larger trend that would grow in the 80's and really hit its peak in the 90's. In addition to sending a few index cards to sign, I also sent a Q&A with 5 questions of which he only provided the following answer for one of them.
Lily Allen
This month, like every other collector I've seen who wrote to Lily Allen during her debut appearance on the West End, I got a note saying that she was unable to sign due to the high volume of requests she received. It's a bummer considering it seems to be a pretty poor excuse considering she seemingly replied to no one at all. That's the way it goes sometimes though.

In-Person Autographs / Purchases
Giancarlo Esposito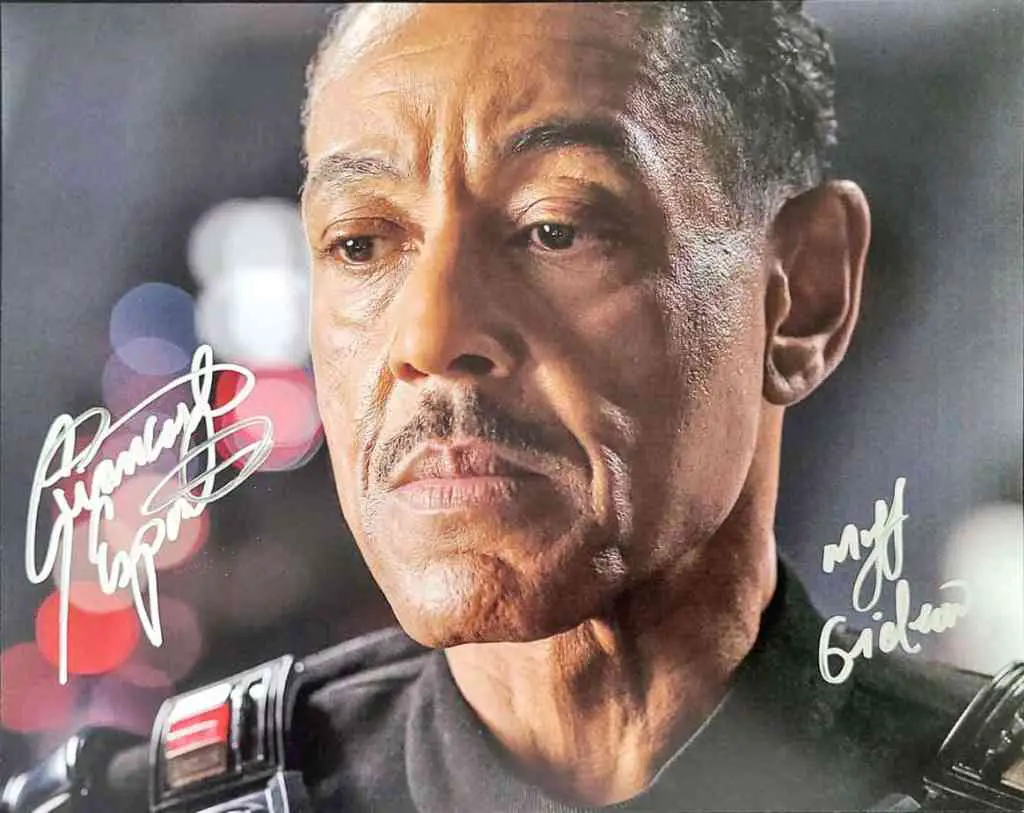 I met Giancarlo Esposito on 10 October at Big Texas Comic Con here in San Antonio, Texas. I brought him a poster for Far Cry 6 which had only come out three days prior. After pulling out my poster for him to sign, we had some small talk about the game and he mentioned how he had been having fun doing the promotional videos. I also asked him about doing the voice recording and he said he went up to the Ubisoft HQ in Toronto, Canada to record his lines. He mentioned that it had not yet been decorated for the game's launch at that point, but they did some pretty amazing Far Cry 6 inspired set building inside the Ubisoft HQ.

I also helped a friend get a few items signed, including the Moff Gideon shot from The Mandalorian.
I received these signed index cards from Giancarlo back in January after writing him TTM. They match up nicely with his in-person autograph.

Tara Strong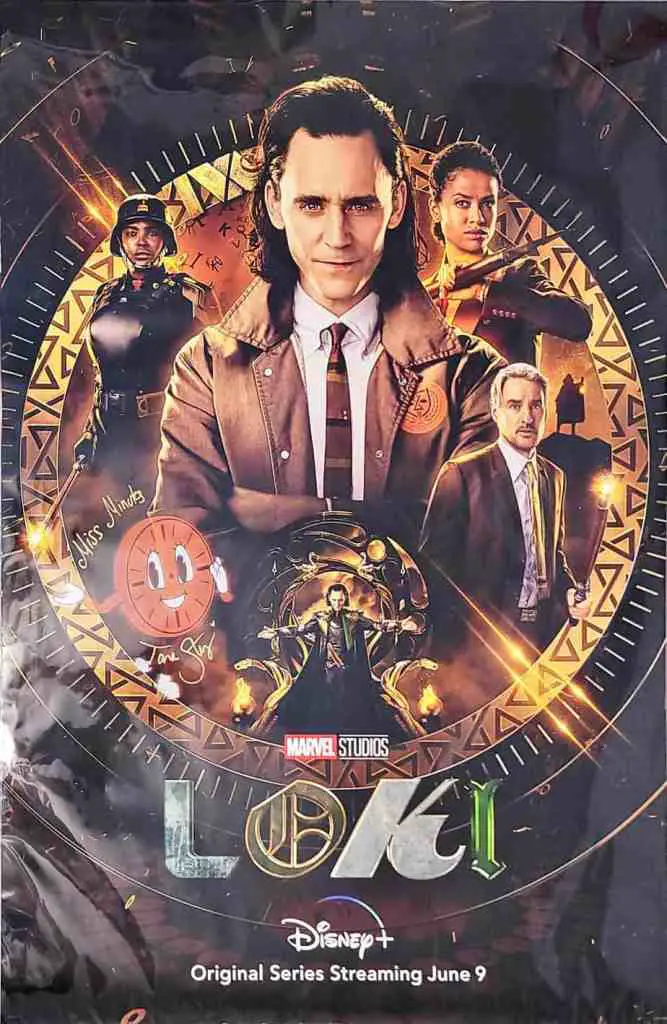 Tara was the last guest I saw at Big Texas Comic Con. I almost missed her as by the time I got to her table, they were packing up her table photos as she had a flight to catch. As she was in a rush, I didn't have too much time to talk, but she signed her name under Miss Minutes and inscribed the character's name above it. I was supposed to have Owen Wilson on it already, but he canceled his appearance at Celebrity Fan Fest which was scheduled for July.
Emma Mieko Candon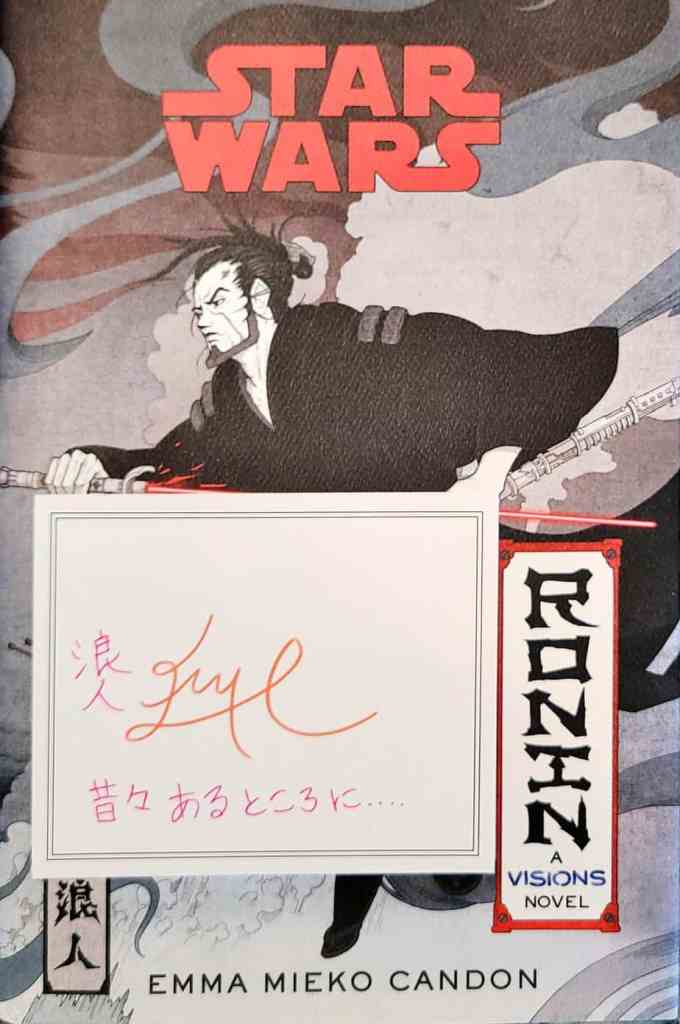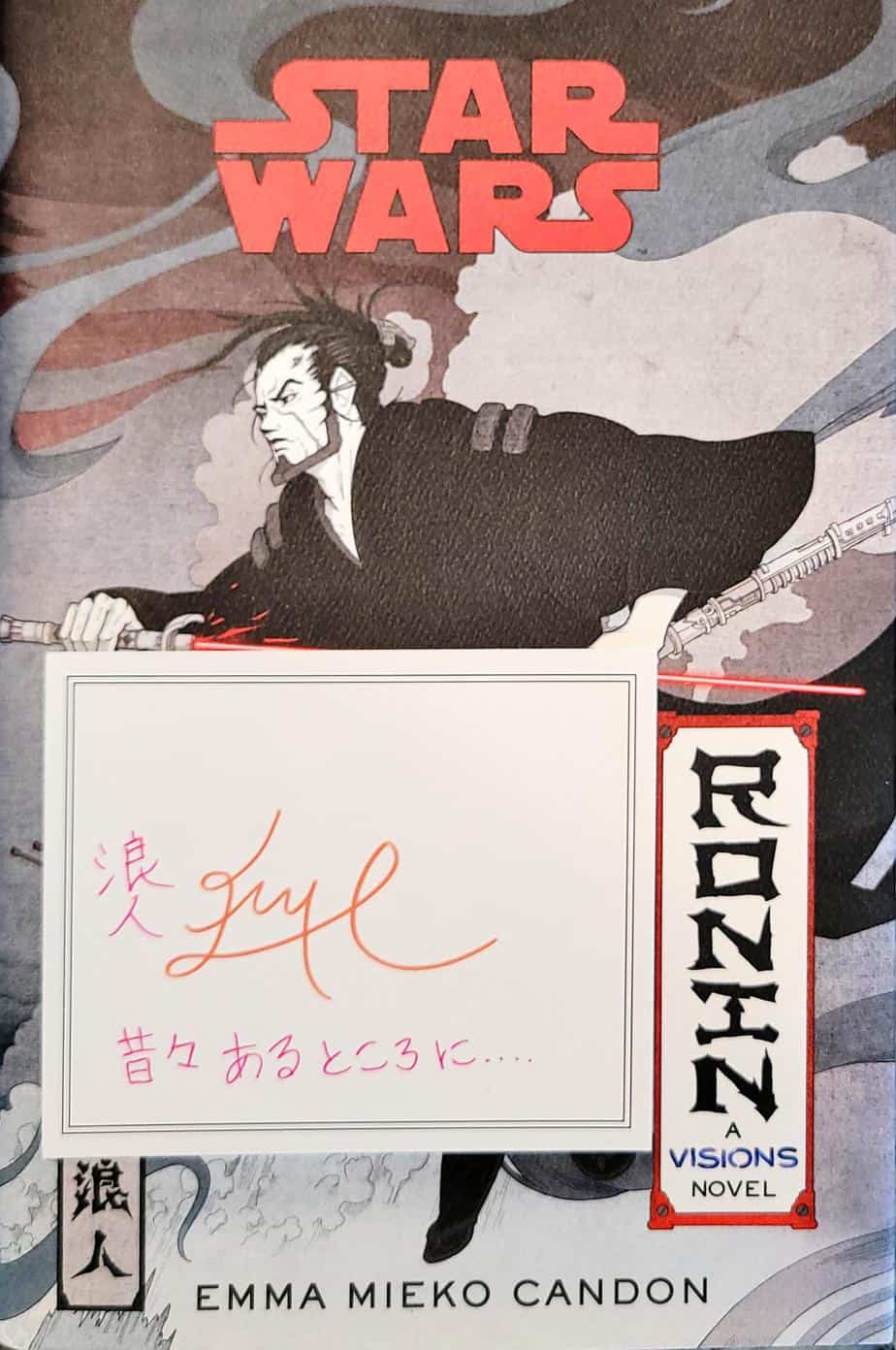 After seeing the new mini-series Star Wars: Visions that debuted last month on Disney+ it was clear that the first episode "The Duel" was the best by far. Ronin, a new novel by first-time author Emma Mieko Candon expands on the 13-minute episode, flushing the story out into a 331-page novel.
The edition that I purchased was signed by Emma. It came with a signed bookplate both in kanji on the left-hand side and with her first name in the center. At the bottom, she also added the following inscription "昔々あるところに". It's a common introduction to Japanese fairy tales which translates to "Once upon a time, in a certain place".
Scott Hanna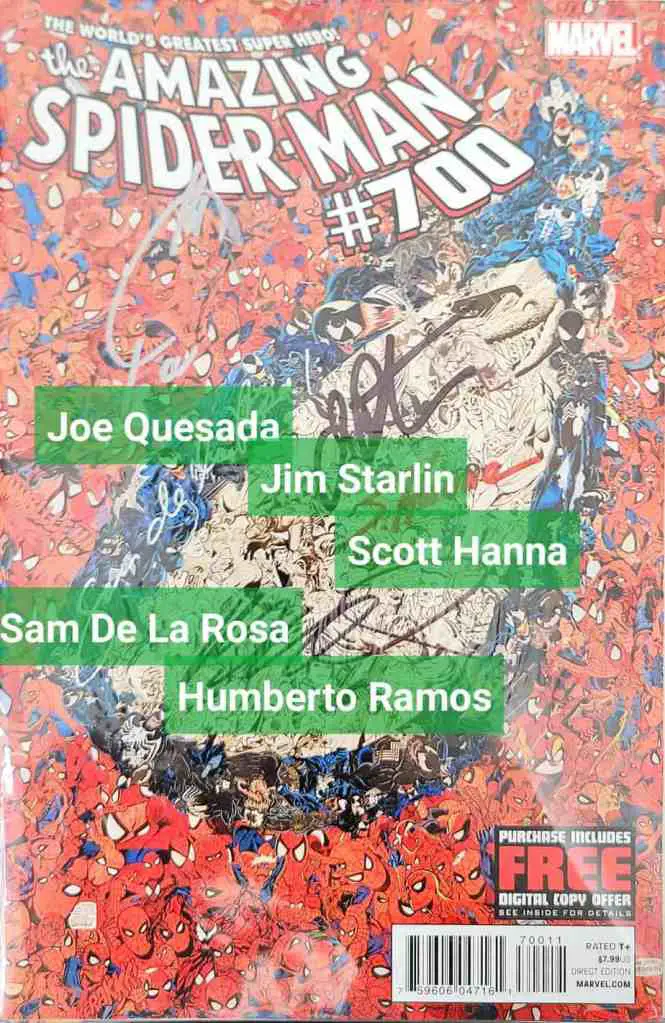 Scott Hanna is an inker for Marvel Comics. I got him on a few books at Big Texas Comic Con. He charged $5 per signature.
Jim Starlin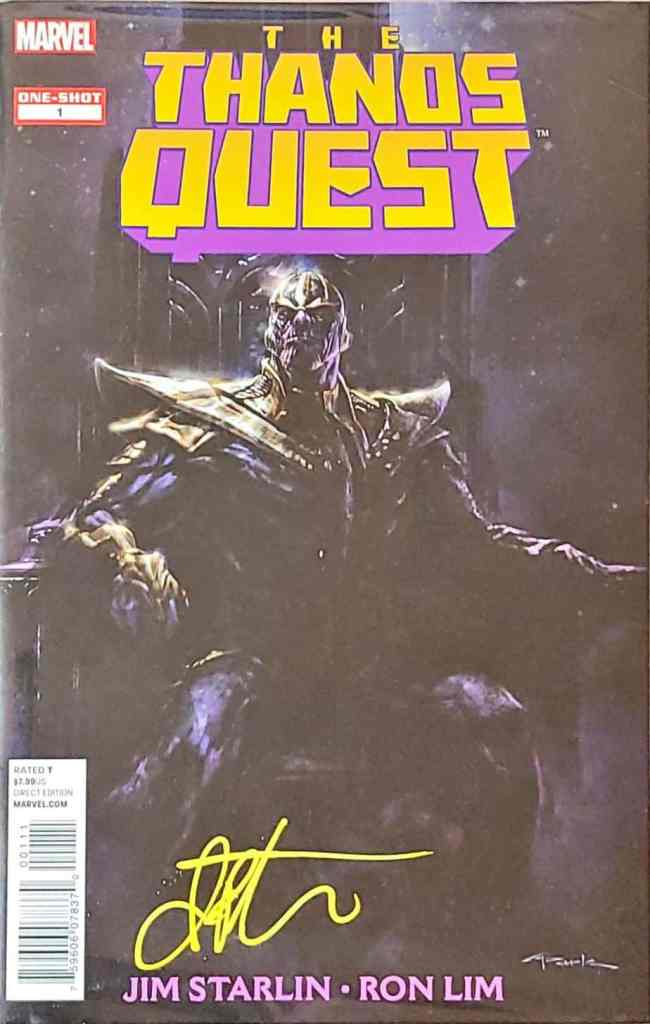 Starlin is an American comic book writer and artist, whose career dates back to the early 1970s. Starlin is best known for "cosmic" tales and space opera; for revamping the Marvel Comics characters Captain Marvel and Adam Warlock; and for creating or co-creating the characters Thanos, Drax the Destroyer, Gamora, and Shang-Chi, Master of Kung Fu. He signed some of my comics at Big Texas Comic Con and charged $10 each.
Samantha Kelly and Kenny James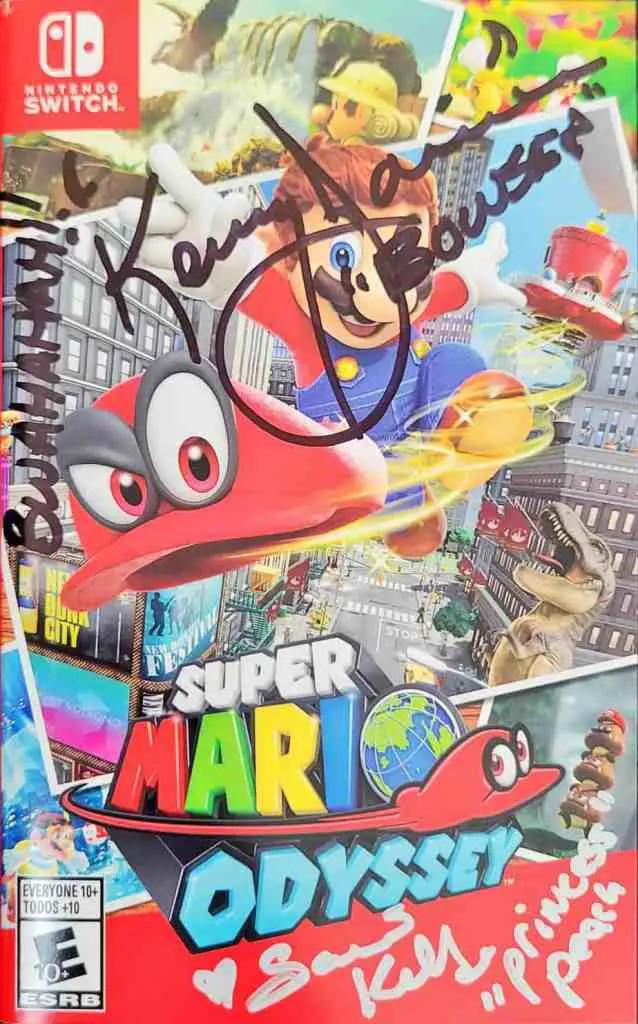 Samantha Kelly and Kenny James, the voices of Peach and Bowser both signed my copy of Super Mario Odyssey and answered some of my questions about the upcoming Super Mario movie which I posted about on Retro Informer.
Alexa Nisenson
The TikTok pretty much says it all, but a few friends and I went out searching for a production near Austin, TX and found the set of Fear The Walking Dead by coincidence. We got an autograph from Alexa Nisenson who stars on the show as Charlie. I spotted her on her between takes and asked if she'd be willing to sign some autographs for us. After clearing it with someone, she obliged and signed two for each of us.
Taylor Swift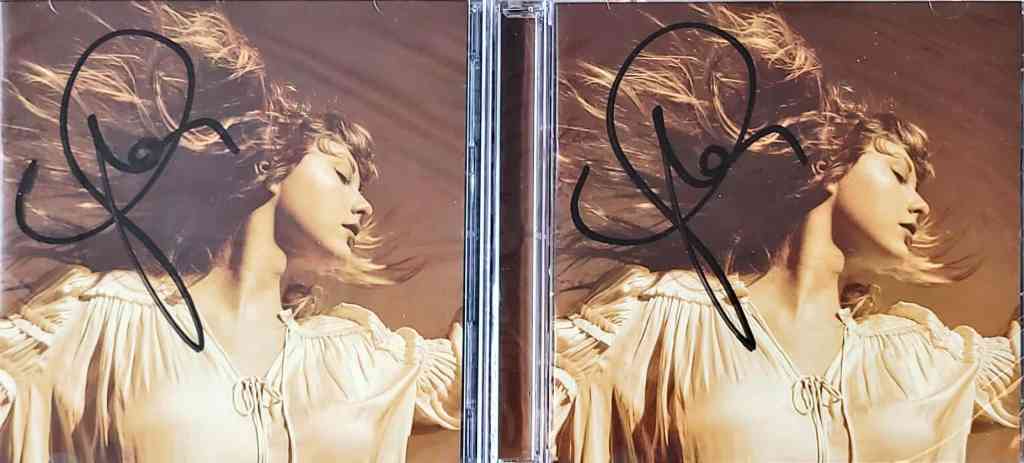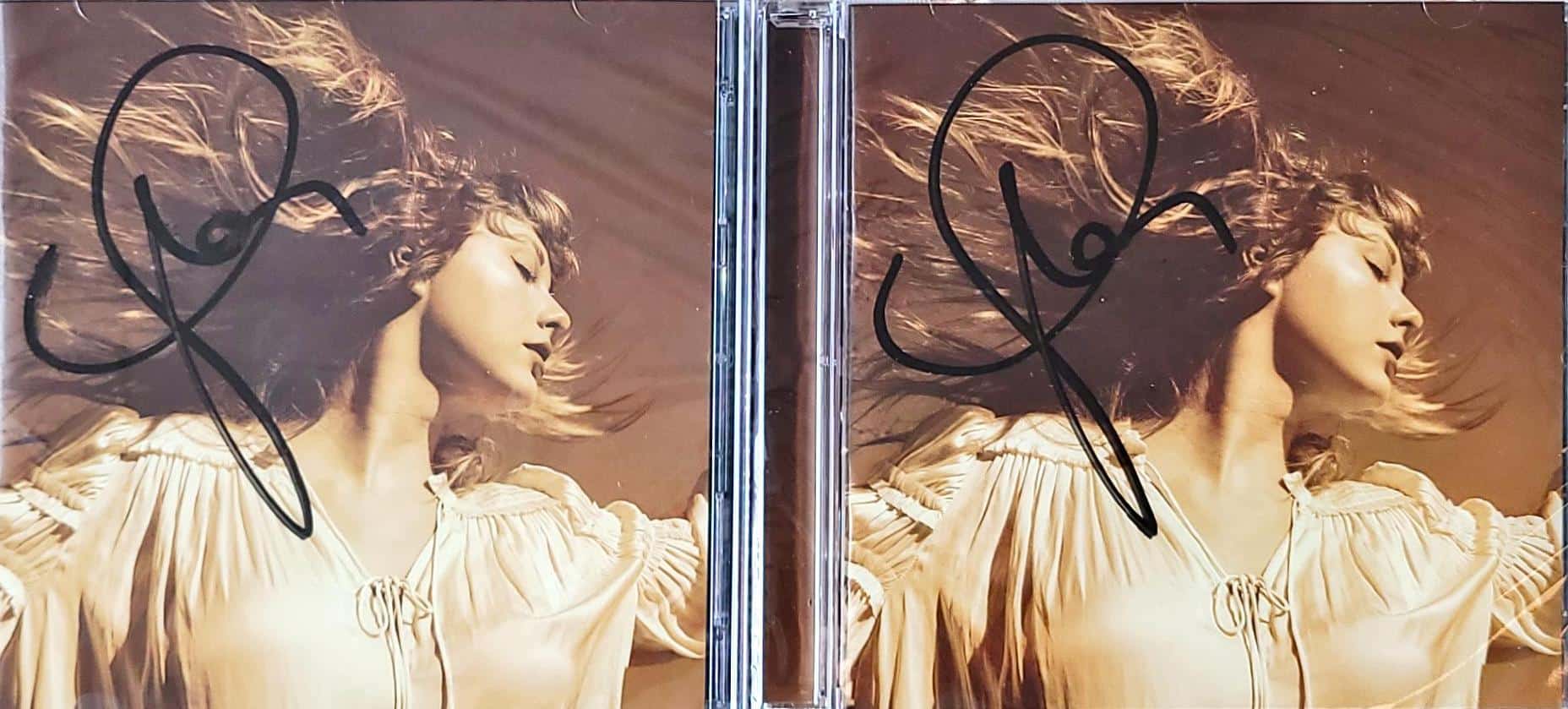 Taylor Swift is one of the most prominent artists who sell signed merch. True to form, Taylor offered her fans a chance to grab signed CDs, opening up sales for just a few days. While she has also dabbled in digital autographs, these physical CDs are 100% authentic.
Zoltan Boros and Gabor Szikszai
These cards came courtesy of my friend Joel, a fellow collector of signed Star Wars Galaxy cards. The Galaxy series began in 1993, but new sets are still being released by Topps, including 2021's Star Wars Galaxy Chrome.
More Stories By Tales From The Collection