Love & Death is an upcoming HBO series about the true story of Wylie, TX, housewife Candy Montgomery's murder of Betty Gore in 1980. The series revolves around two churchgoing couples enjoying small-town family life in Texas—until somebody picks up an axe. The couples are Candy (Elizabeth Olsen) and Pat —Montgomery (Patrick Fugit); and Betty (Lily Rabe) and Allan Gore (Jesse Plemons). Nicole Kidman is also involved as a producer through her production company Blossom Films.
Love and Death Location Scouting
According to director Lesli Linka Glatter's Twitter account, scouting for Love & Death began in Texas in May 2021.By July, she again posted about scouting for the show, this time posting a picture of a wall spray-painted with the words "Jesus Loves You More!", a reference to the famous I love you so much mural in Austin. The unique graffiti on the wall identified the building as Christ Lutheran Church in Austin.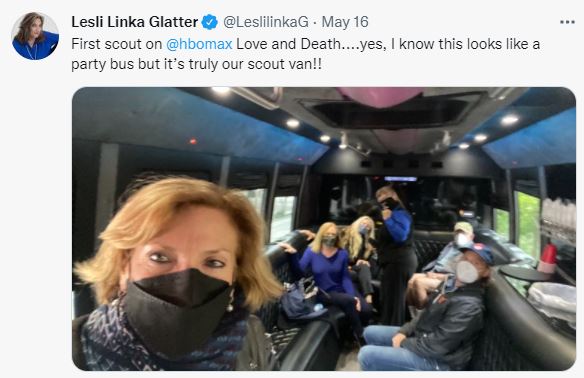 Scouted Filming Location: Christ Lutheran Church, Austin, TX
Love and Death Filming Locations
Filming Location: Sound Stage in Kyle, TX
Much of the filming for Love and Death was conducted on a soundstage where homes and other sets were built indoors. Period-specific props and set dressing make everything look like a neighborhood plucked right out of the 70's.
Much of the costumes for the show were sourced locally from thrift stores while other items were acquired from a vintage shop in Seguin called Funky Monkey Vintage Venue.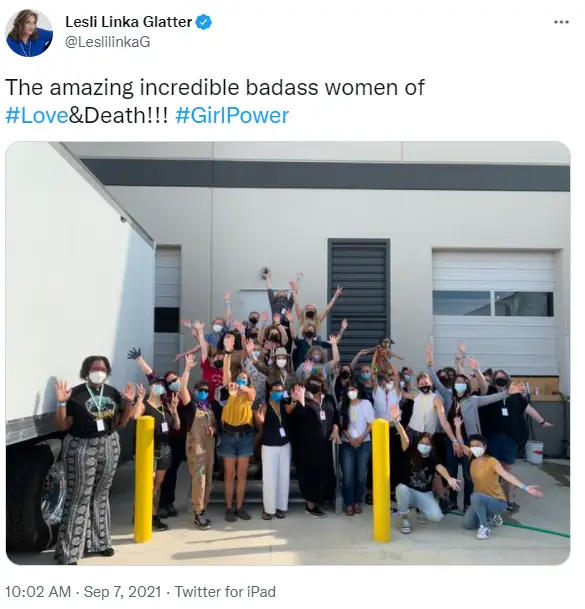 Love and Death's Vintage Car Holding Lot in Kyle, TX
Next to the soundstage used for Love & Death was a holding lot where all of the vintage cars were stored between shoots. Period accurate news vans, buses, and police vehicles could all be seen as they waited to be featured in their next scene.
Filming Location: Hutto Lutheran Church
Filming for Love and Death began on September 27th. However, production for the show did not begin at the Christ Lutheran Church that was previously scouted in Austin by Glatter. It ultimately wasn't chosen for filming. Rather, filming began at the Hutto Lutheran Church and lasted there until October 1st.
Filming Location: Undisclosed Gym, Austin, TX
According to Mike Williams who did the show's lighting, the volleyball scenes were filmed in Austin during the first week of production. They likely depicted Betty Montgomery and Allan Gore's initial encounter which is known to have happened at a church volleyball game. On October 3rd, Instagram user @elizabetholsenbrasil released four shots from the set featuring Elizabeth Olsen, Krysten Ritter, and Jesse Plemons.
Filming Location: Lil Charlie's
On October 5th, the crew was filming in Lockhart, TX at a dinner called Lil Charlie's. According to local residents, Lil Charlie's was given a new coat of paint for filming and the set was dressed with plants to fill in the location.
Later on 14 October, HBO Max's Twitter account shared a photo that was shot at Lil Charlie's. It featured Elizabeth Olsen sitting at a table in the restaurant's outdoor seating area.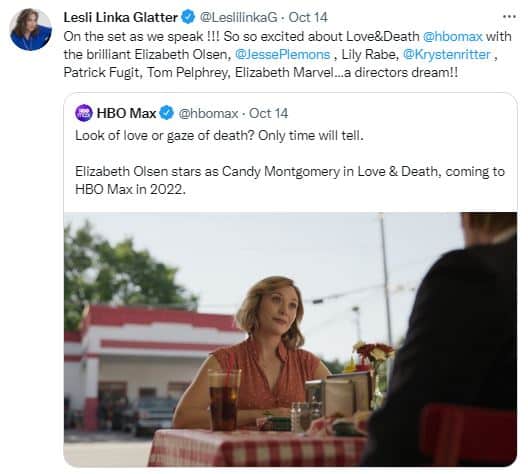 Filming Location: Aristocrat Lounge in Austin, TX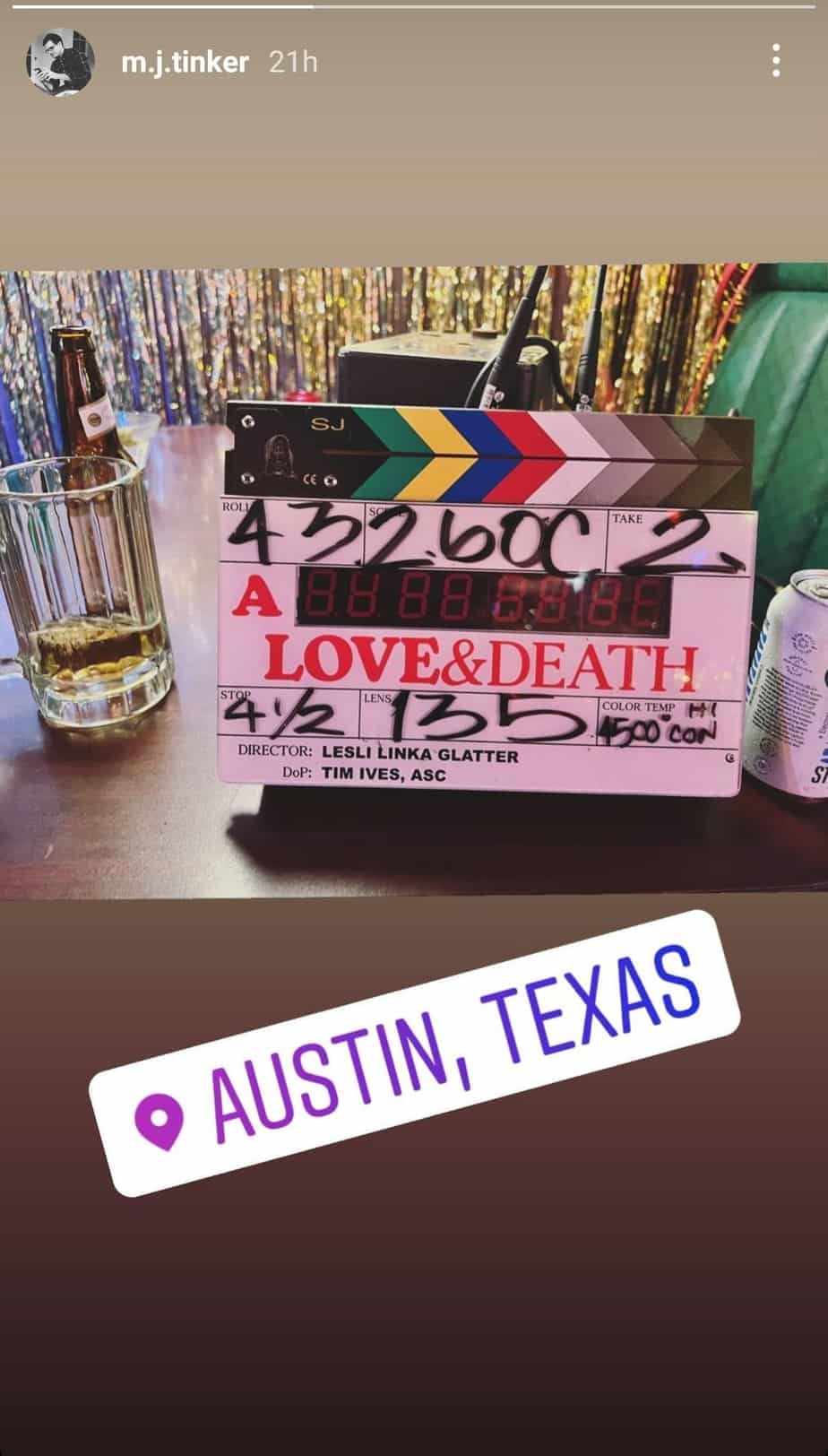 On 14 October, the Love and Death cast and crew headed up to Austin for filming at the Aristocrat Lounge in Austin, Texas.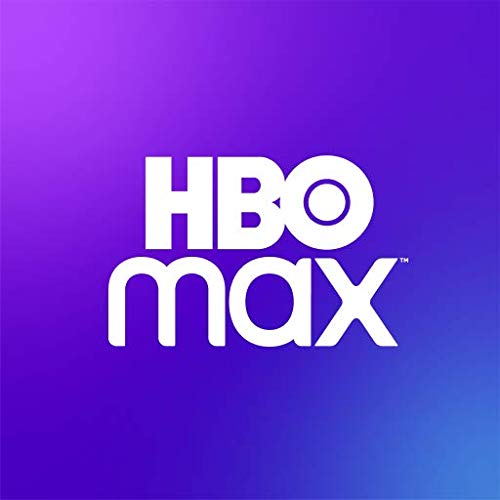 Filming Location: St Peter's Church of Coupland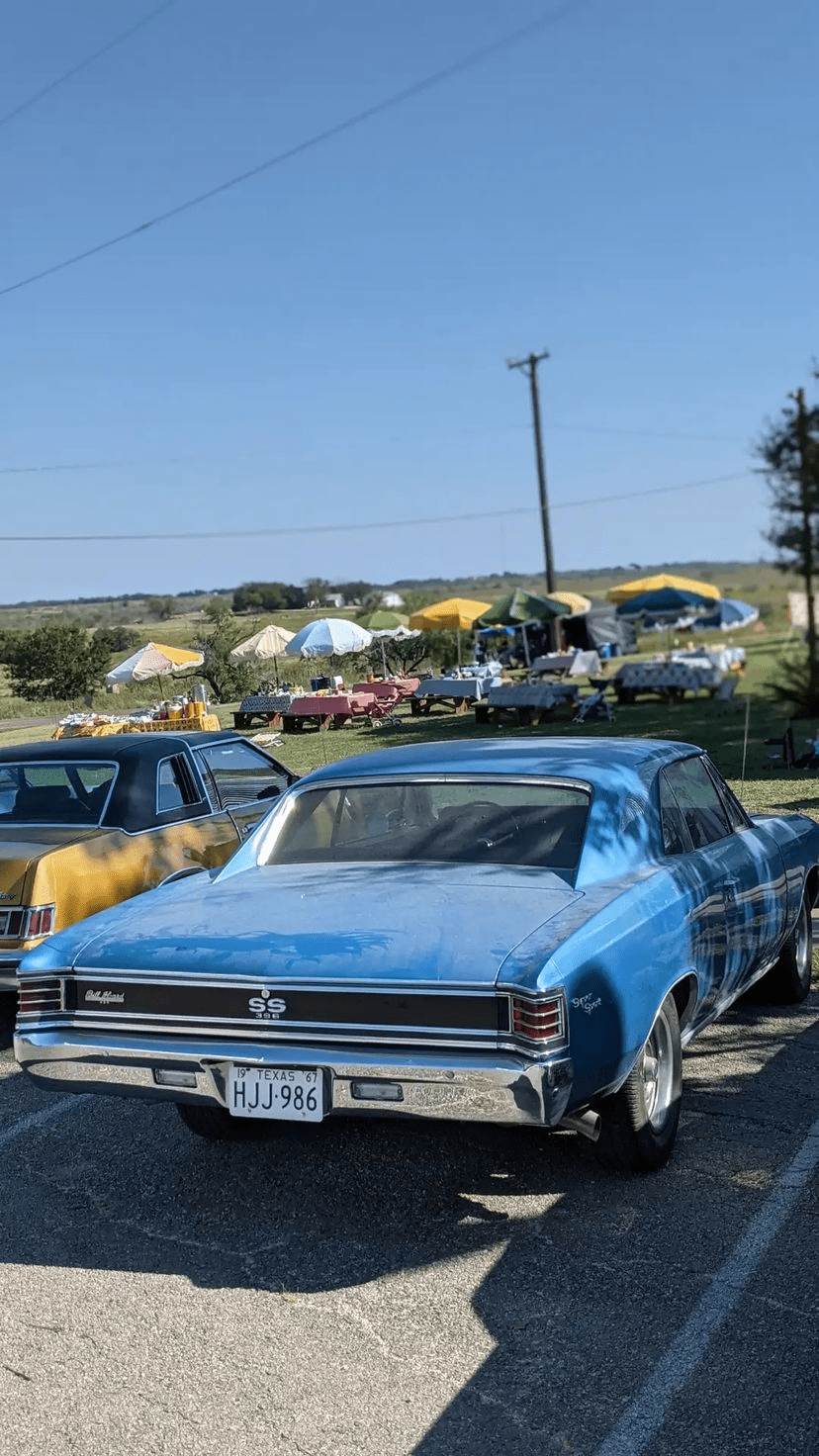 Several days of filming were done at St Peter's Church of Coupland including the choir scene depicted in early photos released by HBO Max as well as various shots done outside of the church as well. On 19 October, the Coupland Civic Organization put out an advisory that there would be a traffic disruption on CR 458 where filming was done in part by drone.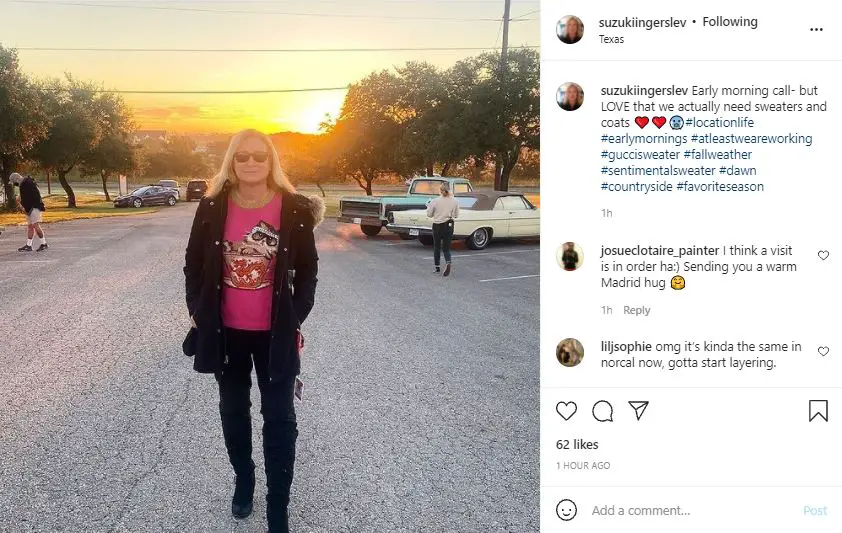 Filming Location: The Old Coupland Inn & Dancehall
Next door to St Peter's Church of Coupland is The Old Coupland Inn and Dancehall. It's one of the few things to do in Coupland and perhaps the main source of fun in the whole town. Filming was done here around the same time as it was at St Peter's Church of Coupland.
Filming Location: Austin State Hospital
On 16 December, an Austin State Hospital worker spotted the Love and Death production at the hospital. However, he mistakenly identified the production for The Walking Dead, which also films in the area. If you look closely enough though, the yellow Love and Death signs with the heart and skull logo can be seen from the street and clearly reveal the production for what it is.
Filming Location: Hyde Park Christian Church
Several scenes were filmed at the Hyde Park Christian Church in Austin. In Love & Death, it was made to look as though it was constructed right next to a smaller Lutheran church, but in reality, they aren't even in the same city!
Filming Location: Inn of the Hills, Kerrville
According to the Kerr County lead, Love and Death was filming at Inn of the Hills on December 1st. They also were spotted filming at the Y.O. Ranch Hotel. This served as the set for Marriage Encounter.
Filming Location: University Inn, San Marcos, TX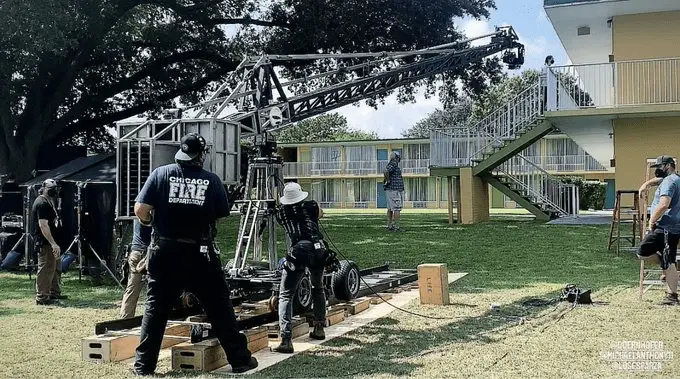 Production designer Suzuki Ingerslev posted these photos from San Marcos of University Inn. It was likely chosen for not only its vintage appearance but for the fact that the building was unoccupied as renovations were underway at the time of filming.
Filming Location: Queenswood Drive, Austin TX
Filming for Love and Death took place on Austin's Queenswood Drive from December 6th through the 10th. The location was used for exterior shots of Betty and Alan Gore's home.
Filming Location: Westslope Drive, Austin TX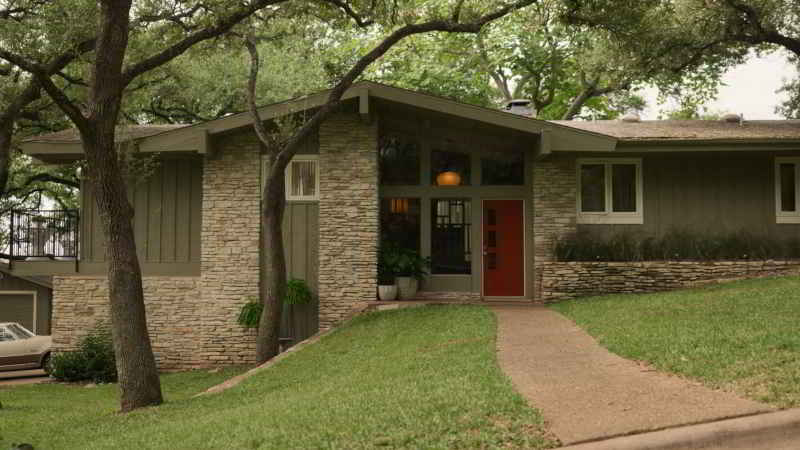 The Montgomery residence can be found at 5804 Westslope Drive in Austin, serving as a filming location for the HBO series Love & Death. Constructed in 1963, this Mid-century modern styled house features four bedrooms and covers roughly 2,500 square feet. It is estimated to be worth around $1,100,000 USD in the market.
Filming Location: La Grange Bridge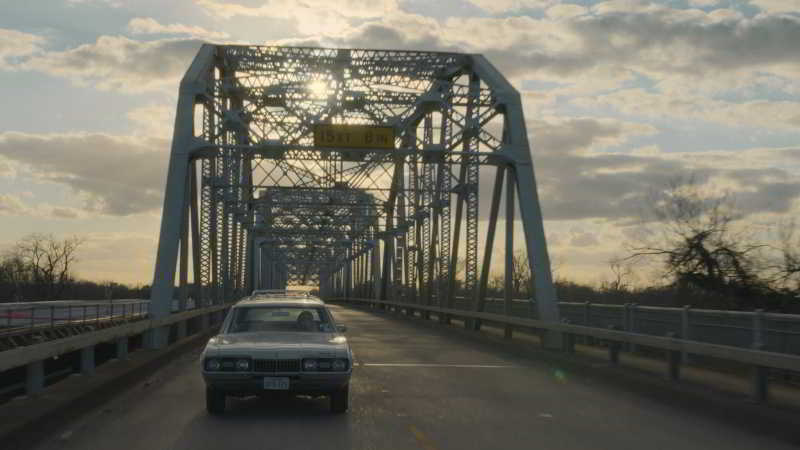 The La Grange Bridge, a metal structure, spans the Colorado River in Fayette County.
Filming Location: Seguin, TX (Various Locations)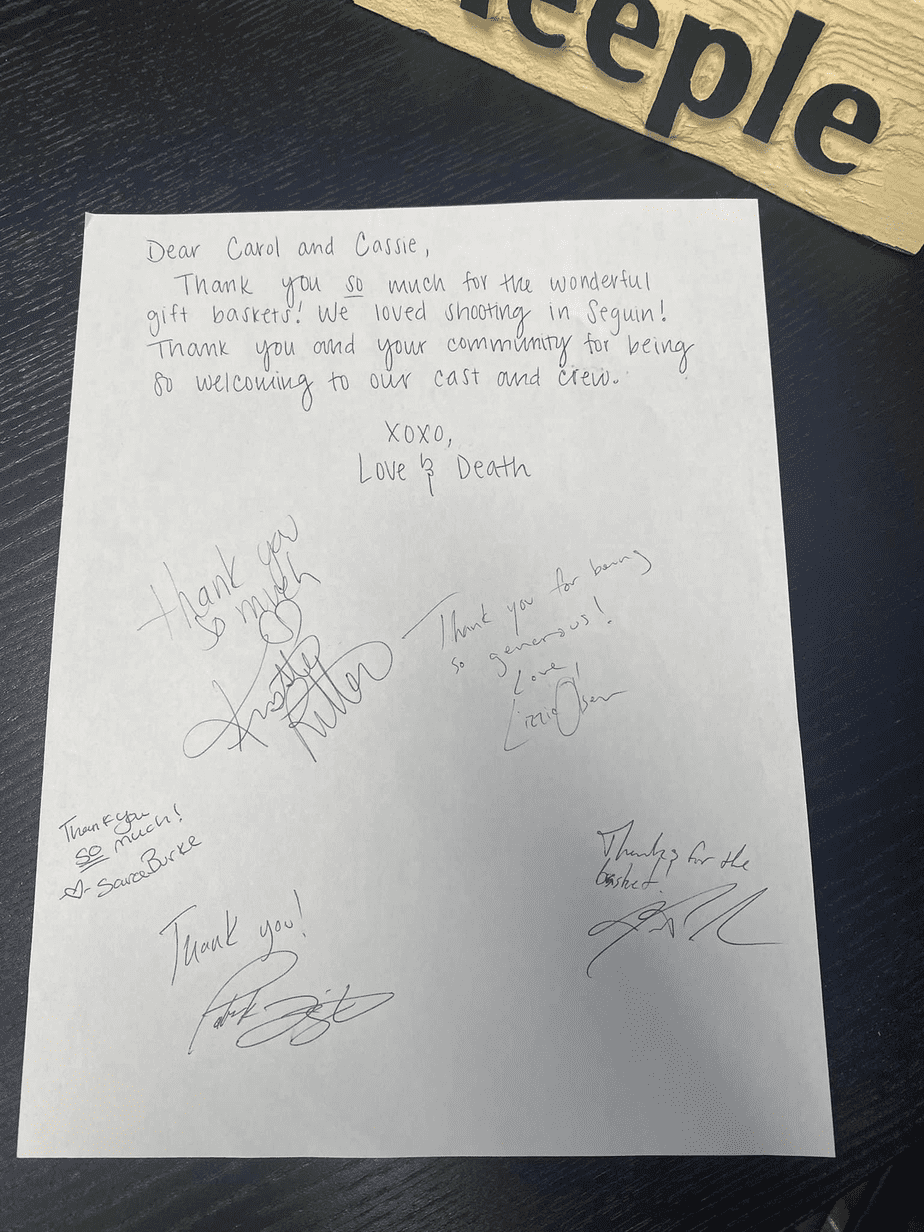 On 15 December, Elizabeth Olsen was spotted in Seguin, where after filming was done for the day on the set of Love and Death, Olsen, Krysten Ritter, and other cast members signed a note for the food service workers who were there feeding the cast and crew.
According to Seguin Today, filming for the show took place in the city on December 14th and 15th. Love and Death utilized five locations in Seguin for filming: Arlan's, ZDT's Amusement Park, Schultz Saloon, Palace Theater, and Saegert Middle School.
Arlan's Market
Grocery store scenes were filmed at Arlan's Market on 14 December.
1\
ZDT's Amusement Park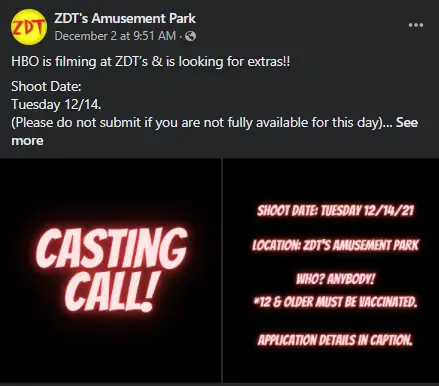 On 14 December, Elizabeth Olsen was spotted filming on the carousel for Love and Death.
Schultz Saloon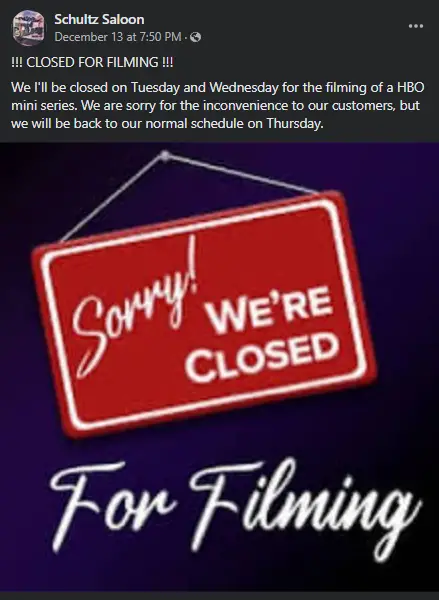 Palace Theatre
The Palace Theater was used to shoot scenes of the show's characters attending a screening of Grease (1978).
Saegert Middle School
On December 15th, the Seagert Campus was transformed into Plainview Elementary School for a portion of the HBO Max Limited Series.
Filming Location: Omni Hotel at South Park, Austin
According to The Austin Lighthouse for the Blind, the organization hosted the HBO production and served as the crew's base camp while they were filming in Austin on January 21st. The lighthouse locations on Business Center Drive and Pleasant Valley Road made room for the 250-member cast and crew to set up mobile trailers and canopied catering tents while actual filming went on at the hotel.
Scenes for Love and Death were shot at the Omni Hotel at South Park. The location makes perfect sense for the story as hotels play an important part of Candy Montgomery's past as they were the venue in which she and Allan Gore carried out their affair.
Filming Location: Killeen-Fort Hood Regional Airport
The Love and Death film crew revamped the Killeen-Fort Hood Regional Airport for a one-day shoot on 25 January 2022. According to a press release from the city of Killeen, most of the airport remained open to the public during filming, as only limited areas were affected.
Scenes were shot in just a few parts of the airport such as the lobby area, ticket counters, parking area, and some signage, the release said. The city of Killeen also noted that certain areas of the airport had been temporarily redecorated to match the show's 70's aesthetic.
Filming Location: Main Street, Smithville, Texas
The Smithville Facebook page posted a notice on January 25th that the city would experience some closures due to HBO Max filming Love and Death on January 28th. Filming took place on Main Street for its small-town charm and appeal. Both Elizabeth Olsen and Krysten Ritter were spotted walking the streets of Smithville by CBS Austin. Some of the signage in town was swapped to make it appear as if it was shot in Wylie, TX where the 1980 murder actually occurred.
Filming Location: Cottonwood Inn, La Grange
Rebranded as the Como Hotel for "Love & Death" exterior shots of Candy and Alan Gore's rendezvous point were shot on 14 and 15 February in the iconic Cottonwood Inn Motel in La Grange. The motel is located at 1494 W. State Hwy. 71.
That same motel, which retains the looks of a 1950s motel, has been featured in "Fear The Walking Dead" and "Hope Floats" among other things over the years. HBO brought in a crew of about 150 people for the production and staged their operation about two miles away from the hotel in the Knights of Columbus parking lot.
Filming Location: Williamson County Courthouse and The Justice Center, Georgetown, TX
HBO paid $100,000 to use the courthouse and justice center for filming between February 23rd and March 6th. According to a request for information submitted by the Austin American-Statesman, "HBO Max estimates it will be spending about $424,000 in Georgetown to cover location fees, support fees, permits, and labor. The money is part of the $660,500 the production expects to spend in Williamson County." The courthouse will be used to film the scenes depicting Candy Montgomery's murder trial.
Georgetown Filming Schedule
The city of Georgetown released a filming schedule for the scenes that would be filmed in town. It was complete with maps to indicate where filming would occur and which roads would be closed as a result.
Filming Location: Paramount Theatre, Austin
The Love and Death film crew was filming at the Paramount Theatre in Austin, TX on February 12th. This is the second location they've used to shoot scenes occurring at a theater—the first one being at the palace theatre in Seguin.
Filming Location: Manor
The HBO film crew was shooting a memorial service and hospital scenes in and around Manor Texas on March 9th. The church used for filming was New Sweden Evangelical Lutheran Church. This church has been called the most photographed church in Texas by some.
Vacation Ideas: Visiting the Love and Death Filming Locations
If you find yourself a fan of the show, you may want to visit the real-life locations where Love and Death was filmed. That's not a bad idea, and it would be a lot easier than you might imagine. Fortunately, Love and Death was filmed in Austin or within about an hour's drive from the city. Therefore, it would be great to stay in Austin and enjoy everything the city has to offer and make little excursions out to the surrounding communities to see where the series was made.
FAQs
Where was Love & Death filmed?
On location, filming took place in Austin, Texas, and surrounding cities including La Grange, Coupland, Georgetown, Hutto, Seguin, Kerrville, Lockhart, Killeen, Smithville, Buda, and San Marcos. Additionally, a sound stage was constructed in Kyle, Texas where many of the indoor shots were filmed.
When was Love & Death filmed?
Filming for Love & Death began in October 2021 and wrapped on April 8th, 2022.