I am an autograph collector who enjoys the hobby by reaching out to celebrities, athletes, and other public figures through fan mail. If I'm lucky, I get a response and hopefully an autograph. In February and March 2022 I got a number of interesting replies from actors, voice actors, directors and video game designers. Check out these simple steps to get started writing fan mail and learn the basics of through the mail (TTM) autograph collecting.
Through The Mail (TTM) Autographs
Stephanie Beatriz
If you are a Disney fan or have young kids, I am sure that you have seen Encanto by now. My two and four year old kids Emma and Owen love to watch and sing along to the movie. They are too young to appreciate the autograph collecting hobby, but I try to involve them in it when I can. Sometimes that means helping me with wax seals or by putting stamps on envelopes. All that work wouldn't be fun though if they never saw the end result. To that end, I try to send a few autograph requests here and there with them in mind.

Now, I'd like to say writing to Stephanie Beatriz was all for the kids, but I watched the movie with them when it came out and just like Emma and Owen, I enjoyed the soundtrack and characters as well. So when I saw that she was on the West End doing 2;22 A Ghost Story, I felt compelled to write. I actually had a bad experience last year writing to Lily Allen who was also doing 2;22 A Ghost Story and couldn't be bothered to reply to anyone. However, that was at another theater so I didn't let it phase me and wrote anyway.

Just a few days before the play ended its run in the UK, Stephanie's reply to my letter made its way across the pond and reached the US. She signed both of the extra thick archival quality index cards that I sent her and dedicated them to my kids. I appreciate the dedication, because it's a sign that she was not only signing autographs, but taking the time to read her fan mail. To me, that's what the hobby is all about—the interaction between you and a public figure that would likely otherwise not be possible.
Stephanie Beatriz Fan Mail Address

Stephanie Beatriz
c/o ICM – Los Angeles
10250 Constellation Blvd
Los Angeles, CA 90067
USA
Ironhead Studios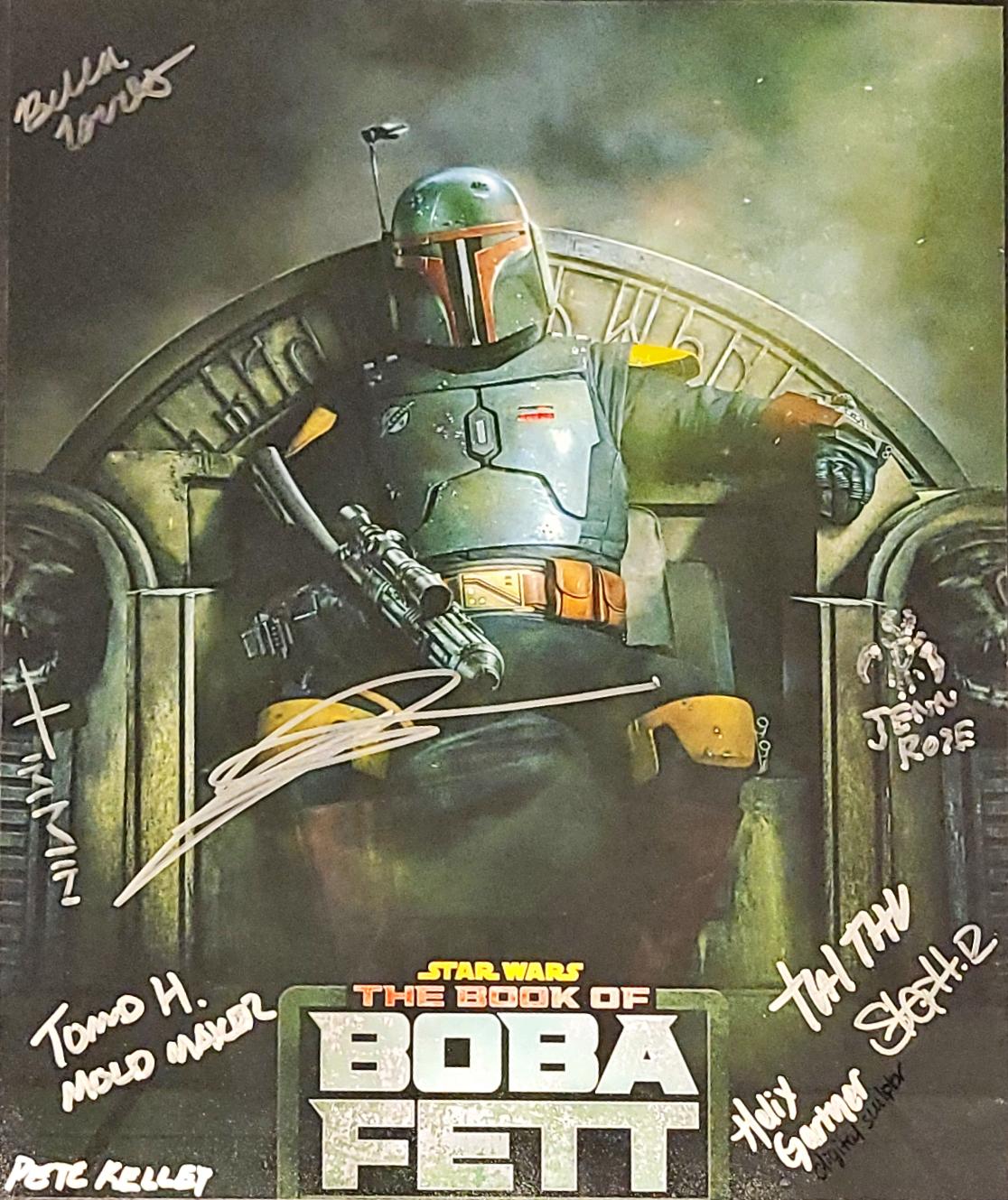 If you've been collecting Star Wars autographs through the mail for a long time, you'll know that it's the behind the scenes people that are the real bread and butter of the hobby. This is something that is true for Star Wars in particular. That's because of how deeply devoted the fan base is to every aspect involved with the franchise and the fact that there were so many talented artisans working across a myriad of disciplines that makes the people behind the scenes of the Star Wars films so interesting to investigate and interact with. That's been true since Star Wars was released in 1977 and continues to this day with limited series like The Book of Boba Fett.

Ironhead Studios worked behind the scenes on The Book of Boba Fett and were responsible for the creation of Fett's suit of armor. They are an effects firm specializing in costume and creature design, headed by Jose Fernandez. Jose began his career in film in 1989 working on Gremlins with legendary sculptor Rick Baker. Baker of course worked on the original Star Wars so Fernandez's work on The Book of Boba Fett, the newest addition to the Star Wars universe brings his career full circle.

Not only was Jose kind enough to sign the photos that I sent him, but he also took the time to have the other craftsmen at Ironhead Studios who worked on Fett's armor sign as well. It's an incredibly kind gesture which makes for a beautiful addition to my Star Wars autograph collection.
Ironhead Studios Fan Mail Address

Ironhead Studios
7616 Ventura Canyon Ave
Panorama City, CA 91402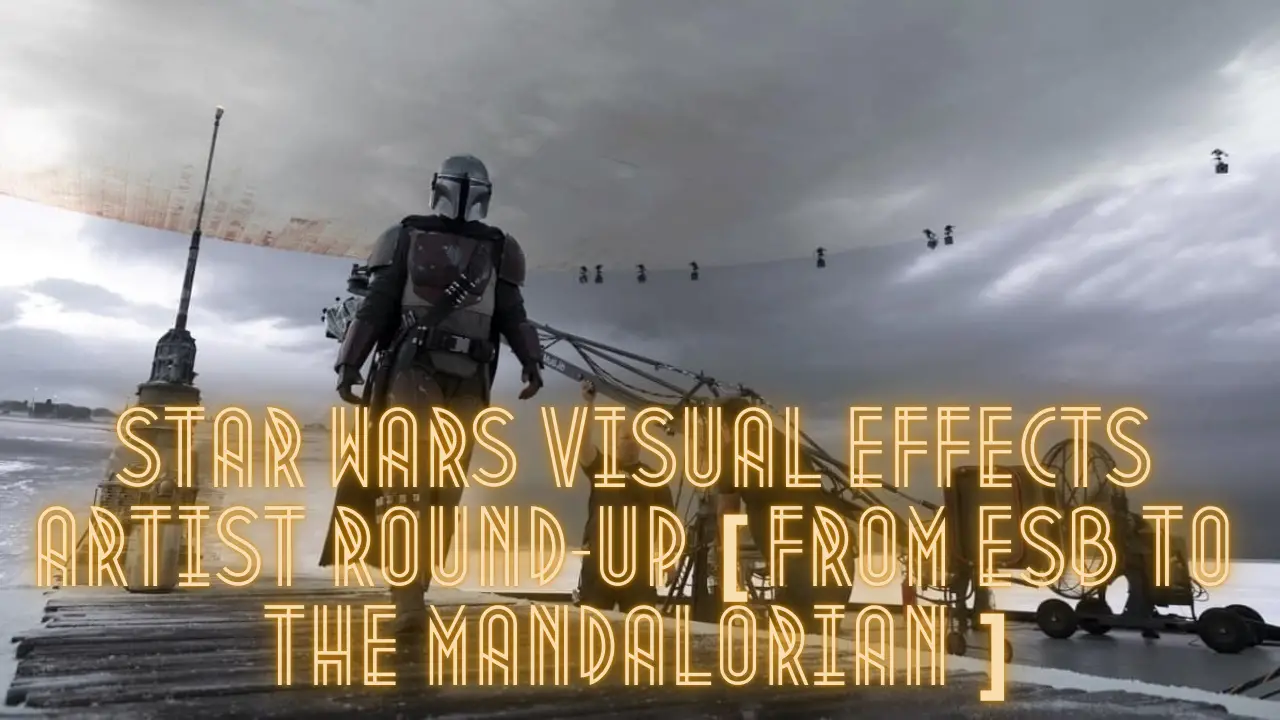 Paul Michael Glaser
Paul Michael Glaser is an actor and director. I wrote to him because of his work directing the film adaptation of Stephen King's The Running Man. I'm a big Arnold Schwarzenegger fan and The Running Man is one of his classic films from the height of his career as an action hero. 
Paul Michael Glaser Fan Mail Address

Paul Michael Glaser
SITMOIA Productions INC
11939 Weddington St. Unit 106
Valley Village, CA. 91607-4443
USA
Léa Seydoux
This is actually the second time that Léa Seydoux has responded to my fan mail. I had sent out several autograph requests to her last year, all to different addresses. I had hoped that I would get even one, but I got very lucky to have two returned. My first response from Léa Seydoux was a personal note on the two index cards that I sent her which she also signed. It's clear that she personally handled my request on that occasion. However, I think this latest success was more than likely handled by a secretary. While the autograph looks to be authentic, it was probably pulled off of a stack of pre-signed photos. 


I am very happy to add this to my collection especially since it's an opportunity to add a photo to go along with my index cards.
Léa Seydoux's Fan Mail Address

Léa Seydoux
c/o United Agents
12-26 Lexington Street
London W1F 0LE
United Kingdom
Ken and Roberta Williams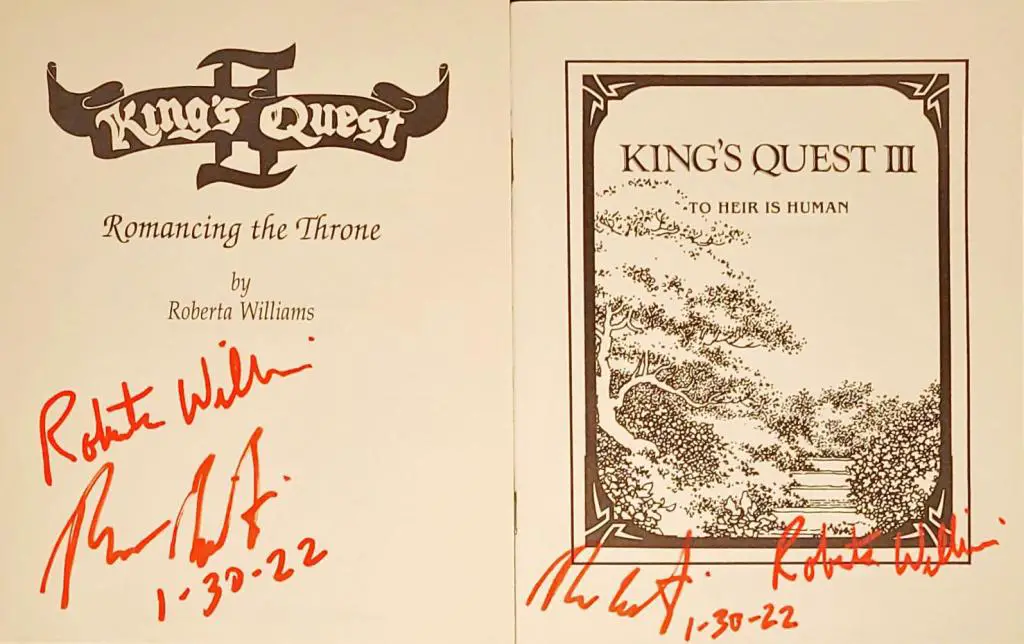 Ken and Roberta Williams are the founders of the video game studio Sierra, which is now owned by Activision. They are well known for their graphic adventure games, most notably King's Quest. Ken and Roberta developed the games together. Roberta would design the levels and write the story and Ken would program it. Sierra is also known for being the original publisher of Valve's Half-Life. They will make a great addition to my video game autograph collection.
Ken and Roberta Williams Fan Mail Address

You can get in touch with Ken via email at ken@kensblog.com.
David Harbour
If you have a Netflix account, then you've probably seen their flagship show Stranger Things starring David Harbour as officer Jim Hopper. He is also known for his roles as the titular character in Hellboy (2019), the Red Guardian in Black Widow, and Dexter Tolliver in Suicide Squad. That means, he's had roles in both the Marvel Cinematic Universe (MCU) and DC Extended Universe (DCEU)—two of Hollywood's biggest franchises.

I wrote to David while he was on the set of his upcoming Christmas comedy Violent Night which will also star Beverly D'Angelo, well known for her role in another holiday film—Christmas Vacation. It was nice of David to take the time away from filming to not only sit down and read my letter, but to sign the index card that I sent him as well.
David Harbour's Fan Mail Address

David Harbour
c/o Peikoff Mahan Law Office PC
173 East Broadway, Lobby C1
New York, NY 10002-5555
USA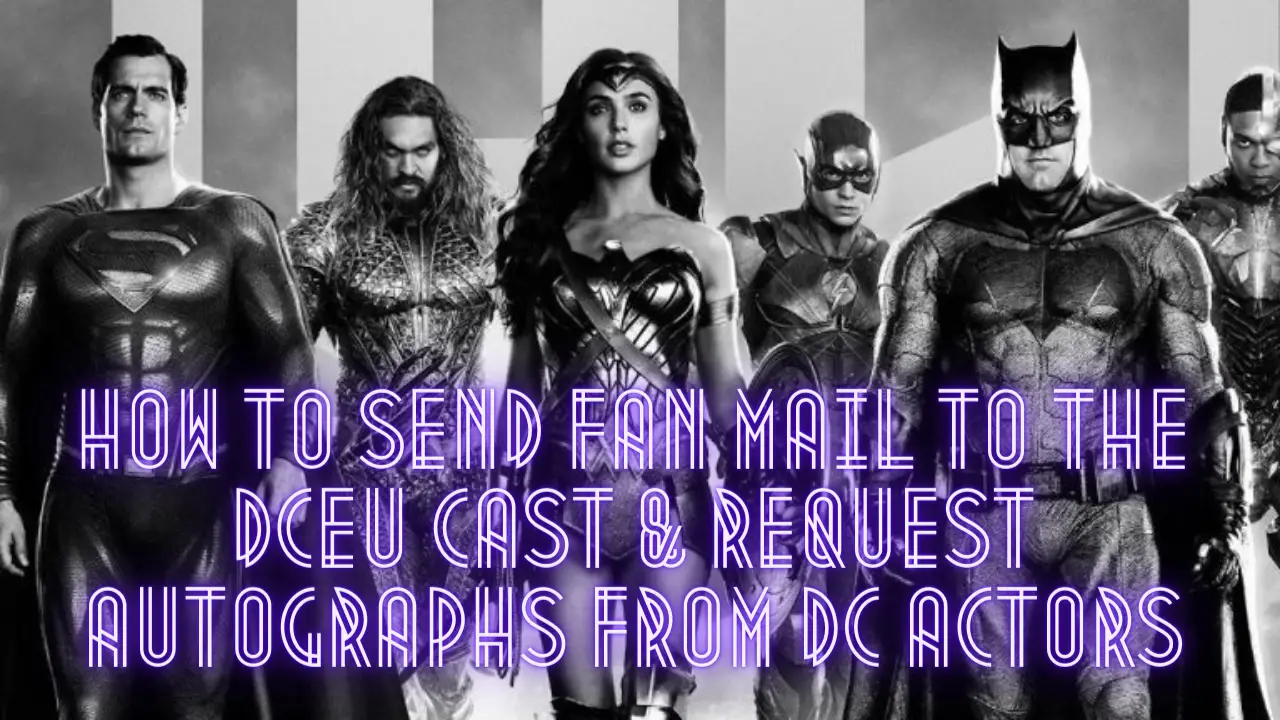 Rhys Ifans
There was disappointment after some initial excitement at getting a response from Rhys Ifans, whose recent work includes his roles as Dr. Curt Connors / The Lizard in Spider-Man: No Way Home and Grigori Rasputin in The King's Man. Upon examining the signature that I received back from Rhys, it became clear that it was not authentic. By comparing the autograph that I had received to known examples of autographs obtained from him in person, there was no comparison between the two. Ultimately this means that Rhys had a secretary or some other third party sign and respond to fan mail in his stead.
Rhys Ifans Fan Mail Address

Rhys Ifans
Pip Gill Publicity
124 Brondesbury Road
The Coach House
London NW6 6SB
United Kingdom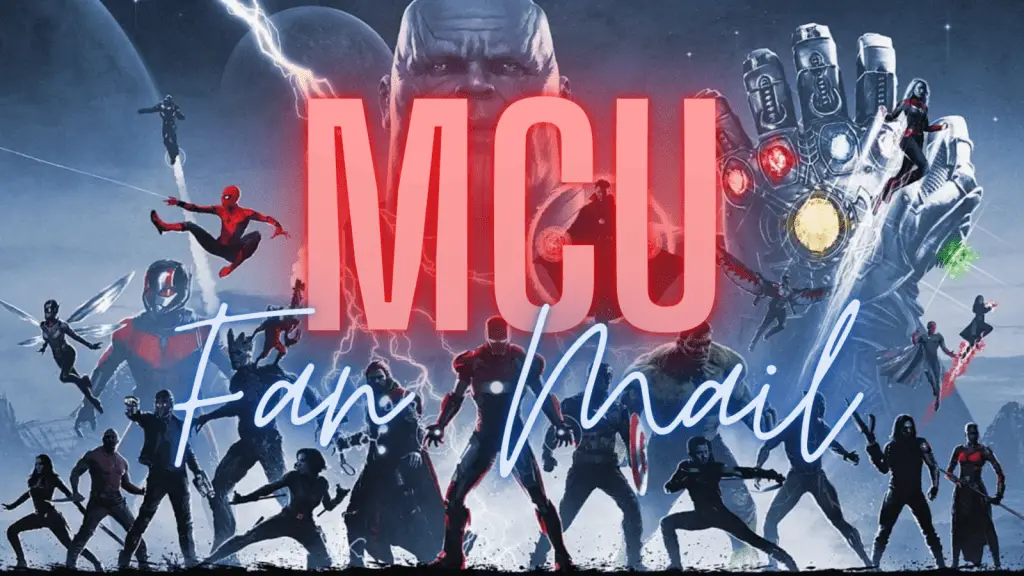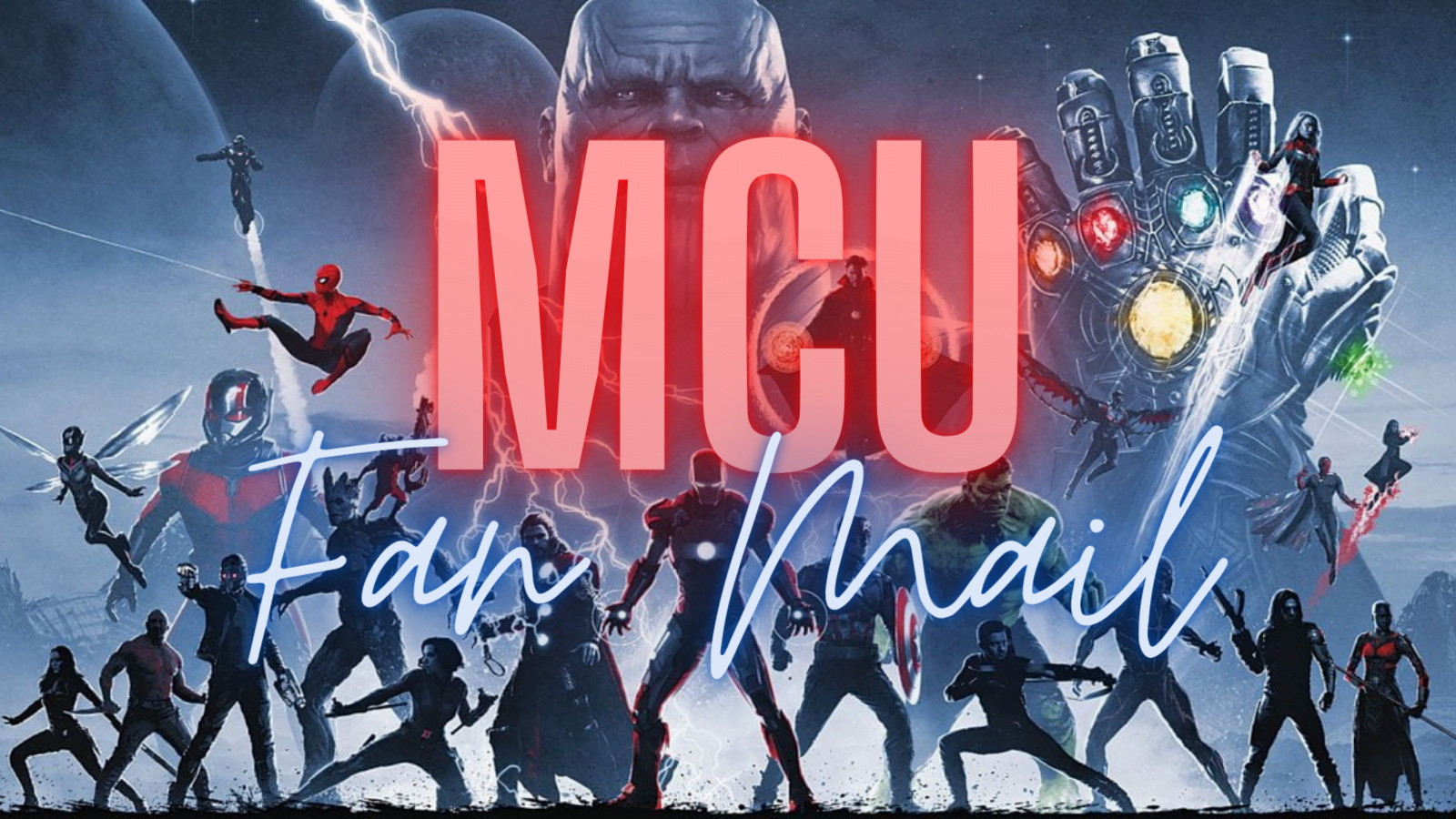 Jude Law
I am a fan of Jude Law's work in movies like Fantastic Beasts, Gattaca, and yes, Captain Marvel as well. I wrote to him via Riff Raff Film Productions, which is one of the production companies involved in the upcoming Showtime series "The Auteur". After only about a month, I received a very fast response from Jude, especially considering that my letter had to go to the UK and back to the US in that time. He signed and dedicated both of the index cards that I sent him.
Jude Law's Fan Mail Address

Jude Law
Riff Raff Film Productions
130 Shaftesbury Ave
2nd Floor
London
W1D 5EU
United Kingdom
Bring Home Phases 1-3 of the MCU Today!
Bob Newhart
Bob Newhart sits at the number five position on the list of Top 30 celebrities that are best at responding to fan mail and signing autographs TTM. I've been collecting autographs for a long time, but didn't take the opportunity to write to him until recently. Around last Christmas fresh from watching Elf, I sent Bob two photos of his character Papa Elf from the film. A little over two months later, bob returned both of the photos to me signed and dedicated.
Bob Newhart's Fan Mail Address

Bob Newhart
c/o Monarch Entertainment Group, Inc.
23638 Lyons Avenue # 424
Santa Clarita, CA 91321-2513
Richard J. Stachowiak
Richard J. Stachowiak enlisted in the Navy right at the end of World War II. While he didn't have to face the horrors of battle, he was put in harm's way as a subject in Operation Crossroads. This military operation was the second test detonation of an atomic weapon and was meant to gauge the effect of a nuke on ships. Richard and his shipmates were anchored five miles away from the blast site with their backs turned to the bomb.

Richard survives to this day, but the bomb left its mark, on him as years later he developed skin cancer for exposure to the bomb's radiation. He replied to my letter after two years, including a photo of him and his shipmates who all lived to tell the tale of that fateful day.
Richard J Stachowiak's Fan Mail Address

Richard J. Stachowiak
2 Ferndale Drive
Orchard Park, NY 14127-1604
USA
Adassa (Encanto's Dolores)
@talesfromthecollection #adassa #autograph #encanto #disneyprincess ♬ We Don't Talk About Bruno – Carolina Gaitán – La Gaita & Mauro Castillo & Adassa & Rhenzy Feliz & Diane Guerrero & Stephanie Beatriz & Encanto – Cast
I had the opportunity to meet Adassa in person when she appeared in San Antonio. She plays Dolores in Encanto and dressed the part at her signing. She made so many young fans happy with her appearance, renditions of songs from the film, and her wonderfully cheery personality. It was an absolute pleasure for my family to meet her.
Adassa Fan Mail Address

Adassa
Nene Musik Talent Agency
1406 SW Santiago Avenue
Port St. Lucie, FL 34953
USA
Vic Ruggiero & Lauren Napier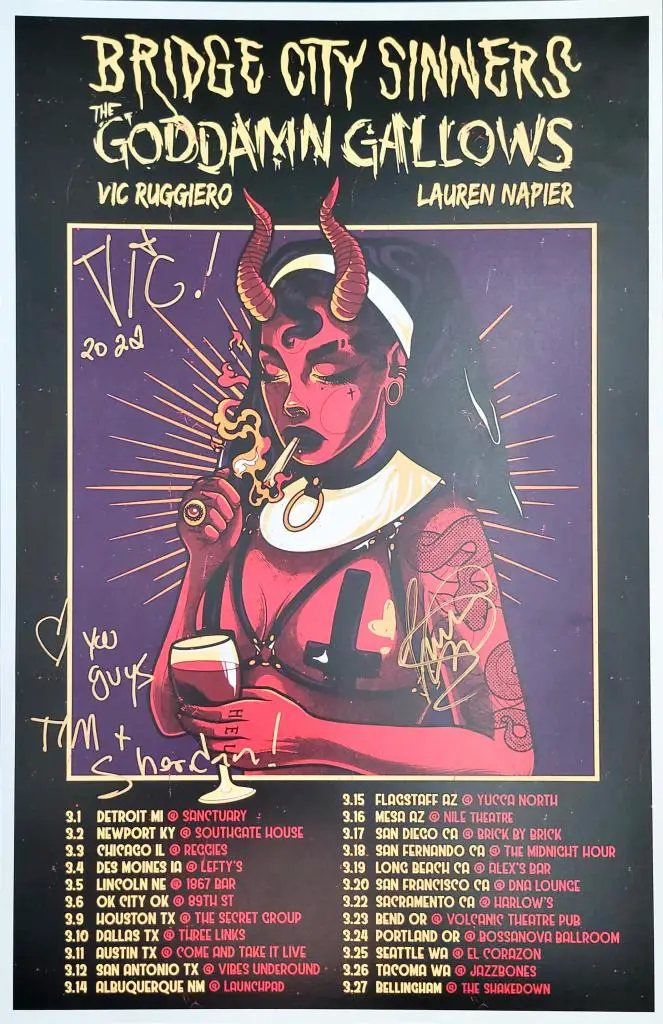 When seeing Vic Ruggiero and Lauren Napier who perform together as The Witch and The Burro, I picked up a tour poster and had them sign it for me. I've known Vic for nearly 18 years now thanks to his better known work with his band The Slackers. Whether it's him playing solo, with another musician, or in a band, it's always a good time hearing him play and I highly recommend checking them out!
Colin Skeaping

Colin Skeaping did stunts for Mark Hamill, doubling as Luke Skywalker in all three original Star Wars films. He had various cameo roles in the original trilogy as well as parts in the James Bond franchise among others. He signed both of the index cards that I sent him in about 3 months time.
Colin Skeaping Fan Mail Address
Colin Skeaping
Radclyffe House
Grove Heath Road,
Ripley, Woking,
Surrey, GU23 6ES
United Kingdom
Sasha Alex Sloan
I received an interesting preprint signature from singer Sasha Sloan. It's a copy of a handwritten letter written by Sasha promoting her new album "I Blame The World". I suppose I was on her mailing list after buying a signed CD from her shop last year. Despite it not being an authentic autograph, it was a pretty novel idea!
Matt Stewart – MTG artist
I contacted Magic the Gathering (MTG) artist Matt Stewart via email before sending my cards to him. I found out that he only charges $1 per signature or $5 for shadow signatures. A shadow signature is basically a layered signature where a signer signs once in one color and then again on top of their signature with another color creating a shadow effect. As you have to wait for ink to dry before applying the second signature, it takes time and therefore costs more. If your interested in getting your Magic cards signed, be sure to check the guide.
Toshishiro Obata
Toshishiro Obata came back with a quick response to my fan mail. Obata played the villain Tatsu in the 1990 Teenage Mutant Ninja Turtles film and the subsequent The Secret of the Ooze. He signed two of the three TMNT trading cards that I sent him.
Toshishiro Obata Fan Mail Address:

Toshishiro Obata
522 East Saxon Avenue
San Gabriel, CA.91776
USA
Alessia Cara
This signed insert from Alessia Cara's 2021 album In The Meantime came from her online store. She sold these for about $20 each and signed them in big bold writing. It's a great looking autograph that will really show well if put on a wall for display.
Stewart Copeland
Stewart Copeland is best known as the drummer from the 80's English rock band The Police. Now I'm definitely a fan of the band, but that's not why I wrote to him. Copeland is also known as a producer, having worked on many film and video game soundtracks. In particular he worked on the Spyro the Dragon soundtracks from 1998 to 2002 and again in 2018.