I am an autograph collector who enjoys the hobby by reaching out to celebrities, athletes, and other public figures through fan mail. If I'm lucky, I get a response and hopefully an autograph. I got a number of interesting replies from actors, voice actors, directors and video game designers. You can see everything I got from April to June of 2022. If you'd like to give through the mail (TTM) autograph collecting a try, check out these simple steps to get started writing fan mail and getting autographs TTM.
Through The Mail (TTM) Autographs
Mark Hamill
I've been collecting autographs for over a decade and a half. From the very beginning, I've been sought out autographs from Star Wars actors and Mark Hamill was always one of my most sought after. I've tried many different addresses over the years, but I've never gotten a response—until now that is.

I wrote to Mark while he was on the set of "The Fall of the House of Usher". The show was shot in Canada and I wrote to him while he was on set filming. A few days before I got, I saw a few other collectors receive autographs from him so my hopes were high. Sure enough, the index cards that I sent Mark Hamill were also in the mail!

I'm so happy to add these to my collection and really great to have had this personal interaction with one of my favorite actors. It's a dream come true!
Mark Hamill Fan Mail Address

The Gersh Agency
9465 Wilshire Blvd.
6th Floor
Beverly Hills, CA 90212
USA
Paul Reiser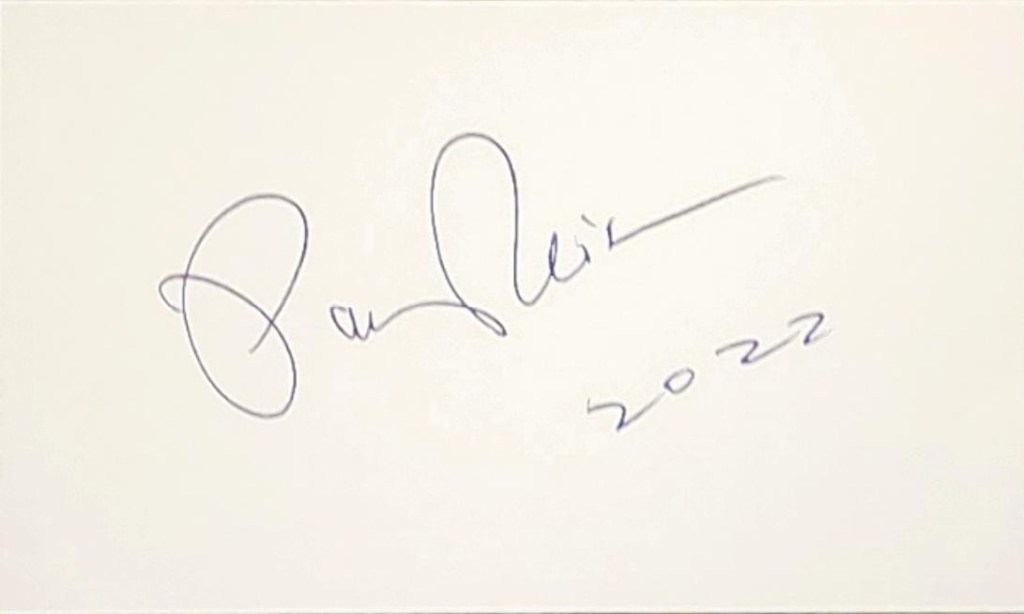 Paul Reiser plays Dr. Sam Owens on Stranger Things, one of my favorite shows. When I discovered that he was filming "The Problem With People" in Ireland, I decided to write to him on set. I sent two index cards and requested that he sign them both. Since I didn't have any Irish postage on hand, I sent an unstamped return envelope.

Not only was Paul kind enough to sign both of my index cards, but he even covered the €8.70 in return postage costs. What a nice guy!
Paul Reiser Fan Mail Address

c/o United Talent Agency (UTA)
888 Seventh Ave
9th Floor
New York, NY 10106
USA
Sean Bean
Sean Bean is a British actor best known for his roles as Boromir and Eddard 'Ned' Stark on The Lord of the Rings and Game of Thrones. I sent him two 8×10″ photos, one of each character, and he was kind enough to sign both for me. Not only that, but he also threw in an extra DVD cover for The Fellowship of the Ring. That was super nice of him and certainly unexpected.

Sean dedicated all three items to me and included a few inscriptions as well, like "Best Wishes" and "Thank you for your Service". It's always great to get something signed, but even better to get an acknowledgement of what you wrote to them in your letter, because it means they read it. That's a pretty special thing!
Sean Bean Fan Mail Address

Sean Bean
Independent Talent Group Ltd
40 Whitfield Street
London W1T 2RH
United Kingdom
Billy Howle
Billy Howle is a British actor known for his role as Rey's father in Star Wars: The Rise of Skywalker (2020). I ordered the above Episode IX mini posters from Japan to send to him so they had a really long trip to the U.S. to the U.K. and back. Nevertheless, Billy signed and returned both in good condition. His signature in black in on the black starfield shows up pretty well in the picture, but is quite hard to see in person. Billy's autograph pops much better on the other poster however.
Billy Howle Fan Mail Address

Billy Howle
c/o Conway Van Gelder Grant Ltd
3rd Floor
8-12 Broadwick Street
London W1F 8HW
United Kingdom
Aubrey Plaza
After trying for a reply from Aubrey Plaza for quite some time with no success, I finally got lucky! I decided to write to her via her production studio Evil Hag Productions. I wrote to her last November and received a reply on 6 July 2022. She sent me two index cards. One was simply dedicated "For Tim". The other had the same dedication with an additional inscription of "Thanks for Watching! ❤️" .
Aubrey Plaza Fan Mail Address

Evil Hag Productions
299 N Euclid Ave Ste 310
Pasadena, CA 91101-1582
Tim Allen
Tim Allen is one of the top celebrities that sign autographs through the mail. I've never taken the time to write to him myself until now though. I sent two index cards and was happy to see both of them returned signed along with a nice surprise. His production studio sent two stickers with the text "Wrap tissues, good for 201 Blows!". 201 refers to the number of episodes in the series (204 if you count the final episode's 3 parts and the retrospective episode). You can imagine that these were on tissue boxes on the Home Improvement set as the cast and crew were wrapping the series. It should be said that many autograph collectors believe Tim Allen's TTM autographs to be secretarial signatures. This may be the case, but it's very hard to say either way as the autographs coming out of his agency very much match Tim's signature style.
Tim Allen Fan Mail Address

Tim Allen
Boxing Cat Entertainment
11500 Hart Street
North Hollywood, CA 91605
Yoshitaka Amano
Yoshitaka Amano recently made his autograph available through a collaboration with Japanese sake brewer Asahara Shuzo Brewery Co. Certain customers who bought limited edition sake adorned with Amano's art on the label also received an autograph board signed by Amano with a hand drawn sketch. Don't ask me what he drew on mine, but having anything inked by the famed Final Fantasy and Vampire Hunter D illustrator is an honor.
Yoshitaka Amano Fan Mail Address

Yoshitaka Amano
c/o Publicity Department
Simon & Schuster, Inc.
1230 Avenue of the Americas
New York, NY 10020
USA
Camila Cabello
Camila Cabello is one of the top artists that sell their autograph. She can be pretty dependably relied on to sell signed copies of her latest albums via her official store prior to their release.
Catherine O'Hara
A holiday tradition in my family is to watch a few of the Christmas movie classics like Home Alone and Elf. Last holiday season I decided to write Catherine O'Hara and tell her about how much we love watching her movies around that special time of year. I was happy to get the photo that I sent her and the two index cards all back signed by Catherine. Come December, the photo will be going up on display with all of my other holiday themed autographs!
Catherine O'Hara Fan Mail Address

Catherine O'Hara
c/o Brillstein Entertainment Partners
9150 Wilshire Blvd.
Suite 350
Beverly Hills, CA 90212
Troy Baker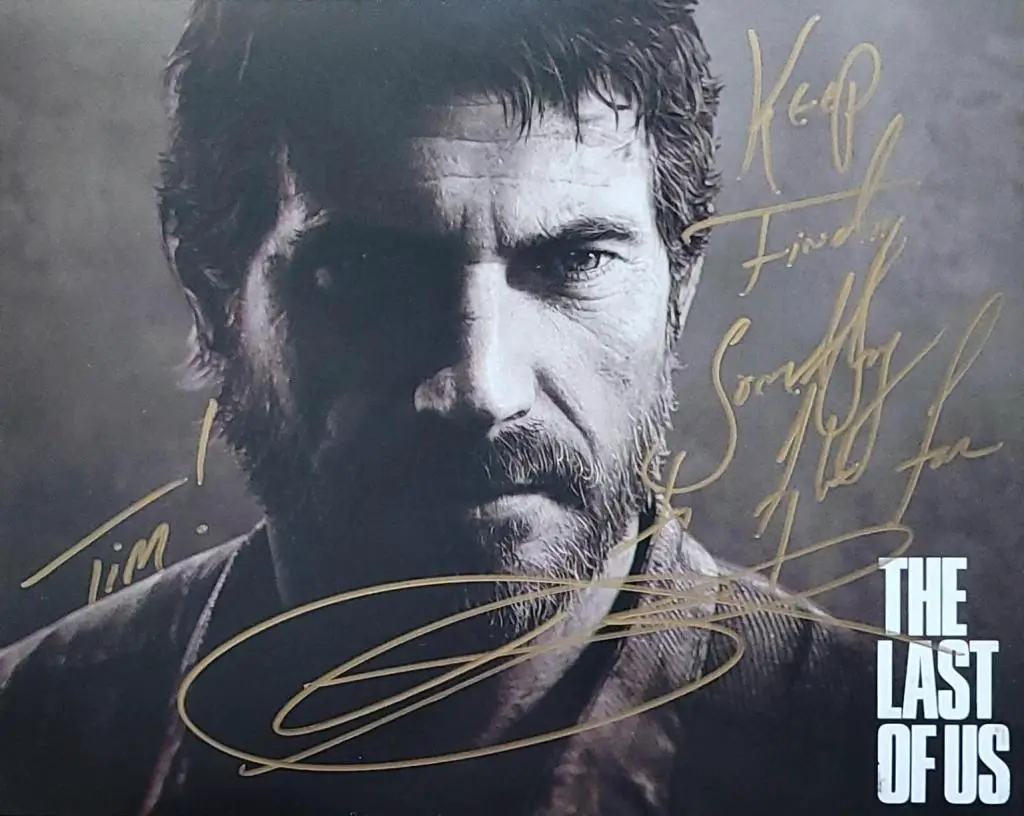 I met Troy Baker at Fan Expo Dallas on 18 June 2022. He was very nice to his fan and strangely enjoyed signing all of the Funko POPs that his fans brought him. I asked him about his work on the upcoming live action The Last of Us series that is being produced by HBO. If you want to check out my chat with Troy or my interactions with the rest of the celebrities at the con you can check out the YouTube playlist.
Ming-Na Wen
Ming-Na Wen was another guest at Fan Expo Dallas. She signed two posters for me from The Book of Boba Fett. I was lucky to get her because she was only appearing for one day and many attendees had to get refunds for their tickets since she wasn't able to see everyone.
Magic The Gathering Artists
Getting your Magic the Gathering (MTG) cards signed by artists is surprisingly easy to do. There are a number of ways to get an autograph on your MTG cards including going through the artist directly or through some of the major signing services that act as intermediaries by facilitating the transaction between fans and the artist. Here are some of the recent autographs I've received from MTG artists.
Ilse Gort
Ilse Gort is a MTG artist based in the Netherlands. I sent her an email (ilsegort@outlook.com) inquiring about how much her signing fee is for Magic cards. She let me know that she charges  $2 for a black signature and $4 for a gold or silver shadow signature which is basically two overlapping signatures, creating a shadow effect. In addition to the signing fee, it was only $4 for the return shipping all the way to the United States! Given the huge distance the cards had to travel from the U.S. to the Netherlands and back, the whole process was very quick. I got my cards back in just a little over a month. If you're interested in getting your cards signed, send Ilse an email and make arrangements from there.
Steve Prescott
Steve Prescott is a long-time MTG artist. I sent him a handful of cards to sign which he charged a modest fee of only $2 per signature.
Steve Prescott
5589 Parker Hill Ln
Dublin, OH 43017
Julian Kok Joon Wen
Julian Kok is an art director at Ubisoft Singapore where he has worked on major video game titles like the recent Fallout 6. He is also a freelance illustrator at Wizards of the Coast where he has done art for a number of different MTG cards.
Julian Kok
32 Cassia Crescent
#08-52 Singapore
S390032
julian.kok@gmail.com
Gaboleps
After the release of Kamigawa, I headed out to pick up a few backs of cards. From those packs, I looked up every artist and contacted as many as I could in order to inquire about getting my cards signed through the mail. That even included foreign artists like New Zealand-based Gaboleps. If your interested in getting your own MTG cards signed by Gaboleps, I did put him in contact with Mark Aronowitz's MTG signing service so I would expect to see a signing offered through Mark in the near future.
Lie Setiawan
Lie Setiawan is a Magic the Gathering artist based in Jakarta Indonesia. I sent him a few cards to sign and they came out great!