Sending Fan Mail to BTS

Out of all the K-pop bands, BTS seems to receive the most fan mail. Many fans would love to get an autograph from even just one of the members. This begs the question,  "does BTS read their fan mail?"
Over the years, many of BTS's fans have sent their well wishes and words of support and have been rewarded with replies via their Twitter account reacting to the letters they sent. They sure know how to make their fans feel appreciated! It's a rare skill in Hollywood, but their responses certainly belong among some of the most incredible celebrity responses to fan mail that we've seen.
How to Send it
Regardless of how you've come to know them, it's likely that BTS' work has had an impact on you in some way or another. If you would like to send fan mail to the band, whether it's to simply send a message of thanks or perhaps request an autograph through the mail, then the process is pretty simple. Since many celebrities respond to fan mail, it's not unthinkable that they might send fans free autographs through the mail. If you would like to reach out to her, you can use this simple fan mail template to get started. Then simply try reaching out via the addresses below. Good luck!
Fan Mail Responses
BTS has been known to communicate with fans more through their Twitter account than by handwritten fan mail responses. To date, there have been no recorded responses from BTS by users of the autograph-collecting site Star Tiger. At the very least, that means that they are hard signers, but no one is impossible to get a response from! Sending fan mail comes at little to no cost, so you really have nothing to lose by giving it a shot.
If all else fails they are well known for selling signed CDs prior to the release of their new albums just like many other popular bands and k-pop singers.
Ways to Write to BTS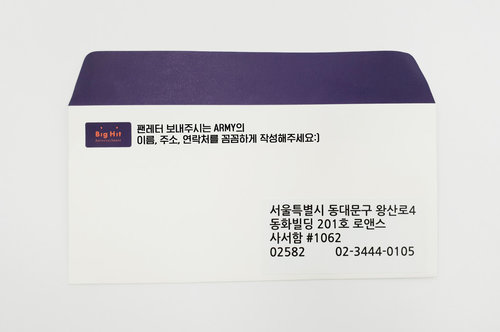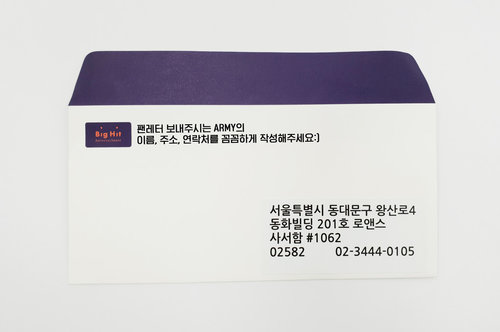 Sending fan mail is a great way to express your love and support for BTS. The band actually has a public fan mail address, which was announced by the bands manager in the following message to fans.
Big Hit Entertainment Fan Mail Addresses
Big Hit Entertainment
10-31 Cheong-gu Bldg, 2F,
135-010, Seoul Gangam-gu, Nonhyeon-dong,
South Korea
Big Hit Entertainment
Yangjin Plaza 5f, 5, Hakdong-ro 30-gil
Gangnam-gu, Seoul, 06040 Korea.
South Korea
BTS' Manager's Letter about Fan Mail
Hello,
This is BTS Fan Club manager.
We would like to inform you about sending BTS fan letters.

As we previously informed you about BTS gift delivery (delivery service & support), you cannot deliver any kind of gifts to artists except fan letters after 6:00PM Friday, March 30, 2018. ARMYs who want to send fan letters should read the following carefully before you send them. In the case of fan letters,
only standard-size envelopes (or ordinary envelopes for letters) made out of paper can be delivered as shown in the example below.
** Both mail / registered mail can be delivered
** If you send it in a form other than an envelope, it could be considered as a package and might be returned.
Ex) Message book / Notebook / CD / USB / Small Package type of fan letters cannot be delivered
Fan letter Mailing Address:
P.O BOX #1062, Loans Rm.201 Donghwa Bldg, 4 Wangsan-ro, Dongdaemun-gu, Seoul, Republic of Korea
TEL : +82) 02-3444-0105
** Please note that the address above is provided for mailing fan letters, so please do not visit the P.O BOX company.
** The company is a place where BigHit Entertainment employees work. Therefore, fan visits are strictly forbidden.
** If you visit the company and leave the unauthorized gift, it will be discarded immediately.
We ask for your understanding and cooperation.
Thank you.
Publicist Contact Info for BTS
BTS's publicist is Full Coverage Communications. If you write to them, they can forward you fan mail on your behalf.
Full Coverage Communications
110 W. 40th Street
Suite 703
New York, NY 10018
USA
BTS' Full Coverage Communications Representatives:
Erica Gerard
erica.gerard@fullcov.com
Kristen Foster
kristen.foster@fullcov.com
Natasha Desai
natasha@fullcov.com
Write BTS at their Next Concert
This idea might honestly be your best chance of contacting BTS. Sending fan mail to singers at the venues they will be performing at is known as via venue fan mail. It's just a matter of proper timing and a little bit of research. First look at their tour dates and find the address for where they will be performing with a quick Google search. Then simply send your letter about a week in advance so that it arrives ahead of the date that BTS will be performing. With any luck, management at the venue will pass on your letter!
Email and Phone Number
Many may prefer to send BTS an email. BTS is represented by Full Coverage Communications and can be reached at press@fullcov.com.
Finally, some celebrities have been known to respond on social media. You can try contacting BTS directly that way. They're active on Twitter, and they occasionally respond to messages from fans. You can also try and send them an email via Big Hit. Here are some of the email addresses associated with the company: bighit@ibighit.com, community@bighitcorp.com, pr@pmkbnc.com, kristen.foster@pmkbnc.com, support@bighitshop.us, protect@bighitcorp.com
A reply from your favorite celebrity is always a great feeling. Fan mail can be an incredible way to get their attention and possibly even an autograph. To increase your chances of getting a reply, be sure to include a self-addressed stamped envelope. Who knows, you might just get that fan mail response you've always wanted!
BTS Biography
BTS (Bangtan Sinyeondan), a South Korean Boy band, was formed back in 2010. This group of heartthrobs is also known as the "Bangton Boys." The band debuted in 2013 under the Big Hit Entertainment label. BTS consists of members Jin, Suga, J-Hope, RM, Jimin, V, and Jungkook.
At their core, BTS is a hip-hop group, but their musical style includes a wide variety of musical genres. Many of their songs' lyrics deal with mental health issues, problems of youth, and the common troubles in life. They are also influenced by literature, philosophy, psychological concepts, self-love, and individualism.
BTS Albums – From Debut to 2022
BTS's debut single album was "2 Cool 4 Skool", released in 2013, and in 2014, Dark & Wild – a Korean-Language studio album, was released. BTS's famous "Wings (2016)" remained very successful, and it's one million copies were sold in only South Korea.
In 2017, BTS was able to get into the international music industry and rode the Korean wave into the United States, breaking album sales records. 
RIAA (Recording Industry Association of America) awarded BTS the Gold Certification for their single "Mic Drop," and BTS was the first Korean music producer to be nominated for this award. Furthermore, RIAA awarded BTS a Platinum award for the first Korean Album, "Love Yourself: Answer," released in 2018. 
Map of the Soul: 7 (2020) studio album by BTS is the best-selling album of all time in South Korea. The stats of 2022 show that BTS has sold more than 30 million albums via the Circle Chart. Other BTS albums include "Billboard Global 200", "Dynamite," "Savage Love," "Life Goes On," "Butter," and "Permission to Dance." 
Furthermore, BTS has another credit: it is the first non-English speaker to hold sold-out concerts at Wembley Stadium and the Rose Bowl (Love Yourself World Tour in 2019). "Times" included BTS in the list of top 25 most influential artists of 2017-2019. For promoting Korean culture and spreading positive vibes for Korea, the Korean president awarded BTS with the "Order of Cultural Merit" in 2018. 
Discography
BTS's Korean-language studio albums
Dark & Wild (2014)
Wings (2016)
Love Yourself: Tear (2018)
Map of the Soul: 7 (2020)
Be (2020)
BTS's Japanese-language studio albums
Wake Up (2014)
Youth (2016)
Face Yourself (2018)
Map of the Soul: 7 – The Journey (2020)
Filmography
Films
Burn The Stage: The Movie (2018)
Love Yourself in Seoul (2019)
Bring the Soul: The Movie (2019)
Break the Silence: The Movie (2020)
Online shows
Run BTS (2015–present)
BTS In the Soop (2020–2021)
Concert tours
The Red Bullet Tour (2014–2015)
Wake Up: Open Your Eyes Japan Tour (2015)
The Most Beautiful Moment in Life On Stage Tour (2015–2016)
The Wings Tour (2017)
Love Yourself World Tour (2018–2019)
FAQs
What are the names of the BTS members?
The BTS members are: RM, Jin, SUGA, j-hope, Jimin, V, and Jungkook.
How can you meet BTS?
Meeting BTS can be difficult as they are a highly popular and busy K-Pop group. Here are a few ways that you may be able to meet them:
Attend a BTS concert: This is one of the most common ways to see the members in person. Make sure to arrive early and be prepared for a large crowd.
* Fan events: BTS sometimes holds fan events where fans can meet the members and interact with them.
* Broadcasting shows: You can catch BTS on Korean variety and talk shows, where they may have opportunities for live audience participation.
* Meet and greet events: Some companies or organizations may host meet and greet events with BTS, where you can meet the members and take photos with them.
* Keep in mind that the opportunities to meet BTS are limited and highly sought after, so it may take some effort and luck to have the chance to meet them.
What is BTS's address?
You can send fan mail to BTS via Full Coverage Communications:
110 W. 40th Street
Suite 703
New York, NY 10018
USA