A celebrity photo op is more than just a chance to stand next to your favorite star. It's a unique opportunity to create a lasting memory that you can revisit time and time again. But, to truly make the most out of this exciting experience, you need to come prepared.
Meeting your favorite celebrity can be nerve-racking, but it should be fun! This guide will provide you with tips and tricks, and even some inspiring photo op ideas and photo op poses to ensure your celebrity encounter is unforgettable.
Understanding the Photo Op Process
Before you walk into your celebrity photo op, it's crucial to understand how the process works. Each photo op ticket generally allows up to four attendees (two adults and two children). However, conventions are usually pretty flexible on this so if you have a large family, I wouldn't worry about it too much. It's not a hard and fast rule.
Every convention is operated differently, but in general celebrity autographs and photo ops are sold with groups assigned to the ticket. This helps keep lines quick and orderly. Generally speaking, you can't arrive before your photo op group, but if you miss it, you can always join a later group. To ensure, you have enough time though, arrive 15 minutes before your scheduled time.
Remember to have your QR code ready for swift verification in line as this will be scanned so that you can receive a physical ticket. Understanding these rules and guidelines can make your photo op experience smooth and enjoyable.
Preparing for the Photo Op
Now that you understand the process, it's time to prepare. Dress in a way that reflects your personality and style but also keeps comfort in mind. Whether you want to wear a casual outfit or a costume from the celebrity's most popular TV show or movie, ensure it adds to the experience rather than causing discomfort.
Posing with Celebrities: Tips and Tricks
Posing with a celebrity is often the most nerve-wracking part of a photo op. But it doesn't have to be! Remember, celebrities are just people. A smile, a friendly greeting, or a compliment about their work can break the ice.
When considering photo op poses, think about something that feels natural and comfortable for both you and the celebrity. From a simple standing side by side to a high-five or a mock surprise face, the possibilities are endless. Always remember to respect the personal space and comfort level of the celebrities. While some are down for close contact and intricate poses, other's may not be so willing to engage so closely with fans.
Not sure what's appropriate for your photo op? Just ask the celebrity and they will tell you if they are okay with your idea or not. If not, just have a backup plan of what you like to do as an alternative pose.
10 ideas for Celebrity Photo Op Poses
Bring a wedding ring and propose to the celebrity (or the other way around),
Bring props to capture an epic battle scene,
Strike a trademark pose with the celeb,
Get a free hug,
Bring a flag and show off your pride,
Join hands and make a heart with your favorite celebrity,
Get crazy with props and make your next op unforgettable,
Try wearing a costume to for a unique photo op, that you can only get at a comic con,
Bring a sign to help express yourself!
Tips for Making the Most Out of Your Photo Op
A celebrity photo op is a moment to remember, so make the most of it. Be present in the moment, relax, and enjoy the experience. If you're nervous, take a few deep breaths. Your time with the celebrity will be very limited (as short as 10 seconds).
So don't rush your moment, even if there's a line behind you. Take as much time as you can before you're ushered off by the support staff. You paid for this and this is your time!
After the Photo Op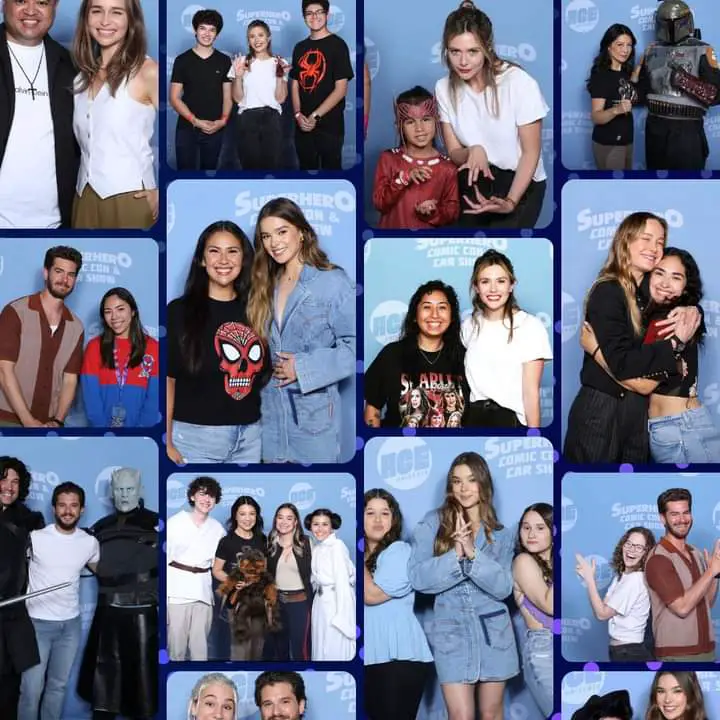 Once your photo op is complete, don't forget to collect your glossy print and digital version. These precious mementos deserve a special place, so consider buying a frame for your print or making it your phone or computer's wallpaper. And don't forget to share your photo and experience online to inspire others with your unique pose and story.
Signed Photo Ops
Getting a photo op signed by a celebrity can significantly enhance its sentimental value, making an already special memento even more unique. While there are advantages to having your photo op signed, there are also a few considerations to keep in mind. The following table weighs the pros and cons of getting your celebrity photo op autographed.
| Pros | Cons |
| --- | --- |
| Convenience: The photo prints are readily available at the convention, making it easy to have them signed immediately after the photo op. | Increased Display Costs: If you choose to frame your signed photo, the cost can be significantly higher due to the need for materials like UV protective glass, acid-free backing, and high-quality mats to protect the autograph. |
| Sentimental Value: Having a celebrity's autograph on your photo can make an already personal keepsake even more special and unique, adding sentimental value. | Lack of Stored Value: While having a photo signed by a celebrity might mean a lot to you personally, it generally doesn't add monetary value. This is because autograph collectors and dealers typically prefer autographs on movie stills, posters, or other collectibles, not personal photos. |
| Visual Enhancement: A celebrity's autograph can aesthetically enhance your photo op when it's on display, serving as a focal point and conversation starter. | Signature Preference: Some autograph collectors prefer to have movie stills, posters, or other celebrity-related collectibles signed, as these items often hold more value in the collectors' market than personal photos do. |
Conclusion
A convention photo op is a unique experience, a chance to meet your favorite celebrities and create a lasting memory. From understanding the process to selecting the perfect pose, every step contributes to making this moment unforgettable. So, step into your celebrity photo op with confidence and, above all, don't be afraid to be creative and let your personality show!
How to display a celebrity photo op?
Displaying your celebrity photo op is a great way to preserve the memory. Consider framing the photo and hanging it on a wall or placing it on a desk or bookshelf in your home or office. You could also create a dedicated photo album for your celebrity meet-and-greets. For the digital version, you can use it as your computer or phone wallpaper or even share it on your social media platforms.
How to take a fun celebrity photo op?
Making a celebrity photo op fun largely depends on being creative and being yourself. Here are a few tips:
Be original: Think of a unique pose or idea that represents you and your interaction with the celebrity. It could be a funny face, a thumbs up, a high-five, or even a pose that references the celebrity's well-known character or role.
Props are your friend: If the convention allows it, consider bringing props related to the celebrity's work. This could make the photo more memorable and unique.
Express yourself: Don't be afraid to show your excitement and enthusiasm. Authentic reactions can often lead to the best photos.
Remember to respect the celebrity's comfort zone and always ask before initiating a pose or bringing props.
How to get a celebrity photo op?
To get a celebrity photo op, first, you need to find out which conventions or events the celebrity is attending. You can usually find this information on their official websites or social media accounts. Once you've determined the event, check the event's website for photo op tickets. These are often sold separately from the event tickets, and they can sell out quickly, so it's recommended to buy them as early as possible.
How to do a celebrity photo op well?
Doing a celebrity photo op well involves a few key steps:
Preparation: Research the event's rules and processes beforehand, so you know what to expect.
Punctuality: Arrive at the designated photo op area 15 minutes prior to your photo op time. This will help everything run smoothly.
Respect: Be respectful of the celebrity's time and personal space.
Posing: Have a pose in mind, but be flexible in case the celebrity is not comfortable with it.
Enjoy the moment: Although it may be quick, remember to enjoy the experience. This is a unique opportunity to meet a favorite celebrity, so try to make the most of it.
How long is a Celebrity Photo Op?
Unlike an autograph session at a convention where you may get a minute of interaction with a celebrity, photo ops are fleeting. Comic Con attendees should expect to only get about 10 seconds of interaction with the celebrity during a photo op as the process is rushed to try and accommodate as many guests as possible.
What is a photo op with a celebrity?
A photo op with a celebrity is a professionally taken photograph of you with a star or a group of actors from your favorite TV show or movie. This usually happens at events or conventions, providing fans with a unique opportunity to meet their favorite celebrities and create a tangible memory of the experience.
How much does a celebrity photo op cost?
The cost of a celebrity photo op typically ranges between $60 and $300. This can vary depending on the popularity of the celebrity and the specific event or convention. High-profile celebrities tend to charge more for their photo ops.
Can you buy Photo Ops at Comic Con?
Yes, you can buy Photo Ops at Comic Con. Photo op tickets are typically sold on the event's official website ahead of the convention, and depending on the event's policies, they may also be available for purchase on-site. It's recommended to buy them as early as possible, as photo ops with popular celebrities can sell out quickly.
What is the difference between a photo op and a selfie?
A photo op refers to a professional photo session run by a photography company within a convention. The session typically involves a professional photographer, professional lighting, and a high-quality camera, resulting in a glossy print and a downloadable digital version of the photo.
On the other hand, a selfie is a photo taken on your cellphone, typically at the celebrity's autograph table. The quality of a selfie can vary based on your phone's camera quality and the lighting conditions, and unlike a photo op, it may not provide a physical print.
Do Photo Ops sell out?
Yes, photo ops can and often do sell out, particularly for popular celebrities. Fans are highly encouraged to order their photo ops well ahead of the convention to secure their spot and avoid disappointment. The number of photo ops is often limited due to the celebrities' tight schedules at the conventions, which makes pre-ordering even more crucial.