Baroque Portfolios, a renowned name in the world of print and poster collection, has once again made waves in the market with the introduction of their new Deluxe Leather Poster Weights (V2) and the announcement of upcoming portfolios for quad posters. Here's a detailed look at these exciting developments.
New Deluxe Leather Poster Weights (V2)
The new Deluxe HD Leather Poster Weights (V2) are a significant upgrade from their previous version. Weighing approximately 2.2lbs (1kg) each, these heavyweights are designed to take on the challenge of stubborn prints that have been in a tube for months or printed on heavyweight stock.
Features and Specifications
Size: 5″ L x 3.5″ W x 1.4″ H
Weight: ~2.2LB (1KG) each
Material: Genuine soft non-marring genuine leather exterior
Design: Hand burnished edging, embossed logo, filled with STEEL shot beads
Function: Perfect for flattening multiple art prints, posters, and as a tool for framing
These weights are available for preorder and will ship in the next batch scheduled for October. They are also available to the UK & EU customer base.
Comparison with Previous Version
The previous version of the Deluxe Leather Poster Weights was lighter, with each weight being around 14.5 ounces. The new version's increased weight and rectangular design make them more suitable for handling heavy prints.
Importance of Poster Weights
Poster weights are essential tools for poster and print collectors. They help in flattening prints, especially those that have been rolled or stored in tubes for a long time. The weights ensure that the prints remain flat and in perfect condition, ready for framing or display. Baroque's new weights, with their heavy design, are perfect for handling even the most stubborn prints.
Upcoming Quad Poster Portfolios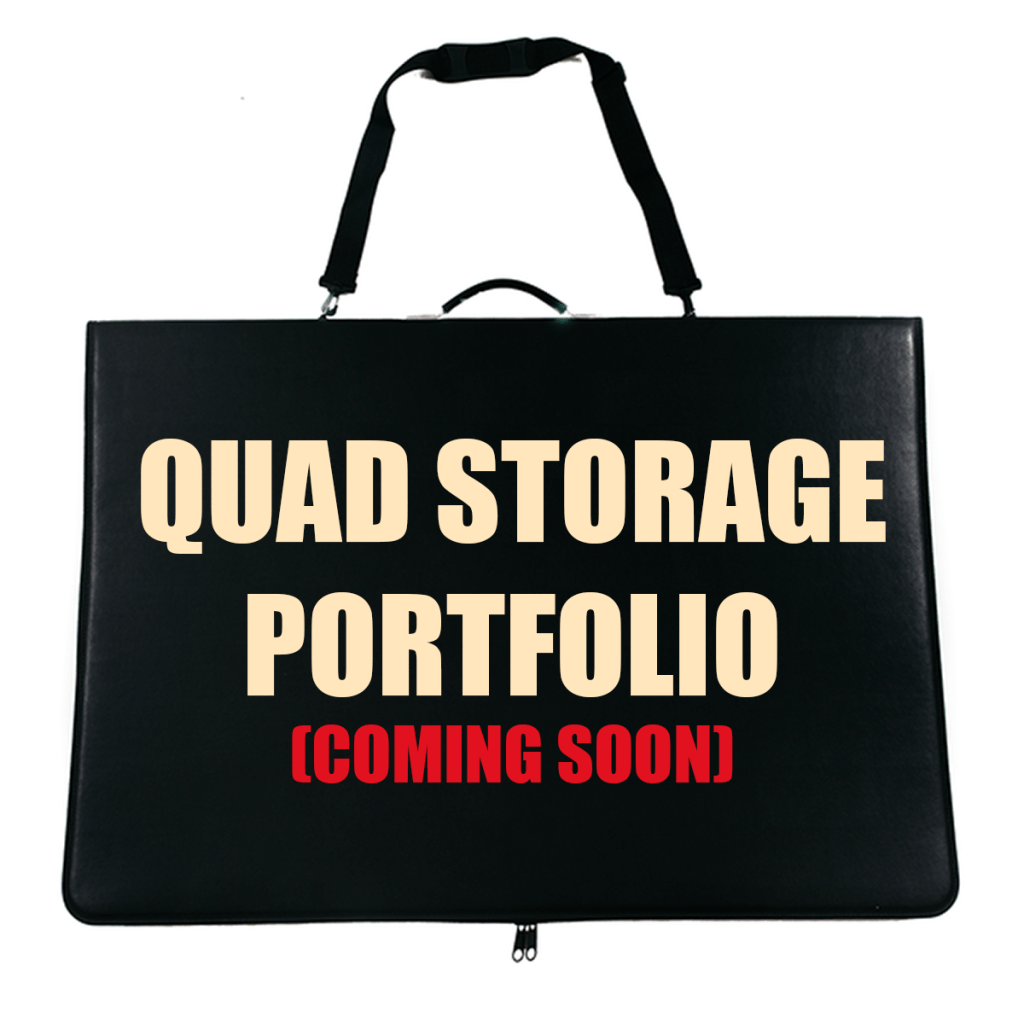 Baroque Portfolios has also announced that they are working on a prototype for quad poster collectors. Quad posters are typically large, square posters used in the UK for film advertising. They measure 30 x 40 inches and are a popular collectible item.
The company has received numerous emails from quad poster collectors, and they are taking their time to ensure the portfolio's perfection due to its sheer size. More updates will be provided once it's ready for launch.
Current One Sheet Poster Portfolios
Baroque Portfolios already offers a range of poster portfolios for onesheet movie posters. Their One Sheet Poster Storage Portfolio is available in sizes 18 x 24 inches, 24 x 36 inches, and 27 x 41 inches. It features a black durable bi-cast leather exterior, full zipper enclosure, acid-free paper inserts, and a high-strength metal multi-ring binder. It's lightweight and easy to carry, with enough storage for up to 100 prints.
Light Box Frames: The Perfect Poster Companion
For poster enthusiasts and collectors, the presentation is key. Baroque Portfolios offers the perfect solution with their Movie Poster LED Light Box Frame (27×40 inches). This frame is not just a way to display posters; it's an enhancement that brings life to any movie poster.
Features and Specifications
Size Compatibility: Specifically designed for 27 x 40-inch double-sided movie posters.
Material: High-quality aluminum frame, strong and durable.
Design: Front-open design for quick and easy loading and changing of prints.
Lighting: Solid LED diffuser ensures an even backlight across the entire image, with a lifespan of over 50,000 hours.
Protection: Includes a sheet of acrylic glazing to protect valuable artwork when on display.
Mounting: Four mounting brackets on the rear for safe and easy hanging on any wall (hardware not included). Can be mounted horizontally or vertically.
Power: Worldwide AC/DC adapter included, working on 100v – 240v power inputs. Connect to a WiFi plug to control the frame from anywhere.
Dimensions: Outer frame – L 42 5/8″ x W 29 3/8″ x D 1 1/4″; Inner frame – L 40″ x W 27″; Frame profile – 1 7/16″.
Why Choose Light Box Frames?
Light box frames offer a unique way to showcase movie posters. The LED backlighting adds depth and vibrancy to the image, making it a focal point in any room. The front-open design allows for easy changes, so you can rotate your collection and keep the display fresh.
The Movie Poster LED Light Box Frame by Baroque Portfolios is more than just a frame; it's a piece of art itself. With its sleek design and quality construction, it's a must-have for any serious poster collector. Whether you're displaying a classic film poster or a modern masterpiece, this light box frame will make it shine.
Conclusion
Baroque Portfolios continues to innovate and cater to the needs of poster and print collectors. The new Deluxe Leather Poster Weights (V2) and the announcement of quad poster portfolios demonstrate their commitment to quality and customer satisfaction. Collectors can look forward to these new additions to Baroque Portfolios already stella lineup of frames, weights, and portfolios for new ways to enhance their experience and preserve their valuable collections.