Why I Chose Baroque Portfolios For Poster Storage
I collect full-size "one sheet" movie posters and storage is always top of mind. They are quite large at 27×40″ or 27×41″ for older ones, so storage can be a challenge. As framing is costly, most people simply keep them in tubes. However, since paper has a "memory", it's better for the poster if you lay it out flat. Flat storage also has the added benefit of saving you from having a pile of unsightly tubes laying around somewhere.

A few years ago I took all of my posters out of their tubes and moved them to Mylar bags backed with archival-quality boards. That solution was definitely a step up, but it was a very expensive solution that was also not easy to look through.

What I really wanted was something similar to Itoya art portfolios, which are essentially the gold standard for print and autograph storage. Unfortunately, they don't offer anything in a format as large as 27×41″. When it comes to portfolios of that size, really the only game in town is Baroque.

When I decided to pull the trigger and go with Baroque, I ordered a 27 x 41″ portfolio from them in April 2021. However, I didn't receive it until mid-October. In the meantime, Baroque provided regular updates on shipping delays which stemmed from the cargo ship that carried the container with their portfolios having several delays.

If you would like to buy a Baroque portfolio yourself, you can use this link for a 10% discount. I don't get a commission, just passing on some savings.
Manufacturer Specifications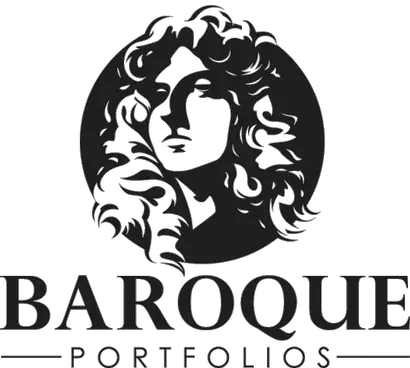 Design:

Black durable bi-cast leather exterior (Synthetic / Vegan)
Fully riveted construction for strength & durability 
A full zipper enclosure protects your collection from dust and debris
Acid-free paper inserts in each sleeve 
Black high-strength metal multi-ring binder
Lightweight and easy to carry/transport with the included shoulder strap

Each portfolio includes:20 double-sided oversized archival and acid-free polypropylene sleeves sealed on three sides with a pocket size of 27.5 x 41.5 inches

Holds one sheet movie posters, artwork, and prints up to 27 x 41 inches in size Reverse compatible with both our 18 x 24 and 24 x 36 refill packs!

Storage capacity:

Transport – safely hold up to 25 sleeves (50 prints)
Storage (Flat) – safely hold up to 50 sleeves (100 prints)

Additional sleeve refill packs are sold separately!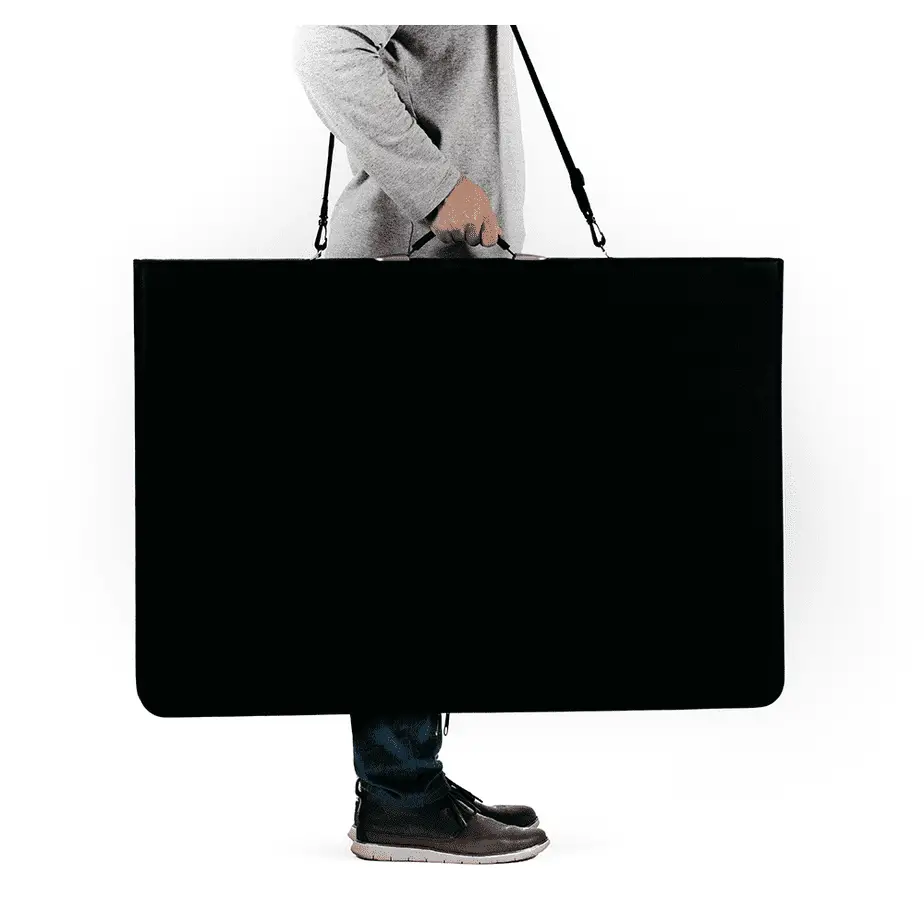 Unboxing, Filling The Baroque Portfolio
Despite being out at sea for a month, my portfolio arrived in great condition. It was well packaged with plenty of cardboard, foam, and bubble wrap. It took me a few minutes just to get it all unwrapped and free from the packaging. Though, once you actually get the portfolio out, setup is simple. All that comes inside is a strap to carry the portfolio on your shoulder and 20 sleeves that can accommodate 40 posters. The sleeves are slightly longer than the rings so when you install the sleeves, there should be one empty hole above the top ring and one empty hole below the bottom ring.
Loading posters into the sleeves was easy. You did have to be a little careful to not get the corners of your poster snagged on the edges of the sleeves, but getting them in wasn't a challenge. The only difficulty I had with installing and filling the sleeves came from the sheer size of the product. It could be a bit of a stretch to reach the opposite end of the portfolio, but that is to be expected and no fault of Baroque's, just something to be aware of.
The one flaw I did find was with the rings themselves. Unfortunately, they don't close all the way and even a small gap can cause big problems. When turning these very thin sleeves, they have a tendency to slip out of the rings. Having to readjust your sleeves after every turn of a page is a considerable time sink and makes flipping through your posters on a regular basis something that you are a lot less likely to do.
How to Fix Binder Ring Gaps
A post on the Star Wars Poster Collectors group on Facebook highlighted that gaps in Baroque's binder rings were a common issue. One solution was to place tubes over the rings to close the gap. I took that idea and decided to use heat shrink tubing to help ensure a tight fit that wouldn't just create a new problem with sleeves snagging.

I used 3mm heat shrink tubing which can be easily purchased from Amazon. I cut the tubing into 3/4″ segments and covered each ring. I then took a lighter and carefully applied heat to the tubing to shrink it around the ring. It created a tight fit and prevented the sleeves from slipping out when turned. Granted, it didn't make turning the pages super easy, they are still large and unwieldy, but it was a big improvement and at least the problem of pages slipping out of rings was solved.

I asked Baroque to comment on the issue and their customer service was top-notch. They offered to replace the portfolio when the next shipment comes in and told me that they have done so for other customers who have experienced similar problems. If you are experiencing this, you can contact them by email. They had the following to say regarding the issue.

UPDATE: True to their word, Baroque did indeed send me a replacement portfolio 100% free of charge. They didn't even charge me for shipping. There was no fuss dealing with Baroque's customer service and they went above and beyond my expectations to do what they could to resolve the issue.
Baroque Portfolio Review
Portfolio Build Quality: 10/10
– The portfolio itself has a very nice feel and appearance thanks to the synthetic leather exterior. It is sturdy and feels like a quality build. This thing is a little heavy, which is where the shoulder strap comes in handy, so while I wouldn't want to lug it to a convention to add signatures to a poster, I see no reason why it wouldn't hold up for a trip like that.
Ring Build Quality: 4/10
– This is really the Achilles' heel of the portfolio, which is a shame since it's probably one of the cheapest components, and Baroque could have easily gone for a better-function binder ring. However, once you fix the rings with heat shrink tubing, it at least becomes serviceable.
Sleeve Quality: 7/10
– The sleeves are made from acid-free polypropylene and contain acid-free paper, so they are perfect for archival quality poster storage. My only complaint is them snagging on the rings and the way that the seams are sealed together, which can cause posters' corners to snag.
Storage: 10/10
– This is a great storage solution. I keep mine under a guest bed thanks to its low profile. It can store up to 100 posters if you purchase additional sleeves which make this pretty future-proof for me.
Form Factor: 10/10
– Although flipping through the pages could be easier, I think this is the best solution out there right now. It allows me to look through my collection, easier than I have ever been able to before, especially when everything was in tubes. This portfolio is necessarily large, but it's made easily portable by the handle and detachable strap.
Customer Service: 10/10
– Baroque's customer service went above and beyond what was required by offering to send me a new portfolio when they come back in stock. You really can't ask for more than that.
Overall: 8/10
– Despite the drawbacks, I am happy with my purchase. At the end of the day, it is a storage solution that will keep my posters safe and will allow me to look through them better than I have before. Its large capacity and expandability also make it a great choice and it pairs great with Baroque Porfolios' LED light box frames.
More Stories You'll Love