Daniella Pineda is popular due to her impressive acting skills, sharp humor, and magnetic personality. She gained a following in the comedy scene before making a name for herself in Hollywood, with breakout roles in The Vampire Diaries and The Originals. Her performance in Jurassic World: Fallen Kingdom further cemented her status as a rising star in the film industry.
Pineda is also a talented writer, known for her work on popular television shows and films. Her advocacy for social justice and willingness to use her platform to raise awareness for important causes have further endeared her to fans.
It's therefore no surprise that businesses, charities, and fans alike all want to contact her. To help make that possible, the following addresses, emails, and phone numbers have been compiled to give Daniella Pineda fans the best and most up-to-date resources for contacting her directly or through her representatives.
How to Contact Daniella Pineda
Every day, thousands of people contact the celebrities, athletes, and public figures they admire most. Some want to request donations for charity, some seek new business opportunities, but most want to send fan mail.
That's because fan mail is a great way to express your support and admiration. Since Daniella Pineda is only gaining popularity, there's no doubt that the popular actress gets her fair share of messages and well wishes.
Daniella Pineda has yet to establish a history of responding to fan mail. Don't let that discourage you though. You can write to her by using this simple fan mail template. If you're having trouble expressing yourself, you can also generate a letter with AI! Then try reaching out via the addresses below. Good luck!
More Ways to Contact Daniella Pineda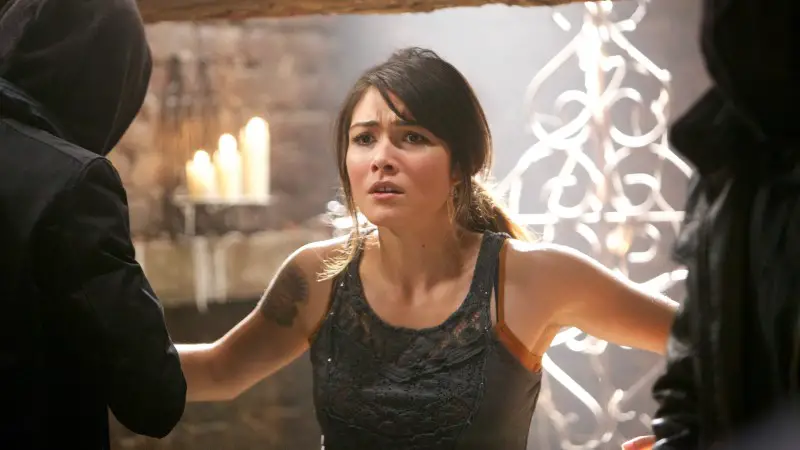 If you still need more email addresses, phone numbers, and mailing addresses in order to reach the Jurassic World: Dominion actress, then look no further. You can reach out to Daniella Pineda via her representatives.
DM Daniella Pineda on Social Media
A lot of fans are more comfortable DMing than they are with sending a letter in the mail or making a phone call. It's a strategy that can work as there are a number of celebrities that have been known to respond to DMs. Try reaching Pineda on her official social media accounts.
About Daniella Pineda
Daniella Pineda is a talented actress and writer who has made a name for herself in Hollywood. Born on February 20, 1987, in Oakland, California, she is of Mexican-American descent. Pineda grew up in a close-knit family in Oakland, alongside her younger brother Elliott.
Pineda attended Mills College in Oakland, California, where she pursued a degree in sociology and radio journalism. During her time in college, she discovered her passion for comedy and began performing in local stand-up clubs. After graduation, she moved to New York City to pursue her career in comedy.
Pineda quickly gained a following in the New York comedy scene and began producing and starring in her own online videos. Her unique brand of humor caught the attention of casting directors, and she soon began landing small roles in television shows and films.
In 2013, Pineda's career took a major turn when she was cast as the witch Sophie in The CW's hit series The Vampire Diaries. Her role was a guest spot in season four, but her performance was so impressive that she was asked to reprise her character in the spin-off series, The Originals. The show premiered in 2013 and ran for five seasons.
Pineda's success on The Originals opened doors for her in the film industry. In 2018, she landed a role in the blockbuster film Jurassic World: Fallen Kingdom. She played the character Zia Rodriguez, a tough-talking veterinarian who is recruited to help save the dinosaurs on Isla Nublar.
In addition to her work in acting, Pineda is also a talented writer. She has written for several television shows and films, including the Netflix series American Vandal and the movie Altered Carbon. She is also a published author, with her debut novel "The New Adventures of Mr. Toad: Toad Hall in Lockdown" being released in 2020.
Pineda is known for her quick wit, sharp humor, and magnetic personality. She is an outspoken advocate for social justice and has used her platform to raise awareness for various causes, including women's rights and LGBTQ+ rights.
In her personal life, Pineda is private about her relationships and keeps a low profile. She currently resides in the Williamsburg neighborhood of Brooklyn, New York.
Daniella Pineda's talent and hard work have made her one of the most exciting rising stars in Hollywood. With her natural charisma, sharp wit, and dedication to her craft, she is sure to continue making waves in the entertainment industry for years to come.
FAQs
Who is Daniella Pineda's manager?
Daniella Pineda's manager is Jay Gassner of United Talent Agency (UTA).
What is Daniella Pineda's fan mail address?
You can write to Daniella Pineda via UTA at:
UTA Plaza
9336 Civic Center Drive
Beverly Hills, CA 90210
USA
What is Daniella Pineda's phone number?
While Daniella Pineda's personal phone number is not public information, you can reach her by phone through her representatives by calling her agency UTA at +1 310 273 6700.
Get Updated Celebrity Contact Info First!
Sign up for the Tales From The Collection newsletter and be the first to know when new contact info is added for celebrities like Arnold Schwarzenegger, Madelyn Cline, and Lily Collins!