In a world where virtual connections and social media interactions dominate our day-to-day life, the art of letter writing has found a unique, exciting niche: fan mail. Across generations and cultures, fan mail has been a way for enthusiasts to connect with their idols – be it film stars, athletes, authors, musicians, or other public figures. It is more than just an expression of admiration; it's a personal connection that transcends the usual boundaries between celebrities and fans.
An exciting facet of this fan culture is the hobby of Through The Mail (TTM) autograph collecting. Fans write to celebrities, hoping to get a response in the form of autographed photos, merchandise, or even a handwritten note. It's a thrilling pastime that combines the joy of collecting, the love for a particular celebrity, and the suspense of waiting for a response.
For many years, fanmail.biz, a website that offers a fan mail address database and a bevy of forums for collectors, has been a staple in the hobby. Is it still a viable resource for getting responses to fan mail though? While many can still use fanmail.biz to great effect, there are ways to use it better and alternatives that could get you much better results.
Fanmail.biz's Biggest Asset: Their Users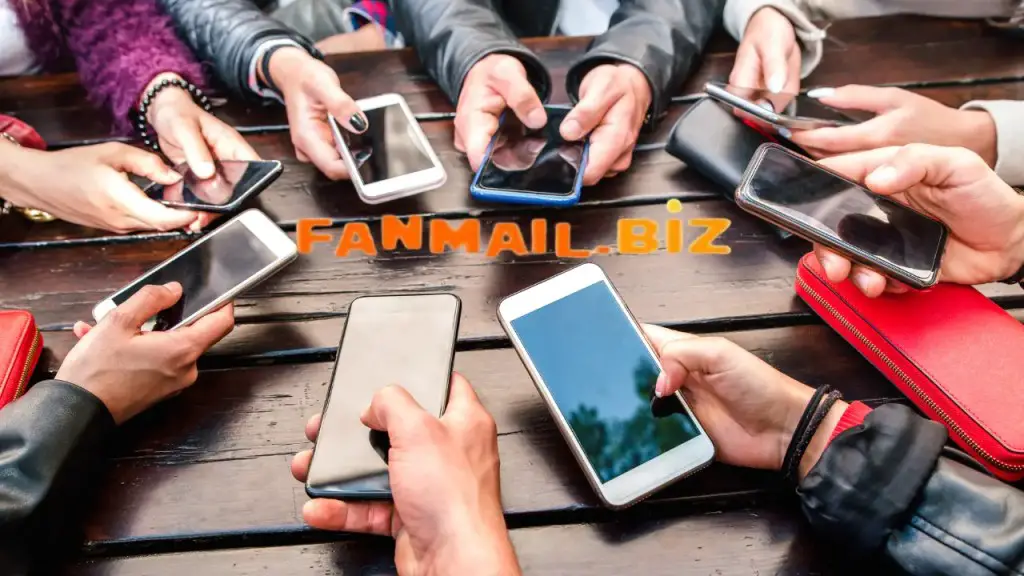 One of the notable features of Fanmail.biz is its feedback forum, a dynamic hub where users can share their recent fan mail successes (responses) and failures (refused mail).  This real-time record of interactions between celebrities and fans can provide useful insights into which celebs are currently active in the autograph signing scene.
The forum is filled with posts from fans who have received letters, sketches, autographs, and memorabilia for little-known actors to the world's biggest stars. This information can be vital for autograph collectors to gauge their chances of getting a response from their favorite celebrity.
However, while the Feedback forum provides valuable insight, it may not present the full picture. The community's experiences are diverse, and what worked for one individual might not work for another. It's also important to note that the forum's user base might be more inclined to share their successes rather than their failures, creating a skewed perspective of success rates.
Via Venue Feedback and Limited-Time Opportunities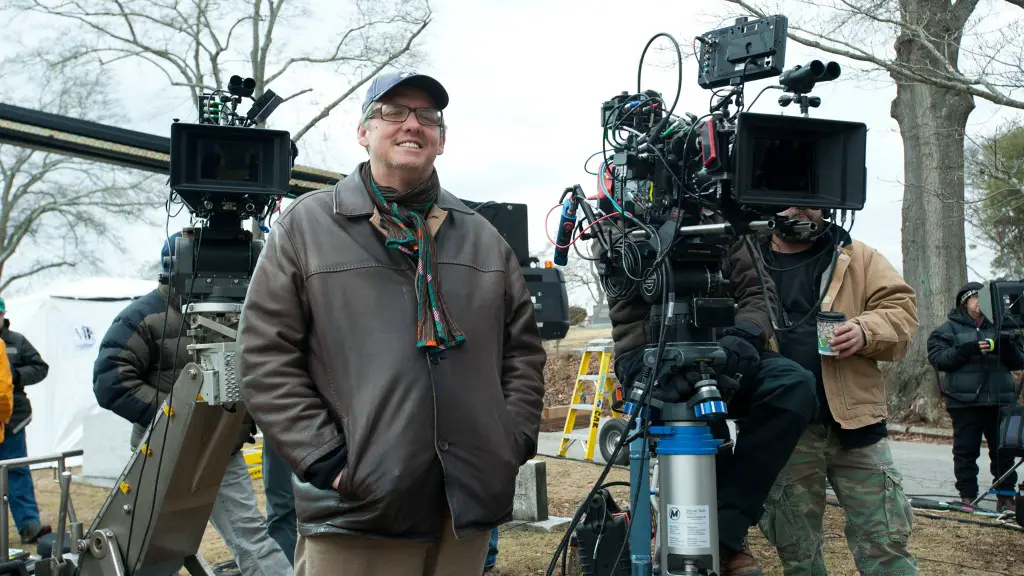 Fanmail.biz's Via Venue Feedback forum is another valuable resource for TTM autograph collectors. This is where users can share addresses for venues where celebrities will be appearing for a limited time, like movie or TV sets, Broadway shows, or concert venues. Given that these addresses are temporary, it's an exciting race against time for fans to get their letters to the right place at the right time.
These venue addresses offer fans a unique opportunity to reach celebrities—even those that are typically hard to contact. However, don't expect to find every production here, as what's on offer can be quite limited.
For the latest information on film and TV set addresses, a good alternative is our Production Updates. Tales From The Collection recognizes the importance of these temporary addresses so we go above and beyond by posting current information as soon as it's available.
Contact Database: A Critical Review
Fanmail.biz boasts a comprehensive contact database, spanning a broad spectrum of public figures from various fields, including entertainment, sports, and politics. The sheer volume of contact information available can be impressive for autograph collectors.
However, as with anything, quantity does not necessarily equate to quality. Fanmail.biz's database often provides a single contact method for each celebrity, which can be limiting. Autograph collecting is a nuanced art that requires multiple approaches for success, and having just one method to reach a celebrity can drastically reduce your chances of a successful autograph request.
In several instances, Fanmail.biz provides either the agent's or the publicist's address for a celebrity. While this might work for some celebrities, it's essential to recognize that many high-profile figures have teams managing their fan mail. Your heartfelt letter and autograph request might end up in a pile of unread fan mail, making your chances of receiving a personal response slim to none.
Fanmail.biz Alternatives
Fanmail.biz is not the only game in town. There are others who offer more in-depth information and this is where Tales From The Collection shines. Our address database may not be as expansive as Fanmail.biz, but we make up for it by going in-depth. We strive to provide a variety of contact information wherever possible, including not only contact details of agents, but celebrity-owned businesses, managers, and more.
Our mission is to increase the success rate of our users in their autograph-collecting journey. We believe in giving our users the tools and information they need to get creative with their approach. By providing varied and verified contact details, we empower our users to bypass the usual pitfalls and get their letters directly into the hands of their favorite celebrities.

While there are a lot of fan mail resources out there, another one that stands out from the crowd is Star Tiger. This paid service

| | | | |
| --- | --- | --- | --- |
| Service | Cost | Address Database | Quality of Information |
| Fanmail.biz | Free | Better | Good |
| Star Tiger | Paid | Best | Better |
| Tales From The Collection | Free | Good | Best |
Conclusion: A Critical Review of Fanmail.biz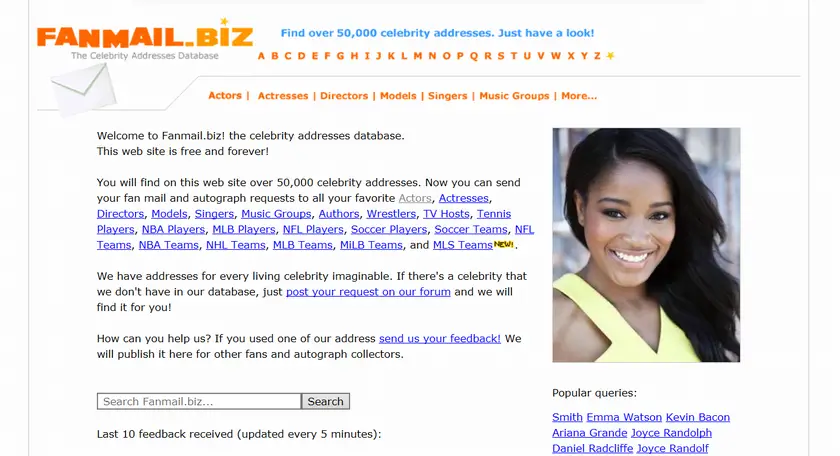 Looking back at our analysis of Fanmail.biz, it is clear that the site has some merits. It provides a free platform for fans and autograph collectors to share their successes and disappointments. The user-based feedback forum is certainly a unique feature that allows newcomers to gain an understanding of the fan mail landscape. Additionally, the Via Venue Feedback forum can be a useful resource for those trying to reach celebrities who are typically elusive.
However, where Fanmail.biz falls short is in the quality and upkeep of its contact database, offering only a single method of contact and a lack of regular updates. These shortcomings limit the success rate for fans and autograph collectors and might cause them to waste time and effort.
FAQs
Is fanmail.biz legit?
Yes, fanmail.biz is a legitimate site that has been around for many years. It provides a database of contact information for a variety of celebrities across multiple fields, from acting and directing to sports and writing. The addresses listed are gathered from various sources and submissions from users. However, as with all things on the internet, it's always important to exercise a degree of caution and skepticism.
How do you fan mail a celebrity?
Writing fan mail to a celebrity involves a few steps:
Find the celebrity's contact information: Websites like fanmail.biz and Tales From The Collection provide databases with celebrity contact information.
Write your letter: Make your letter personal, respectful, and concise. Express your admiration, mention their work you appreciate, and possibly ask them questions.
Include a self-addressed stamped envelope (SASE): If you hope to get a response or autograph, include a self-addressed envelope with enough postage for the celebrity to mail something back to you.
Send your letter: Mail the letter to the address you found. Be patient, as responses can take weeks, months, or even years.
Do actors read fan mail?
Yes, many actors do read their fan mail. However, the volume of mail they receive can be overwhelming, so they might not be able to respond to each one. Some celebrities have publicists or assistants who filter their mail. It's also worth noting that not every celebrity feels comfortable receiving personal letters at their home address, which is why many prefer fan mail to be sent through their official fan clubs or talent agencies.
Who is the easiest celebrity to contact?
This can vary greatly and often depends on the celebrity's popularity, schedule, and personal preferences regarding fan interaction. However, generally speaking, celebrities who are less in the limelight or who are known to appreciate their fans might be easier to contact. Celebrities who actively engage with their fans on social media platforms or have their own websites might also be more approachable. Always remember to respect their privacy and personal boundaries when attempting to make contact.
How do you post a picture on fanmail.biz?
Posting a picture on fanmail.biz involves a few steps:

1. Upload Your Image: Before you can post an image on fanmail.biz, you need to upload it to a third-party hosting site. Some of these services include Surf My Pictures, Google Photos, Imgbb, Tumblr, or Imgur. Follow the instructions on your chosen platform to upload the image.

2. Get the Image URL: Once your image is uploaded to the hosting site, you'll need to get the direct link or URL for the image. The method to get this URL will depend on the platform you're using. Generally, you should look for options like "Get shareable link" or "Copy Image Address."

3. Embed the Image on fanmail.biz: When you're creating a post on fanmail.biz, to embed the image, you need to use the [img][/img] tags. Paste the image URL that you copied earlier in between these tags, like this: [img]your-image-url[/img]. When you submit the post, your image will appear within the post.
Remember that the ability to post images may be limited by the rules of the forum, and not all third-party hosting sites may be supported. Always make sure to follow the guidelines of both fanmail.biz and the image hosting site.
s
From conquering kingdoms in "Game of Thrones" to navigating the complexities of American politics, Emilia Clarke is set to captivate audiences once again. This time, she's diving into the murky waters of U.S. history with the upcoming feature film "McCarthy."…