Taylor Swift isn't only a songwriter and singer; she's also a fashionista with a great sense of style. Throughout every Taylor Swift era, she always seems to have a different outfit to match the theme.
From the white dresses and cowboy boots from her Fearless era to her iconic tween style from 1989, Swift has always been a fashion icon.
Swift's fashion style is so dynamic that, as a Taylor Swift fan, you can build an entire wardrobe dedicated to her styles. Swift's love for fashion is featured in many of her songs.
You've come to the right place if you're a sartorial Swift fan wanting a capsule wardrobe of Swift's style. This guide delves into some must-have fashion pieces for pop star fans.
14 Must-Have Fashion Pieces for Taylor Swift Fans
Whether you're planning to get your friend, who's a Taylor Swift fan, some Taylor merch, or you want to get a piece for yourself, there are plenty of outfit ideas you can consider.
Even if you or your friend have a massive wardrobe like the Kardashians, revamping your wardrobe with some Taylor Swift dupes will be a hit for your closet. So, without further ado, here are 14 Swift-inspired outfits to consider adding to your wardrobe.
1. A Cardigan
Topping our list of pieces to consider getting is a simple cardigan. This iconic piece is based on the pop star's song, Cardigan. This song is one of her first singles off the 2020 Folklore album. And in the music video, she wore a chunky knit cardigan. The cardigan was like an old cardigan which gave a cozy vibe.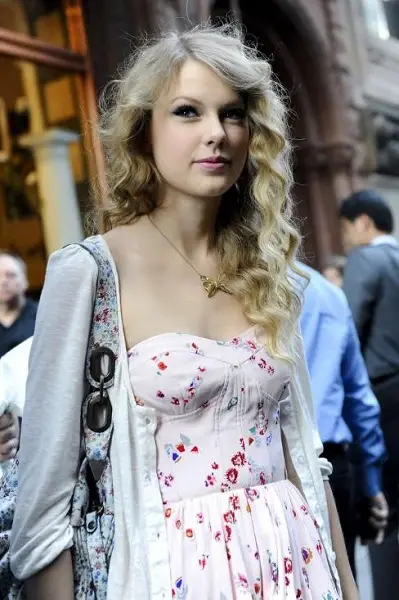 Taylor Swift sold this cardigan on her merch website. If you missed out on claiming this coveted sweater, there are plenty of dupes to try that are way more affordable and still made of magnificent quality.
The Macnoora Casual Chunky Knit Cardigan, Ninfort Netted Crochet Cardigan, and Qualfort Cardigan are good alternatives.
2. Scarf
Another iconic Taylor Swift clothing piece to consider getting is a scarf. Scarfs are a statement piece often overlooked by many but not by Taylor Swift. She has been seen rocking a scarf on so many occasions, particularly on the streets of New York during winter.
A red scarf is one of Taylor Swift's key accessories. It's such a fringe in her outfit that it almost caused a scandal after fans spotted Jake Gyllenhaal, Swift's ex, wearing a scarf she gave him.
Some good options for Swift lookalike red scarves include this Stylore Chiffon Scarf, Wander Agio Women's Scarf, and iCurly Pashmina Shawl.
3. Maxi Black Dress
Taylor sure loves a nice dress. In almost every single one of her albums, she featured a maxi dress in one place or another. Also, you will often find her wearing a dress to events like the billboard music awards and while on tour.
She even dedicated a whole song to the garment in the piece "Dress." Taylor Swift's outfit can be any color, depending on the occasion.
Some typical examples of little dresses Swift would approve of include the Lyaner One Shoulder Maxi Dress, SweatyRock Sheer Lace Maxi Dress, and the Floerns Spaghetti Strap Maxi Dress.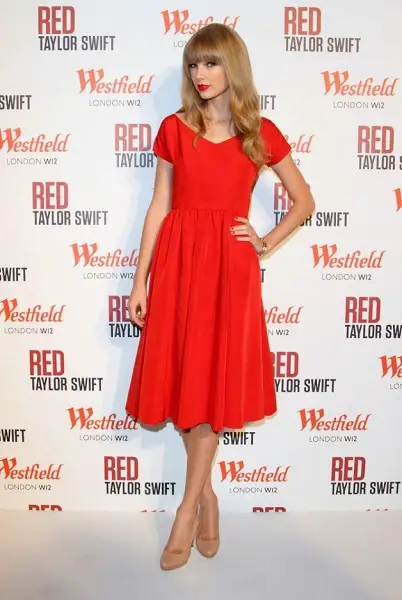 4. Sentimental Necklaces
Taylor Swift's love of jewelry is no secret. During the 2016 Grammy Awards, Swift appeared on the red carpet in a bright-colored atelier versace and a statement multicolor sapphire necklace, an orange sapphire oval ring, and a pink sapphire stud. Necklaces always had a special place in Swift's jewelry box and lyrics.
If you pay attention to some of her music videos, you will hear how sentimental she talks about necklaces, from initial jewelry to lockets. Notably, the awe-inspired Le Duo necklace is one of Swift's favorites. She was first spotted wearing the brand's gold vermeil necklace of two individuals touching hands in October 2021.
Taylor Swift was also spotted wearing the same brand's best-selling Women's Power necklace. If you can't get this Swift necklace, this Awe Inspired Mini Athena Necklace is an exceptional alternative.
5. Lots of Plaid
As the ultimate queen of fall, Swift has many plaid outfits that make up a big part of her wardrobe. From several of her TikTok posts to the cover of the Evermore album, she highlights this pattern elegantly. She wore a plaid jumpsuit and trench for Taylor Swift's Miss Americana documentary premiere.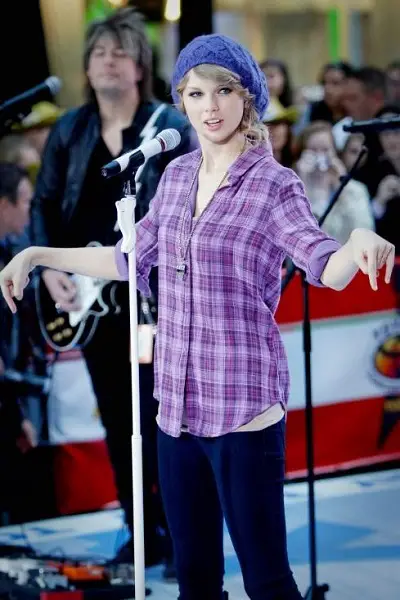 Even for urban outfitters, Swift finds a way to make a plaid print outstanding. If you wear a traditional flannel shirt, a tartan jacket, or a plaid dress, adding a little pattern makes your outfit pop which has been one of Swift's fashion secrets.
You can get so many plaid pieces, but this GUANYY classic plaid button-down shirt definitely screams Taylor.
6. Short Mini Skirts
When Taylor Swift is not wearing a dress, she'll be in a mini skirt. The Grammy award winner leans more toward the mini skirt vibe in many of her concerts and street-style looks. She proved that a mini skirt outfit seems most adaptable in the wardrobe.
She's often seen in a black mini-skirt with her signature red lips. Although the top may vary slightly, she always stays true to the mini skirt. An example of a Taylor Swift style mini skirt you can shop for is this Leather Pony Hair Mini Skirt from Roberto Cavalli.
7. Statement Sunglasses
Adding statement sunglasses to a look is also one of Swift's signatures. The Grammy award winner often wears heart-shaped sunglasses like those from the music video 22.
During the 1989 era, Swift made sunglasses a crucial part of her outfit. From Ray-Bans to Cat Eyes, the possibilities of the type of sunglasses she uses are endless.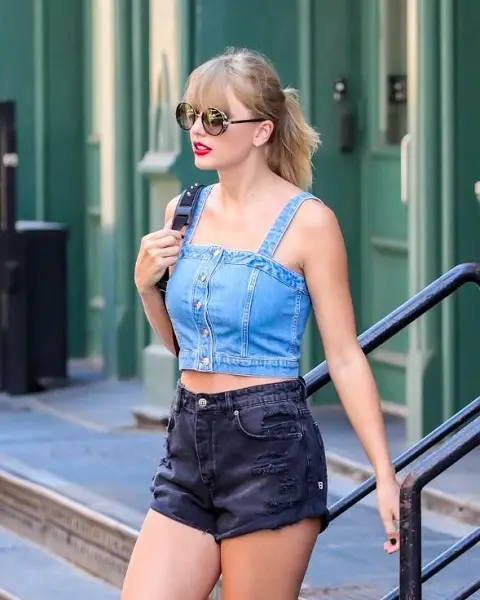 So, a statement sunglass will always go miles to change your look when revamping your wardrobe with Swiftie-inspired outfits. You can opt for many sunglass options, like these KALIYADI round polarized sunglasses or Ray Bans Classic Aviator Sunglasses.
8. Feline Frocks
It's common knowledge that Swift is in love with her cats. She often features them in her music videos, lyrics, and on her social media. As such, her passion for Feline Frocks is very fitting.
On the November 2021 Jimmy Fallon night show, Swift wore a short Zuhair Murad frock dress. If you want to add a little whimsy to your wardrobe, consider getting this Parker Augustine Waist or PrettyGarden dress.
9. Casual T-Shirts
One of Swift's go-to looks for years has been keeping things simple by wearing a casual t-shirt. Swift always seems to style these pieces cleverly, from text-covered shirts to shorts or rompers.
From vintage tees you can wear when rocking out to faded band tees you can hang on your door at the end of the night, Swift often keeps her outfit simple. Good options for casual shirts you can use for this Swift-inspired look include this Beautiful Short Sleeve Shirt or this Geifa T-Shirt.
10. Worn-Out or Dark Jeans
When Swift gets a rare night off from touring, her destination choice is often New York City. And during these times, she is often seen in casual outfits like baggy jeans, shorts, and t-shirts. Her country roots speak volumes about her outfit choices.
There are so many types of jeans you can opt for when you want to dress like Taylor Swift. The Levi jeans are a good example.
Whether you opt for the faded blue jean look or the classic dark jean look, you will find your perfect pair. Alternatively, you can check out these Lee Women's Relaxed Fit jeans or these Amazon Essential skinny jeans.
11. Short Sparkly Playsuits
On the Eras tour, Fearless is second on the list, and Swift opted for a glittering gold fringe mini dress. She wore a custom-made Zuhair Murad ball gown in pink for the second night of the Eras tour.
Also, Swift was spotted at the 2016 Met Gala wearing a sparkle metallic dress custom designed by Louis Vuitton, where she met Joe Alwyn for the first time.
Swift has always had a bit of sparkle on her signature outfits, particularly when it comes to her performance wardrobe. So, adding sequins and sparkly pieces like this Sematomala Sequin Playsuit or this Guess playsuit to your wardrobe is so Taylor Swift-like.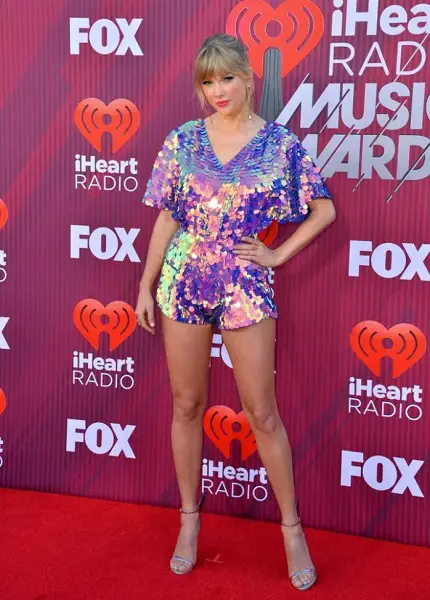 12. Cozy Jacket
A capsule wardrobe is not complete without a cozy jacket. This jacket pulls everything together and has always been one of Taylor Swift's most beloved outwear pieces.
You can pick from many cozy coats to match Taylor Swift's outerwear style, like the fluffy faux fur coat style she wore in the Midnight era with blunt bangs to the wool overcoat she used on the cover of Folklore.
Also, she has countless winter coats, blazers, and bombers. Some popular Taylor Swift style coats are this Bellivera Faux Leather casual wear or this Farvalue Belted Lapel Outcoat.
13. Stylish Handbag and Tote
Over the summer of 2022, Taylor Swift released merchandise around 1989 and Speak Now. This merchandise was available during the Speak Now era, which she used to prompt fans to speculate that Speak Now (Taylor Version) and 1989 (Taylor Version) could be out soon.
Amongst this merchandise were her iconic tote bags and handbags. Whether you shop for these exact bags or lookalikes, the right bag does justice to your outfit. For example, this Kate Spade Canvas Tote Bag is a good option.
14. Boots and Heels
On several occasions, Taylor Swift has been spotted wearing boots or heels, particularly on the streets of New York, Las Vegas, and beyond. During the kickoff performance on March 17th, Swift performed on stage in bejeweled Christian Louboutin knee-high boots with heels.
Also, there's something about Jimmy Choo shoes that Taylor Swift can't get enough of. In October 2022, Swift starred in the Jimmy Fallon Tonight Show, wearing the Jimmy Choo Govi Patent Leather boots.
During the 27th annual GLAAD Media Awards, Taylor Swift and Zendaya made a chic appearance in Jimmy Choo's high heels. Swift wore a dark blue Haney dress, black Hesper, and Melissa earrings. Popular Taylor Swift style boot dupes are these Soda Glove Ankle boots and Dream Pairs low heel pump sandals.
Conclusion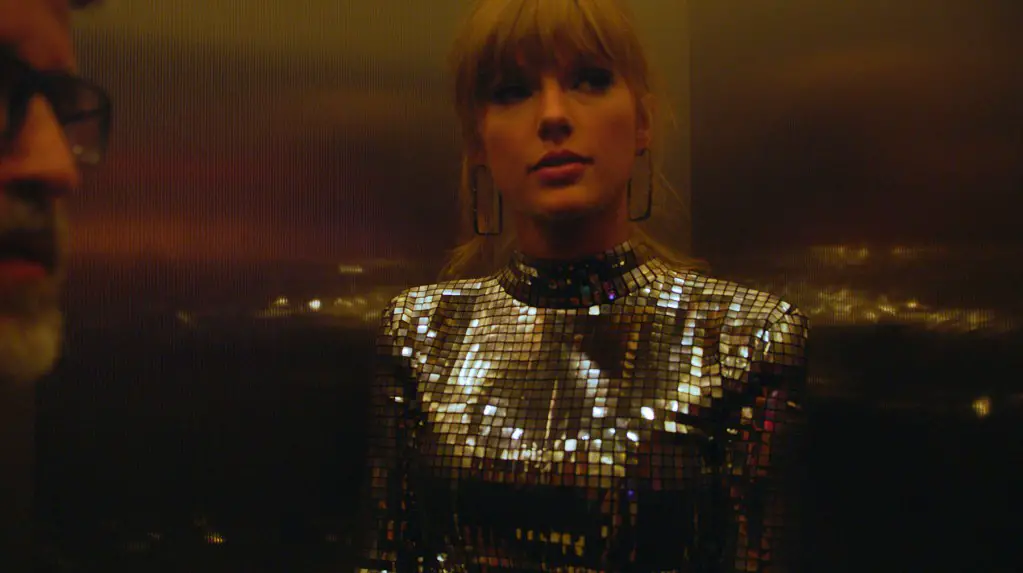 To sum things up, a good outfit speaks volumes. So, have fun looking for outfit inspiration to look like Taylor Swift. She's a fashionista and style icon with plenty of looks, so go ahead and pick your favorites.
Or better still, build a capsule wardrobe of your own with different signature pieces to suit various outings. Feel free to use this article as a guide while shopping, and remember to always go with what best suits your body type and personality.
Taylor Swift has one of the most forged autographs on the market today. Learn how to spot real and fake signatures to protect yourself!
Taylor Swift has millions of fans all over the world and many wonder if she responds to fan mail. The answer is yes!
What Are Digital Signatures? Arnold Schwarzenegger and Taylor Swift have both embraced a new kind of autograph—the digital signature. When it comes to signing documents, we've been signing digitally for a long time. However, when it comes to the world of celebrity autographs, they have been polarizing, to say the least. So what are they?…