Beyonce, popularly known as Queen Bey for her exceptional fashion taste, has always managed to be at the top of trends. Beyonce is equally a music legend as she is a fashion icon.
Starting as a member of the girl band Destiny's Child to dominating the charts as a solo artist. Queen Bey often coordinated her outfits which have inevitably evolved throughout her career.
Beyonce dresses are daring ensembles with sheer fabrics, thigh-high slits, and mini dress silhouettes for eye-catching looks. Queen Bey is a staple when picking out outfits to look flawless.
If you're a Beyonce fan and want to recreate her jaw-dropping dress moments, you have opened up the right guide.
Recreating 13 Beyonce Jaw-Dropping Dress Moments
Besides Kim Kardashian, Beyonce is the most influential figure in this generation of ladies. On her Instagram alone, Beyonce has a whopping 312 million followers. She has been a major cultural force for many millennials, particularly for her fashion taste.
However, you don't have to be Beyonce to pull off her iconic dresses. If you want Beyonce's looks, below are 13 of her jaw-dropping dresses.
1. Silver Jacket and Thigh High Boots
For the second night of the On the Run II tour in Glasgow, Beyonce took the stage with her husband, Jay Z, in a show-stopping metallic silver bomber jacket. Beyonce wore this jacket with sizzling thigh-high boots and a matching bodysuit.
She wore a huge golden mane design to elevate this style in a half-down, half-up look. This was not the first time she went with a silver outfit.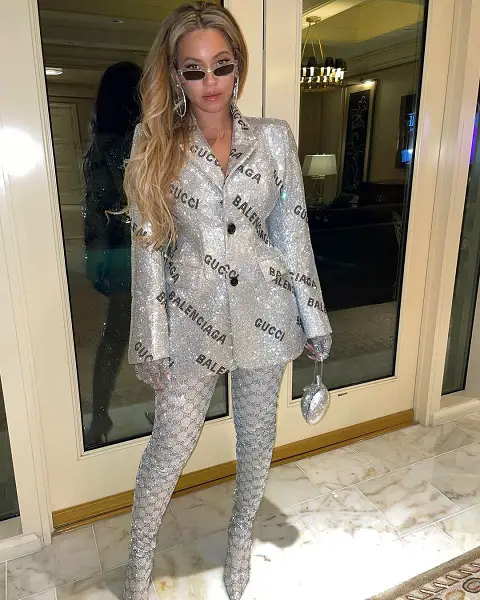 Photo Credit: Harpers Bazaar
For her husband Jay Z's 52nd birthday party, Beyonce wore a full silver Gucci x Balenciaga outfit. If you want to recreate this Beyonce look, consider getting this Kancy Kole Women's Sequin Coat and this Ellie Gogo Shoe.
2. Holographic Mini Dress
Talking about the holographic fashion trend is not complete without Beyonce. She reached out to David Koma for a custom outfit for the Renaissance World Tour.
This won't be Beyonce's first time seeking Koma's design creativity, as her bright neon green Oscar outfit with sequins and feathers was his creation.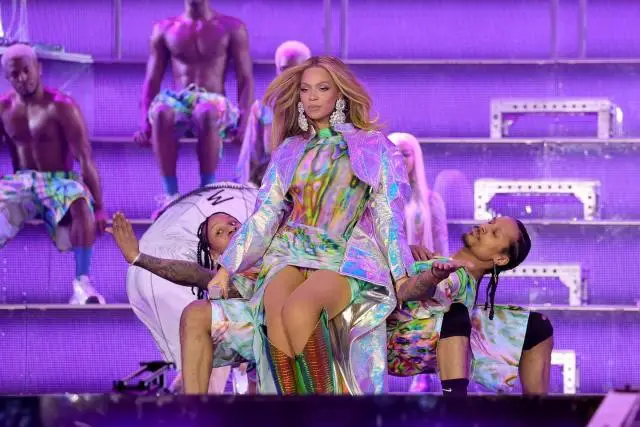 Photo Credit: Yahoo! Life
This time around, for the tour, he went with a holographic outfit which Beyonce wore with big statement earrings. Koma claimed when he created this look, he was inspired by marine biologist Sylvia Earle's documentary on Mission Blue. For the best psychedelic fashion alien look, go for this Fenyong Metallic Crop Top and Skirt Outfit. 
3. Shirt, Dress, and Boots
A shirt, dress, and great boots are the most common and casual styles you see Beyonce pulling off. The look is inspired by her music video "Formation," where she wore a simple red dress shirt on a sinking police car.
You can recreate this style for a casual daytime ensemble without breaking the bank. You can put together many styles to look like Beyonce using the right shirt, dress, and boot combination.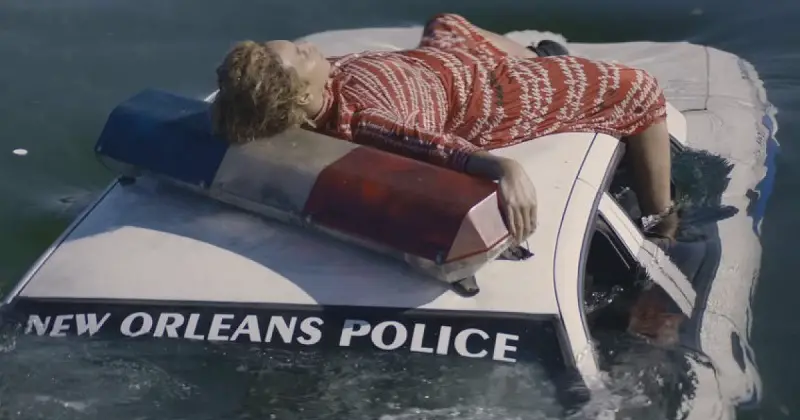 Photo Credit: WBEZ Chicago
For example, consider dresses from TJ Hunter, Queen Bey's longtime fashion designer. Particularly the glittering all-black see-through dress he made for her for the 2014 Met Gala.
Also, you can consider this Amazon Essential Oversized-Fit Shirt or this Amazon Essential Button Front Belted Shirt Dress, and this Soda Glove Ankle Chunky Heel.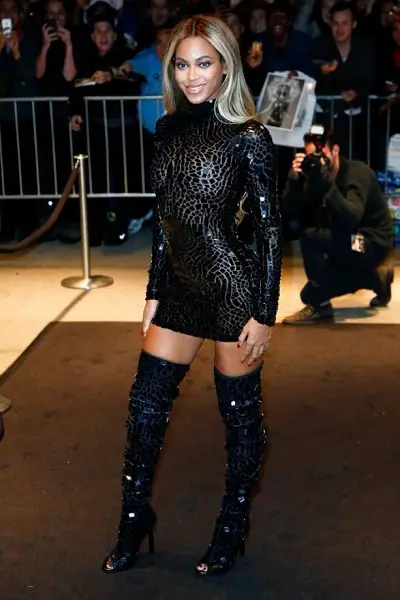 4. All-Black Everything Hat, Off-Shoulder Top, and Choker
Again inspired by her music video "Formation," Beyonce's famous friends celebrated her 36th birthday by recreating this iconic look. Blue Ivy, Serena Williams, Michelle Obama, and others posed to pay tribute to the Grammy Awards winner.
This iconic outfit has a goth vibe, featuring an extra wide-brimmed black hat, an off-the-shoulder black top, and elaborate silver chokers.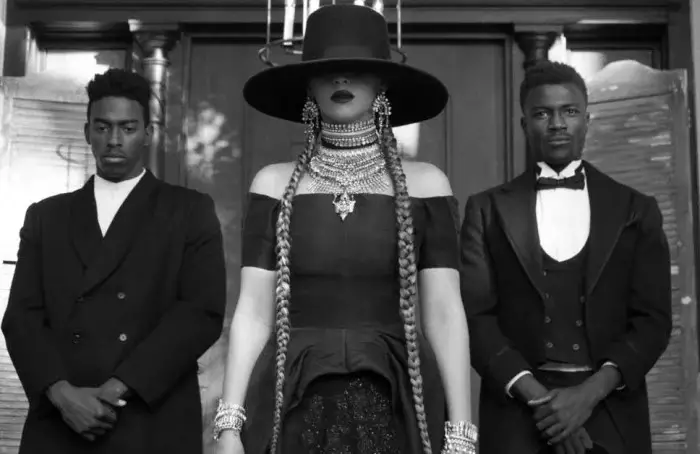 Photo Credit: US Magazine
And to complement this look were two long braids. Recreating this look might be easier to pull off, but with this BCBG Max Azria Corset Gown, Lanzom Wide Brim Straw Hat, and Yertter Vintage Boho Necklace, you can get that same vibe Queen Bey gives off.
5. Corset and Lace
Another brilliant Beyonce outfit idea you can recreate from the music video "Formation" is this corset and lace outfit. This outfit has a sophisticated feel and is not what you might consider appropriate for regular club or street outings. Underwear as outerwear is often more appropriate in fast and high fashion.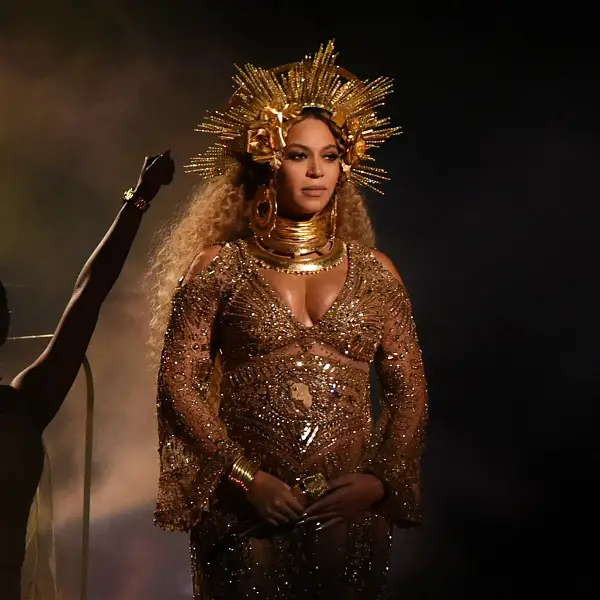 Photo Credit: Glamour | Gettys Images
For example, Beyonce's outfit for the 2017 Annual Grammy Awards, where she wore a marigold corset and see-through lace with lots of embroidery from Peter Dundas.
Even if you can't get this marigold corset like Beyonce, you can consider other jaw-dropping options to get that Beyonce to look like this Alivila. Y Lace Bone Corset or this Grace Karin Bridesmaid Wedding Dress.
6. Red Playsuit and Thigh High Boots
Beyonce's UK tour is among the latest news stories hitting mainstream media. She has been championing many designers' outfits for the show, but one particular outfit that stunned fans is the one from Alexander McQueen.
Photo Credit: Womens' Wear Daily
Here's the ultimate proof if you need evidence that Beyonce can pull off any outfit. The red playsuit with thigh-high boots she wore for her London show is a showstopper.
The Alexander McQueen outfit was an inspiration from a gown in his autumn/winter 2023 collection. If you can't pull off this red jumpsuit, pair this black Yois Sequin V-Neck Playsuit with the Ohichiic Thigh High Boots.
7. Mermaid Cut Dress by Elie Saab
Elie Saab is no newbie in designing signature outfits for celeb red carpet appearances. On several occasions, Beyonce has been spotted wearing an Elie Saab signature mermaid cut bodycon.
At the Los Angeles Dreamgirls premiere in 2006, Queen Bey wore a turquoise mermaid cut bodycon dress by Elie Saab.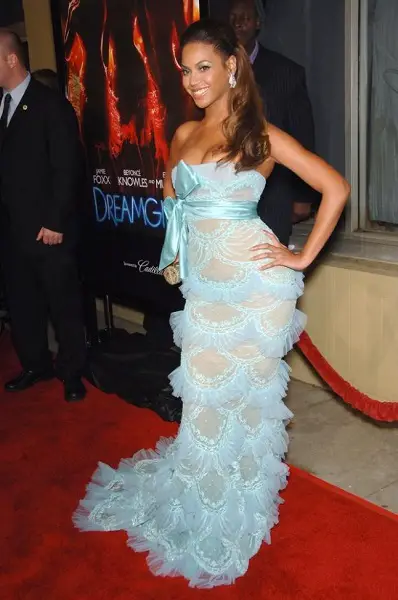 Attending the 2007 MTV Golden Globes Awards, she wore a marigold mermaid cut dress from Saab. Beyonce wore the same designer outfit at the "Beyonce: Life Is But A Dream" film screening in 2013, and at the City of Hope Gala in Los Angeles in October 2018, she wore a split dress.
So, when you go shopping, this YMDUCH Sleeveless Bodycon Mermaid Cut Dress is one of the easiest Beyonce outfits to pull off.
8. Francesco Scognamiglio Haute Couture Winter-Fall 2016
According to his tweet, Francesco Scognamiglio is a Neapolitan couturier loved by Beyonce. Scognamiglio has been Beyonce's longtime designer. He was the brains behind the Swarovski-covered hooded bomber jacket and pants during the Milan show of the Formation tour.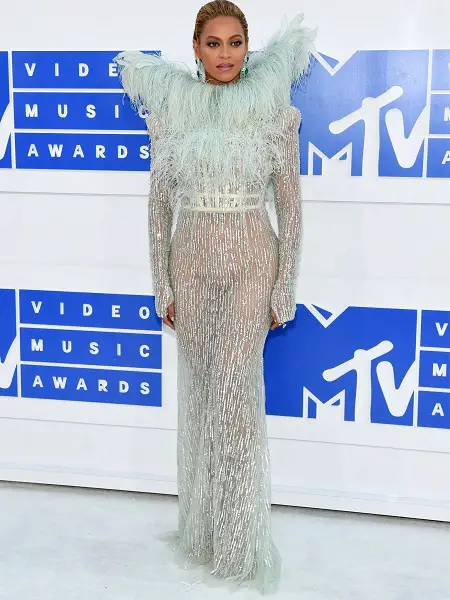 Photo Credit: USA Today
He did it again with the mint frothy see-through dress he made for Beyonce for the MTV Video Music Awards. This dress is from his fall 2016 couture collection.
Depending on the outing, you can get several similar outfits to this Beyonce dress, like this IyMoo Pleated Mesh Hem Bodycon Dress or this Zeagoo Sexy Mesh Short Sleeve Bodycon Dress for clubbing.
9. Outfit From Beyonce x Balmain Renaissance Couture
For all fans of Alien Superstar, sequin, and metallic outfits, an outfit from Beyonce's Renaissance Couture will match your energy. Following Beyonce's release of her album Renaissance, French fashion designer Oliver Rousteing couldn't get over the song.
With the song on repeat, his outfit sketches gradually became about outfits that best suited the song. He reached out to Balmain and Queen Bey with the idea of producing a couture collection, to which they agreed.
Photo Credit: Vogue France
On the cover of the April issue of Vogue French magazine, Beyonce wore a skintight dress encrusted with crystals. If you want an outfit that matches the energy of this couture design, consider this Porrcey Women's Dress or this L'VOW Sequin Bodycon.
10. Beyonce Outfit for the 2018 Global Citizen Award Festival: Madela 100
Oprah Winfrey, Janet Jackson, and Cardi B, among others, were a small part of the thousands who poured into Johannesburg, South Africa, for the 2018 Global Citizen Award Festival. Amid the thousands in attendance were Jay Z and Beyonce, who took the stage in stunning outfits.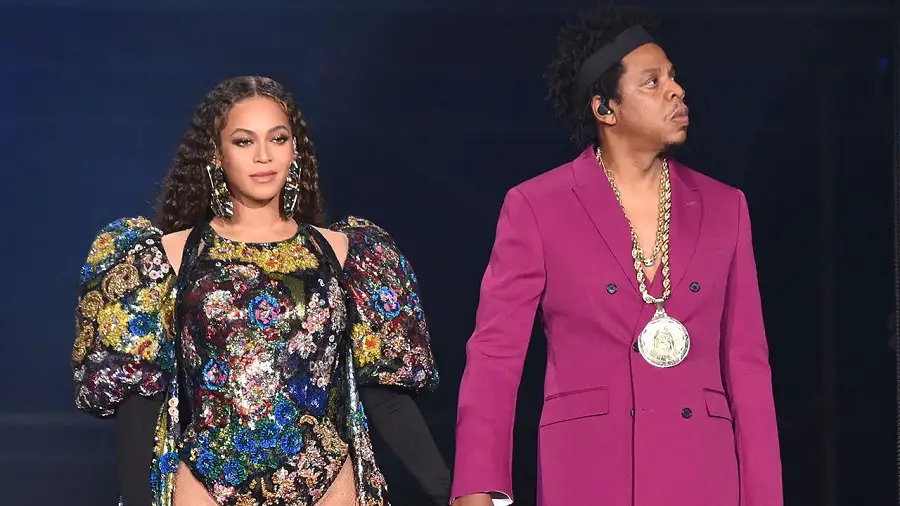 Photo Credit: ET Online | Kevin Mazur Getty Images
Bey's outfit is always fabulous, and as expected, she wore a Mary Katrantzou sequined body, a sweeping cape, and thigh-high boots. Mary Katrantzou wanted the dress to match Beyonce's energy and the diversity in Africa, so she created a floral patchwork of the map of Africa hand embroidered with Swarovski crystals.
While you might not get this custom-made outfit for Bey, you can consider getting this Lrady Bodysuit and pairing it with this BelleLovin Cover Ups.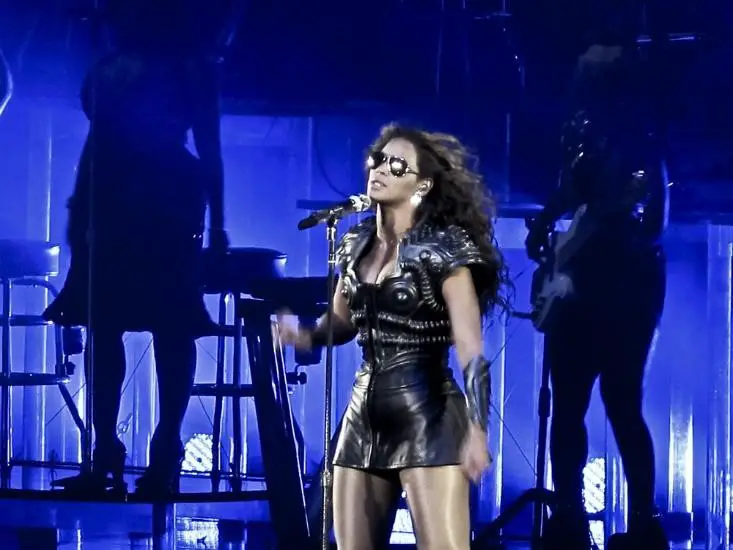 11. Beyonce's Lion King Outfit
Gracing the 2019 Wearable Art Gala fashion week in Santa Monica with her presence are Blue Ivy and her mother, Beyonce. Her mother, Tina Knowles, ran that year's event, themed "A Journey to the Pride Land," inspired by the new Lion King movie.
Queen Bey and Blue Ivy went all out in a full Lion King-themed outfit. This marigold outfit embellished with an emblem of the face of a lion on its front with a cape at the back is a design from Georges Hobeika.
This Generies sleeveless Sequin Dress and Porrcey Party Dress might not be an identical replica of Beyonce's Lion King custom outfits. Still, it does make a statement giving an odd Beyonce vibe.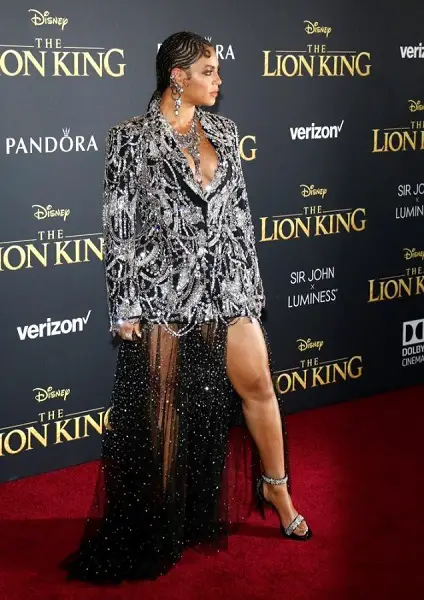 12. Victorian-Themed Wedding Dress 
The way Bey carries herself, it's evident royalty runs in her blood. The Beverly Hills resident is the 25th cousin to the late Queen Elizabeth II. Ancestry site Geni has an interesting diagram of their family tree.
And for Bey's vow renewal with Jay Z, she wore a Victorian wedding gown as an homage to Queen Elizabeth's wedding dress.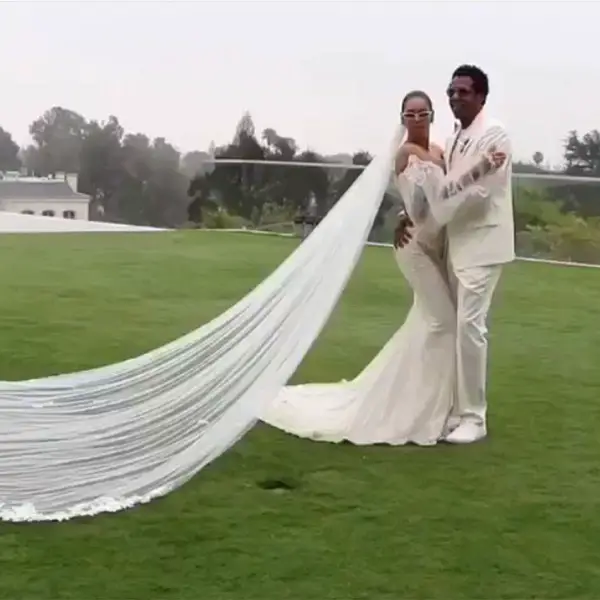 Photo Credit: People | Beyonce's Instagram
The extravagant gown featured a tulle sleeve, an intricately embellished bodice, a sheer insert, and so on. Some attractive white dresses Beyhives can check out include this WaterDress Gown, XXTAXN Maxi Dress, and this ANRABESS Sleeveless Maxi Dress.
13. Beyonce 2013 Super Bowl Halftime Outfit
When mentioning artists with jaw-dropping super bowl performances, names like Katy Perry in the 2015 Super Bowl halftime show and Jennifer Lopez in the 2020 Super Bowl show come to mind. This list isn't complete without Beyonce's 2013 super bowl halftime performance.
The whirlwind story behind her iconic super bowl looks is bewildering. Her outfit is a work of New York designer Rubin Singer based on his fall 2013 collection, Valkyrie's Dominion. The performance opening look was a cropped black motorcycle jacket and a micro skirt in liquid nylon.
Photo Credit: Glamour
Moving forward in the performance, Bey removed the jacket leaving her with a leather bodysuit in black that resembles warrior armor. To recreate this outfit, you will need a corset like this Wdirara Leather Skinny Bodysuit and a coat like this Tanming Faux Leather Outwear.
Conclusion
Pulling off some of Beyonce's famous looks isn't the easiest. She has the body of a goddess that makes her look stunning, even in the stranger ensembles outfits.
Nevertheless, if you're looking for some fashion ideas, Beyonce is an exceptional artist to model. Her sense of style is outstanding. She has many outfit ideas you can pick from for whatever event you plan to attend. So, have fun recreating these jaw-dropping outfits.